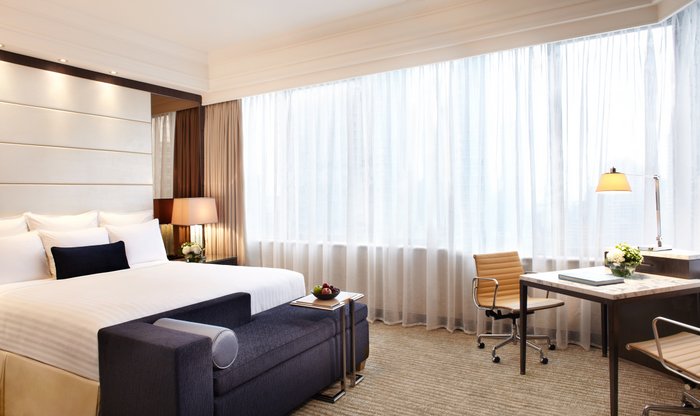 Singapore Marriott Tang Plaza completes its largest renovation in the hotel's 17-year history.   Spending S$35 million, the hotel completed the overhaul of 372 guest rooms, its lobby, Marriott Cafe and Crossroads Cafe.  Guests can purchase cakes, freshly baked bread and imported Spanish cured meats, cheeses and fine wines at Java+.
In 1995, the then Dynasty Hotel was rebranded and refurbished into a 5-star Singapore Marriott Hotel. This cost the owners Tang Holdings S$45 million.   The 322 guest rooms were renovated to include new fittings and interiors from 1999 to 2001 costing S$8 million.   In January 2006,  a 10-room Pool Terrace Collection was introduced creating a resort oasis in the heart of Orchard Road.   12 Premier Rooms were unveiled on level 29 in December 2006.  369 guest rooms were refurbished. There are 17 Junior Suites aimed at tech savvy travellers and families in need of space in July 2007.   In December the same year, a lifestyle zone, Club B2, was developed specially for associate use. The Pool Terrace Premier suite was also completed with a private plunge pool.   One month later, an exclusive 2-bedroom Pool Terrace Executive Suite was opened.   A total of S$130 million has been invested into the upkeep of the property since 1995.
The newly installed bathrooms and ergonomically optimised furniture offers more efficient use of space in all its guest rooms.  All the refurbished rooms have been fitted with state-of-the-art furnishings including two signature 1956 leather Earnes Desk chairs.    Bathrooms now come with large walk-in rain showers as well as extended vanity areas.  The rooms also now come with a 46-inch Samsung Full-HD Smart TV in every room and 55-inch in every Suite.
Two new room categories have also been introduced – the Premier Deluxe Rooms and Studio Rooms.
The Premier Deluxe Room comes with value-added services for the time-pressed business executive.  Get two complimentary pieces of laundry and S$20 dining credit to be used during the stay.
The Studio rooms feature a separate work area, spacious bathroom with walk-in double rain shower and dedicated vanity area.
Singapore Marriott Hotels now has 151 Deluxe Rooms (32 – 34 sqm), 120 new Premier Deluxe Rooms (32 – 34 sqm), 72 Executive Rooms (32 – 34 sqm), 20 new Studio Rooms (38 sqm), 17 Junior Suites (54 sqm), 9 Pool Terrace Rooms (42 sqm), 1 Pool Terrace Executive Suite (60 sqm), 1 Pool Terrace Premier Suite (60 sqm), 1 Tang Sok Kiar Suite (146 sqm) and 1 Tang Un Tien Suite (151 sqm).
The hotel lobby now offers a more warm environment with a welcoming open plan zone. More photos available on our Facebook Page.
To celebrate its renovation, Singapore Marriott Tang Plaza is offering two packages. Available till 30 December 2012 (except for 20 to 23 September 2012).
Love Is In the Air at Singapore Marriott Tang Plaza
A package for two at the new Premier Deluxe Room.  For S$795+++, enjoy one night accommodation for two with breakfast at Marriott Cafe and a bottle of champagne upon arrival. That is not all. Enjoy a romantic 4-course dinner with wine pairing at the poolside restaurant Pool Grill.
Escape For Two
This overnight accommodation for two offers a welcome bouquet of flowers, 12 fresh oysters and a bottle of Rosé champagne.  Enjoy a butler drawn scented bubble bath and a plate of chocolate dipped strawberries.   Enjoy the pre-packed hamper of delicious treats and fine wine from Java+ and two heart shaped cookies. Breakfast for two at Marriott Cafe is also provided. Accommodation in a Junior Suite is priced at S$988++ and the Pool Terrace Room is priced at S$888++.
Related articles