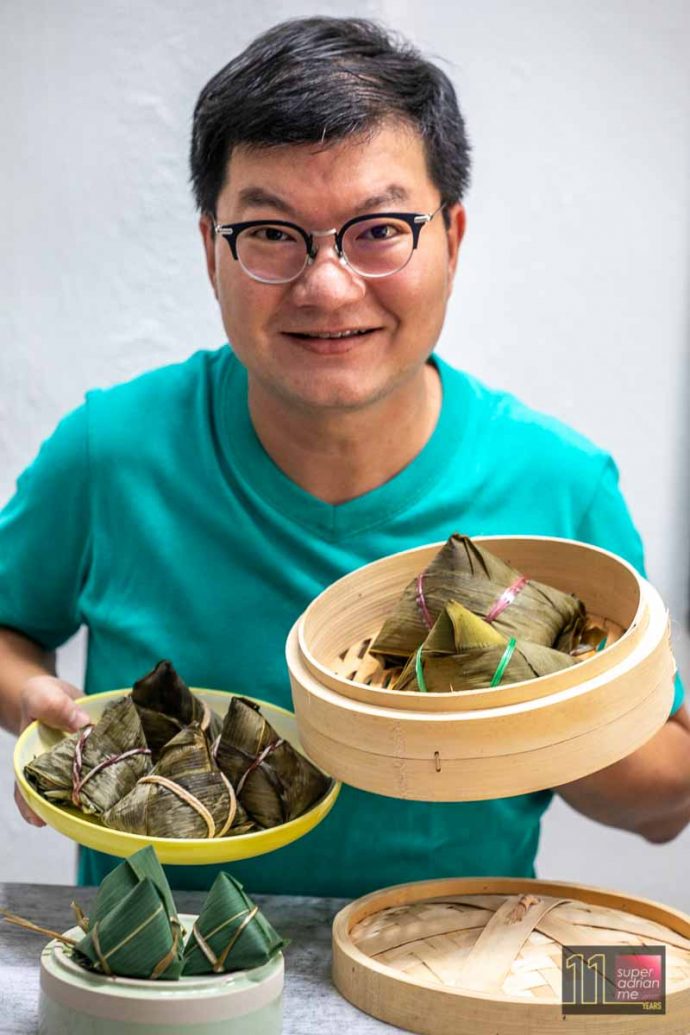 Dragon Boat Festival or 端午节 returns 14 June 2021. This just means it is rice dumplings season all over again. We will also get to taste our fair share of rice dumplings the coming weeks. So far we have tasted some of the dumplings from Crystal Jade as well as Xin Cuisine at Holiday Inn Singapore Atrium. Mala seems to be a popular flavour once again with more of such dumplings seen from the different kitchens.
BreadTalk, Thye Moh Chan and Toast Box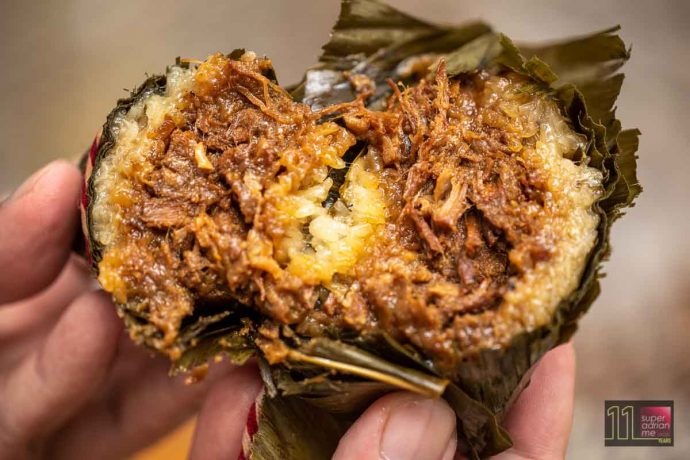 Thye Moh Chan, BreadTalk and Toast Box are jointly presenting two rice dumplings this year – The Teochew Double Delight Bak Chang and Teochew Salted Egg Bak Chang.
The Teochew Double Delight Bak Chang is filled with succulent pork belly and shiitake mushrooms braised in a robust sauce accentuated with five-spice powder, pepper and coriander powder. It is balanced by just the right amount of homemade tau san filling and chestnut to lend a touch of sweetness. The Teochew Salted Egg Bak Chang features juicy pork belly, fried dried shrimp, chestnut and a salted egg.
The bak changs are priced at S$6.50 each. If you purchase six at S$39, you will also get one complimentary bak chang. Or get ten at S$65 and receive two complimentary bak changs. You can boil the rice dumplings or steam them to eat.
Click here to order. You can also purchase at Thye Moh Chan, BreadTalk and Toast Box outlets, delivery platforms and Shopee for Thye Moh Chan.
Crystal Jade
Chef Martin Foo at Crystal Jade unveils five rice dumplings this Dragon Boat Festival. We got to try the new Grandma's Braised Pork Belly with Purple Glutinous Rice Dumpling (S$9.80). Made with purple glutinous rice, this dumpling contains grandma's braised pork belly. This pork belly is also available on Crystal Jade Palace's a la carte menu. Pork belly is simmered until fork-tender, sticky and moreish, and slow-braised with quality soy sauce, rock sugar and spices. Shitake mushrooms and chestnuts are also added for added flavour and bite.
The Spicy Dried Shrimp "Hey Bi Hiam" Rice Dumpling (S$8.80) returns with a full-bodied filling of diced chicken tossed in a generous amount of feisty homemade spicy dried shrimp paste made with Indonesian dried red shrimp and Hokkaido conpoy and other ingredients.
The Traditional Hong Kong-style Premium Jinhua Ham with Convoy Rice Dumpling (S$19.80) is presented in a rectangular parcel shape. The Hong Kong-style dumpling is double wrapped. The inner layer is wrapped with reed leaves, then wrapped again with a larger lotus leaf. This upsized deluxe dumpling is filled with over nine ingredients. They include Jinhua ham, top quality Hokkaido conpoy, roasted pork and roast duck among others.
The Classic Five-Spice Marinated Pork Rice Dumpling (S$8.80) bears the aroma of five-spice powder and includes the essentials of a classic dumpling.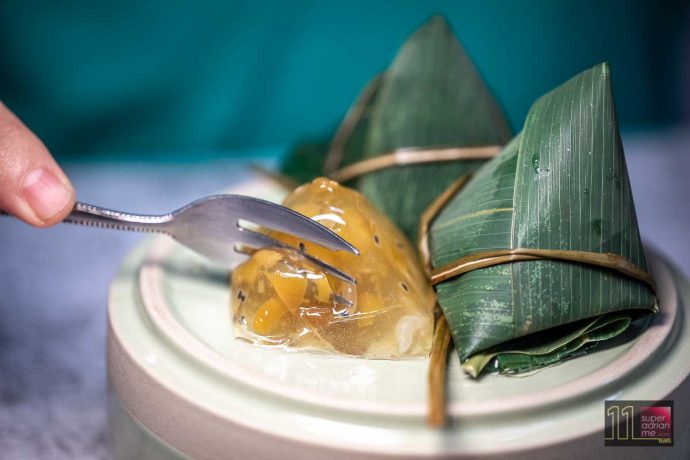 The new Petite Mango Sago Fruity Crystal Jelly Dumpling (S$7.80 for 3) is a chilled dessert. Yes, please do not steam this together with the other dumplings. The konnyaku pyramid encapsulates fresh mango chunks, bittersweet pomelo sacs and crunchy basil seeds.
Bundled sets of 3 or 5 rice dumplings are available at S$25.80 or S$42.80 respectively. Enjoy some savings when you purchase bundled sets of Classic Five-Spice Marinated Pork Rice Dumpling, Spicy Dried Shrimp 'Hey Bi Hiam' Rice Dumpling and Grandma's Braised Pork Belly with Purple Glutinous Rice Dumpling.
Click here to order or pick them up from Crystal Jade outlets. Available till 14 June 2021.
Din Tai Fung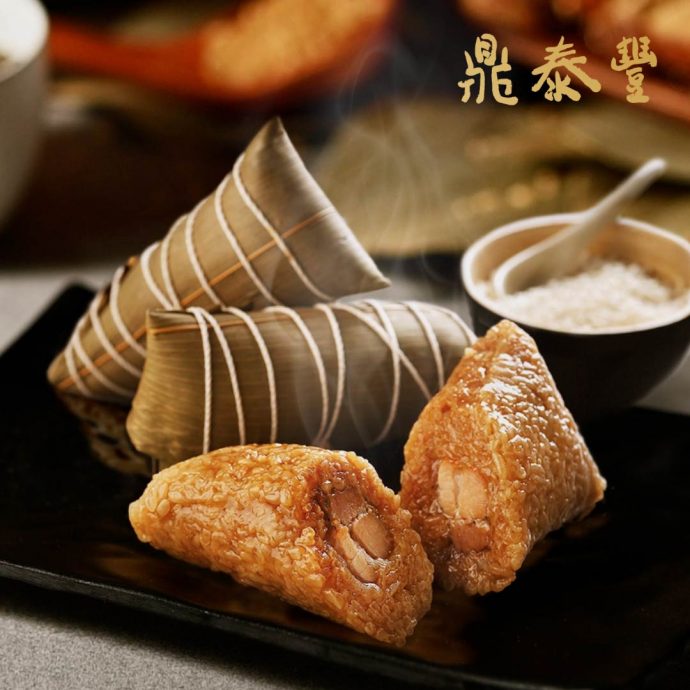 Din Tai Fung celebrates the Dragon Boat Festival with its Rice Dumpling with Flavoured Pork. It is priced at S$6.50 per steamed piece of S$5.80 per frozen piece. The rice dumplings are prepared with top-grade pearl glutinous rice lightly flavoured with premium soya sauce and marinated by hand to avoid damaging the rice grains.
Each dumpling is filled with succulent premium pork belly marinated in 15 types of spices and condiments, then wrapped with aromatic bamboo leaves in a unique pillow-shape for even steaming.
Click here to order. You can also order from GrabFood and foodpanda.
Golden Peony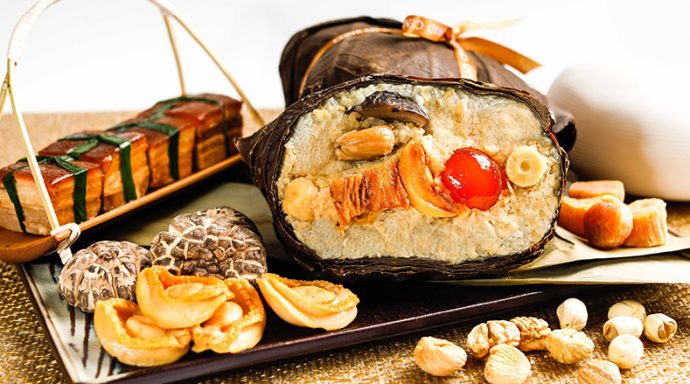 Golden Peony Executive Chef Ku and his team offers four savoury and one sweet rice dumplings this year. The Traditional 'Hong Kong' Style Rice Dumpling (S$33.80 nett) is packed with abalone, Chinese mushroom, conpoy, 'dong po' pork, mung beans, salted egg yolk, roast pork, chestnuts and lotus seed.
For S$28.80 nett, the Singapore Black Pepper Chilli Crab, Prawn and Bedford Scallops Rice Dumpling sounds appetising. An interesting one would be the Crispy Smoked Duck, Chestnut Rice Dumpling (S$24.80 nett). The Dried Velvet Mushroom 5-Grain Rice Dumpling (S$21.80 nett) is filled with chestnut, morel mushroom, dried velvet mushroom, red dates, wolf berries, lotus seed and black fungus.
The only sweet dumpling from Golden Peony is the Egg Custard Sweeties Rice Dumpling (S$12.80 nett). This dumpling contains salted egg yolk custard and gula melaka.
Not sure what to get, then go for the Luxury Package at S$118 nett. Get the five varieties of rice dumplings and a complimentary bottle of home-made XO sauce.
Click here to order. Order before 24 May 2021 and enjoy a special 30% early-bird discount.
Hai Tien Lo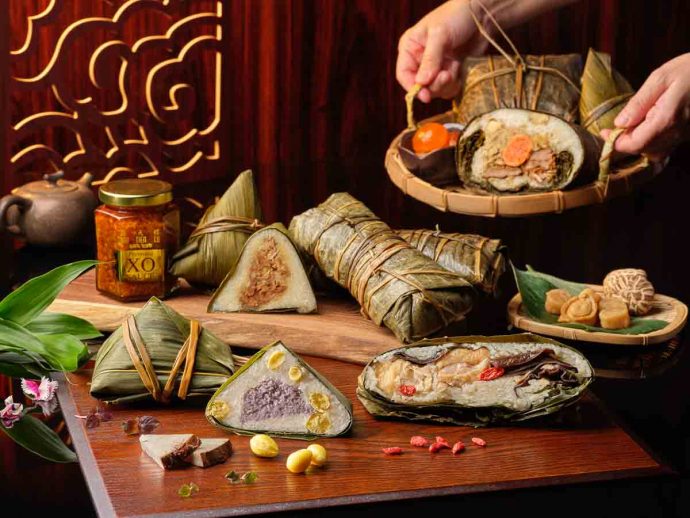 Executive Chef Ben Zeng and Dim Sum Chef Ho Kam Fai present five delicious interpretations inspired by comfort dishes. Hai Tien Lo's Traditional Jumbo Rice Dumpling with Abalone (S$38.80) returns. It contains pork belly, salted egg yolk, chestnuts, green beans, lotus seeds and a whole abalone. This dumpling is perfect for sharing or enjoyed as a meal on its own. Also try the Classic Taiwanese Dumpling with Sesame Oil Chicken (S$18.80 per piece). And get Teochew Dumpling with Yam Paste and Gingko Nuts (S$10.80) if you are looking for a dessert dumpling.
The Classic Bundle Set (S$68) and Premium Bundle Set (S$98) features six dumplings in three flavours. They are packaged with a bottle of Hai Tien Lo's Signature Homemade XO Chilli Sauce or Sweet and Sour Spicy Bean Paste Sauce.
Click here to order. Pan Pacific Privileges members enjoy 10% savings with point accruals.
Hua Ting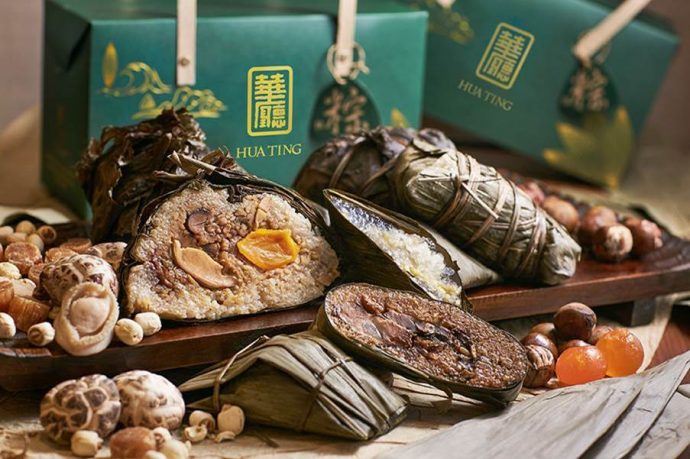 This year Hua Ting Restaurant at Orchard Hotel Singapore offers three house-crafted rice dumplings for takeaway and gifting. They include the Signature luxe savoury Hong Kong Style Rice Dumpling with South African Abalone, Pork Belly, Roast Duck, Salted Egg Yolk and mushrooms. The other two dumplings are new creations. One is a nutritious rice dumpling with Pork Bone Cartilage, Preserved Vegetables and Mushrooms and a nourishing sweet Sago Rice dumpling with Bird's Nest and Green Beans. They are available until 10 June 2021.
Get the Assorted Dumping Set at S$65.80 for the three varieties of dumplings. These rice dumplings can also be enjoyed with Hua Ting's aromatic and full bodied XO Chilli Sauce, Shrimp Paste Sauce or Soya Bean Chilli Sauce that are available for takeaway.
Visit here to order. Enjoy 15% discount for orders before 10 June 2021.
Li Bai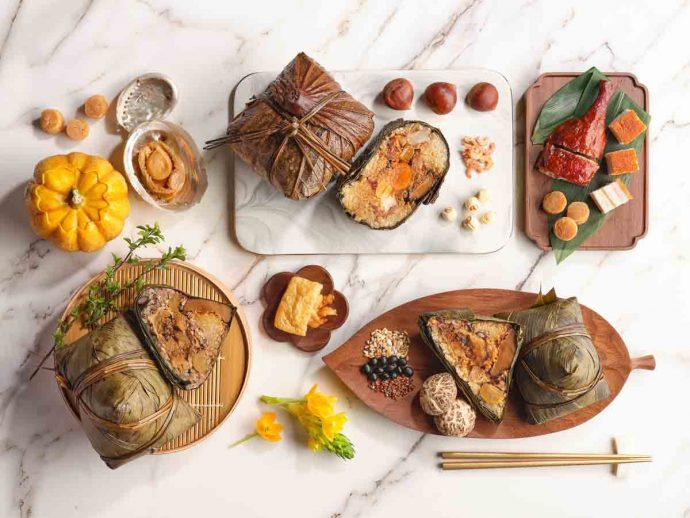 Li Bai at Sheraton Towers offers three homemade rice dumplings for takeaway or delivery. Vegetarian Multi-grain Rice Dumpling (S$28 for 500g) is a new creation this year. It is packed with meat-free nugget, assorted mushroom (Matsutake, King Oyster and Chinese), assorted fungus (elm, yellow, snow and black), beancurd skin, multi-grain rice, kidney bean, lotus seed and chestnut.
The signature Traditional Rice Dumpling (S$48 for 1kg) is filled with customary ingredients. They include pork belly, roast duck, Chinese mushroom, chestnut, salted egg, conpoy and dried shrimp. The Abalone and Pumpkin Rice Dumpling (S$48 for 800g) has generous filling of whole abalone, pumpkin, Chinese mushroom, pork belly, salted egg, chestnut, conpoy and mung bean.
Click here to order.
Man Fu Yuan
Man Fu Yuan introduces a new Mala-braised Beef Brisket dumpling (S$15 nett). The beef brisket has been marinated and braised with mushrooms, bamboo shoots, coriander and mala spice. The Smoked Duroc Pork Char Siew Dumpling with Black Gold Garlic (S$12 nett) comes in an iconic circular-shape looking like a black gold garlic.
The X.O. Sauce Nyonya Rice Dumpling (S$12 nett) and Signature Black Bean Chicken Dumpling (S$12) make a return, marinated with homemade sauces. Some people still prefer a good Traditional Hokkien Style Dumpling (S$10 nett). Other flavours include Black Sesame Rice Dumpling (S$8 nett) and Red Bean Lye Rice Dumpling (S$8 nett).
Three gift sets of four dumping packed in a limited edition dumpling bag for families and friends are available. The Tea Bundle (S$78 nett) includes two signature teas in traditional tea canisters. A Champagne Bundle (S$88 nett) includes a 375ml bottle of Taittinger Brut Reserve Champagne NV Half Bottle. The Premium Bundle (S$118 nett) includes a Taittinger Brut Reserve Champagne NV Half Bottle and one canister of tea.
Click here to order. Order before 1 June 2021 and enjoy 20% early bird savings.
OmniMeat Strip Rice Dumplings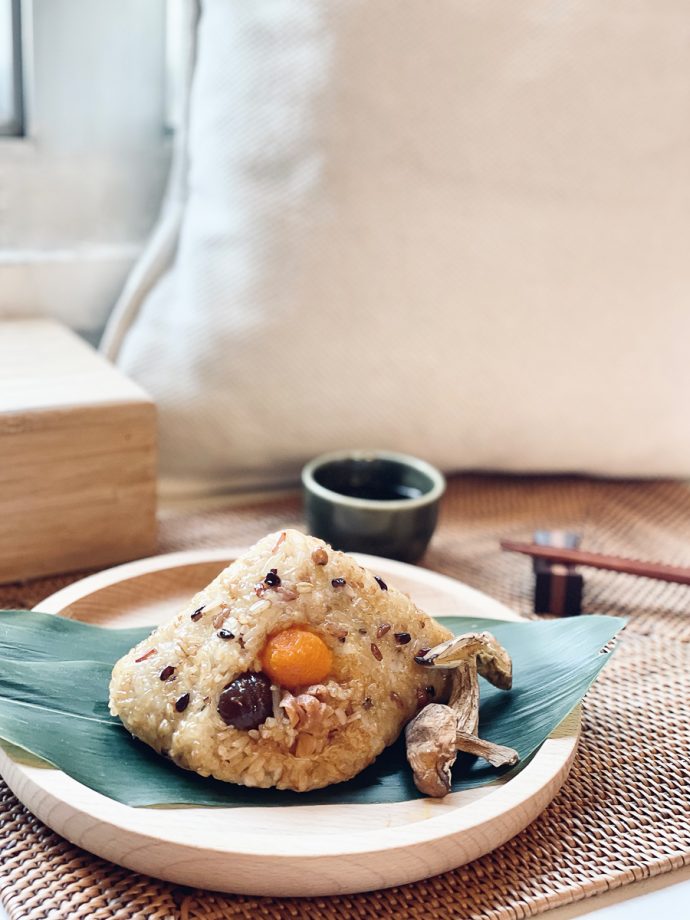 Green Common launches the new OmniMeat Strip Rice Dumplings with Porcini & Vegan Salted Egg for those who are looking for a vegan-friendly version. The dumpling features a filling that is carefully mixed into a nutritious blend of glutinous rice, mixed grains and white quinoa and topped with finely diced porcini mushrooms and chestnut. This cholesterol-free dumpling contains less than half the total fat and saturated fat found in traditional rice dumplings.
The rice dumpling is priced at $9.90 and is available exclusively at Green Common Singapore located at 1 HarbourFront Walk, VivoCity, #01-169/170, Singapore 098585.
Paradise Group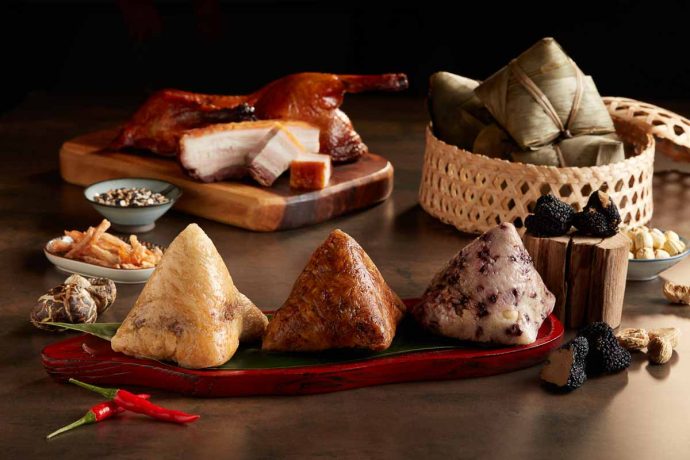 Paradise Group has created a new Spicy Smoked Duck with Dried Shrimp Dumpling. One that contains smoked duck, pork belly, salted egg yolk, chestnut, dried shelled shrimp, dried shrimp, shiitake mushroom and mung bean. A house-made mala sauce is infused into the glutinous rice. The sauce is made with nine spices including Sichuan peppercorns, chilli bean paste and cinnamon.
The Luxury Trio Dumplings Gift Set (S$42.80) is available for collection from 28 May 2021 onwards. It comes with a Spicy Roasted Duck with Dried Shrimp Dumpling, a Deluxe Pork with Conpoy and Chestnut Dumpling, and a Black Truffle Five Grain Dumpling.
Other dumplings include the Black Truffle Five Grain Dumpling (S$12.80), Premium Abalone Dumpling (S$23.80), Deluxe Pork with Convoy and Chestnut Dumpling (S$11.80) and Salted Pork Belly Brown Rice Dumpling (S$10.80). For something sweet, there is the Red Bean Paste Dumpling (S$6.80).
Click here to order. Deliveroo, foodpanda and Grabfood also offer deliveries. Citi, Maybank, and PGR cardmembers enjoy 15% off with takeaway of 4 or more rice dumplings from Paradise Group brands.
PARKROYAL on Kitchener Road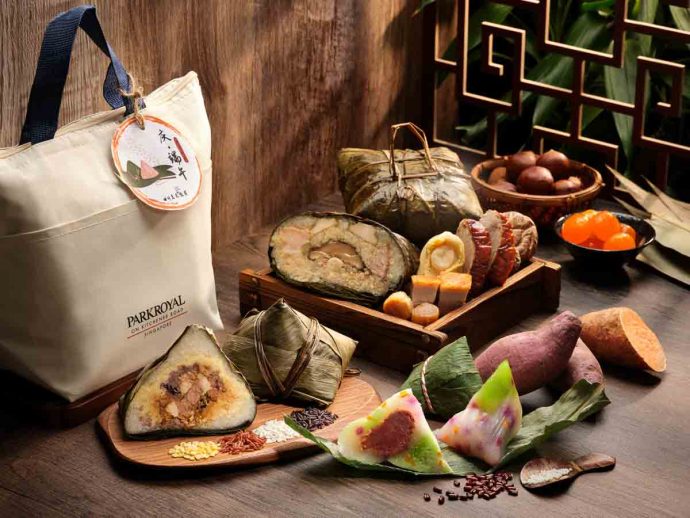 Si Chuan Dou Hua at PARKROYAL on Kitchener Road offers an assortment of rice dumplings in a bundle set that comes with an exclusive eco-friendly reusable thermal bag. Being the year of the Ox, Executive Chef Leung Wing Cheung and his team chose the American Wagyu meat to create the restaurant's own Traditional Cantonese Brown Rice and Wagyu Beef (S$16 per set of 2 or S$9.80 per piece) – with glutinous rice, brown rice, green bean, garlic and tender wagyu beef.
The Traditional Cantonese Rice Dumpling with Abalone and Goose Liver Sauce (S$22.80 per piece) is famed for the size and shape. The perennial favourite is filled with Chef's signature roasted pork, roast duck, marinated pork belly, and salted egg yolk, encased in lotus leaf. Chef's newest creation is the Chilled Sago Dumpling with Purple Potato, Red Bean and Lychee (S$10 per set of 3).
A six-course menu priced at S$49.90 per person with a minimum two persons is available. Chef Leung's traditional handcrafted rice dumpling and a combination of his specialty Dim Sums, Double-boiled Soup of the Day and many more are available to order. The Exclusive Bundle Deal (S$38.80) comes with 1 Traditional Cantonese Rice Dumpling with Abalone, Conpoy and Black Mushroom, 2 Traditional Cantonese Brown Rice Dumpling with Wagyu Beef and 3 pieces of Sago Dumpling with Purple Potato, Red Bean and Lychee.
Click here to order.
Peach Blossoms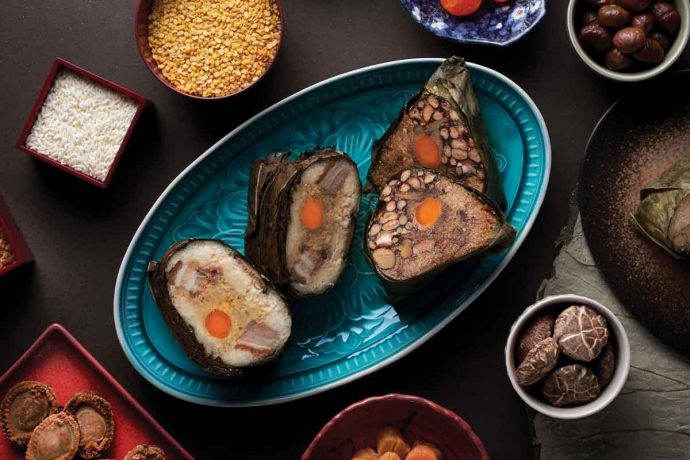 Peach Blossom's Chef Edward Chong has created a new Blazing Pig Trotter Rice Dumpling (S$68.80) encased in clay and baked to retain the moisture and flavour of the ingredients. It is packed with juicy pig trotter in fermented beancurd, abalone, convoy, Japanese flower mushroom and crunchy chestnut.
The parcel-shaped Premium XO Cantonese Rice Dumpling (S$36.80) is filled with abalone, Kurobuta pork belly, Conpoy, Japanese flower mushrooms and chef's homemade XO sauce. It serves up to four persons. Other dumplings include the Traditional Hakka Kurobuta Pork Belly Rice Dumpling (S$18.80) and Hokkaido Sweet Potato "Lava" Rice Dumpling (S$16.80).
A Bundle Set priced at S$68.80 comes with the XO Cantonese Rice Dumpling, Traditional Hakka Rice Dumpling and Hokkaido Sweet Potato "Lava" Rice Dumpling.
Click here to order. Order before 31 May to enjoy an early bird discount of 25% (except for bundle sets) when you charge to certain credit cards. A regular discount of 15% is available from 1 to 14 June 2021 and 15% off bundle sets from 17 May to 14 June 2021. Free delivery is available for orders of S$500 and above.
Resorts World Sentosa Dumpling Feast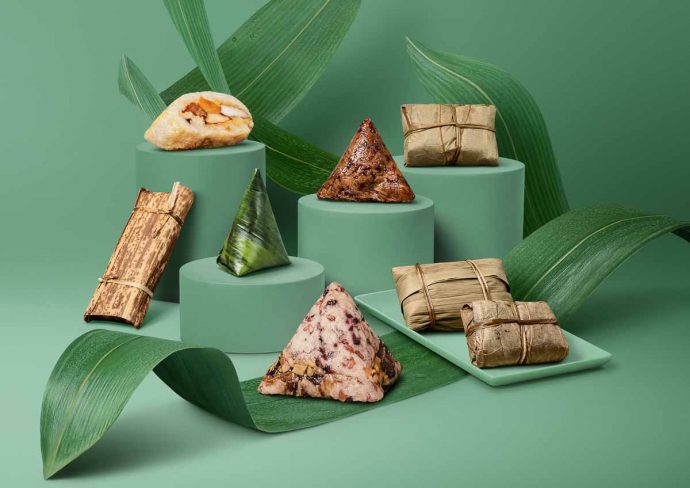 Resorts World Sentosa presents a Dumpling Feast of updated classics in an array of Asian flavours handcrafted by eight of its expert chefs. Available for orders until 16 June, the luxurious set features Feng Shui Inn's Golden Summer Dumpling and Nonya Sapphires Dumpling, Osia Steak and Seafood Grill's Eternal Amber Dumpling, Syun's Chest of Pearls Dumpling, Twin Treasures Dumpling by RWS Executive Chef Tang Puck Seng, Bouquet of Rubies Dumpling by RWS Executive Pastry Chef Kenny Kong, Ocean's Jewels Dumpling by RWS Executive Sous Chef Goh Wee Meng and Siamese Jade Dumpling by RWS Chef de Cuisine Surangkana "Aae" Sub-Anan.
The luxurious eight-piece gourmet Dumpling Feast set is priced at S$118 nett or S$98 nett for RWS Invites members. The Siamese Jade Dumpling by Chef Surangkana "Are" Sub-Anan is unique. The sweet treat features glutinous rice with fresh coconut milk, palm sugar, lotus seed and a creamy taro filling, enveloped in banana leaves and then slow-roasted over low heat.
Click here to order. Collect from Feng Shui Inn at Crockfords Tower, Resorts World Sentosa. A delivery fee of S$25 per location applies. Free delivery for online orders of three sets and above.
Wan Hao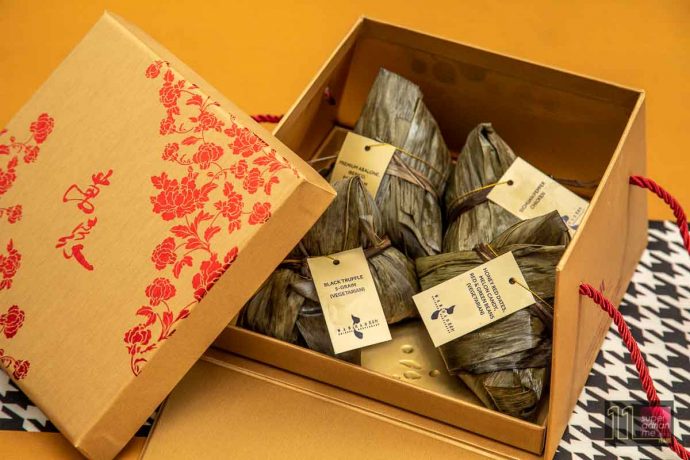 Wan Hao at Marriott Singapore Tang Plaza adds three new rice dumpling flavours and brings back two best sellers this year. 5-head abalone, iberico, parma ham, conpoy and mushroom he 5-head Australian Abalone with Iberico & Parma Ham Rice Dumpling (S$28 nett). The Sichuan Pepper Chicken with Lotus Root, Fungus, Peanuts & Mushrooms Rice Dumpling (S$14 nett) is inspired by popular ingredients of Mala Xiang Guo. Enjoy spicy chunks of juicy chicken thigh meat, lotus root, peanuts and mushroom, marinated in Chef's special Mala sauce of Sichuan peppercorns, dried chilli and chilli oil. It has hints of spiciness. A sweet Honey Red Dates with Salted Green Beans, Red Beans and Melon Candy Rice Dumpling (S$13 nett) is perfect as a dessert.
The traditional Eight Treasures Glutinous Rice Pudding and Black Truffle 5-Grain Vegetarian Rice Dumpling (S$14 nett) return this year. The latter is healthier with wholesome goodness with grains such as brown rice, oats, sorghum rice, barley and pearl rice. Other ingredients include vegetarian Bak Kwah, carrot, black fungus, turnip, braised peanuts, cabbage and black truffle.
Click here to order. Purchase at least four handcrafted rice dumplings elegantly packaged in a gold premium box and enjoy 15% off.
Xin Cuisine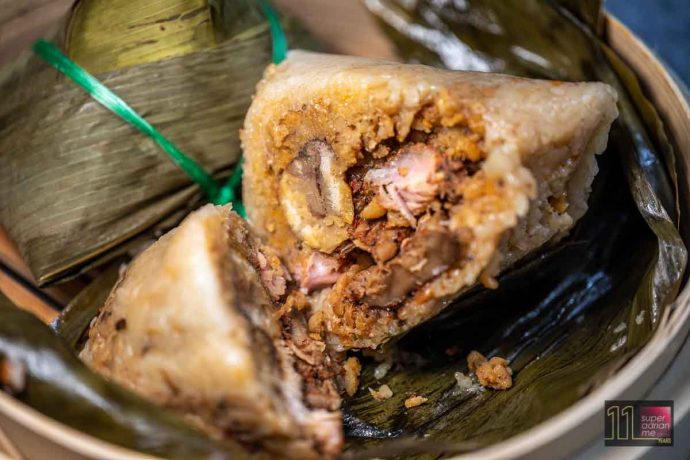 The new Mala Chicken Dumpling with Dried Scallops (S$18.80) from Xin Cuisine is one of our favourites. While it is not overpowering, this dumpling still numbs your tongue a little with every bite. Two other dumplings are also available – Xin's Signature Home-made Traditional Dumpling (S$14.80). There is also a sweet version of Signature Red Lotus Seed Paste Dumpling Served with Osmanthus Sauce (S$11.80).
The savoury dumplings are 380g each. You can order the Xin's Signature Home-made Traditional Dumpling at S$66 for a bundle of six. There is also an Assorted Dumpling Bundle priced at S$68. That comes with a pair of each of the three flavours.
Click here to order before 12 June 2021. Order before 31 May 2021 and enjoy 20% off.
藝 yì by Jereme Leung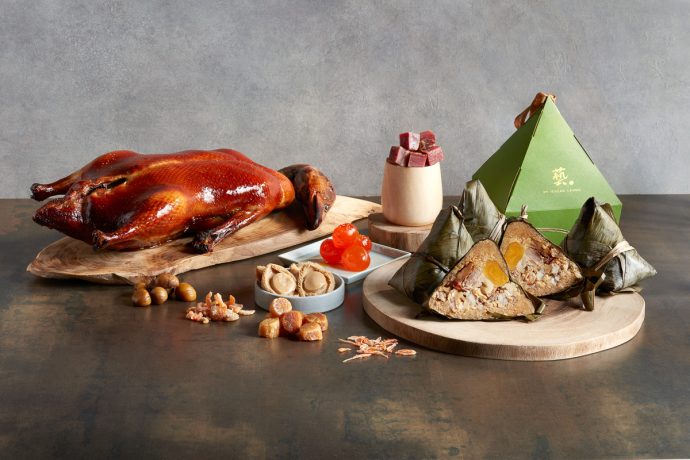 藝 yì by Jereme Leung celebrates Dragon Boat Festival with a trio of exquisite rice dumpling creations. The Traditional Abalone & Jinhua Ham Glutinous Rice Dumpling features 12-head abalone, Jinhua ham, Japanese dried scallops, roast duck, pork belly and chestnuts. Each is priced at S$48. The Spiced Pork Belly Glutinous Rice Dumpling (S$18) is packed with tender pork belly and Japanese dried scallops, sambal and Sakura Shrimps. For desserts, the Kee Chang with Raffles Signature Kaya Jam is priced at S$22 for five pieces including a 200g jar of Raffles Signature Kaya Jam.
Visit here to order. Available till 14 June 2021 for self-collection and delivery. Self-collection is from 11.30 am to 9 pm at the Raffles Grab & Go Counter at 1 Seah Street, #01-22, Raffles Hotel Singapore, Singapore 189673,