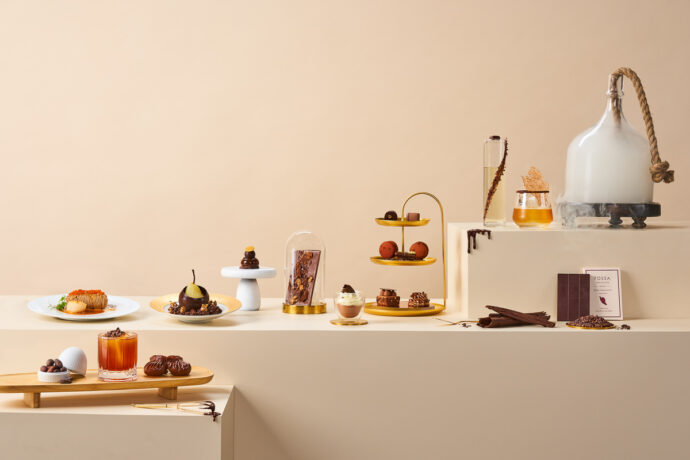 Three new staycation experiences with distinct dining offerings will be progressively introduced from today at JW Marriott South Beach Singapore, St. Regis Singapore, and W Singapore – Sentosa Cove. This is curated in collaboration with local chocolate artisan and 'Made with Passion' Singapore brand Fossa Chocolate. Visit the Fossa Chocolate x Marriott Bonvoy page for more information.
Suite Staycation Packages with Immersive Masterclasses
Each of the three hotels will offer four suites for one weekend at staggered weekends. The Chocolate Connoisseur kicks off at The St. Regis Singapore from 24 to 25 September. On 22 and 23 October 2021, W Singapore – Sentosa Cove offers a Chocolate. It's A Vibe staycation experience and from 19 to 30 November 2021, JW Marriott Singapore South Beach offers a Nourish The Soul – with Chocolate staycation experience.
The St Regis Singapore: 24 and 25 September 2021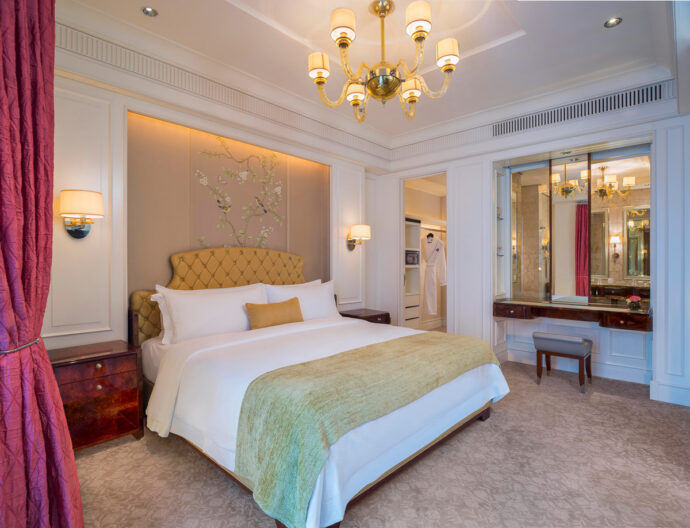 The Chocolate Connoisseur features a night's stay in the luxurious Caroline Astor Suite with the St. Regis' signature Afternoon Tea that features a special menu showcasing decadent sweet and savoury treats created with Fossa Chocolate. The stay also comes with an immersive one-hour Chocolate & Tea pairing masterclass by Fossa Chocolate. Breakfast for two, signature St. Regis Butler Service and a suite of Fossa Chocolate amenities are also included.
Price: S$500++. For bookings: The Chocolate Connoisseur
W Singapore – Sentosa Cove: 22 and 23 October 2021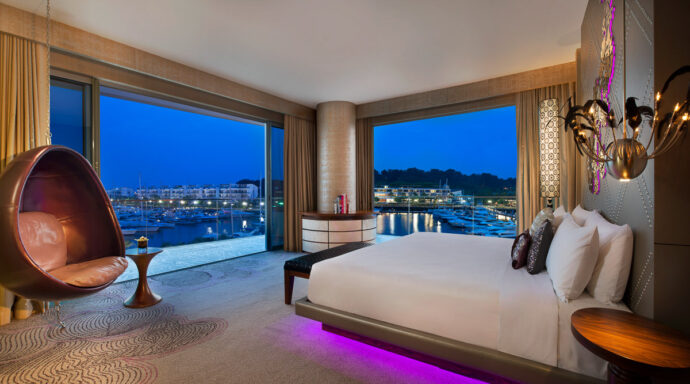 Chocolate. It's a Vibe offers an island getaway in the magnificent Marvelous Suite overlooking the marina. Fuel your stay with a gustatory cocktail experience at WOOBAR with four inventive cocktails crafted with Fossa Chocolate. Enjoy an hour-long Cacao Infusion & Cocktail Making Masterclass. The package also includes breakfast for two and welcome & turndown amenities by Fossa Chocolate.
Price: S$650++. For bookings: Chocolate. It's A Vibe.
JW Marriott Singapore South Beach: 19 & 20 November 2021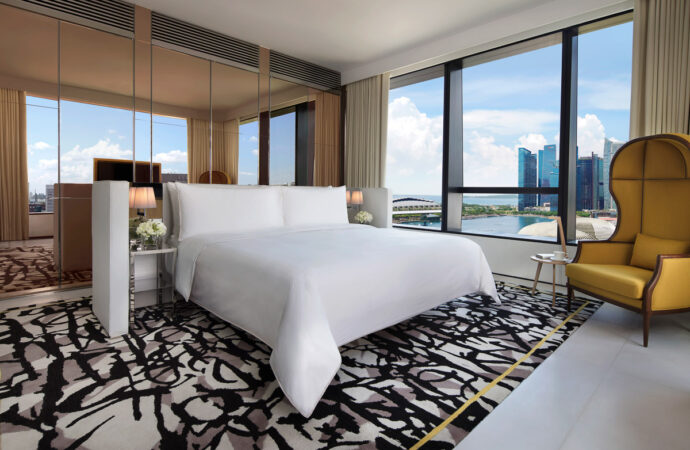 Nourish The Soul – with Chocolate is a one-night staycation in the designer Premier Marina Bay Suite with panoramic views of the iconic cityscape. The stay features dinner for two featuring Fossa Chocolate in savoury Cantonese dishes curated by signature modern Chinese restaurant Madame Fan. The package also includes a one-hour Savoury Chocolate Truffle Making masterclass, breakfast for two and a treasure trove of Fossa Chocolate amenities.
Price: S$500++. For bookings: Nourish The Soul – with Chocolate
Dining and Drinking Experiences with Fossa Chocolate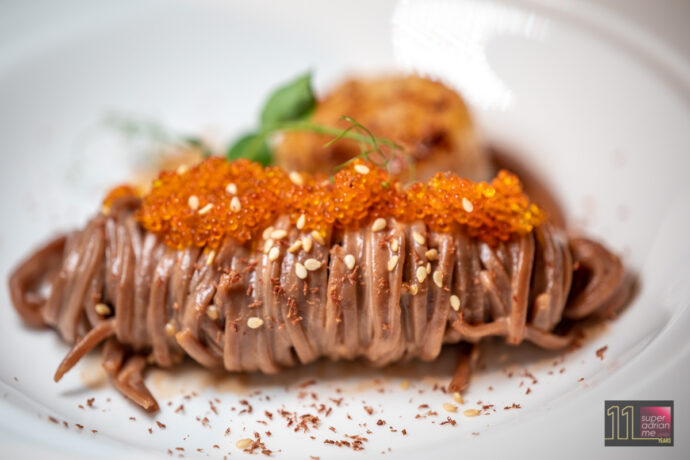 The Marriott Bonvoy x Fossa collaboration is also extended to dining and drinking experiences at the three hotels.
Brasserie Les Saveurs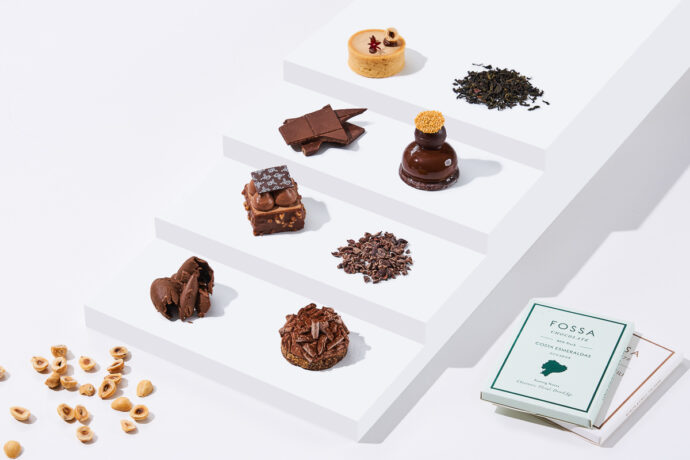 Enjoy Afternoon Tea at Brasserie Les Saveurs in St. Regis with a specially curated menu featuring three tiers of canapés, pastries, and desserts with elements of Fossa Chocolate. Executive-Chef Thibault Chiumenti and his team have created sweets and savoury bites that are irresistible. Highlights include the Foie Gras Mousse Tartlet with Chilli Peanut Praline Dark Chocolate and Balsamic as well as five sweet treats.
A St Regis Tea Chocolate has been custom made at Fossa Chocolate with The St. Regis Singapore's TWG tea blend of green and black tea with notes of white chocolate, nuts, white rose, and jasmine blossom. You can only get this at Brasserie Les Saveurs. This chocolate will be shaved tableside as the grand finale to the last course of Afternoon Tea, a 60% Dark Mana Chocolate Mousse with Vanilla Chantilly.
Afternoon Tea is available till 21 November 2021 at S$48++ per person on weekdays, and at S$55++ per person on weekends. Click here to view the menu.
WOOBAR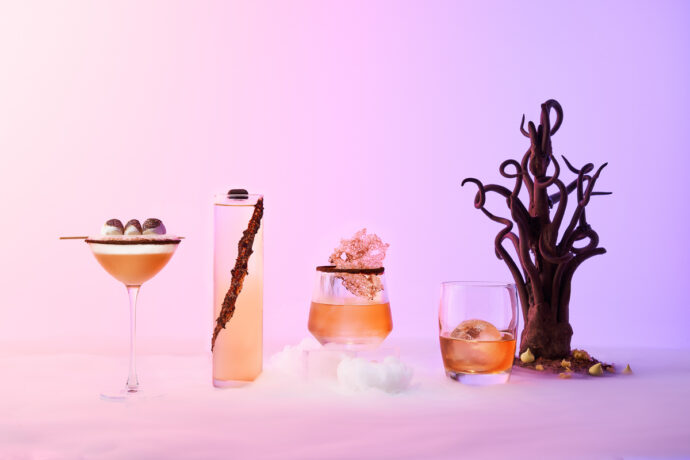 WOOBAR at W Singapore – Sentosa Cove will raise the bar of its line-up of inventive tipples with four bespoke cocktails showcasing every element of Fossa Chocolate – chocolate bar, cacao nibs, and husk. Assistant Bar Manager Rohit Suvarna has conceptualised the cocktails which are inspired by Earth, Water, Fire and Air.
Not to be missed is O2Breathe–a peanut-butter fat-washed bourbon whiskey with Fossa's Chilli Peanut Praline Dark Chocolate, smoked with hickory wood and cacao husk. WOOBAR's Torched features vodka infused with cacao nibs from Uganda's Semuliki Forest, complete with crème de cacao and chocolate foam with torched marshmallows.
WOOBAR's cocktails are available from S$20++ or enjoy The Journey of all four cocktails at S$88++. Click here to view the menu.
Madame Fan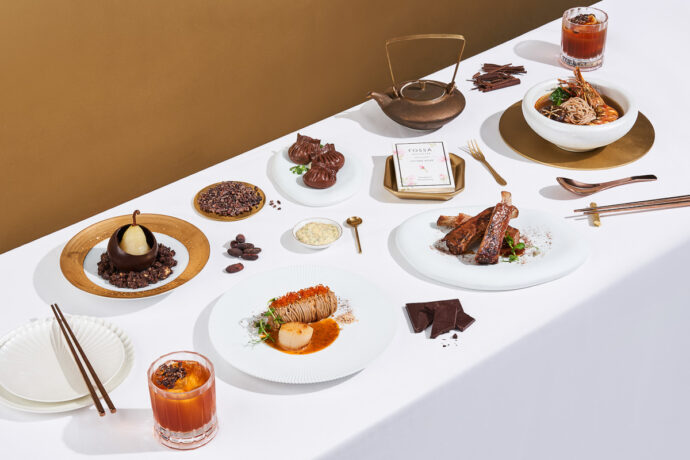 Madame Fan's Head Chef Pak Chee Yit explores unique interpretations of familiar favourites that are inspired by Madame Fan's philosophy of executing authentic dishes with a modern finesse. Enjoy a one-of-a-kind menu that showcases Fossa Chocolate in savoury, modern Cantonese dishes from dim sum to handmade noodles.
The highlight of the savoury chocolate menu is the Handmade Spicy Mala Chocolate Noodle (S$22++) made with Fossa's 65% Dark Spicy Mala Chocolate, served with king prawns in an aromatic mala broth. Diners familiar with the dim sum delights at Madame Fan can look forward to a new-to-menu Deep-fried Har Gau (S$14++) with handmade dim sum skin made with Fossa's Honey Orchid Dancong Oolong Tea Chocolate. A reinvented favourite not to be missed is Madame Fan's Jasmine Tea Smoked Ribs (S$18++), now elevated with a piquant sauce made with Fossa's Lychee Rose Dark Milk Chocolate.
Madame Fan's savoury chocolate dishes are available for a la carte lunch and dinner, daily. Click here to view the menu.