16 October 2012, Singapore – Seeking a relaxing getaway for the weekend?  Why not check into the Angsana Bintan for a tranquil island retreat?  Located less than two hours away by ferry from Singapore's Tanah Merah Ferry Terminal, pamper yourself in one of the hotel's 106 rooms and suites on the island of Bintan in Indonesia.  Most of the rooms here have a balcony view of the South China Sea.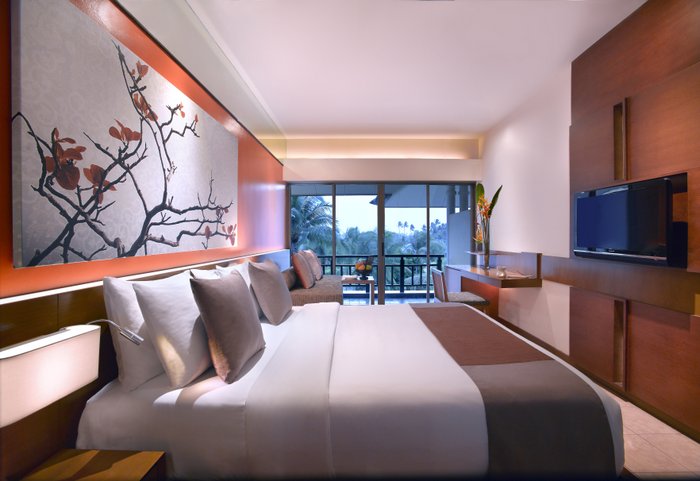 Angsana Bintan's rooms are equipped with individually controlled air conditioning, television with cable channels, in-room safe, mini-bar, hairdryer and bathrobes, tea and coffee making facilities and wireless internet connection.
The rooms at Angsana Bintan have undergone a fresh coat of paint previously giving them a cosy, clean and comfortable environment.  Having a balcony is always a plus for me, so I have the option of having my hot tea should it get too cold in the room.  Mosquitoes and sand flies are common in Bintan, and Angsana Bintan is not spared from these pests.  So make sure you protect yourself with insect repellent or the sand fly cream thoughtfully provided by the hotel.
Wine & Dine
The Lotus cafe offers a wide selection of international cuisines and is also where you get your morning breakfast.  It is also located conveniently next to the Angsana Spa and Angsana Gallery where you can pick up essential oils, incense sticks, massage oils or other skin and bodycare products synonymous with the Angsana and Banyan Tree brands.
Verandah Lobby Lounge serves snacks, pastries and a variety of hot beverages and cocktails.
Pantai Grill and Bar lets you enjoy a cocktail by the beach before having a delectable spread of freshly grilled seafood and meats.   Pantai Grill and Bar is a personal favourite.  It was where I hung out with one or two glasses of champagne enjoying the therapeutic sound of the waves and the sights of the gorgeous sunsets.
If you prefer a more romantic option, check with the hotel on the locations available around the resort.
Recreation
The pool is inviting with deck chairs where you can busk in the sun. Unfortunately for me, it rained during my stay there earlier this year.
The beach is only a stone's throw away where you can participate in some water sports or a casual swim in the South China Sea.
Photos taken with the Sony NEX F3 in Toy mode.
Related articles