The first ever Marvel-themed ride in a Disney Park Iron Man Experience will be launching at Hong Kong Disneyland on 11 January 2017. The new ride-through attraction will feature a story based in Hong Kong.
Tony Stark has selected Tomorrowland in Hong Kong Disneyland to host Stark Expo. He will show off his latest high-tech creations in various exhibition halls – the Hall of Legacy, the Hall of Protection, the Hall of Energy and the Hall of Mobility. Explore Tony's latest innovations up close and fly in a gravity-defying Iron Wing flight vehicle. It has taken over three years to design and create the Iron Man Experience. The experience comes with flight simulators, 3-D projection, surround sound and other special effects that immerse you in the Marvel story of a battle with the evil forces of Hydra.
After putting on a pair of StarkVision glasses and taking off on Stark Industries' special Expo-edition Iron Wing, make your way to the Hong Kong Stark Tower powered by the arc reactor and whizz alongside Iron Man through streets that resemble those in West Kowloon and downtown, and fly over iconic Hong Kong landmarks like Tsing Ma Bridge, Victoria Harbour and the city's pristine mountain ranges.
A new Expo Shop is already opened. Get a range of 70 plus Hong Kong Disneyland exclusive Iron Man merchandise items and more than 250 items of Marvel-themed memorabilia such as key chains, toys, souvenirs as well as apparels and accessories. Don't forget to try on Iron Man's armour suit in the interactive game Become Iron Man at The Stark Expo. Experience the various functions of the armour with interactive motion-sensing technology.
25 Iron Man themed food and beverage choices are available at the park and hotel restaurants. There is the Iron Man Waffle, Iron Man stein, Iron Man desserts at Chef Mickey Buffet and Iron Man beverages served at the resort hotels.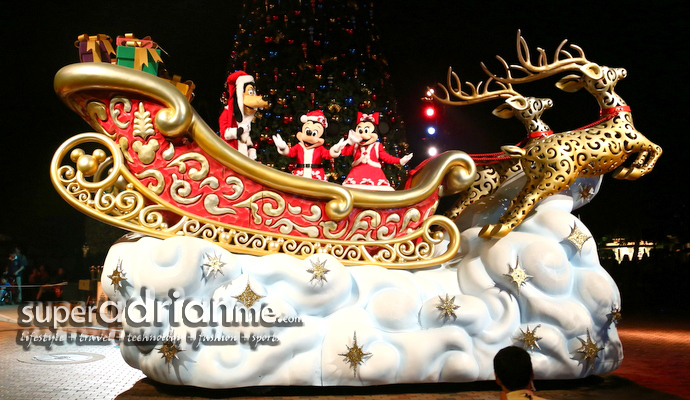 Enjoy a Sparkling Christmas at Hong Kong Disneyland from 17 November to 2 January 2017. Spot Goofy in his Santa costume. Enjoy A Magical Twilight Snowfall at night as well as melodious songs from Christmas Carollers. Mickey and Friends will be dressed in their Christmas outfits during "A Holiday Wish-Come-True" Tree Lighting Ceremony each night. Be sure to stay for the Disney in the Stars fireworks spectacular and the festive "Kiss Goodnight" moment after that to say good bye at the Hong Kong Disneyland Railroad-Main Street Station.
Take a sneak preview of the Iron Man Experience from 23 December 2016 to 8 January 2017. Receive a priority admission pass based on the number of guests in each room with a maximum of four passes per room when you stay at any of the resort's two hotels. This pass shortens your wait for your turn on the Marvel-themed ride.
There are also 100 different Christmas-themed merchandise at the park. A Duffy and Friends collection and Mickey Family Christmas souvenirs are among the festive gift lineup. The all new Tsum Tsum Advent Calendar offers a surprise every day during the countdown to Christmas starting 1 December 2016 with a total of 25 Tsum Tsums to be added to your collection.
Book your tickets from now till 22 January 2017 and enjoy a special Play and Dine ticket offer this Christmas where you will get a one-day admission ticket and a complimentary combo meal.