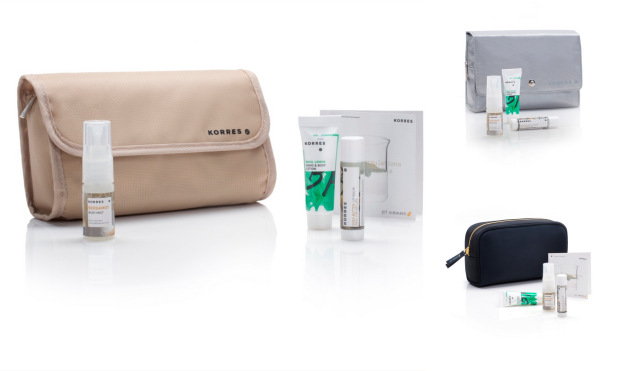 Jet Airways launches a new set of amenity kit for its First Class and Première passengers flying international flights. Partnering Greek natural and wellness brand KORRES, the new amenity kit features products such as KORRES Bergamot body mist, an Earl Grey tea scented facial mist, KORRES Shea Butter Lip Balm and KORRES Basil Lemon hand and body lotion.
The exclusive First Class amenity kit is available in two versions.  The men get a finely tailored black matte leather pouch with gold trimmings while the women get a luxury micro fibre chic silver pouch that has an elegant look and feel. Both kits also come with a dental kit while socks and eye shades are offered to guests separately. Combs are also available on-board in the washrooms.
Before the introduction of the new Korres amenity kits, JET Airways offered First Class passengers amenity kits containing products from Lanvin Parfums. The men's and women's pack contained the same Lanvin Parfum products including a lip balm, body lotion and an eau de toilette. The women got an additional hair brush. The men's First Class bag was made of dark green twill polyester while the ladies' bag is in satin silk with crystal stones.
The amenity kit for Première passengers is unisex and contains a lip balm, hand and body lotion contained in a soft textured fabric pouch. Previously Première passengers received amenity kits made of a smart textured fabric containing Lanvin Parfums lip balm, body lotion and an eau de toilette
Read about the other airline amenity kits that we have reviewed here.
Photos from JET Airways. We were not able to do a review of the amenity kits from JET Airways as they were not available.