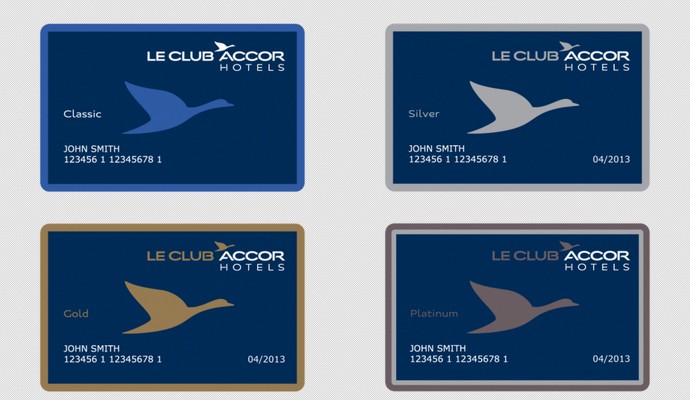 Le Club Accorhotels is Accor's free loyalty programme with a membership base of 15 million members today. It was launched five years ago and continues to reward its members in 2,700 hotels in 92 countries when staying in any of Accor group's 13 brands including Sofitel, Pullman, MGallery, Grand Mercure, Novotel, Suite Novotel, Mercure, Adagio and ibis, ibis Styles, ibis budget and hotelF1.
The programme recognises its members and offers the flexibility to customers who wish to use their points anywhere in the world without and restrictions. Accor offers its loyalty card members exclusive access to private sales with up to 50% discounts as well as benefits from dedicated services during their stay.
Members are privileged because of the rapid check-in that helps them to get into their rooms quicker as well as access to the Executive Lounge at Sofitel for the highest tier of the programme.
From 1 July 2014, members will earn 25% more points to fast track to more rewards and higher membership statuses such as Silver, Gold and Platinum. Previously, members are awarded four percent of the amount of your stay in points. Members can use their points to reduce their room booking by using the "Booking with points" function when booking online at Accorhotels.com and the brand websites. Again there are no date or availability restrictions.
The new earning structure for Le Club Accorhotels as at 1 July 2014
For every EUR1 spent, you will earn the following amount of points based on your status:
Classic – 2.5 points
Silver – 3.125 points
Gold – 3.75 points
Platinum – 4.375 points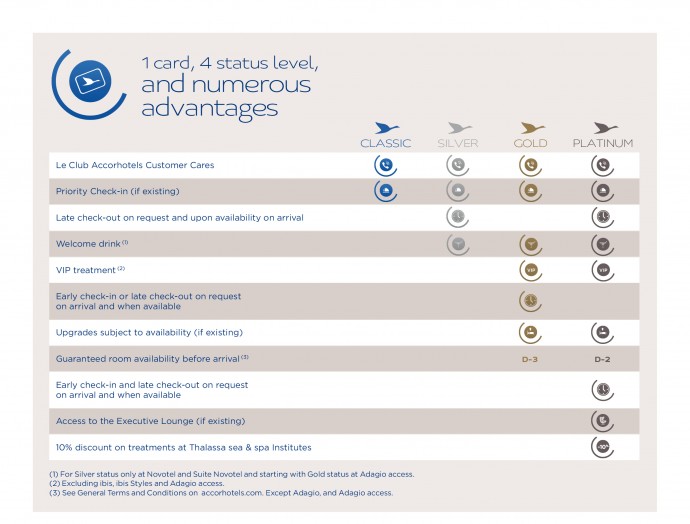 You start off as a Classic cardmember which lets you access the Le Club Accorhotels Customer Care, Priority Check-In when available and advance access to private sales on accorhotels.com. The Silver cardmember enjoy the benefits of the Classic cardmember as well as Free Internet, Welcome drink, Late check out on request and upon availability upon arrival or early check-in on request. Gold cardmembers enjoy all the benefits of Classic and Silver cardmembers in addition to early check in, guaranteed room availability of up to three days before arrival, VIP treatment (except ibis and ibis Styles), room upgrade upon availability if existing upon arrival. The highest tier is the Platinum membership with benefits that are included in all the tiers below it as well as guaranteed room availability up to two days before arrival and access to the Executive lounge whenever available.
If you signed up for the ibis business card which has an annual fee of EUR90, you would obtain direct access to Le Club Accorhotels "Gold" Status. The ibis business card is accepted in nearly 1,700 ibis, ibis Styles and ibis budget hotels around the world.
You earn 25 points for every EUR10 spent. 2,000 points lets you get a EUR40 voucher to offset your bill at a future stay in one of Accor's hotels or convert into privileges with one of the programme's partners be it airlines, car rental firms or others.
You can also earn bonus points when you check in on Facebook with "Places by Le Club Accorhotels". Accor is offering new members the chance to win a dream stay at any of the 2,700 hotels should they become the 15 millionth member.