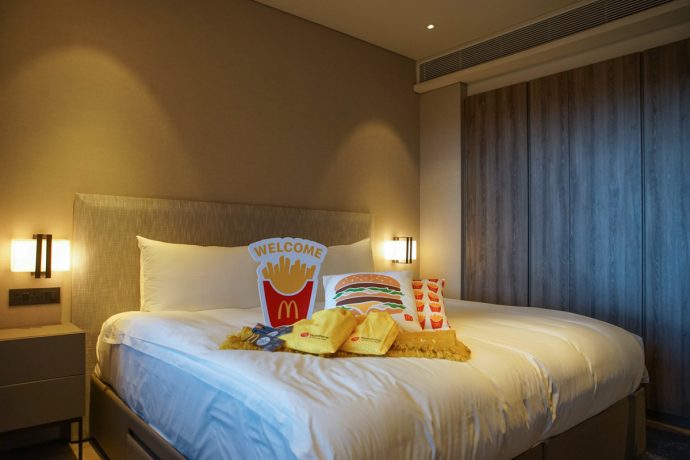 McDonald's has teamed up with Klook to launch the first ever McDelivery x Klook 'Happiest Night-In' Staycation at Oakwood Premier AMTD Singapore.
You can take home adorable McDonald's exclusive merchandise & lounge wear and dine-in McDonald's food vouchers when you stay the one-night Happiest Night-In Staycation Package. Stay in a Studio for 2 Adults or families can stay in a two-bedroom deluxe for 2 adults and 2 children.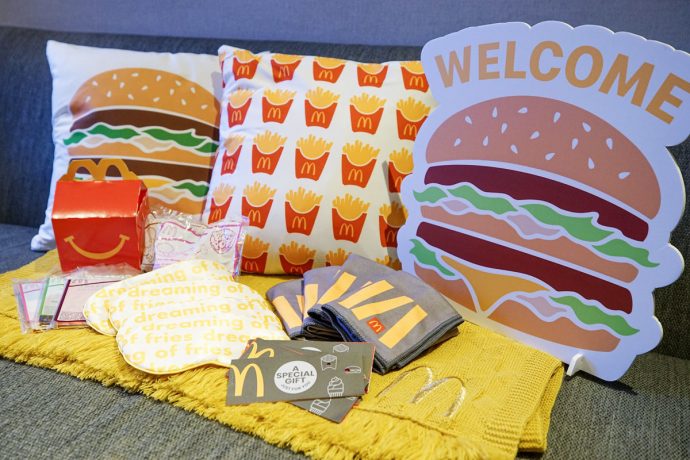 Both packages will be available for booking from 8 April 2021 for stays from May to June 2021. Priority Booking links will be released to McDelivery subscribers. To subscribe to McDelivery Inbox Treats, visit mcdonalds.com.sg/mcdelivery/#inbox-treats and update your account preferences to agree to receive marketing materials. Information to help you book your McDelivery X Klook Happiest Night-In Staycation packages and exclusive deals will be sent via email.
Non-subscribers can book on the Klook platform from 12 to 15 April, subject to availability.
Package Name
Details
Price
McDelivery®️ x Klook Happiest Night-In: 1-Night Studio Stay+Exclusive Take-Home McDonald's®️ Merch, PJ & Food Vouchers

1-Night Studio Stay with Exclusive McDonald's® Take-Home Merchandise, Loungewear Set, and McDonald's® Food Voucher
– 1-Night Studio Stay for 2 Adults at Oakwood Premier AMTD Singapore
– Exclusive McDonald's® merchandise including:
1. McDonald's® Loungewear Set for Two (Includes a Top and Bottom set and Eye Mask x 2)
2. McDonald's® Cushion x 2
3. McDonald's® Bathroom Hand Towel x 2
4. McDonald's® Throw x 1
5. McDonald's® Food Vouchers worth SGD20

S$329.00


McDelivery®️ x Klook Happiest Night-In: 1-Night Two-Bedroom Family Stay + Exclusive McDonald's®️ Merch & Food Vouchers


1-Night Two-Bedroom Family Stay with Exclusive McDonald's® Take-Home Merchandise, Happy Meal® Toys & Books and McDonald's® Food Voucher

– 1-Night Stay in Two-Bedroom Deluxe for 2 Adults and 2 Children (up to 17 years old) at Oakwood Premier AMTD Singapore
– Exclusive McDonald's® merchandise including:
1. McDonald's® Eye Mask x 4
2. McDonald's® Cushion x 2
3. McDonald's® Bathroom Hand Towel x 4
4. McDonald's® Throw x 1
5. McDonald's® Food Vouchers worth SGD40
6. McDonald's® Happy Meal Readers® Books (x3) and Happy Meal Collectibles (x2)


S$449.00