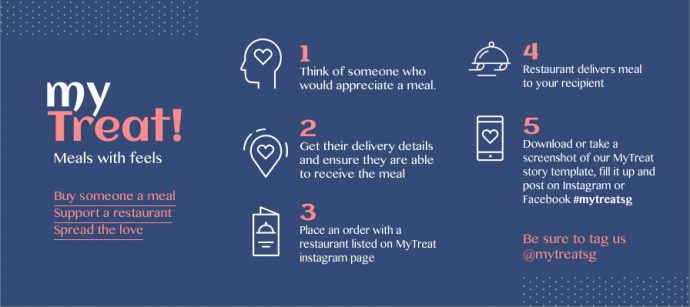 MyTreat is a movement around kindness where we can still come together in spirit to share a meal, support a restaurant and let someone know that they are not alone. Just with a simple food delivery order.
This non-profit social media initiative was started by Lyla Lin of Loop PR and food writer and private chef Anette Tan of Fatfuku. Restaurants are going through a very rough time now and turning to online delivery to stay afloat. This initiative encourages everyone to #savefnbsg while sharing a happy moment together despite being socially distanced.
More than just places to eat, Singapore's restaurants and eateries are what make our city so unique. They are our cultural bearers, our community gathering places, the essence of our Singaporean spirit. Without our restaurants, we are merely a city of people who love to eat but with nowhere to indulge in the food that feeds our souls. These trying times will pass, but when they do, will our favourite restaurants still be around?
Five Simple Steps to #MyTreatSG
Think of someone who would appreciate a meal be it someone in need, someone you know who is having a bad time, someone you haven't been able to see
Get their delivery details and ensure they are able to receive the meal
Place an order with a restaurant listed on MyTreat Instagram Page
The restaurant delivers the meal to your recipient
Download or take a screenshot of MyTreat story template, fill it up and post on Instagram or Facebook and hashtag #MyTreatSG and tag @MyTreatSG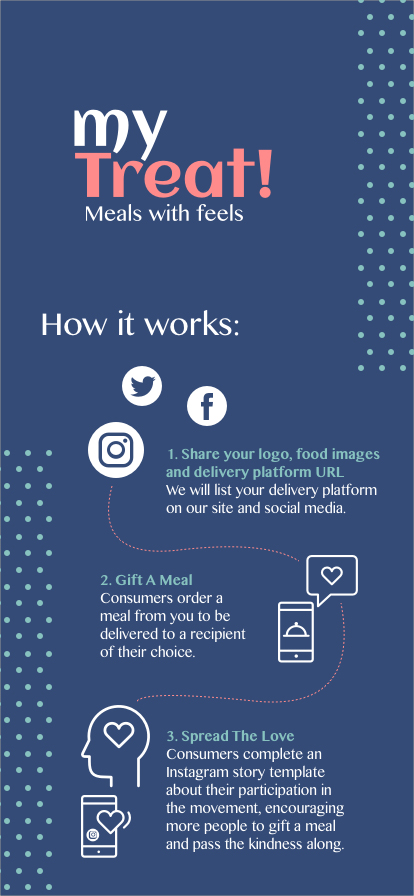 The initial group of restaurants featured on the MyTreat platform include:
Riviera Forlino
Sum Yi Tai
MeatSmith
Tanuki Raw
The Masses
Butcher Boy
New Ubin
Don Ho
These restaurants are only suggestions. You can order from any restaurant or business of your choice. Just spread the word using the Instagram Stories templates above and spread the movement.
What other F&B are doing
The Peranakan Adopt A Bento

The Peranakan at Claymore Connect has collaborated with The Saturday Movement to launch Adopt A Bento for the frontliners of healthcare, elderly living in one-room rental flats and former Sungei Road vendors.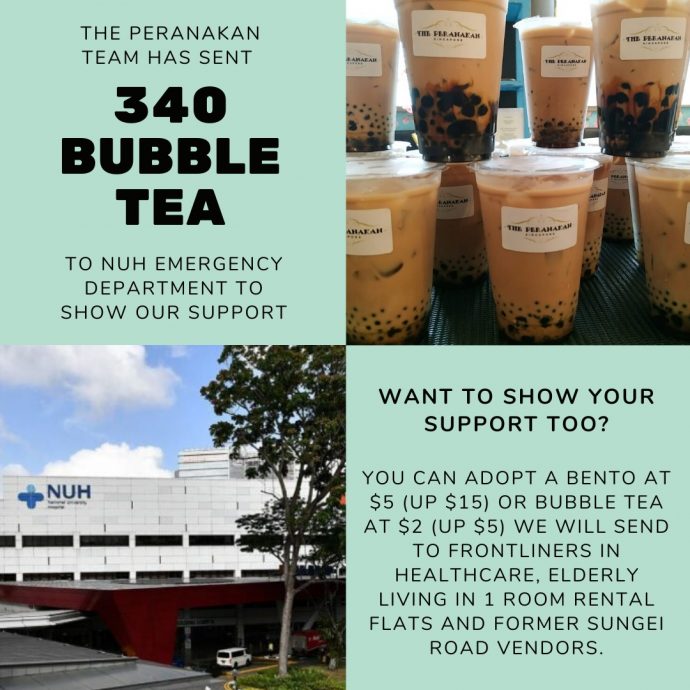 Each S$5 Bento Box (Retail Price S$15) and S$2 Bubble Tea (Retail Price S$5) will provide each beneficiary a meal that is nutritious. Pledge your donations at www.theperanakanshop.com.