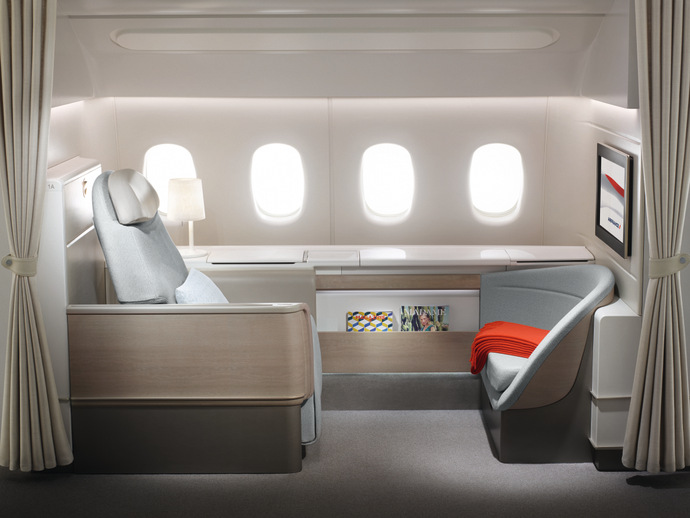 The new Air France La Premiere Seat will be progressively equipped on 19 Air France Boeing 777-300 aircraft from September this year. The new La Premiere cabin will house four exclusive individual suites offering optimum privacy and the ability to be alone.
The new seats are manufactured by B/E Aerospace and created by designer Priestmangoode and design and branding agency Brandimage. 76 seats have been created to equip the 19 Boeing 777-300s.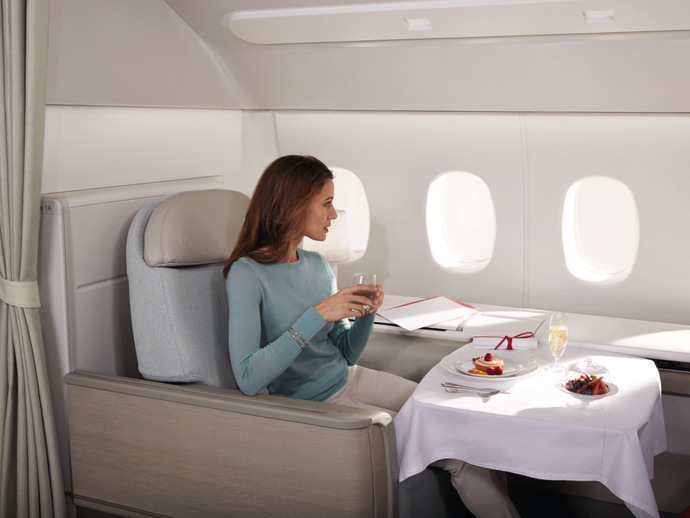 Features of the new Air France La Premiere Seat
Large seat with integrated lumbar support that turns into a full-flat bed that is 2.1 metres long
A plaid and "boudoir" cushion is available when you board
Fully retractable armrest to offer 77 cm wide of space
Mattress set up by cabin crew topped with a Sofitel My Bed duvet
Pillow placed in a soft cotton pillowcase
Thick curtains held back with leather tiebacks that can be closed with a mobile partition to let you feel as if you are alone at home with 3 square metres of space
A large table and an ottoman opposite your seat lets another guest join you for dinner or conversation. Storage space for your shoes under the ottoman
Suite can transform into a drawing room, restaurant or work area
Seats are protected by a thick, soft woven tweed fabric while the headrests and armrests are made of high-quality leather
A sleek console with integrated storage compartments
Private wardrobe located behind your seat
24 – inch High Definition screen and touch remote
Open and close the window blinds with the flick of a switch
A bedside lamp helps to make you feel just at home
Air France is holding public exhibitions in New York from 26 to 28 June and in Paris from 20 to 21 September after a successful exhibition in Shanghai from 8 to 11 May. You can experience Air France's new world with interactive animations at these exhibitions.
Photo credit: Air France