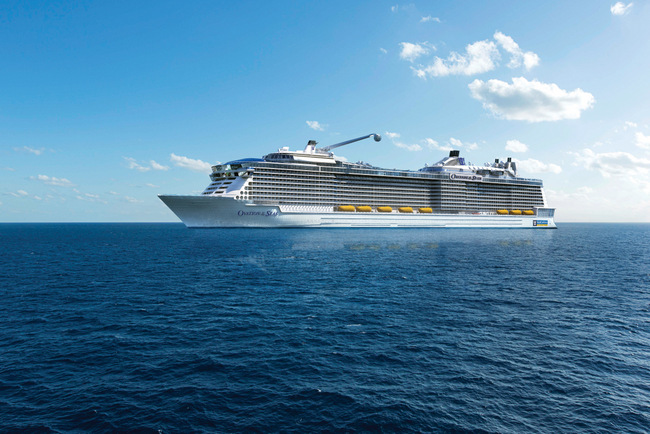 Royal Caribbean International's billion-dollar smartship Ovation of the Seas will make Singapore its homeport in 2017 for a season. The 18-deck Ovation of the Seas made its maiden call in Singapore on 8 June 2016 after ending its 14-night cruise from Dubai to Singapore. It is the first international cruise line to deploy a brand new ship to Asia for homeporting after it was delivered in April this year.
Ovation of the Seas is 347m long, weighs 168,666 gross registered tonnes and can carry 4,905 guests.  It features North Star, an observation capsule that rises 92 metres over the ocean; "Two 70" hi tech entertainment venue that cost Royal Caribbean International S$18.5 million; Bionic Bar with robots serving cocktails; Skydiving and Surfing experiences; interior virtual balconies with real-time ocean views; luxurious Loft suites with large living areas and private concierge service; and SeaPlex, the largest indoor activity space at sea which houses a basketball court, circus school, roller-skating, bumper car and more. Guests have a choice of 18 F&B options with cuisines from around the world including Jamie's Italian and Wonderland.
Some 42,000 additional guests are expected to be added to Singapore from the 10 sailings from March to April next year. Itineraries include return trips ranging from three to five nights to Penang, Phuket, Bangkok (Laem Chabang) and a one way cruise to Tianjin with calls at Ho Chi Minh City (Phu My) for an overnight, Hue/Danang (Chan May), Hong Kong and Seoul (Incheon).
Royal Caribbean's capacity in 2017 in Southeast Asia is expected to increase by 30% over 2016 with the deployment of Ovation of the Seas and the return of Voyager of the Seas in May and Mariner of the Seas in October.
2017 also heralds the Visit ASEAN@50 celebrations which highlights the best of Southeast Asia. Cruises will offer a great way to experience the warm hospitality of the region.
On 9 June 2016, Ovation of the Seas will embark on a three-night cruise to Kuala Lumpur (Port Klang) with 4,576 guests on a cruise ship for Singapore as part of its 52-night inaugural "Global Odyssey".
After that, it is bound for her summer Tianjin season on a 12 night repositioning sailing on 12 June, calling at Ho Chi Minh City, Hong Kong (overnight), Xiamen and Seoul (Incheon). She will be christened in Tianjin on 24 June 2016 by Chinese actress Fan Bingbing. Ovation of the Seas will make a repositioning cruise back to Singapore later this year.
Follow us on Instagram, Facebook and Twitter as well bring 'live' updates on the inaugural Singapore cruise.