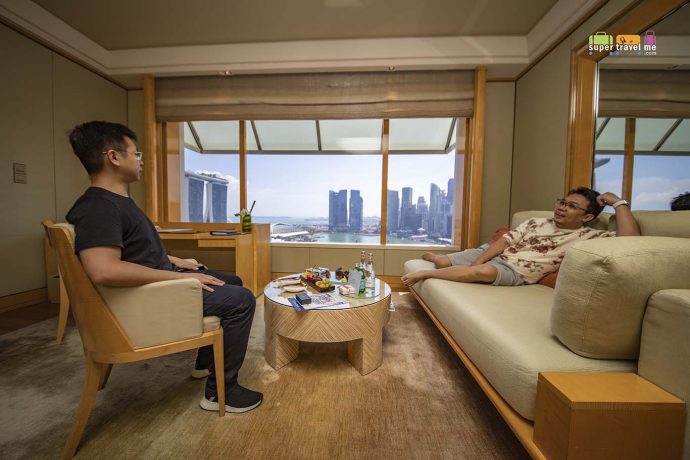 We checked out staycation packages at four hotels in Singapore over the past few months. These themed staycation packages with activities make staycations more exciting.
We particularly enjoyed the Gin experience at Oakwood Premier OUE Singapore which has obtained a hotel license earlier this year without requiring guests to stay less than six days. The Ritz-Carlton Millenia Singapore has also collaborated with Monopoly to release its own version of the board game earlier this year. The five-star hotel has also launched a new Monopoly staycation package. The Quincy by Far East Hospitality has a QOOL Weekend Staycation package that is activity filled and The Westin Singapore launched a minimum two-night staycation package offering a great 'fling' weekend.

Oops! I've Ginned at Oakwood Premier OUE Singapore
Want to get away into a nice cosy one-bedroom apartment, that comes with a kitchenette that is fully equipped with utensils, pots and pans, a washer-dryer should you decide to do some laundry, a cosy living room for you to Netflix and chill or play some games with your Nintendo Switch, and a bedroom with a king bed.
That's not all, the Oops, I've Ginned! weekend package also comes with a gin experience that will offer a glimpse into how the new Singaporean Gin brand Brass Lion is made at the Brass Lion distillery tour, where you will be whisked from your apartment in an Oakwood Premier OUE Singapore mini van to the distillery for the tour and back after that. Sample the gins after the tour. And if you want, you can pay for the cocktails at the distillery before heading back.
And if you've not had enough gin, mix your own gin cocktail in the comfort of your apartment. A 500ml bottle of Brass Lion Singapore dry gin is provided with a bottle of Gryphon Tea's Pearl of the Orient with Lychee and dried lemons so you can mix your own gin cocktail. Instructions provided too. Get some close friends over to enjoy the gin with you or bring the bottle home if you can't finish it.
And for those who don't drink, enjoy the Monogram teas provided or a cuppa Nespresso coffee. As part of the turndown service, you can also request for a beverage including hot or cold milk, hot or iced Milo or hot or iced soy milk and a snack be it assorted flavoured macarons, cookies or gelato just before bed.
Buffet breakfast is available at SE7ENTH on the lobby level so that you get your fill. Enjoy eggs prepared the way you like by a chef.
The Oops, I've Ginned! staycation package is priced from S$380++ per night for the one-bedroom apartments for stays till 1 December 2019. Book by 20 November 2019. Package includes DIY cocktail kit, Brass Lion Distillery tour and complimentary breakfast for two at SE7ENTH.
There is also a Weekend Staycation Package that comes with a complimentary room upgrade from a Studio and one-bedroom apartments to the next sub-category, breakfast for two at SE7ENTH and welcome signature cocktails for two at The Bar from S$280++ per night.

QOOL Weekend at The Quincy
The Quincy has a QOOL Weekend Staycation Package that's packed with activities to keep you busy on a Saturday. The hotel offers art jamming on Saturdays from 3 to 5pm and movie night by the pool on Saturdays at 9pm – all located at level 12 where the indoor gym is also located at. The mini bar in your Studio Deluxe room is absolutely free of charge during your stay, and you also get to soak in the bath with a complimentary LUSH bath bomb or bubble bath.
Check out our review of this staycation package on SUPERTRAVELME.com.
The Quincy Hotel QOOL Weekend Package will cost you S$288++ for a one-night stay in a Studio Deluxe Room, buffet breakfast for two and all-day light refreshments, one bath bomb or bubble bath from LUSH Fresh Handmade Cosmetics, unlimited Wi-Fi access, evening cocktails from 6 to 8.30pm, art jamming on Saturdays from 3 to 5pm and movie night by the pool on Saturdays at 9pm.

Monopoly Game Night at The Ritz-Carlton Millenia Singapore
Spend two nights at The Ritz-Carlton Millenia Singapore. Enjoy views of the Marina Bay and soak in the signature bathtub with the hexagonal window view. When you check into your room, indulge in the Monopoly-themed edibles and get your friends or family members to unbox The Ritz-Carlton Millenia Singapore Monopoly travel set and enjoy a few rounds of fun. Enjoy a swim or head over to the gym and work out. Optional indulgence including dining at the Michelin-starred Summer Pavilion or a buffet dinner or Sunday brunch at Colony.
The Ritz-Carlton Millenia Singapore Game Night Package is priced from $650 per night till 27 December 2019 with a minimum two-nights. The package features accommodation in a grand Marina Room or a Deluxe Suite with daily breakfast at Colony, and one Monopoly themed welcome amenity including a Monopoly game board from the hotel per stay.

Singapore Fling at The Westin Singapore
The Westin Singapore has introduced a Singapore Fling weekend staycation package from Thursdays to Sundays. Enjoy a soak in the bathtub in your spacious room. And don't forget to redeem your Singapore Sling or a cocktail from the Lobby Lounge and enjoy breakfast at Seasonal Tastes, both located on the lobby level.
And if you are a Marriott Bonvoy member, you get to enjoy discounts off F&B at dining outlets at The Westin Singapore. Marriott Bonvoy member and Silver Elite Members enjoy 10% off, Gold elite members enjoy 15% off and Platinum Elite, Titanium Elite & Ambassador Elite members get 20% off. Also earn up to 10 points for every US$1 spent at participating restaurants and bars.
Get a good night's rest on that comfortable king-sized bed. Westin provides a Sleep Well Lavender Aromatherapy Balm that you can roll onto your temples or wrists before bedtime. Or have a hot cup of TWG tea before bed.
The Westin Singapore Singapore Fling weekend staycation package with breakfast for two at Seasonal Tastes is priced from S$588++ for a two-night stay and S$888++ for a three-night stay. The three-night stay includes access to the Westin Club Lounge for up to two adults.