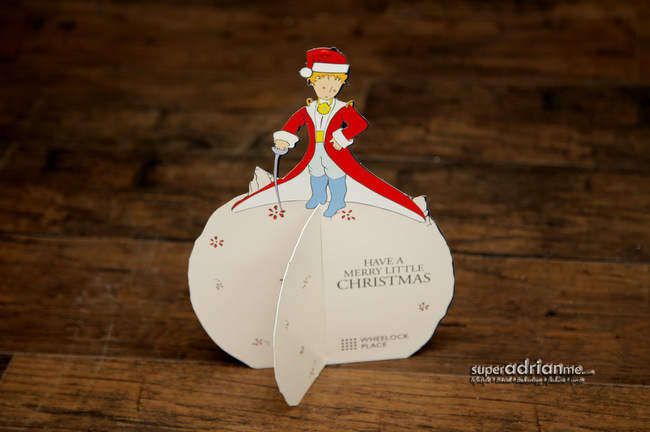 We love all things Le Petit Prince. And The Little Prince is making his first mall appearance in Singapore at Wheelock Place. Larger-than-life sculptures of The Little Prince and his interesting characters he meets in his travels are now around the mall. Perfect for photo opportunities.
Le Petit Prince is a play based on a book illustrated by Antoine de Saint-Exupéry. It was published on 6 April 1943 and has been adapted in 1974 and 2015. Characters in The Little Prince includes The Little Prince, The Pilot, The Drunkard and others. The Little Prince travels and meets others along the way.
From 13 November 2015 to 3 January 2016, Wheelock Place is offering shoppers benefits including:
Gift wrapper with S$50 spending in a single receipt. Citi cardholders get two.
Spend S$250 (S$200 for Citi cardholders) in three same-day receipts and get a limited edition The Little Prince tea-cup set.
Spend S$800 (S$750 for Citi cardholders) in three same-day receipts and receive a Christmas Gift Set worth more than S$60.
Besides Le Petit Prince, Wheelock Place has also planned out other performances to entertain guests during the year end festive season. Catch the three-piece local band featuring an accordion player, a bassist and a pianist in the French Street Music. The Mime Act features a classic French performance with a pair of mimes. You can take photos with them and upload into your Instagram account and follow @Wheelockplace, and you may win complimentary shopping vouchers. In the spirit of giving for Christmas, shoppers can enjoy free candy and cake pops from 24 to 27 December between 4 and 8pm with 30 minute intervals every hour.
Check the schedules for the French Street Music and Mime Acts at wheelockplace.com