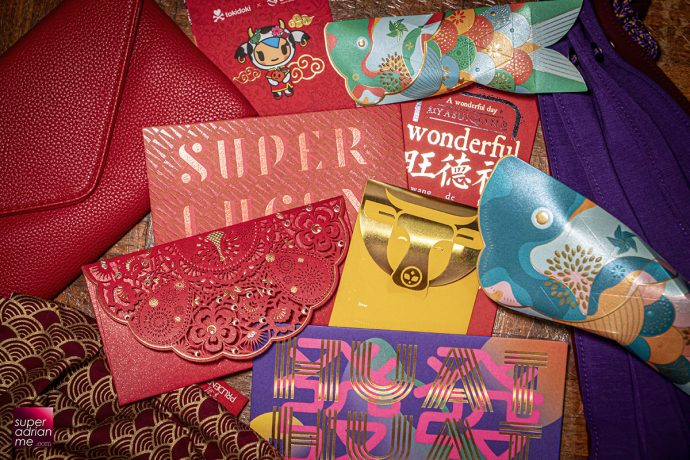 2021 is the Year of the Ox. Just like the hardworking ox, we should work hard to keep our family and friends safe and healthy throughout 2021. And hopefully things will just get better and better after a trying year of the rat. You can check out last year's red packet designs here.
This is the time of the year where the team from SUPERADRIANME.com look forward to see the best Ang Bao (red packet) designs for the Lunar New Year. It's always joyous to see innovative and clever designs that will put a smirk on the ones who receive these envelopes of cash. Traditions can be fun too. Click on the "Table of Contents" to jump to your preferred theme.
Pouch, Purse & Bag
Other than collecting red packets, it's turning into a trend to get matching pouches, purses and orange bags too. This year, we've gotten a couple of stylish orange carriers that you can use daily even after the Lunar New Year.

A Little Something Extra
Plates, bowls, bookmarks and masks can also be festive for you this Lunar New Year.

Paper Orange Carriers
Instead of bags and plates, the basic will be matching paper orange carriers that's the perfect size to fit two oranges for your house visitings.

Creative & Quirky
If you are like us who prefer to see something that will put a smile on the face of the one receiving the red packets, then you would enjoy creative and quirky red packet designs.

Cute Is Not Just For Kids
Cute red packets are for all ages. But the kids will definitely remember your red packet more vividly.

Peranakan Is UNIQUE To Us
These are the red packet designs that are closer to the heritage for this part of Asia. Peranakan designs are always full of intricate coloured bits that are filled with joy.

Simple & Nice
Sometimes life is already so complex. So a little simplicity and straight-to-the point designs make a refreshing change.

Traditional Ones Are Popular Too
Traditional is evergreen. So these red packets can be used at anytime of the year.