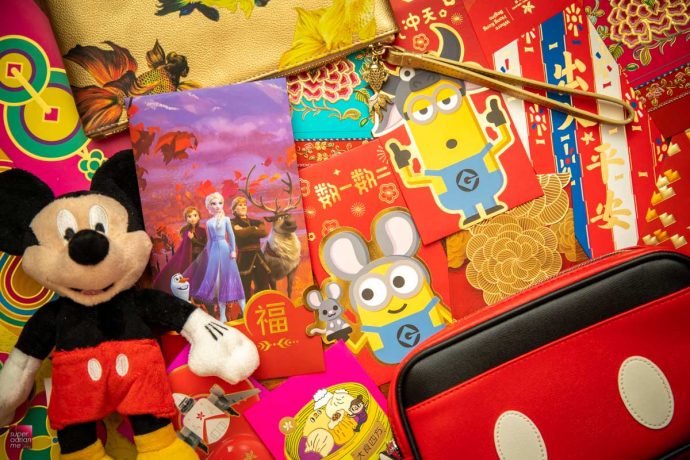 It is that time of the year again where we gather all our influence and put in a lot of hard work to collect red packets, aka ANG BAOS or Lai See or 红包 🧧, from Singapore and around Asia. The Ang Baos featured are all produced by brands to be given out as souvenirs or redemption items to their customers. Some may be harder to get as they are given out as corporate gifts to partners brands appreciate.
With over 150 designs for the year of the Metal Rat this year, we bring you the most authoritative Ang Bao design article in the world. You can check out the red packets for previous years – 2019, 2018, 2017, 2016.
So if you are an Ang Bao collector, we hope this you help you with your collection. And for designers, hope this 'compendium' of red packet designs will be an inspiration for future years' red packet designing.
Readers living in Singapore can also take part in our contest to win one of three lucky bags containing many of the red packets featured in this article. We will not be entertaining any other requests for red packets.

Ang Bao With Matchy Pouches
This year we've collected more red packet pouches from brands. It's a nice accessory for CNY have your red packets all sorted out in these dedicated pouches.
Raffles City Singapore as collaborated with Shanghai Tang for this year's Chinese New Year festivities. The Raffles City Singapore x Shanghai Tang red packets and red packet pouch are available exclusively at Raffles City Singapore. Victoria Tang-Owen, Creative Director of Shanghai Tang, reimagines the brand's iconic Ginger Flower motif in a vivid bouquet of colours, inspired by two commonly exchanged Chinese Idioms over the new year – "花开富贵" and "大红大紫". The limited-edition red packets in two designs are available from 10 January to 9 February 2020 with a minimum spend of S$128. Spend S$488 or more and receive the red packet organiser designed.
Coffee Bean and Tea Leaf has worked with Disney to produce these cute limited editions Mickey and Mini Mouse Red Packets and Pouch Set.
These cute limited-edition Mickey and Minnie Mouse Red Packets and Pouch Set is available for sale at S$29.90 per set at most Coffee Bean and Tea Leaf outlets in Singapore. The Mickey Mouse pouch comes with a Mickey glove zipper and contains two sets of red packets featuring Mickey and Minnie sleeves.
United Overseas Bank (UOB) has ramped up its red packet sustainability campaign this year with thoughtfully designed, environmentally-friendly red packets. The red packets are not packed with single-use plastic and are printed on environmentally-friendly paper.
The UOB red packets feature eight mice for good luck. The design is inspired by playful mice having a feast inside a cheese block, symbolising abundance and joy. Bright and bold colours are used int his year's design to represent positivity and a strong start to the year.
UOB is collaborating with an international upcycling firm to convert these red packets into functional furniture. These pieces of furniture will then be donated to charity. Customers can drop their old red packets from 20 January 2020 at designated UOB upcycling boxes conveniently located at 20 UOB branches island-wide.
Schroders Singapore has partnered with local social enterprise Personalised Love (PLove) to produce eco-friendly handcrafted red packet pouches made from microfibre leather. Inside the pouch is a set of "Year of the Rat" – inspired traditional red packets. A mobile QR code on the back of each packet launches custom filters for the occasion.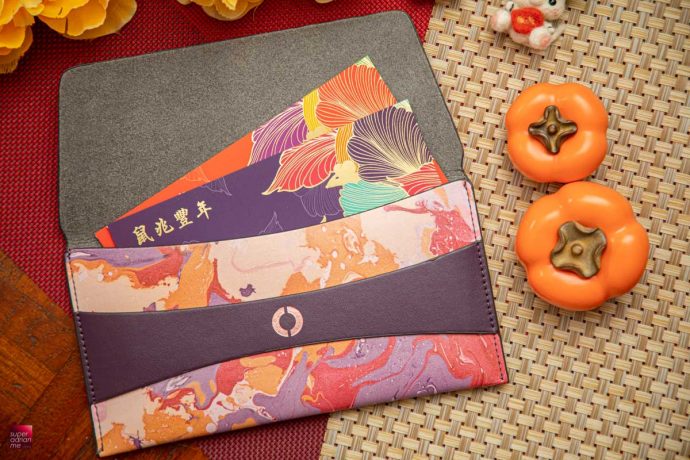 These limited-edition pouches and red packets are specially designed by Singaporean Brand and PR agency antics@play, Schroders Singapore's agency for the past few years.
Inspired by the blossoming flowers of Spring, The St. Regis Singapore's red packets feature exquisite floral prints printed in luxurious Champagne gold and red hot stamping, against a deep red fine-textured fabric for contrast.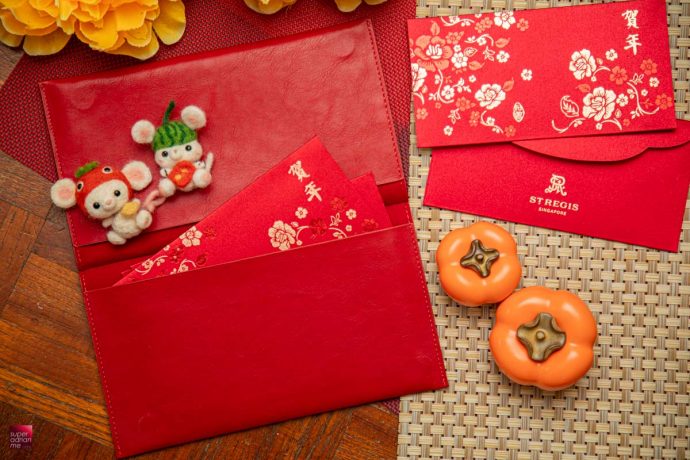 To channel the Lunar New Year's spirit of prosperity and longevity, the intricate design includes the Chinese character "he nian" (賀年), symbolising well wishes for the new year ahead. The red packets are specially constructed to fit perfectly in a debossed leather pouch.
This year CapitaLand Malls has printed six limited-edition LINE FRIENDS red packet designs featuring BROWN and CONY. Customers who spend a minimum of S$80 or charge S$60 to the American Express CapitCard can redeem for a packet of eight red packets in one design. This promotion is valid from 1 to 24 January 2020.
Matching limited-edition LINE FRIENDS red packet organisers are also available in six designs featuring BROWN and CONY. A minimum spend of S$200 or S$180 charged to the American Express CapitaCard in a maximum of three same-day receipts will allow shoppers to redeem these cute pouches while stock lasts. At Funan Mall, JCube and The Star Vista, a lower spending requirement is required for redemption.
Julius Bär has been supporting works of contemporary artists since 1981 and art appreciation reflects the client's discerning tastes and eye for detail and elegance. This series of Holistic Festive packaging designed by integrated creative agency Achates 360 incorporates an exclusive hand-painted water-colour artwork of boldly-coloured goldfish into a modern print solution. The goldfish, printed in Neon Yellow, with details of spot UV and gold hot-stamping, accentuate the goldfish against the vibrant red background and brings to life the Chinese New Year greeting "Nian Nian You Yu".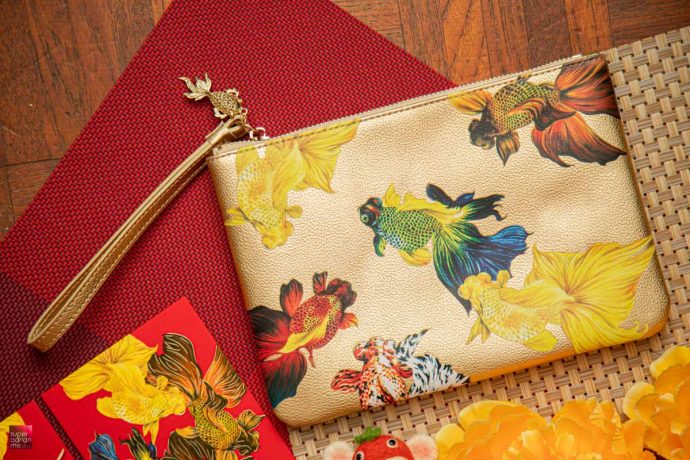 These Magnum Ice Cream red packets feature the ice cream's iconic shape that inspires true to pleasure moments with indulgence. It was launched in conjunction with the limited edition Lunar New Year flavour of Magnum Chocolate Orange.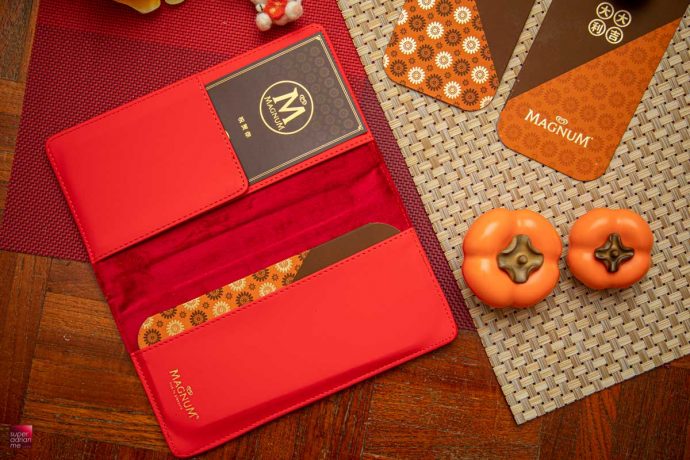 Magnum recently ran a giveaway contest on social which ended 21 January 2020 giving participants a chance to win these red packet organisers. Consumers can still redeem these organisers with any three Magnum products purchased at selected supermarkets and hypermarkets on weekends before 25 January 2020.
City Square Mall has printed a set of eight exclusive red packets that come in a pastel pink pouch this year. Red packets distribution is limited to the first 7,500 redemptions for shoppers who spend a minimum of S$88.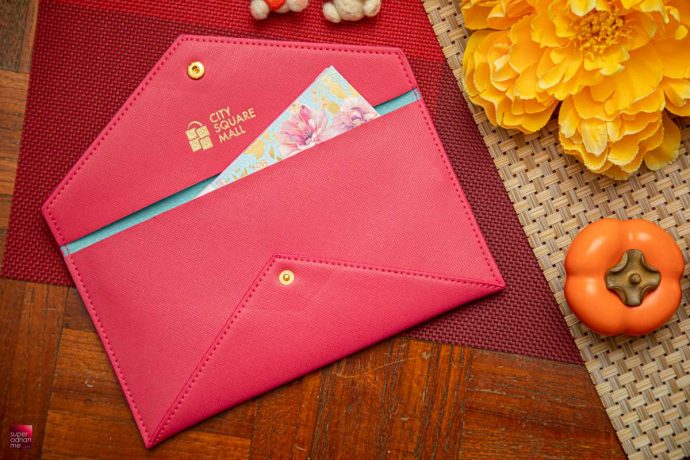 Shoppers who spend at least S$168 can redeem a set of eight exclusive red packets and the pouch. Limited to two per shopper for the first 5,000 redemptions.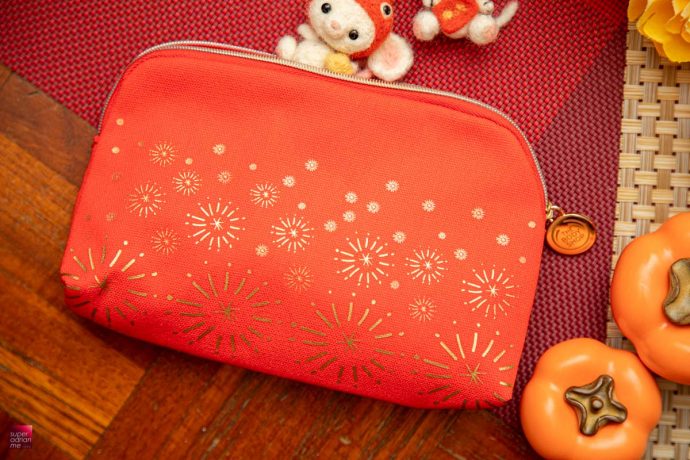 Rat Themed Designs
It's not easy to incorporate the zodiac animal into the designs, especially the RAT. Let's see how brands "sneakily" or boldly added the rodent on to their red packets
HP Indigo's print technology makes customisation and personalization on individual red packet designs a reality. The Mosaic technology that allows brands to print multiple variations of the same design (like the HP ones above) and even add on customised 4D numbers on the back of each red packet – all in one print job! So you no longer require a big budget to print a variety of designs for a set of red packets. Find out more at this link.
Universal Studios Singapore has produced limited edition red packets with 12 different minions depicting each of the zodiac animals. Available at retail shops at Universal Studios Singapore at S$16 for a set of 12 pieces or S$8 for a set of 6 pieces.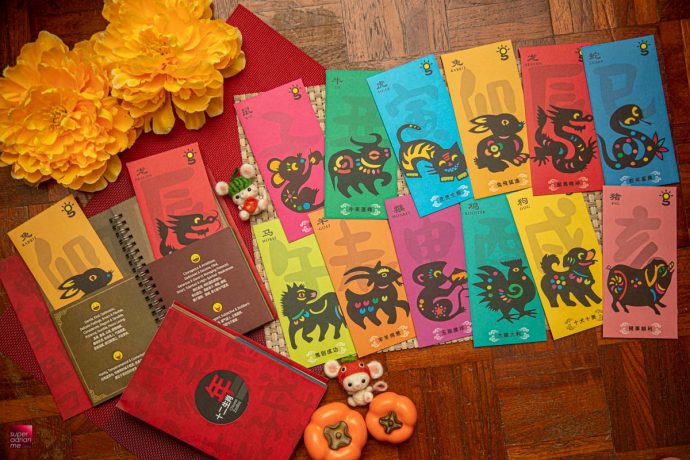 Park Hyatt Beijing has collaborated with BBART (Bazaar Art) to launch Charity Red Packets with founder of Chunzaitang Art Studio, Mr. Hai Hua Wang using curated watercolour paintings representing nature, and the arrival of Spring season. Each packet is printed with a handwritten auspicious greeting. The red packets are available at CNY100 each with all sales proceeds going towards Teach for China, providing quality education for children in rural areas of China.
Nestlé Singapore has collaborated with Disney to produce a set of KITKAT Disney red packets featuring four different Mickey and Minnie designs. Purchase S$10 worth of KITKAT products at FairPrice to get these red packets while stocks last.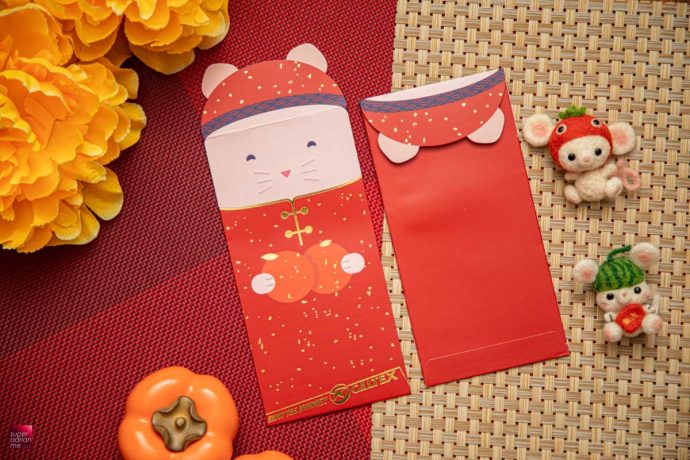 Inspired by the favourite cartoon characters from the 80s and 90s, Splinter from Teenage Mutant Ninja Turtles & Pinky and the Brain, the folks at Studio 155, a marketing agency focused on creating community experiences and unique brand activations through original content creation and campaigns, created a collage-style artwork with a mish-mash of lunar new year elements for our red packet design. The characters allow for familiarity and an element of fun. Paying homage to the year of the Rat, Splinter is a true-blue rat wishing you the best of luck with oranges on hand.
Starbucks Singapore Gold Members will get this free pack of red packets with every purchase of any Lunar New Year merchandise collection or Lunary New Year packaged food. The design elements follow closely with Starbucks' merchandise.
Skechers' red packets feature cute mice cartoons to celebrate the Year of the Rat. A cheese motif design has also been incorporated. Customers who spend S$80 or more at Skechers will receive a free pack of red packets.
The Museum Roundtable Lunar New Year Collection with exclusive red packet designs representative of National Heritage Board's 37 participating institutions. Visit any of the participating museums and galleries before 2 February 2020 and get these red packets, while stocks last.
Visit museums.com.sg for the list of participating museums and galleries, and the terms and conditions.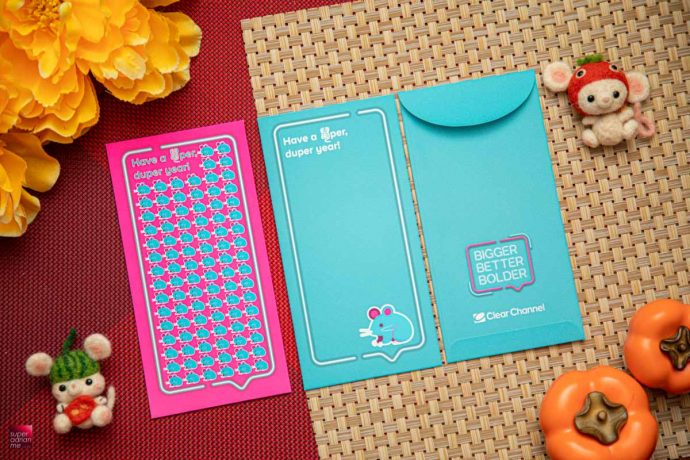 W Optics supports The Animal Project which celebrates talented artists with autism and related challenges. These artists earn royalties when their art and products are sold. The Six Rats artwork on these red packets is by Jun-Yi.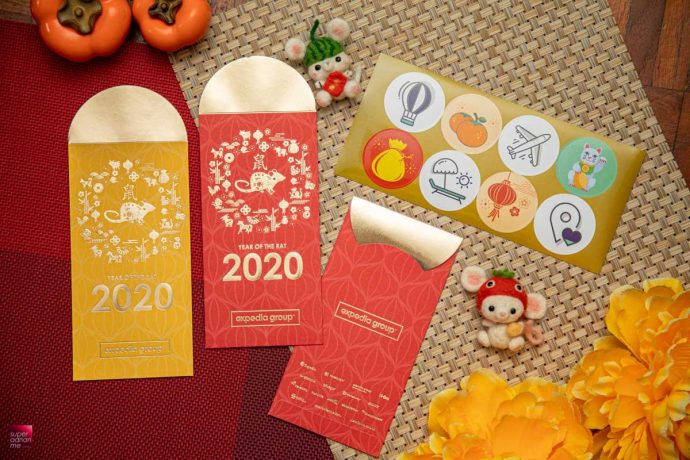 Expedia Group has used three main colours from the group's colour palette to represent this year's red packet design. Aqua represents filling 2020 with bright sparks, Yellow for joy and happiness for the year to come and Red for staying bold and brave in 2020. The 12 zodiac animals and traditional lanterns are featured as part of the design for the individual red packets. A sticker sheet features a mix of iconic Lunar New Year icons as well as travel icons to inspire travel in the year of the Rat.
Bellpug, Hotels.com's mascot is featured on the 2020 red packet design with a quirky twist and wordplay (新年放"鼠"假) as a nod to the Year of the Rat with a travel theme. Check out hotels.com seasonal deal at https://sg.hotels.com/hotel-deals/ss001-seasonal this period.
L'Occitane in Singapore and Malaysia are given out to customers with a minimum spend online or in stores.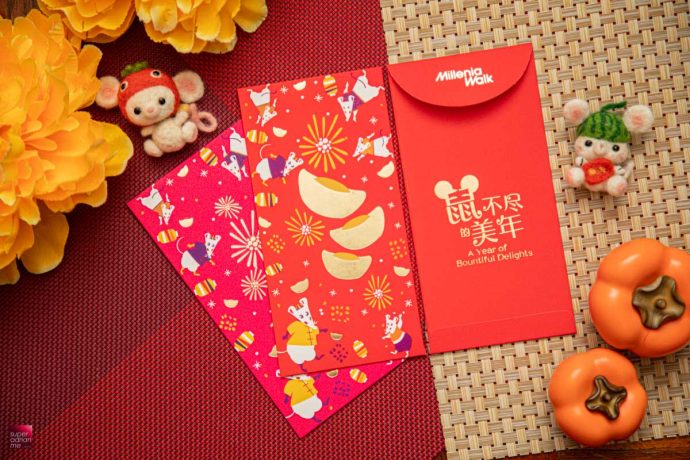 Shoppers who spend S$88 at Millenia Walk can redeem an exclusively designed Millenia Walk Festive Red Packet. Each set comes in eight red packets in an envelope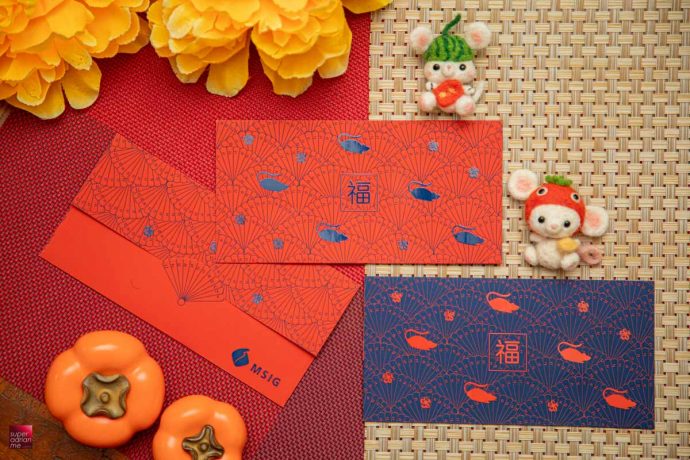 The red packets from MSIG Asia feature the brand's red and blue colours. These red packets were produced after a successful launch and positive feedback received from their 2020 MSIG biodiversity-themed notebook and calendar recently. FSC certified paper is used and plastic packaging is omitted from the red packets. Each pack of eight red packets are bundled with a paper band. The design features motifs inspired by traditional 'senzu' fans with inspiration from the company's Japanese lineage. Icons of the rat and spring flowers represent new beginnings. "福" the Chinese word for fortune is embossed in the centre of the red packet.
PAZZION uses Chinese calligraphy strokes to emphasise on the Chinese culture in celebrating the new year and to symbolise on a 'full' or '圆满' reunion and to signify the abundance of prosperity, positive energy and great health in the year of the rat.

Bags For Your Oranges
The must bring item for Chinese New Year is not wine, but oranges. And we all need to have a nice little orange bag to carry these auspicious goodies wherever we go. So it is only right to carry a nice looking one to match your looks. But we are hoping that brands would print hardier and reusable bags in the future to help reduce wastage.
This year Changi Airport has collaborated with Disney offering Frozen II red Packets and orange carrier bags for redemption from 3 January 2020 to 8 February 2020. We also understand that these have been fully redeemed.
Redemptions for the Frozen 2 Red Packet Set are still available from ishopchangi.com, while stocks last.
During the Chinese New Year period, Samsung customers served by the Samsung Service Centre will each receive a pack of Samsung red packets. The Samsung red packets will also be given to Samsung Experience Store customers with purchases above S$300. Both are while stocks last.
Harbour City in Hong Kong has designed the limited edition 'Candy Box' red packets and 'Mini' puffer handbags to give everyone 'Sweet Blessings' this Chinese New Year.
Redemptions for Harbour City's 'Sweet Blessings' red packets and mini hand bags are only available from 13 to 24 January 2020. Spend HK$2,000 or more at retail and F&B outlets in Harbour City and receive one set of Limited Edition Red Packets (6 large ones and 12 small ones) with a donation of HK$60. You can redeem one set of Limited Edition Red Packets and one mini handbag with a donation of HK$150. All proceeds will be donated to the Hong Kong Blood Cancer Foundation.
The inspiration of this year red packet designs from InterContinental Robertson Quay is the emphasis on one of the key positionings of the hotel being contemporary and modern, yet mindful of time-honoured traditions. A classic gold and red combination with a luxurious soft-touch paper and Gong Xi Fa Cai printed in Hanyu pinyin to keep it fresh, embossed with gold foil as an extra touch of elegance. Guests who stay at the hotel across the Chinese New Year weekend will receive this in their rooms.
Sofitel Singapore Sentosa Resort & Spa has married the elegance of French art with the classic and traditional design elements of the local Lunar New Year. Using a delicate red to represent Singapore's celebration of Lunar New Year and a powder blue to represent the refined French flair; it depicts Sofitel's art de vivre, embracing and celebrating local culture in a contemporary design.
Regent Singapore has maintained an elegant classic red packet with an elaborate floral print inside the red packets and orange bag. The red packets can be sealed with a die-cut that is fashioned as an oriental lock clasp. Simple yet elegant. The embossed 'R' on the face of the red packet can stand for Rat or Regent. Diners at the hotel's one Michelin starred Summer Palace will receive the red packets over Chinese New Year.
ION+ Rewards Members and American Express Card Members can add an exclusive set of stylish red packets adorned with blue oriental prints, as well as a mandarin orange carrier to their red packet collection with a minimum spend of S$80. By the way, ION Orchard remains open during the first and second days of Chinese New Year.
Simplicity forms the basis of everything that StarHub does for customers, from the services offered to their red packet designs this year. Peony flowers in full bloom adorn StarHub's 2020 red packets, to wish recipients good health and wealth. The design also features hot-stamped gold ring patterns that symbolise endless prosperity.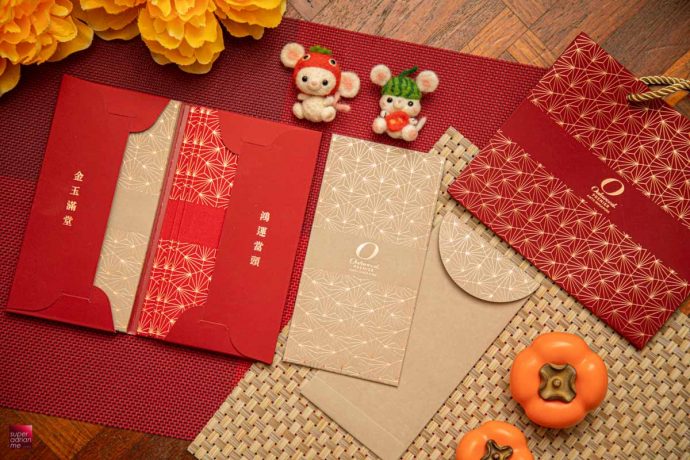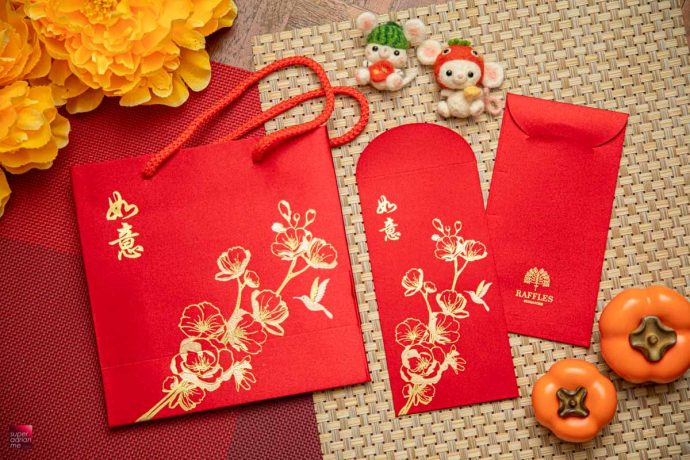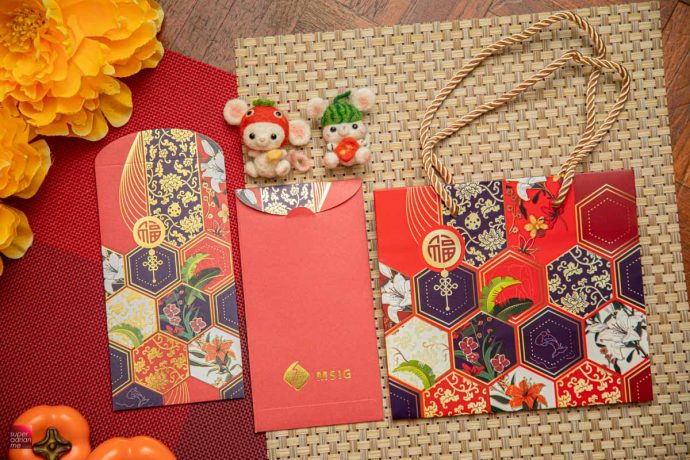 MSIG Insurance (Singapore) Pte Ltd heralds the year of the Rat with the belief that the rat plays an important role in the natural ecosystem. The design highlights the beauty of diversity and features flora and fauna that are both vital for the ecosystem and are auspicious in the Chinese culture. Peonies symbolize peace, chrysanthemums for longevity, elephant to bring happiness, koi fish for more success and ladybug to usher in good luck. Took us away to spot the elephant and koi fish. The red packets are printed on Forest Stewardship Council (FSC) certified paper and packed without plastic.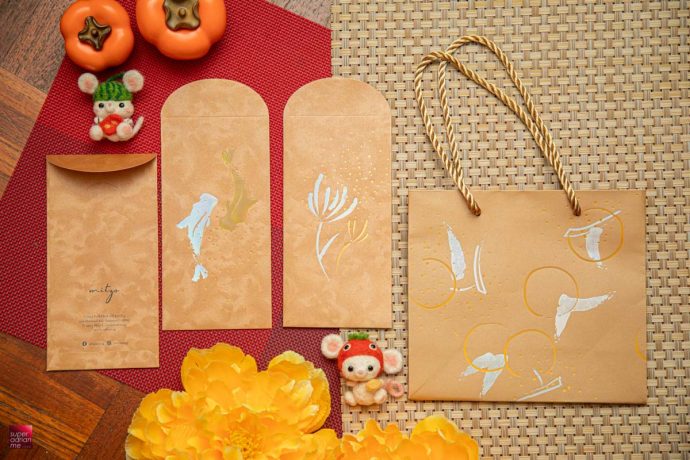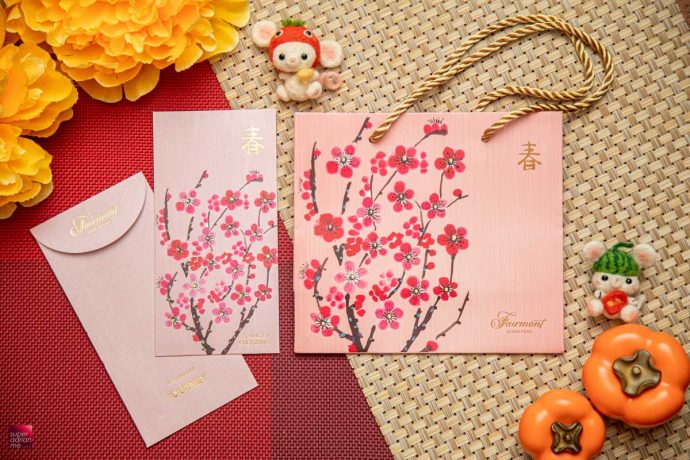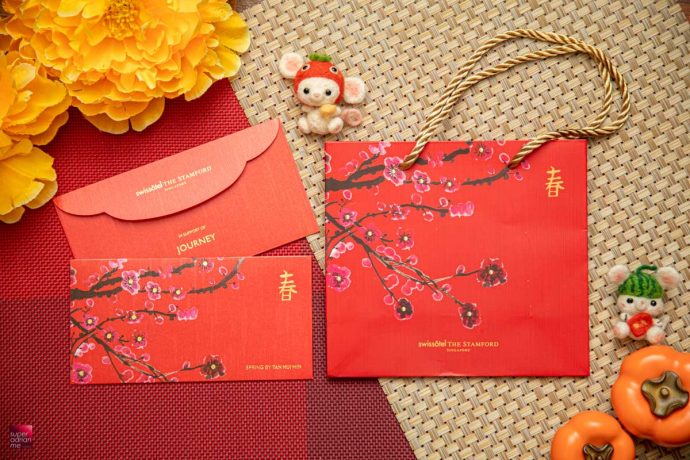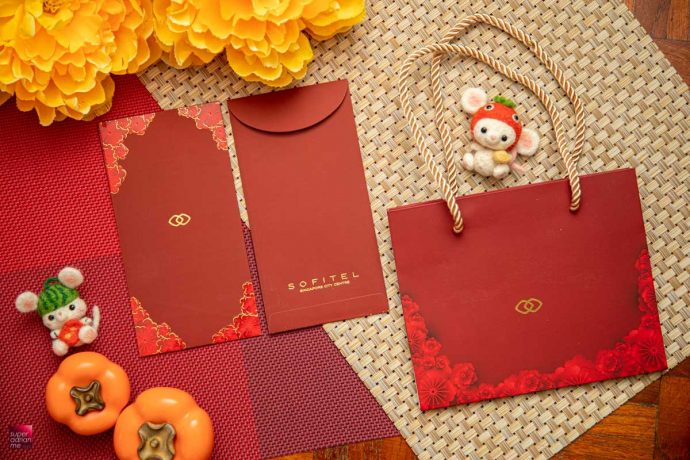 The Big Money Ang Bao
Based on the quality of the print and the design of red packets, sometimes the recipients of these red packets might be expecting a larger value inside these red packets. So you are not advised to low ball with these designs.
These Atelier Swarovski red packets are made for their partners. The design of the red packets is inspired by the bamboo elements from their Spring Summer 2020 Beautiful Earth collection.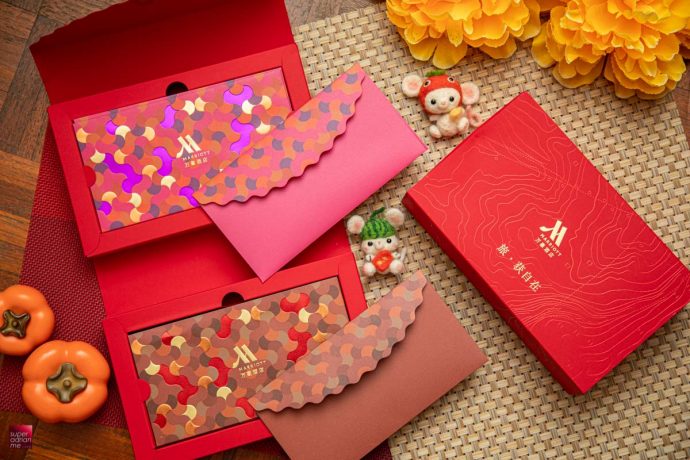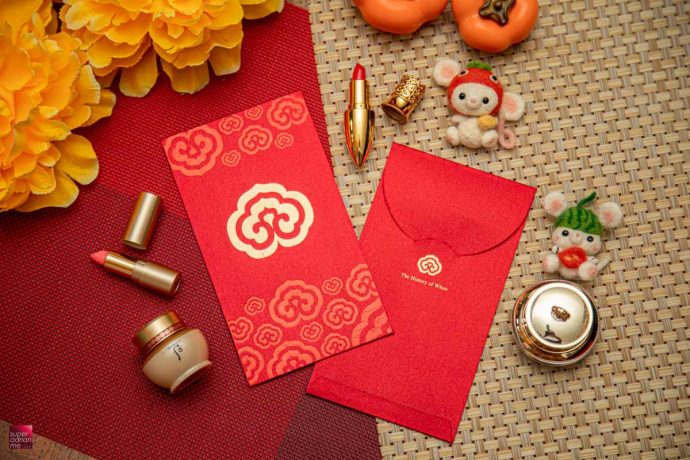 The Burberry red packet set is given to top clients as well as customers who purchase at the boutique. The red packets bear the iconic Burberry TB logo with rat design in festive red and gold colours.
Manulife's red packets this year take on classic motifs symbolic of the season, such as peonies, swallows and Koi fishes. These elements come together to fashion a time-honoured design that is not just suitable for heralding in the Lunar New Year but fitting for an array of auspicious occasions. Printed on weighted card stock, Manulife's 2020 red packets are an evergreen archetype of form and function.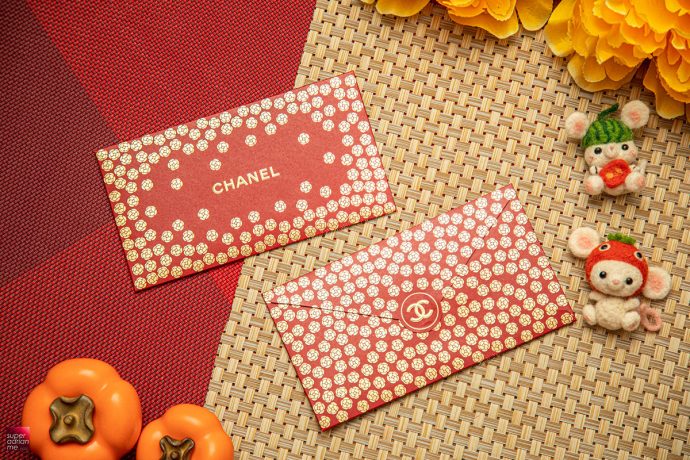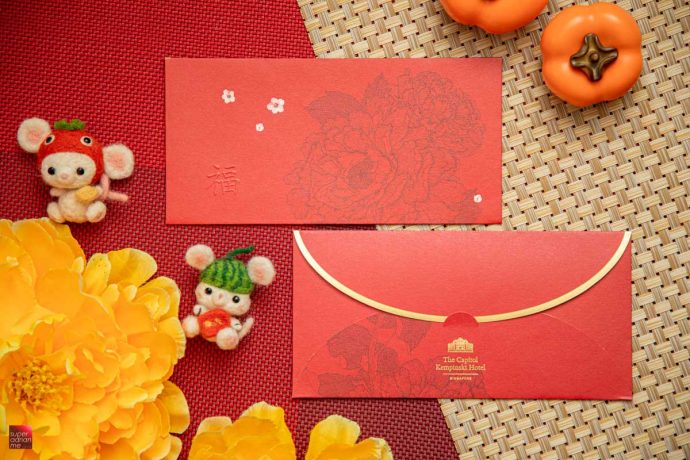 OCBC's red packets this year has been produced on the premise of protecting and using the earth's precious resources correctly to fight climate change. They feature key elements that are vital for a sustainable world. The leaf symbolises forestation while the fish represents clean waters and the bird exemplifies quality air. The red packets are printed on environmentally-friendly paper without the plastic holders. Recycling boxes at all OCBC Branches will be displayed from 28 January to 18 February 2020 so that customer can recycle their red packets, not just OCBC ones. These red packets and the recycling boxes will be sent to a recycling plant to be pulped and subsequently used to make cardboard boxes.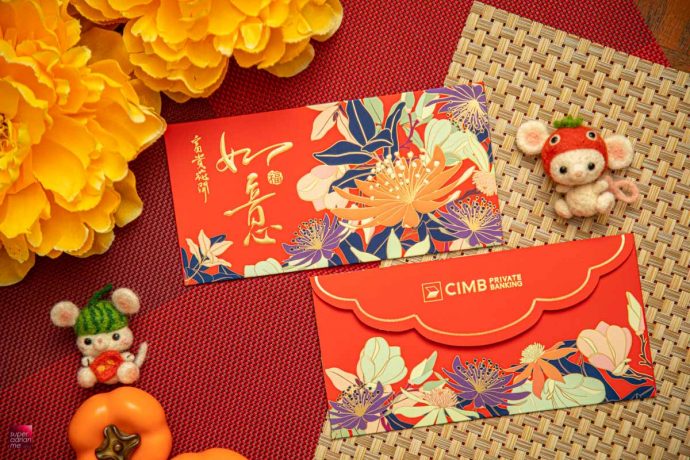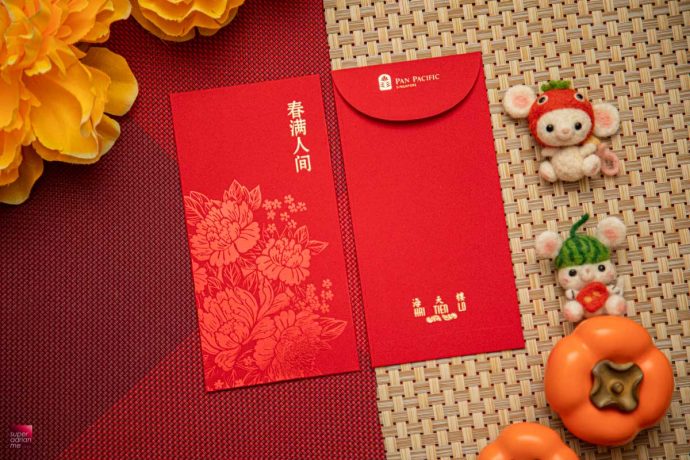 Pan Pacific Singapore's red packets this year will give recipients an augmented reality experience. The key peony illustrations will bloom to life, while a butterfly with black and yellow wings will flutter around the flower as a lively oriental soundtrack plays in the background. 14-year-old Angel Tee Xyn Pyn, a Young Budding Artist with 10 Square Youth designed the AR animation. Download the Artivive App on your smartphone or tablet to view the animation.

Creative & Fun Ang Baos
Each year, the kids will be receiving so many red packets. Sometimes we want to be cheeky, so we give out fun and quirky red packets to stand out from the crowd.
Singapore Chinese Cultural Centre has commissioned local award-winning artist Lee Xin Li to design a refreshing rendition of Chinese New Year celebrations int he heartlands. Local creative technology studio MeshMinds brings the artwork to life with augmented reality powered by Spark AR from Facebook.
Scan the QR code on the red packet and traditions will spring to life together with an informative write-up on the origins of these traditions. These red packets can be obtained from SCCC's new feature Huat Huat Land, a festive wonderland at its Rooftop Garden transformed by larger-than-life pineapples and gigantic mahjong tiles, as well as events at the Singapore Art Week.
This year's red packets from Royal Plaza on Scotts feature a touch of local and pops of colours that are in line with the hotel's refreshing brand, following their major renovation.
Royal Plaza on Scotts has a charity drive at Carousel's counter. With a minimum donation of S$5, customers get a packet of the limited edition red packets. The donations will go to Sing'Theatre's community outreach programmes dedicated to hospital patients and the underprivileged.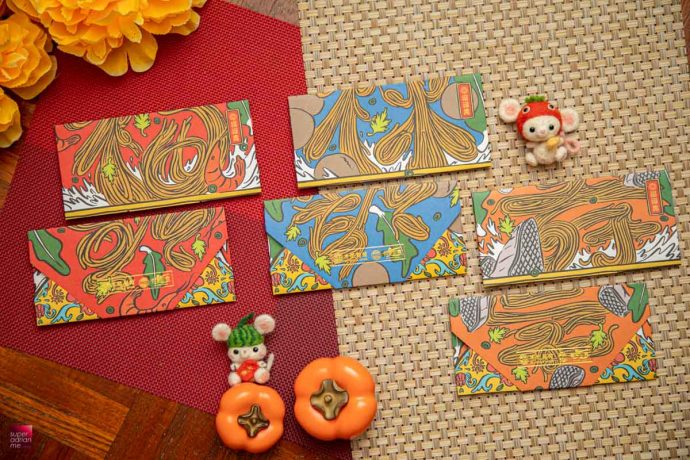 JD Red Packets and Vouchers will be given to shoppers who spend a minimum of S$118, S$218 and S$288. The get a set of these cutely designed red packets with a S$10, S$20 and S$40 voucher respectively.
Each set of McDonald's six red packets comprises three designs, with two red packets of each design, specially created by McDonald's for the festive season. Purchase the Prosperity Feast and get the red packets at all restaurants or via McDelivery and GrabFood, while stocks last.
As the world's largest travel platform, TripAdvisor wants to celebrate and inspire travel. This year's red packets showcases instantly recognisable landmarks from around the globe that travellers can consider for their next holiday. With these red packets, you can give your loved ones the gift of travel.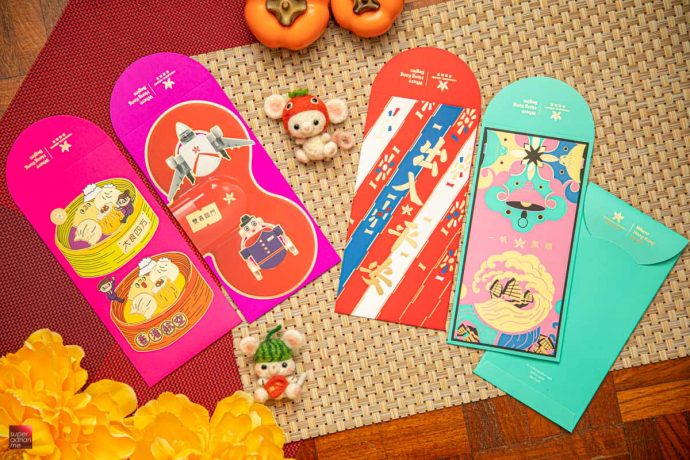 Hong Kong Airlines continues to work with Li Han Kong Kai font creator Lee Kin Ming, Tinbot toy brand creator Lock Lai, tattoo artist Lily Cash and artist Jane Lee to create this year's red packets. Four different designs from left to right in the photo above are Jane Lee's Stuff Yourself (大食四方), Lock Lai's Double Blessing (雙喜臨門), Lee Kin Ming's Safe Journey (出入平安) and Lily Cash's Smooth Sailing (一帆風順 ).
You can read more about the collaboration at https://852mag.com/2020/01/02/artsy-and-auspicious-beginnings/
Stock up your Nespresso capsules for Chinese New Year this weekend. Pick up a Chinese New Year 8 sleeve pack at S$62.10 from any Nespresso Boutique or purchase from the Nespresso app or website and get a set of these beautiful red packets.
Share the joy of coffee with your guests. Or just have more cups of coffee to keep awake from too much visiting this weekend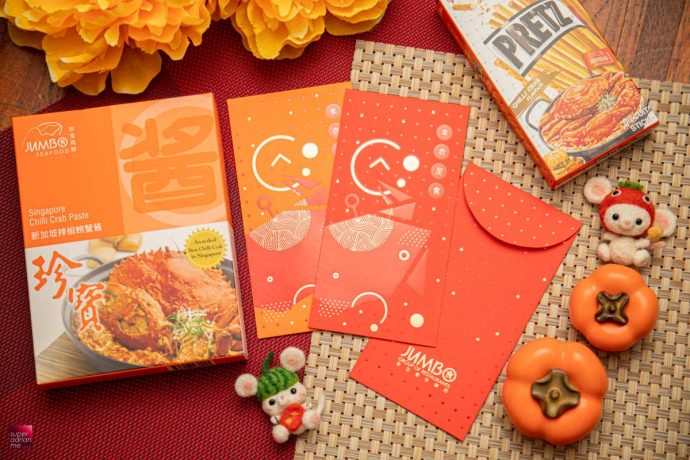 Jumbo Seafood's popular and sold-out savoury PRETZ x JUMBO Seafood Singapore Chilli Crab biscuit sticks re-hit the shelves at most JUMBO Group of Restaurants brands and outlets from 21 January 2020 for the festive holiday.
RedMart Lazada has produced red packets this year for customers who receive their RedMart Orders in the week of 20 to 24 January 2020. One packet of red packets will be inserted in their order. Each pack has six individual red packets and there are two designs.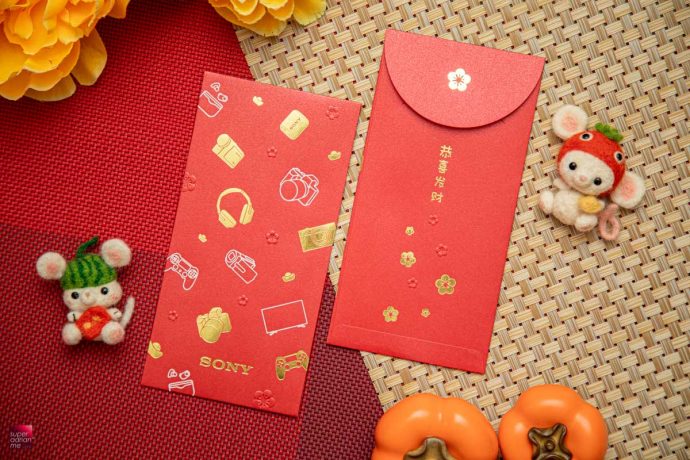 Carousell's red packets this year feature the revamped Casousell logo, colours and imagery. The bright red remains the core Carousell brand colour post-rebrand. It is brighter than before to represent the forward-looking ambition of the brand. Place the front of the red packet to the back together and the red packets create one cohesive picture. The cars and houses featured on the red packet represent the brand's strong growth in their autos and property verticals.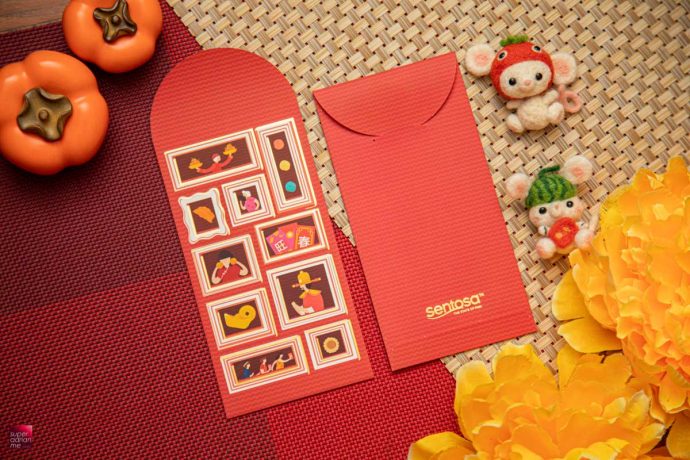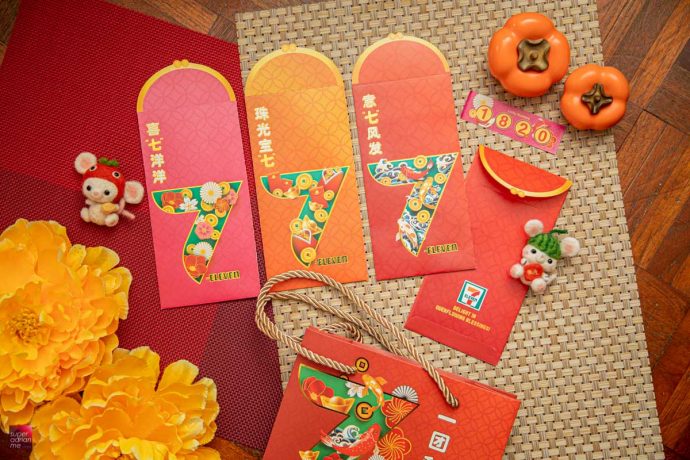 Din Tai Fung's Chinese New Year red packets feature beautiful peonies with gold foil detailing, exuding elegance and luxury. The design also adds a touch of Din Tai Fung with pussy willows in the guise of its Xiao Long Bao, introducing modern elements to traditional motifs that are synonymous to Chinese New Year celebrations. Spend at least S$68 at Din Tai Fung and receive these red packets (8 pieces per pack)

Not So Red
If you are not a fan of "RED" red packets, here are some colour designs that red is not the prominent colour.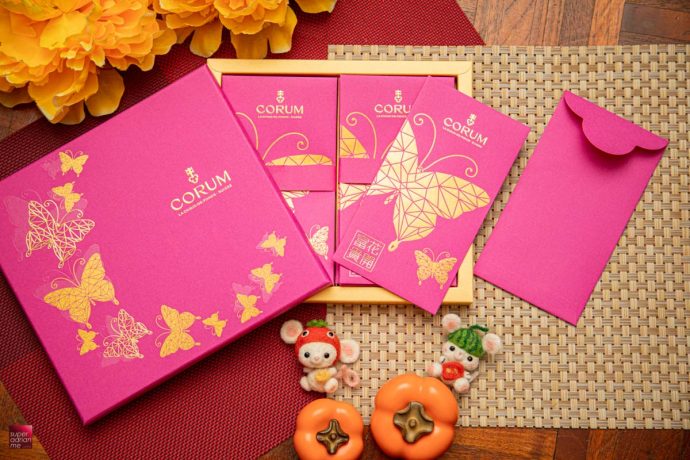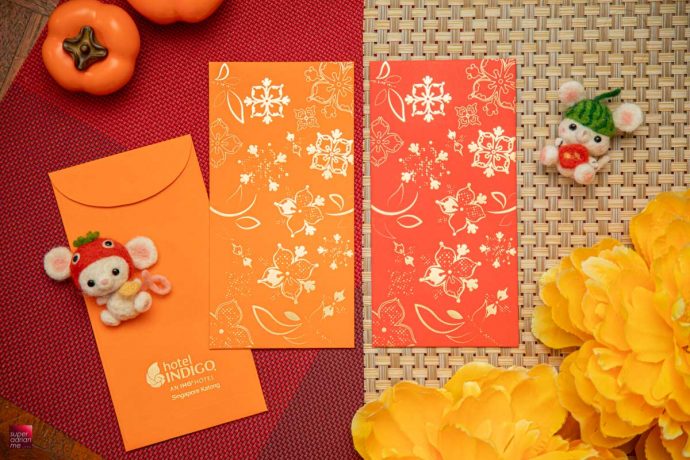 Beam Suntory produces their first festive red packets designed with ingredients that can be found in the brands across the Beam Suntory portfolio. There is corn, barley, yuzu, sakura and sansho pepper from Jim Beam, Makers's Mark, Auchentoshan and Roku gin. A set of red packets are given with every transaction made on the Beam Suntory Flagship Store on LazMall.
Design Orchard's red packets feature spring flowers amidst an elegant pale background that represents a new beginning. If you piece them together, you get a really pretty set of flower designs. Spend a minimum of S$168 nett to redeem these red packets till 2 February 2020.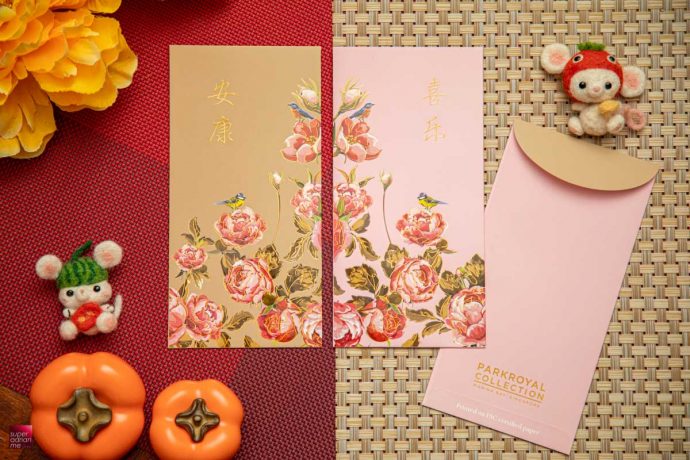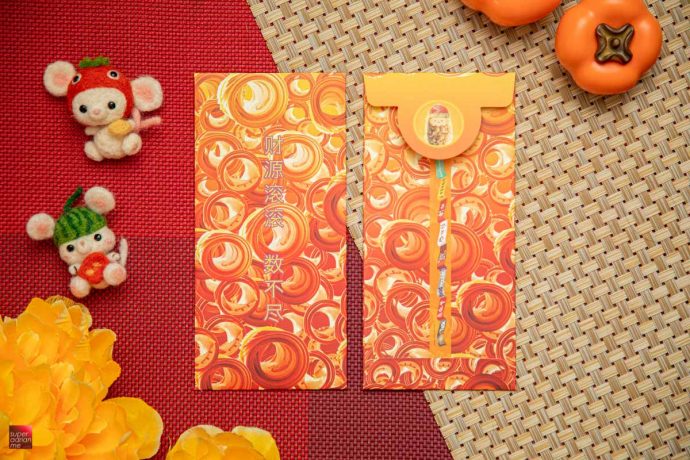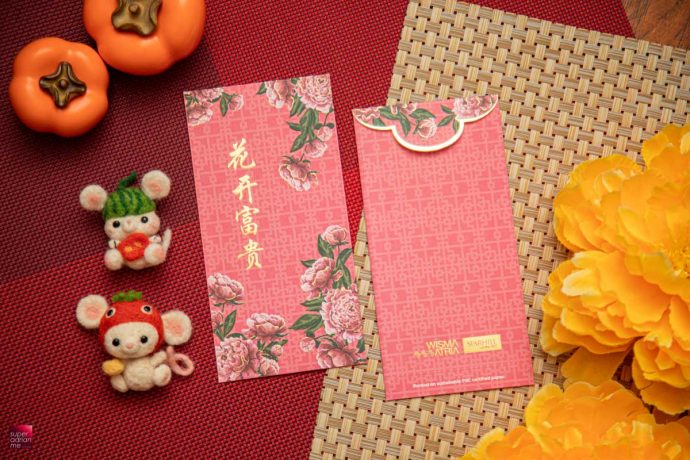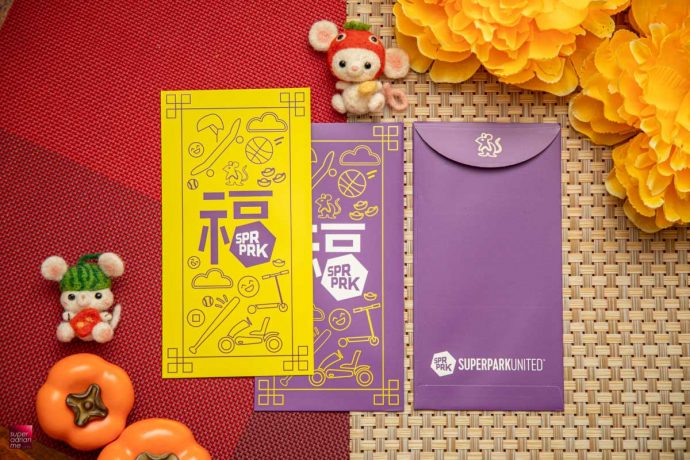 Keeping It Simple
Sometimes we want it plain but not so simple. Here are some sophisticatedly designed red packets that might suit your taste.
From 24 to 28 January, travellers in the Qantas Singapore Business Lounge can choose from a selection of traditional Chinese New Year desserts, including Fatt Gor (often referred to as Prosperity Cake, Lucky Cake or Fortune Cake), Love Letters, Fortune Cookies, Pineapple Tarts or Crispy Nian Gao (sticky rice cakes).
In the Singapore First Lounge, Prawn Toasts, Kueh Pie Tees (a thin and crispy pastry tart shell kueh filled with a spicy, sweet mixture of thinly sliced vegetables or prawns) and Fortune Cookies are available to customers, in addition to Qantas' a la carte dining menu. A white rum-based cocktail "Zodiac Rat" by Spice Temple is also served in all Qantas First Lounges on Jan 25th and 26th to mark the Lunar New Year.
In Qantas' Hong Kong Lounge, Lunar New Year Specials – served from January 24th to 27th – include Qantas' signature BBQ Pork with Rice and Pickles and Roasted Duck with Rice & Pickles along with Roasted Pork Baos and Smiling Sesame Cookie Balls.
Mandarin oranges and Gold Coin chocolates are offered to Qantas customers in the Singapore and Hong Kong lounges.
UNIQLO red packets are available with any in-store or online purchase with no minimum spend required. UNIQLO will also let customers drop used red packets into recycling bins at Level three of UNIQLO Orchard Central Global Flagship store till 3 February 2020 to be turned into reusable paper products.
The Vine Culture takes on a modern and whimsical approach to the traditional practice of angpow-giving with unconventional red packet design to capture the young-at-heart. The red packet features a youthful pink palette with pops of gold and subtle playful elements of a mouse and cheese.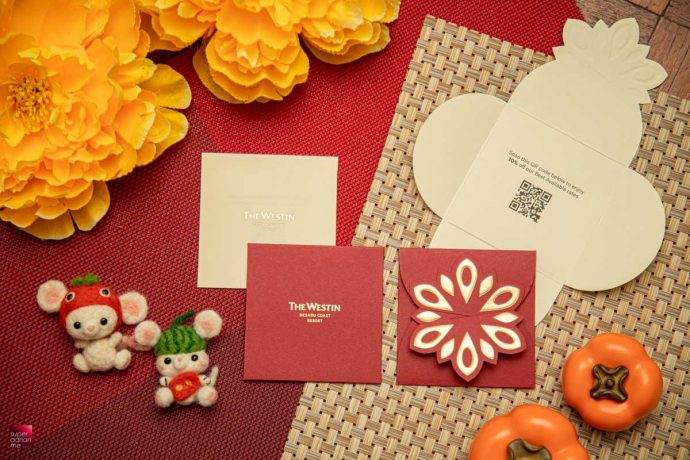 Kids Only
For Chinese New Year, it is usually the kids who are excited to receive red packets from the adults. So cute ang baos are essential to gather some attention from the kids and like-minded adults too. But we are pretty sure they are more interested in the contents of the ang baos.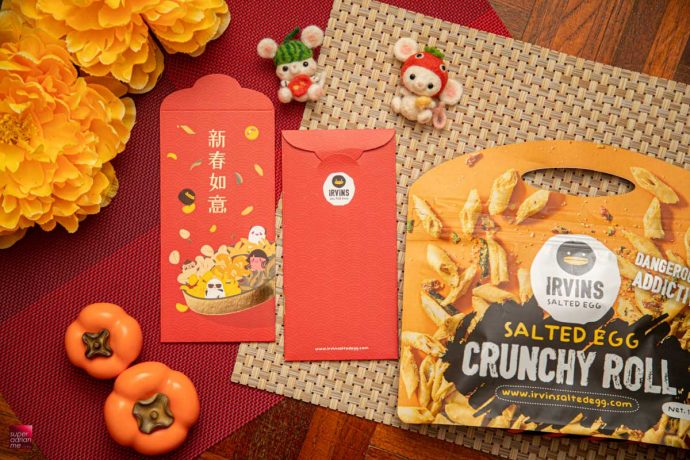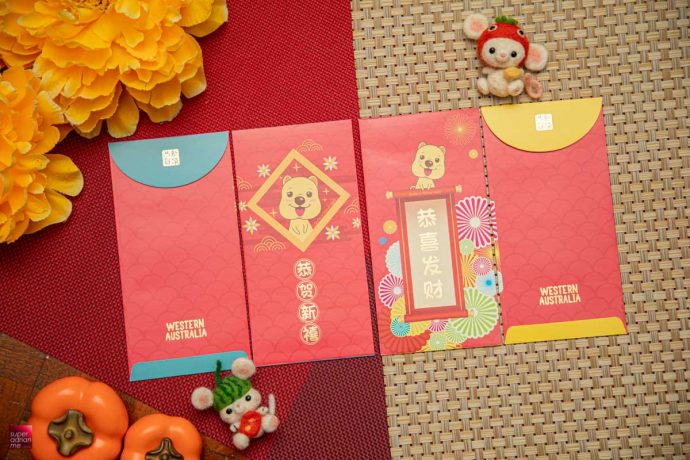 Elegant & Classic
Sometimes, it doesn't have to be that fanciful. Just keep it traditional.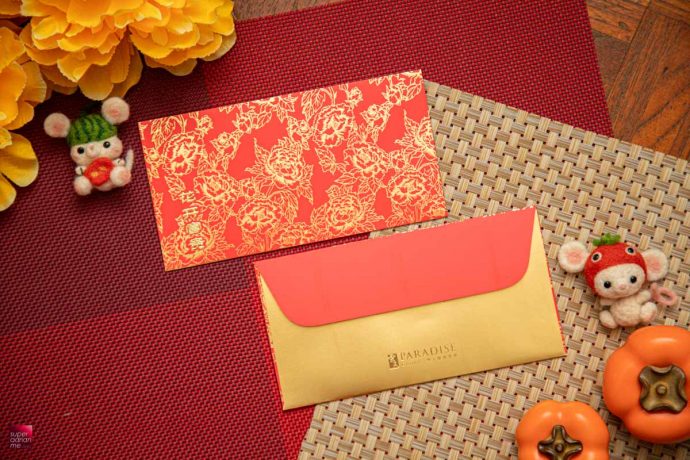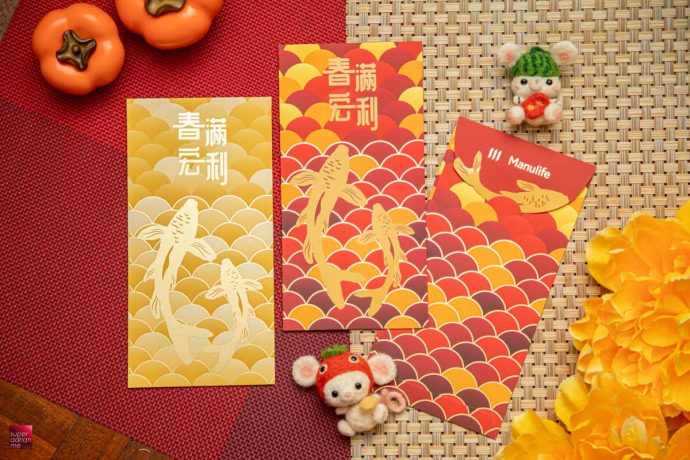 Manulife's red packets this year take on classic motifs symbolic of the season, such as peonies, swallows and Koi fishes. These elements come together to fashion a time-honoured design that is not just suitable for heralding in the Lunar New Year but fitting for an array of auspicious occasions. Printed on weighted card stock, Manulife's 2020 red packets are an evergreen archetype of form and function.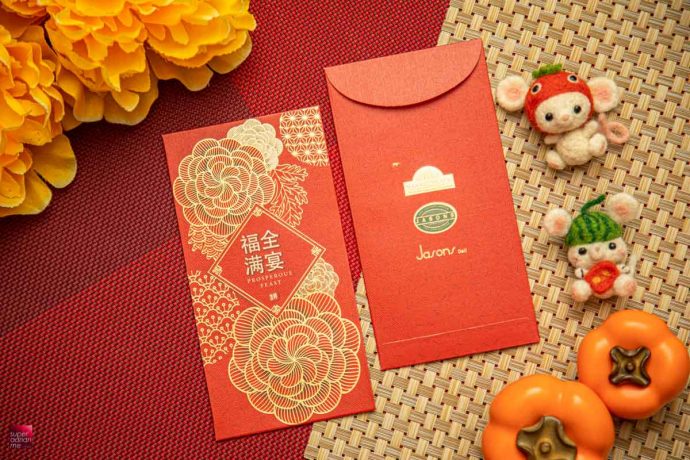 The lantern design on ECCO's red packet has small icons consisting of Chinese New Year elements as well as motifs of shoes and bags. The red packet's background clouds, branches & flowers are cut-outs of leather. Embedded on the ang bao is 步步高升 which symbolises ECCO's customers will prosper with every step. With any purchase of bags or shoes, customers will receive one set of 10 red packets.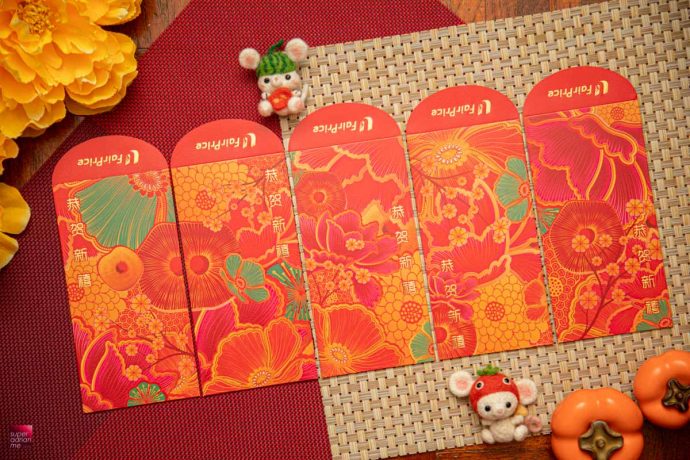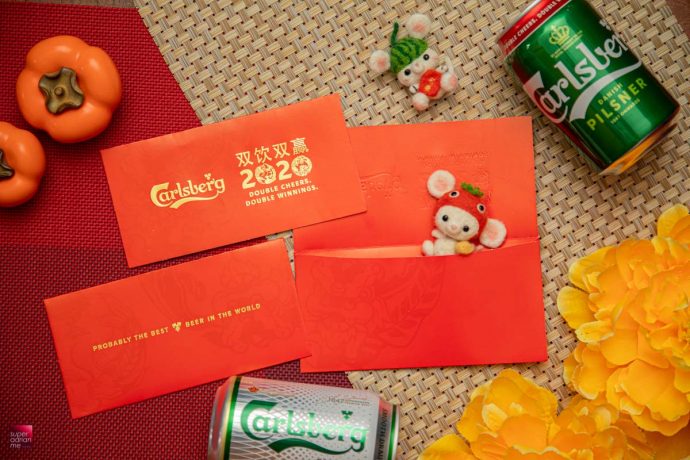 During Chinese New Year, the concept of 'double' is auspiciously associated with 好事成双 or 'good things come in a pair'; and 2020 marks an especially befitting year with its 'double' figures.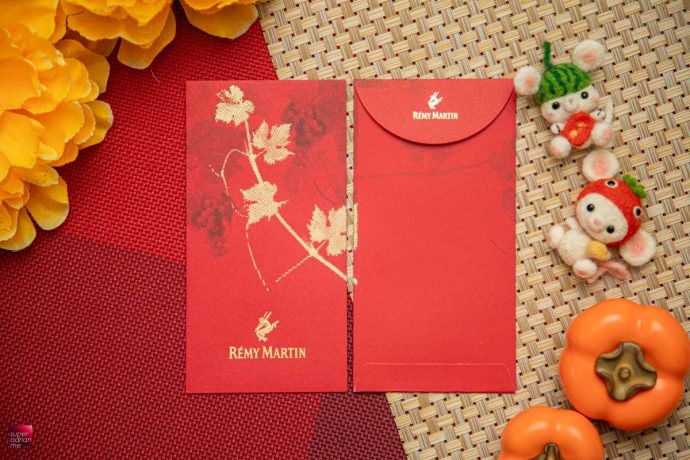 Poh Heng's red packets feature classic Chinese New Year design with a touch of modernity. The character 福 which means fortune, good luck, blessing and happiness is emblazoned in gold, a hallmark of Poh Heng. The overall design takes on a fresh and contemporary interpretation to the traditional Peranakan motif that seamlessly juxtaposes classic baroque Peranakan design with modern simplicity.
Holiday Inn Singapore Atrium has produced new colours of mint & orange for 2020 to complement the previous years' red and pink red packets. Holiday Inn Singapore Atrium's 27-storey tall circular tower has been around since November 1985. The iconic glass-tinted architecture holds fond memories for many, especially those who grew up in Tiong Bahru and Outram. The design of the red packets are based on this as well as the Chinese heritage roots.
Dine at Xin Cuisine Chinese Restaurant from 24 to 31 January 2020 and receive these red packets, a mandarin orange carrier and oranges per table. The same will be given to guests who dine at the hotel's ballroom from 24 January to 8 February 2020. Hotel guests who check-in before 25 January and stay for the new year, oranges and red packets will be left in their room by housekeeping. Hotel guests who check in on Day 1 and 2 of Chinese New Year will also be given red packets.
The pair of golden birds soaring between the peonies in Maybank Singapore's red packets signifies the coming of spring and the hope for a peaceful and harmonious new year. The image of koi fishes swimming freely in the lotus pond represents abundant blessings and prosperity for the year ahead.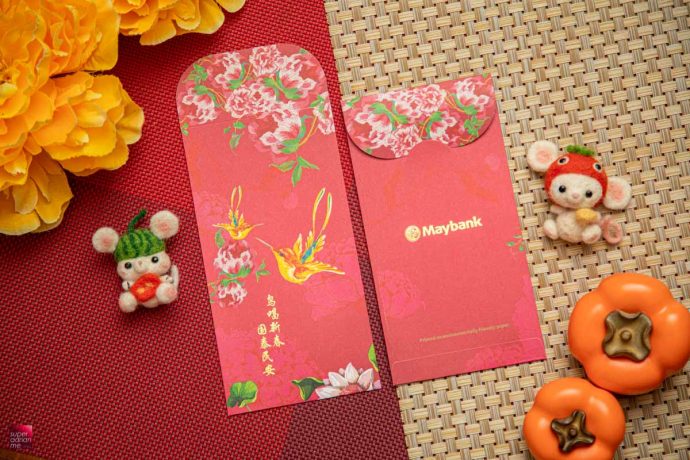 In line with the bank's sustainability efforts, the ink used are purely plant inks and printed on environmentally friendly paper. 442kg worth of plastic was saved by switching from poly bags to paper as the main packaging.
Customers can collect a set of red packets at all 19 Maybank branches from 13 January while stocks last.