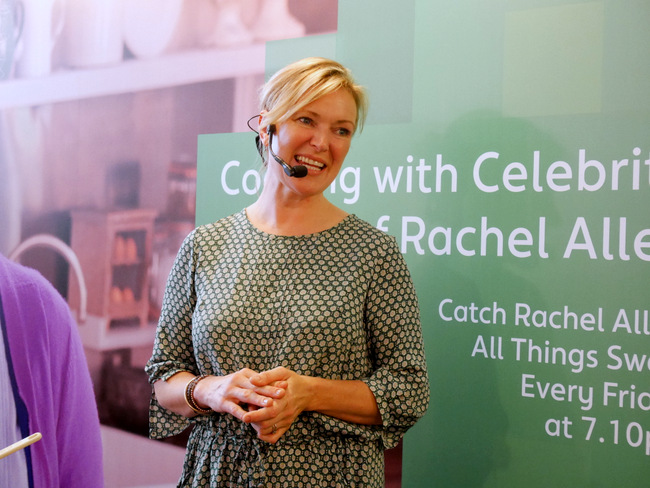 Skip those cafe-hopping dates and make the next destination your very own home. Rachel Allen brings to Singapore her new cookbook and show, All Things Sweet, where she will indulge in her – and our – passion for deserts, and loads of it. Premiering on 18 September 2015 on BBC Lifestyle (Starhub Ch 432), it will have everything from show-stopping dinner party finales to irresistible treats for all.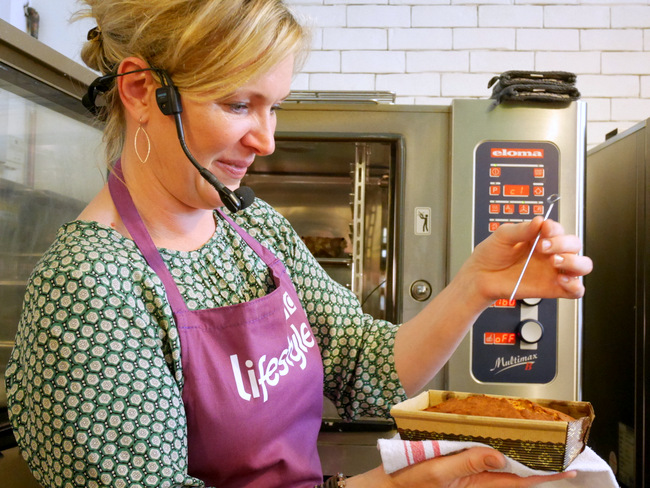 She celebrates her fifth return to our sunny island with a special masterclass, featuring her Banana, Ginger and Golden Syrup Bread and Chocolate Peanut Brittle Butter Cookies at Palate Sensations.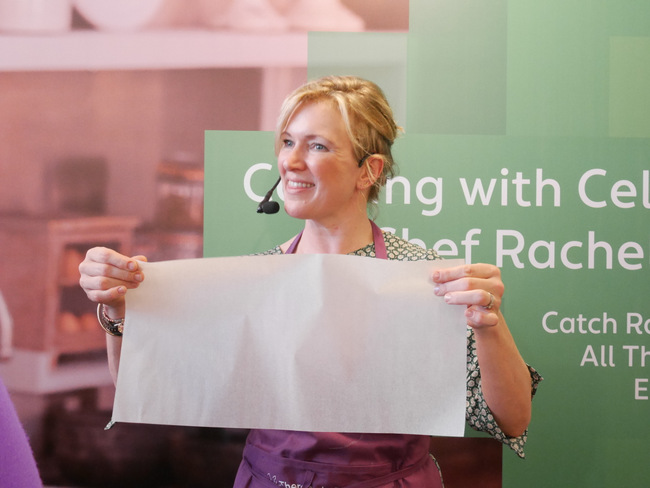 Besides bringing a lovely Irish charm to the class, she translates complicated, professional techniques to quick little steps – making first-time bakers feel like experts in her kitchen!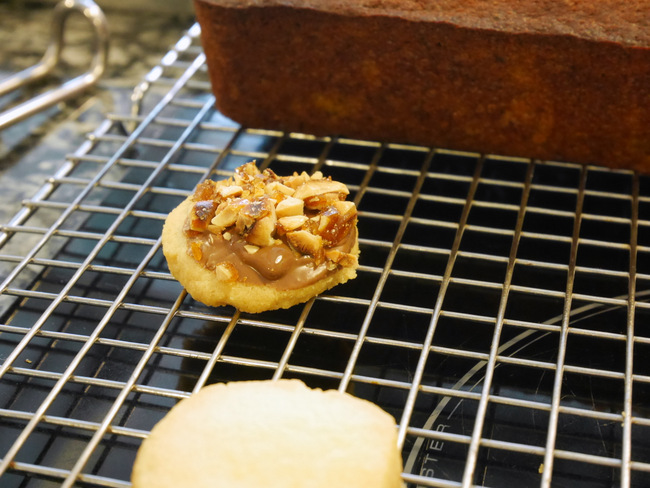 As someone who has failed in making the simplest of desserts (a plain old chocolate cake), I was amazed that I completed two bakes in around an hour! Granted, I had an assistant with me and helpful staff cleaning up my mess, but I have never felt so at ease baking treats. The best part is really how Rachel's all about making it decadent without getting too complicated with the ingredients or steps!
Don't believe me? Give this recipe a try.
Chocolate Peanut Brittle Butter Cookies
Preparation time: 40 mins, Makes 20 Cookies
Ingredients
Peanut Brittle

40g caster or granuated sugar
40g salted peanuts

Cookies

150g plain flour
50g caster or granulated sugar
100g butter, softened

Chocolate Glaze

100g milk chocolate, in drops or broken into pieces
Preparation
Making the Peanut Brittle: First set aside a baking tray with baking paper. Place the sugar in a frying pan and scatter the chopped peanuts over the sugar. Place it on medium heat, not stirring but swirling the pan every so often to caramalise the sugar evenly. Cook until the sugar has completely melted and is a deep golden colour. Swirl the pan again to coat the peanuts in caramel and transfer to the prepared baking tray. Once cool and completely set (will be hard), break up the brittle by chopping coarsely.
Making the Butter Cookie: Preheat the oven to 180C. Put the flour and sugar into a mixing bowl. Rub the soft butter and bring the whole mixture together to form a stiff dough. Roll the dough into a log approximately 30cm long and 4cm in diameter (can be kept in the fridge until a cookie craving crisis!), and cut into 7mm slices. Place on baking trays (no need to butter or line) and cook in the oven for 8 – 10 mins until light golden brown. Allow to cool for 1 min before placing to cool on a wire rack.
To Finish: Once the cookies have cooled, place the chocolate in a bowl sitting over a saucepan with a few cm of water. Bring the water to boil, then take it off the heat to let the chocolate melt slowly. Once melted, dip the top of each cookies into the chocolate and scatter the chopped peanut brittle over the chocolate. Set to cool.