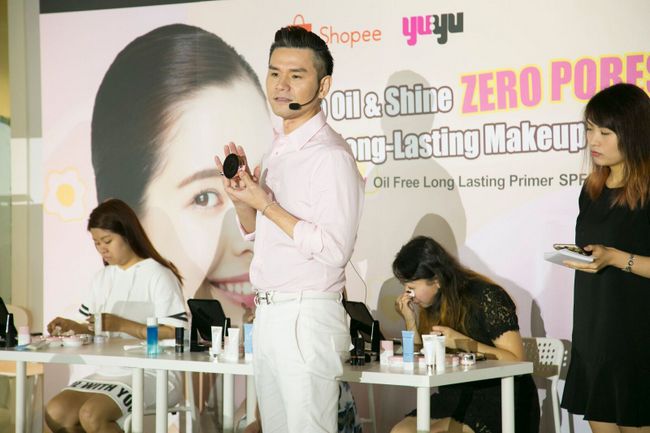 Kevin老师 is no stranger to me. Back when eyeliners made as much sense to me as a sharpie marker, I still listened on, religiously, to his tips on skincare and make-up (on 女人我最大). I was left with a sense of wonder, dreaming of the day I could dress up and be as glamourous as the ladies he made over. Without question, he is a master of his craft. His introductions are always met with ohs and ahs, leaving TV audiences scrambling to the nearest store to stock up on his seasonal must-haves.
Today, he is an entrepreneur. His very own brand of cosmetics, BEAUTYMAKER embodies his beauty philosophy; high quality yet affordable cosmetics made for Asian skin. His beauty label has already gained the support of many in Taiwan, and is starting to gain traction in Singapore as well. We managed to catch a quick chat with the busy man to learn more about his brand and what's in store for the future. Of course, I made sure to grab some valuable beauty tips and tricks for us as well!
How did your love affair with beauty start?
Kevin老师: I personally have oily skin. When I was younger, just like most of the younger males, I had problems with pimples and acne. I didn't dare to squeeze my pimples, or apply any creams or lotions on my face because I was afraid it would cause scars!
Then, one day, I saw an advertisement for a particular eye cream and was shocked to read that if we do not take good care of our skin (especially the area around our eyes) we can get wrinkles easily and look aged! From that moment, I understood the importance of skin care. That sparked my interest and passion in the skincare industry!
As for make-up, it started because of a makeup course I attended during my university days. I fell in love with it and never looked back. I got more exposure to makeup and my interest grew after I joined the army. Then, I was part of the music & drama club, where we had to help our female cadets with their makeup. Back then, I was not professionally trained at all. However, this experience was very valuable to me as it allowed me to continuously practice and try new techniques.
At the same time, I flipped through magazines and used the models in the advertisements as examples. I also continuously begged my mum and sister to let me practice my makeup skills on them. During that period of time, I was doing makeup every day from dawn to dusk. And, that was how I trained myself and built a very strong foundation in my makeup techniques.
Upon leaving the army, I started working at a boutique store, JOYCE and was lucky to get a freelance offer from MTV as a makeup artist and stylist. That was my first foray into the makeup and cosmetics industry! It was exciting! I knew I had to work harder than anyone else to make a name for myself, so I made the transition from being a freelance makeup artist into a full-time, professional makeup artist. Eventually, I created my very own cosmetics line, BEAUTYMAKER.
What is your personal beauty philosophy? And how do you continue to hone your craft?
Kevin老师:  Since the beginning, makeup was recognised as something that was needed only when attending important functions, or when going on a date or for work. But, I feel that makeup can help you can explore and enhance your uniqueness, and immensely boost your self-confidence!
I believe everyone is beautiful in their own way. We should never compare ourselves to someone else, but learn to identify and appreciate our own beauty. Therefore, whether it is with regard to developing new products or helping client's with their makeup, customization is key. Always identify and highlight the best features, hide and cover up the flaws to show off your best self!
For every client or customer that I have, I will carefully check his or her skin type, skin tone, skin condition and facial features to create a unique look for each individual. At the same time, I will think thoroughly about the different makeup techniques and looks, and the different textures and forms of cosmetics that will help them present their best look.
What is the concept behind BeautyMaker?
Kevin老师: "Fashionable, Innovative and Confident", this is BeautyMaker's main objective and goal. BeautyMaker is a line of trendy cosmetics, created to cater to the needs and demands of the typical Taiwanese female consumer.
We aim to offer a line of cosmetics that are practical, easy to use and convenient to carry around. Our product packaging is designed with the 'fashionably urban' concept and we hope to provide a top-quality range of products that allow modern ladies the ability to apply and complete their makeup swiftly and conveniently.
Which makeup item from your collection is considered your holy grail (e.g. eyeliner, foundation, etc.)?
Kevin老师: Concealer, compact powder, mascara and eyebrow pencil. I focus on the complete, finished look. Concealers can immediately make the skin look better, while the compact powder can be carried around so easily, making it extremely convenient to touch up on the go. Mascara and eyebrow pencil helps to create a more three-dimensional look and completes the entire look.
Many are travelling or about to travel to colder climates (very different from Singapore). What advice can you give them to keep their skin and makeup in tip-top shape?
Kevin老师: In colder weather, our skin becomes dry easily. It is recommended to prepare skin care products or masks to enhance and maintain moisture in the skin.
In addition to regular skin care regimes, preparation before applying makeup is also very important! It can help keep the skin moist and translucent, allowing easier application and longer lasting makeup. Also, pick foundations that have a good moisturising effect to avoid skin lines and powder marks.
What about tips in a tropical, humid climate like Singapore's?
Kevin老师: I would recommend using foundation products with oil control, to create a long-lasting effect. If your skin gets oily easily, you can apply more on the T-zone area to strengthen the length of which your makeup can stay on.
In addition, it will be useful to always carry compact powder and a clean puff with you when you are out and about. Use the puff to remove the oil on your face before touching up with the compact powder. This will help make your face look clean and flawless.
You've expanded your role from celebrity makeup artist to entrepreneur. What's in store for you for the rest of 2017?
Kevin老师: With the rise of social networks, I can now interact directly with my fans more effectively and help them solve their makeup woes. I hope to use these social media platforms to reach out to more fans and to share more about makeup and its techniques, as well as the invaluable knowledge of how to enhance oneself through makeup.
I would also like to share more about life, good food, and my views on anything regarding beauty. Soon, I will start recording a series of programs, like "Kevin想得美", "Kevin大主廚"! I have also recently collaborated with Taobao to create a "凱文老師嚴選" store, where you can find all my favourite beauty products and, of course, my BeautyMaker products. I hope everyone will like these plans!
We would like to thank Kevin老师 for taking the time out for this interview! We hope to see your new programs soon.