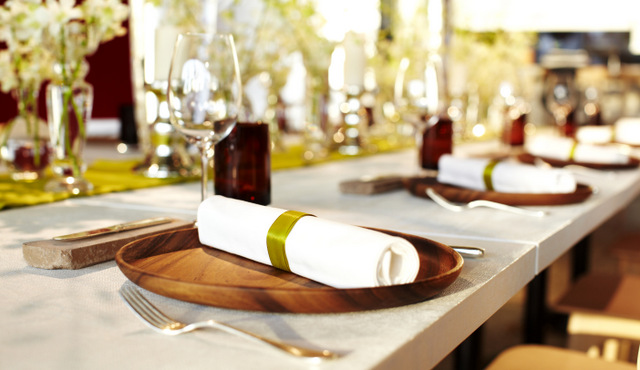 Getaway for a family outing, without having to 'get-away' – a drive into Quayside Isle in itself feels as if you are on a trip outside of Singapore heading for a relaxing vacation. A food enclave located next to the W Singapore resort, Quayside Isle is idyllic and serene, overlooking luxurious boats docked by the residents of Sentosa Cove and members of One Degree 15 Marina Club. I know what you're thinking – planning for a family outing for three generations can be a tedious affair, but it really doesn't have to be. Quayside Isle is for both young and old to enjoy – taking a nice stroll and soak in the atmosphere and fresh sea breeze – all you need is your MasterCard card.
MasterCard has collaborated with Chef/Owner Emmanuel Stroobant 's fine dining restaurant, Saint Pierre, for Saturday Brunch from now till 28 February 2014 as part of the MasterCard Priceless Singapore privileges. Enjoy a hearty brunch from 11.30am to 3pm and let the kids enjoy activities such as marzipan figurines, whilst the parents and grandparents can enjoy a relaxing brunch with a view. If you're big on good service with great food, the restaurant's top-notch personable service, yet unpretentious and warm atmosphere will leave you feeling pampered and knowing you'll be back to see them again.
With Singapore's obsession with brunch, coupled with a laid-back weekend for everyone in the family, this is all you need for a priceless weekend.
MasterCard cardholder privileges at Saint Pierre include complimentary kid's cooking kit during Saturday brunch. Chef Emmanuel Stroobant will hand pick cooking utensils and decorative items to bring out the inner chef in your child. Visit here to for more information and to make reservations.
The Weekend Brunch A La Carte Menu
Homemade Assorted Breads S$15
*
Scrambled Eggs Black Truffle S$22
*
Scrambled Eggs Smoked Salmon S$22
*
Smoked Salmon S$18
*
Eggs Benedict S$24
*
Eggs Florentine S$18
*
Eggs Florentine Smoked Salmon S$22
*
Omelette S$24
*
Waffles Foie Gras S$18
*
Waffles Chantilly S$16
*
Waffles Au Chocolat S$14
*
Beef Parmentier S$18
*
French Toast S$15
*
Set Menu S$38 per person comes with
Juice of the Day, Homemade Assorted Breads, Choice of Main Course and Choice of Coffee or tea.
Christmas Eve and New Year's Eve Celebrations at Saint Pierre
For the festive season, check out Saint Pierre's specially created eight-course Christmas Eve and nine-course New Year's eve set dinners. Be it a romantic dinner for two or a family affair, Saint Pierre offers a conducive atmosphere to celebrate with the people who matter to you.
Festive takeaway menus of starters, main courses, sides and desserts featuring 200 Days Aged Australian Angus Cote de Boeuf 7 Rib Roasted on Hay to Pavlova Meringue with Vanilla Ice Cream and Fresh Berries.
Christmas Eve set dinner is available at S$148++ per person. The menu includes:
les huitres
warm fine de claire oyster with pig trotter julienne, black winter truffle and egg mimosa
*
les sushis
Japanese rice roll , wagyu beef foie gras, green tea smoked salmon-ikur and Spanish ham-nashi pear
*
caviar
clear lobster jelly with Hokkaido crab, new harvest caviar , blinis crumble
*
sorbet
Mascarpone sorbet , vanilla syrup marinated strawberries
*
la dinde
organic turkey stuffed with wild herbs, momotaro tomato fondue, marjoram and ratte potato braised in raost jus
*
l ' a g n e a u
roasted lamb "poked" with " sariette " , braised winter lettuce , homemade nori-gnocchi and wild girolles
*
les marrons
sweet chestnut puree, vanilla-green tea milk shake
*
la buche
chocolate – raspberry log cake, dark or igin chocolate sorbet and red berries coulis
The New Year Eve dinner is available at S$188++ per person. The menu includes:
langoustine tartare tataki, foie gras mousse, pumkin seed oil, nashi shavings, smoked bacon, brioche crumb
*
poached kumamoto oyster, seared diver hokkaido scallop, raw mushrooms salad, roasted pinenuts
*
grilled dover sole fillet, razor clams, lobster bouillabaisse foam, burnt orange
 *
Japanese coal smoked goose breast, almond dragee crust, vadouvan, pumpkin puree, pain d'epice jelly
*
vodka sorbet, vanilla, caviar
 *
slow-roasted turbot, sansho pepper, calamari, romanesco cabbage cream, quinoa, basil oil, tomato syrup
 *
400 days aged angus beef pave, winter vegetables sushi, miso-veal jus dip mango, green tea cream brulee, raspberry jelly, pistachio crust meringue, chestnut puree, chocolate stolen, cumquat, cinnamon
From now till 31 December 2013, spend S$120 with maximum two same-day receipts at Quayside Isle and be one of the 20 lucky winners to receive S$300 worth of Quayside Isle vouchers. Charge to your MasterCard and you could double your winnings.
Saint Pierre is located at 31 Ocean Way, #01-15 Quayside Isle, Singapore 098375.
Operating Hours:
Tuesdays to Fridays: Dinner only from 5.30pm to Midnight.
Saturdays from 11.30am to 3pm and 5.30pm to Midnight.
Sundays from 11.30am to 3.30pm and 5.30pm to 10.30pm.
Call +6564380887 or email info@saintpierre.com.sg for reservations.