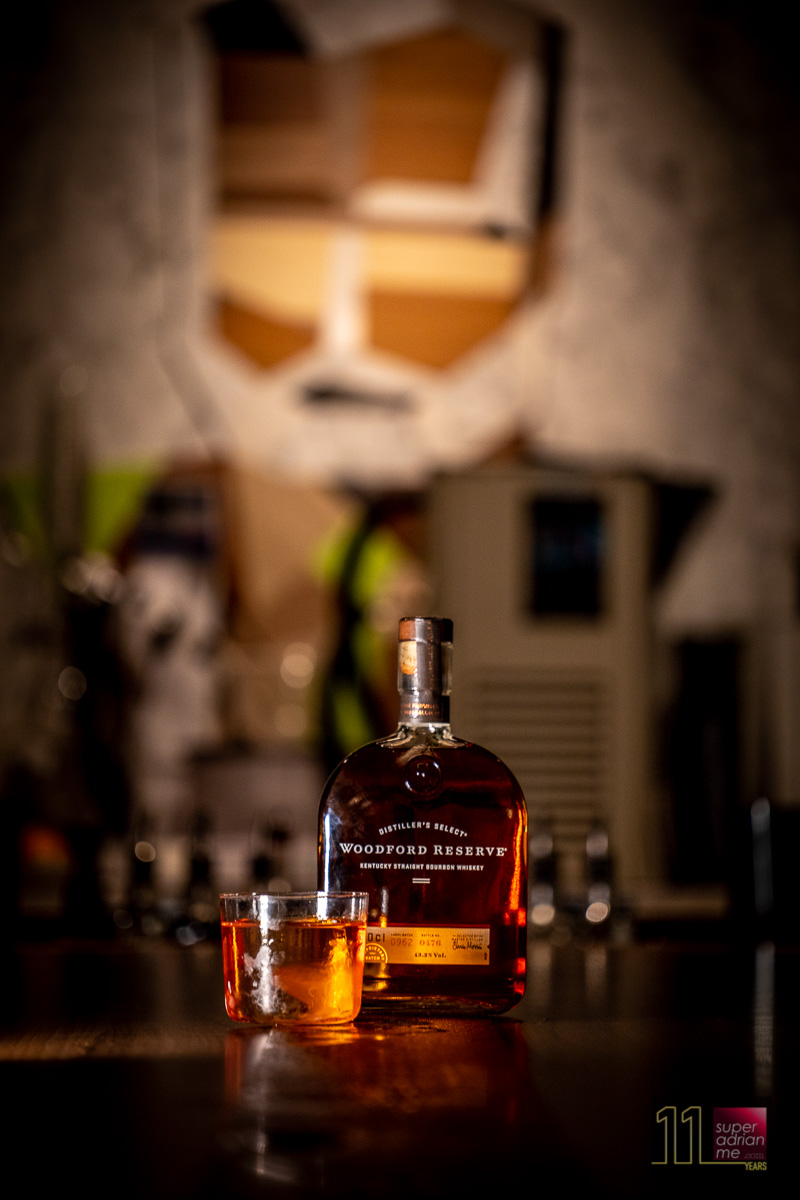 Ahead of the announcement of Asia's 50 Best Bars 2022 Top 50 to be held in Bangkok on 28 April 2022, the 51 – 100 list featuring bars from 24 cities has been released on 21 April 2022. Japan and Singapore lead with nine bars each while Hong Kong boasts five bars. Bangkok, Seoul and Taipei close behind with four each. Nepal marks its debut to the list with Blackbird at 96.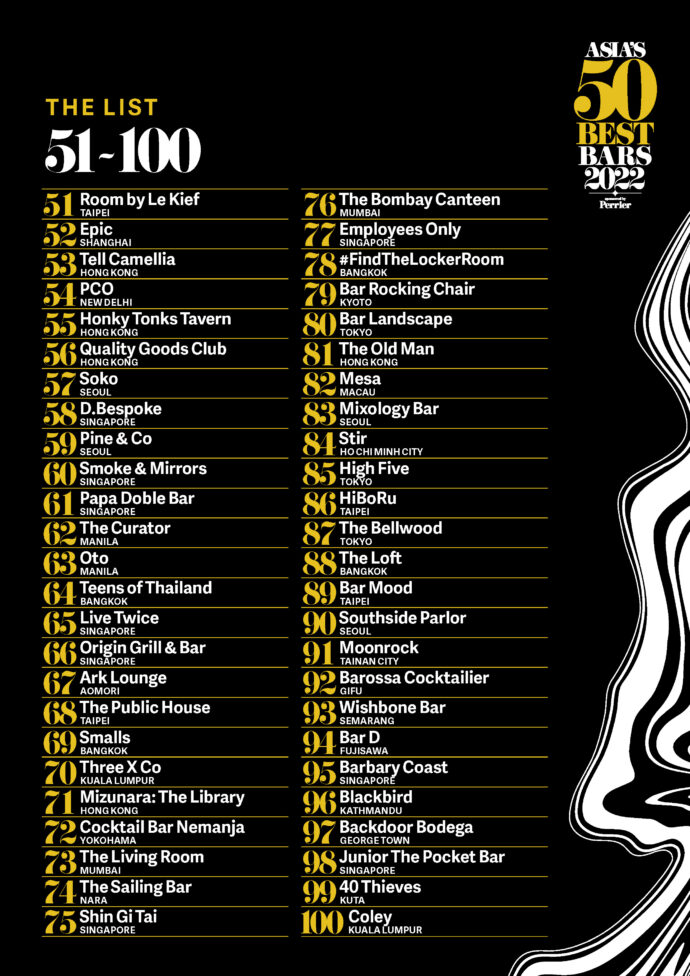 Taiwan, Hong Kong, Macau and Mainland China collectively dominate the rankings with 11 bars total. Topping the extended list at No.51 is Taipei's Room by Le Kief, while Shanghai's Epic ranks No.52. Others from the region are Honky Tonks Tavern (No.55), Quality Goods Club (No.56), The Public House (No.68), Mesa (No.82), HiBoRu (No.86) and Moonrock (No.91).
Japan's Ark Lounge at No. 67 leads the nine bars on the list. Thailand and South Korea are tied with four bars each including Bangkok's #FindTheLockerRoom (No.78) and Soko (No.57) in Seoul.
India boasts three new entries – PCO (No.54), The Living Room (No.73) and The Bombay Canteen (No.76). Similarly, Malaysia has three bars including Coley, which caps the list at No.100.
Indonesia's two bars include Wishbone (No.93) and Bali's 40 THieves (No.99). In the Philippines, The Curator is at No.62 while Stir is No.84 in Vietnam.
Singapore Bars that made the 51 – 100 List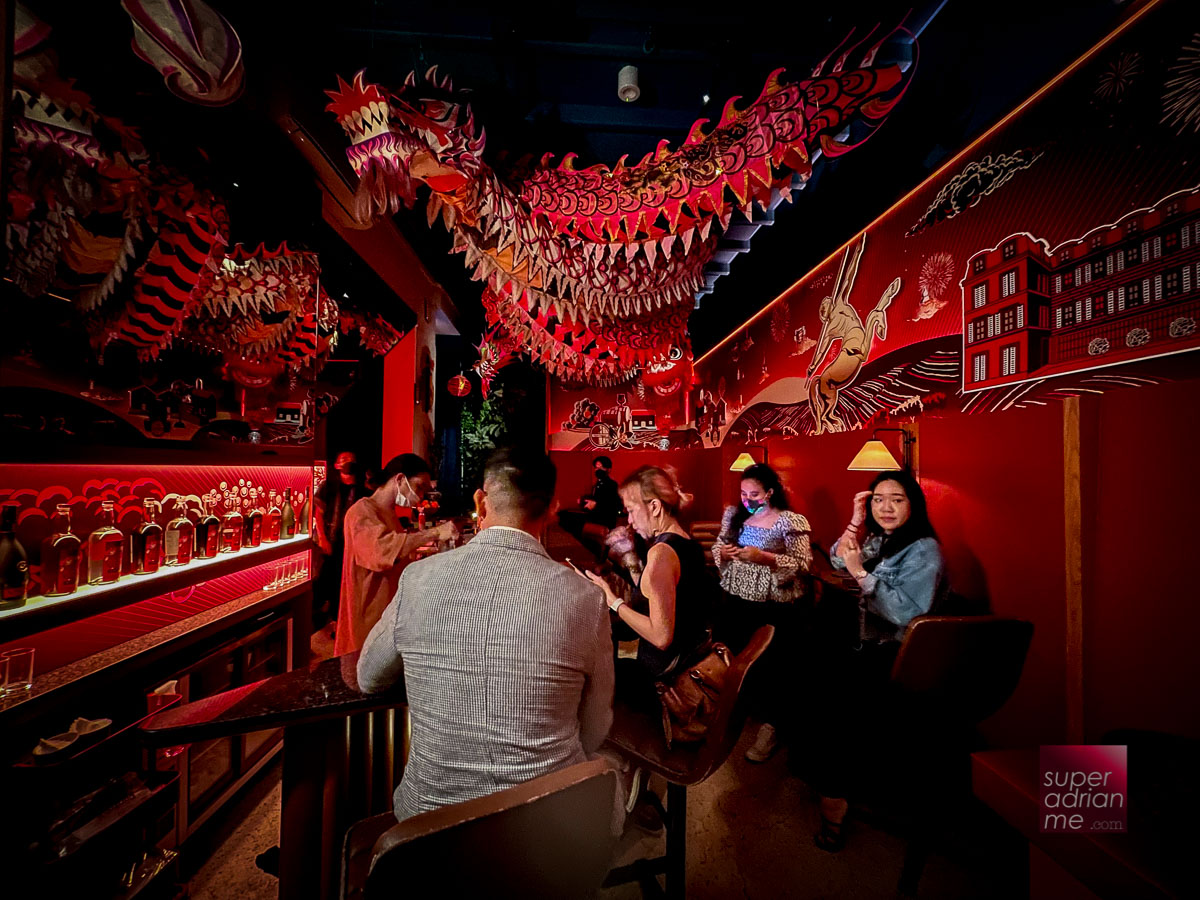 98 – Junior The Pocket Bar
95 – Barbary Coast
77 – Employees Only
75 – Shin Gi Tai (NEW)
66 – Origin Grill & Bar (NEW)
65 – Live Twice
61 – Papa Doble Bar (NEW) Previously The Old Man Singapore
60 – Smoke & Mirrors (NEW)
58 – D.Bespoke
Altos Bartenders' Bartender Award 2022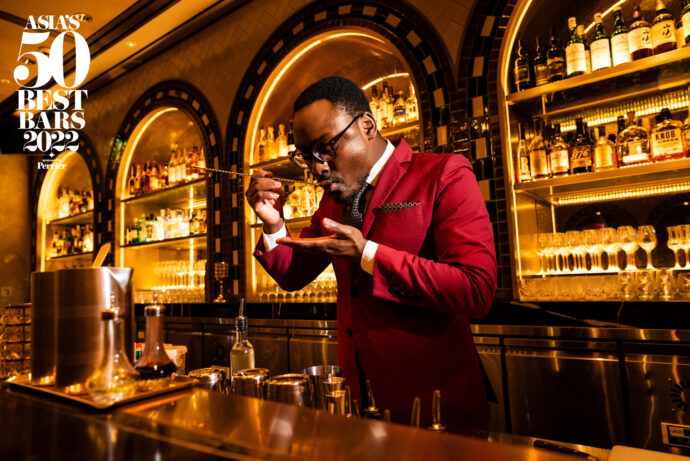 Keith Motsi, Head Bartender at Charles H., the standout speakeasy in Four Seasons Seoul has been named the winner of the Altos Bartenders' Bartender Award 2022. The award recognises a personality who has made a significant impact on Asia' sbar sector over the voting period and recognises their commitment to the bar community over the past 18 months.
Michter's Art of Hospitality Award 2022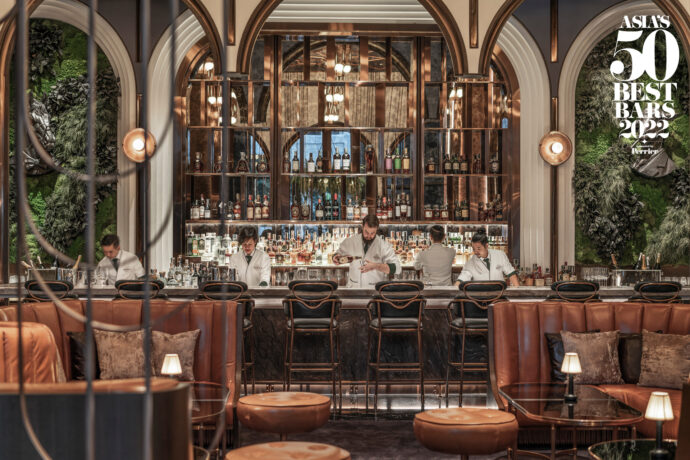 Bangkok's BKK Social Club at the Four Seasons Hotel Bangkok has been named the winner of the Michter's Art of Hospitality Award as part of Asia's 50 Best Bars 2022. The bar welcomes guests with its vibrant and seductive design, showcasing idiosyncratic touches such as plants sprouting from chandeliers, layers of colonnades, green velvet banquettes and a dramatic back bar. Beverage Manager Philip Bischoff leads a team that treats guests to the artistry of mixology with bespoke cocktails that reflect the typical drinking culture of South America combined with local Thai touches.
The ceremony for the seventh edition of Asia's 50 Best Bars, sponsored by Perrier, will be streamed live at 8.30pm (Singapore time) in Bangkok on 28 April 2022 on the World's 50 Best Bars Facebook and 50 Best Bars TV YouTube Channel.
On the night itself, other special awards will include the Roku Industry Icon, Ketel One Sustainable Bar, Disaronno Highest New Entry, London Essence Best New Opening, Nikka Highest Climber, Siete Misterios Best Cocktail Menu, Campari One To Watch and Rémy Martin Legend of the List.
"For the past seven years, Asia's 50 Best Bars has promoted the region's cocktail scene, and we are honoured to have played a part in its steady growth and recognition across the globe. We are huge admirers of the world-class talent the region boasts, and we hope to explore a live event format that restores the awards' pre-pandemic conviviality and shared celebrations in a safe manner while continuing to showcase the passion and creativity at play in bars across Asia."

Mark Sansom, Content Editor for Asia's 50 Best Bars