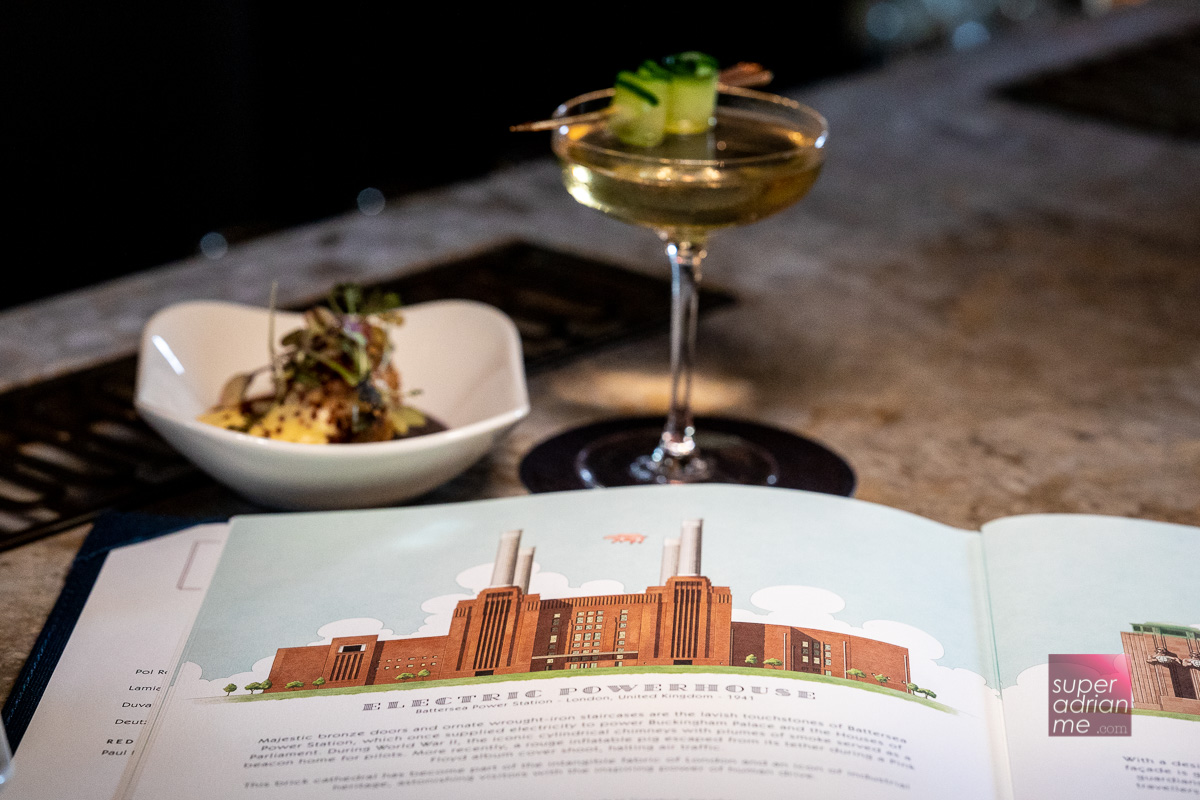 Asia's 50 Best Bars was held on 28 April 2022 in Bangkok instead of Singapore as originally announced last year. Topping the list at Number one remains as COA from 2021 and Jigger & Pony retains number two. Three bars in Singapore made it to top 10.
Top 10 Asia's 50 Best Bars
COA – Hong Kong (Best Bar in Asia)
Jigger & Pony – Singapore (Best Bar in Singapore)
Argo – Hong Kong (New Entry)
Tesouro – Goa (Best Bar in India)
Bar Benfiddich – Tokyo
Indulge Experimental Bistro – Taipei
Charles H. – Seoul
MO Bar – Singapore
Manhattan – Singapore
BKK Social Club – Bangkok
Singapore Bars that Made It to Asia's 50 Best 2022 Top 50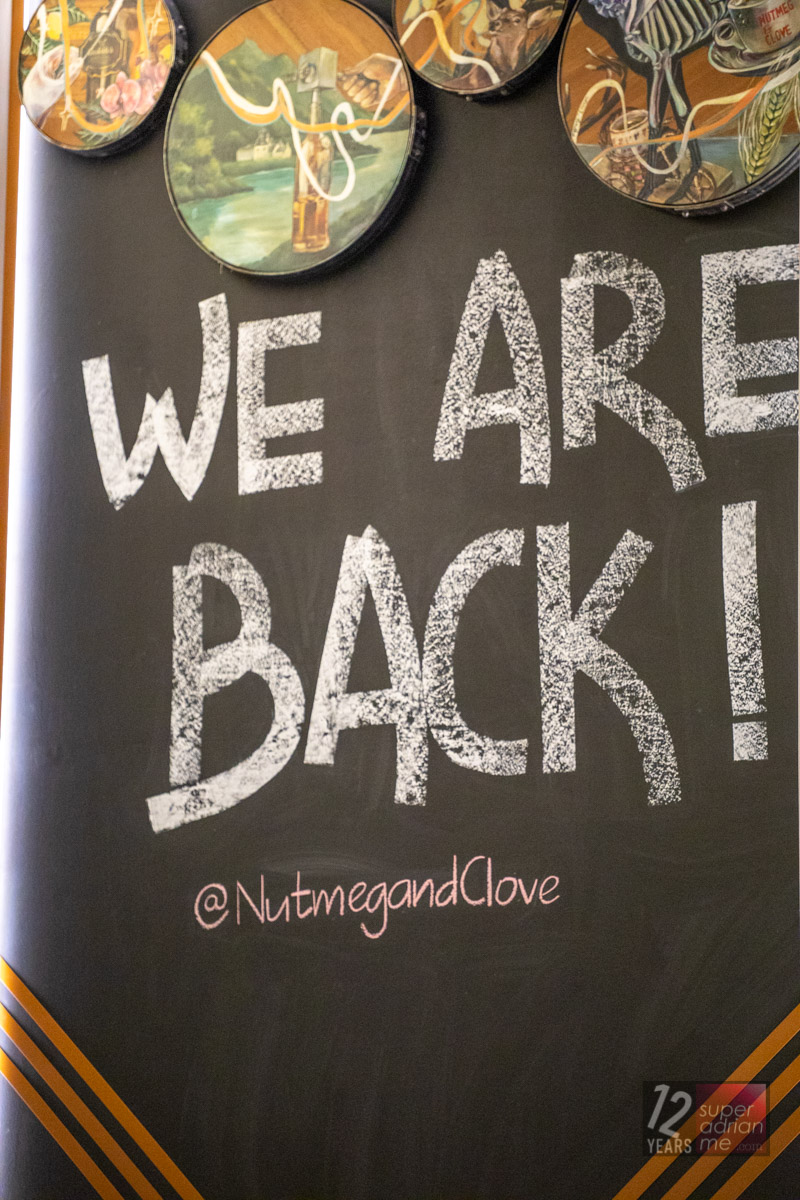 11 bars from Singapore made it to the Asia's 50 Best Bars this year.
No. 49 – 28 Hong Kong Street
No. 37 – Analogue (New)
No. 36 – Nutmeg & Clove (Re-Entry)
No. 31 – Sago House
No. 26 – Tippling Club
No. 23 – Atlas Bar
No 15 – No Sleep Club
No. 12 – Republic Bar (New)
No. 9 – Manhattan
No. 8 – MO Bar (Nikka's Highest Climber Award from 36 last year)
No. 2 – Jigger & Pony
Colin Chia – Roku Industry Icon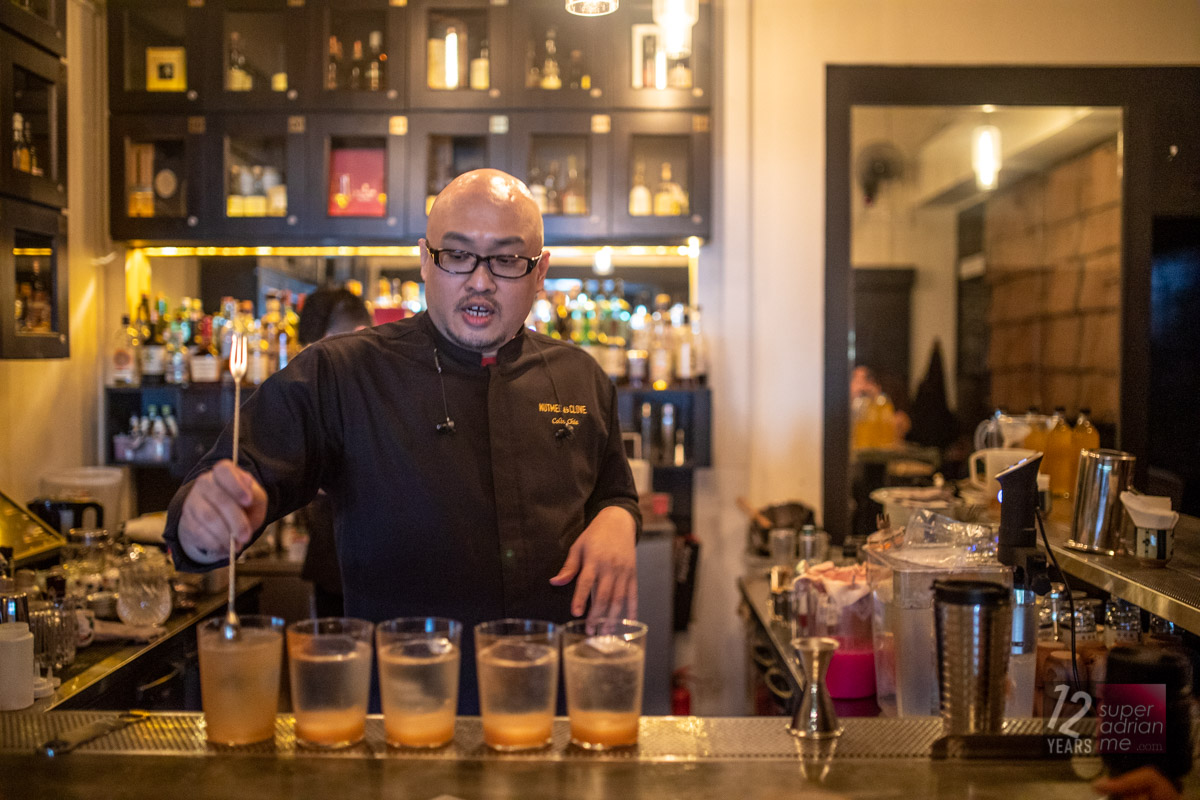 Congratulations to Colin Chia for being named Roku Industry Icon. We've been fortunate to see Colin evolve from his Nutmeg & Clove space at Club Street and his move to Purvis Street, followed by opening of new spaces at Chuan by Nutmeg, and Bar Uva where guests enjoy great value-for-money wines.
For this award, the Voting Academy wass asked to give the name of one person who has done more for the progress of the bar industry than any other individual. A well-deserved winner, Chia has contributed tirelessly to the bar sector on a global and regional level, educating bartenders by developing training programmes across the region in his previous roles, as well as currently from his two venues.
MO Bar – No. 8 – Asia's 50 Best Bars 2022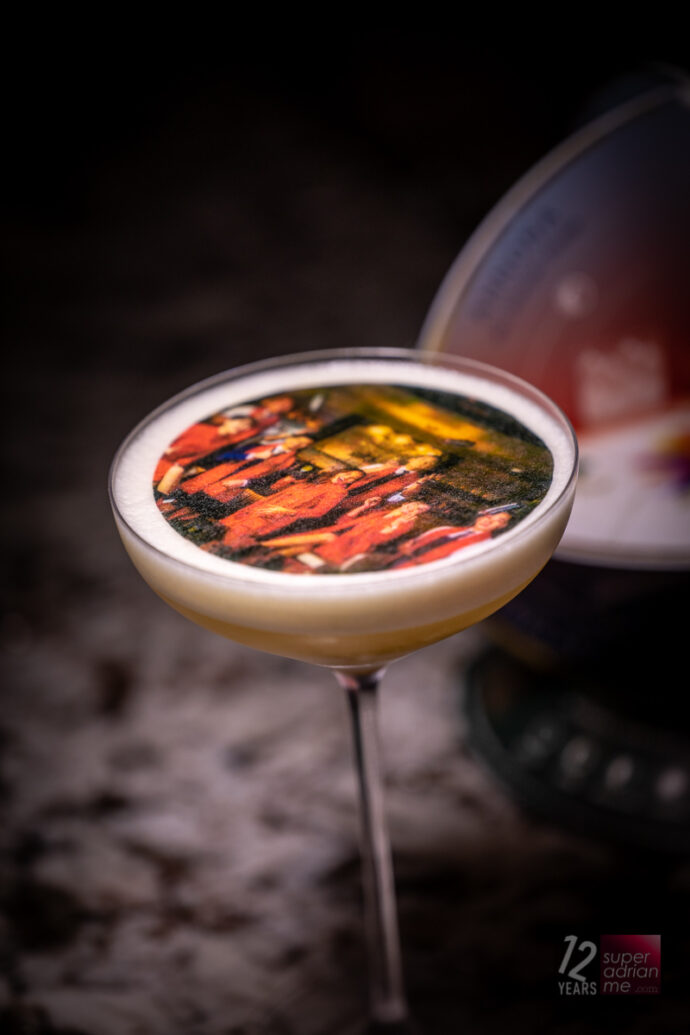 MO BAR at Mandarin Oriental Singapore claims its spot at No. 8 and received the Nikka Highest Climber Award. The award marks the third consecutive year it has been recongised on the list. Since its inception in November 2018, MO Bar has continued to gain outstanding momentum, with industry recognition including No. 36 in World's 50 Best Bars 2021; No. 46 in Asia's 50 Best Bars 2020 and No. 45 as well as the Michter's Art of Hospitaliaty Award in 2021; and No. 51 in Top 500 Bars 2020 and No, 40 in 2021.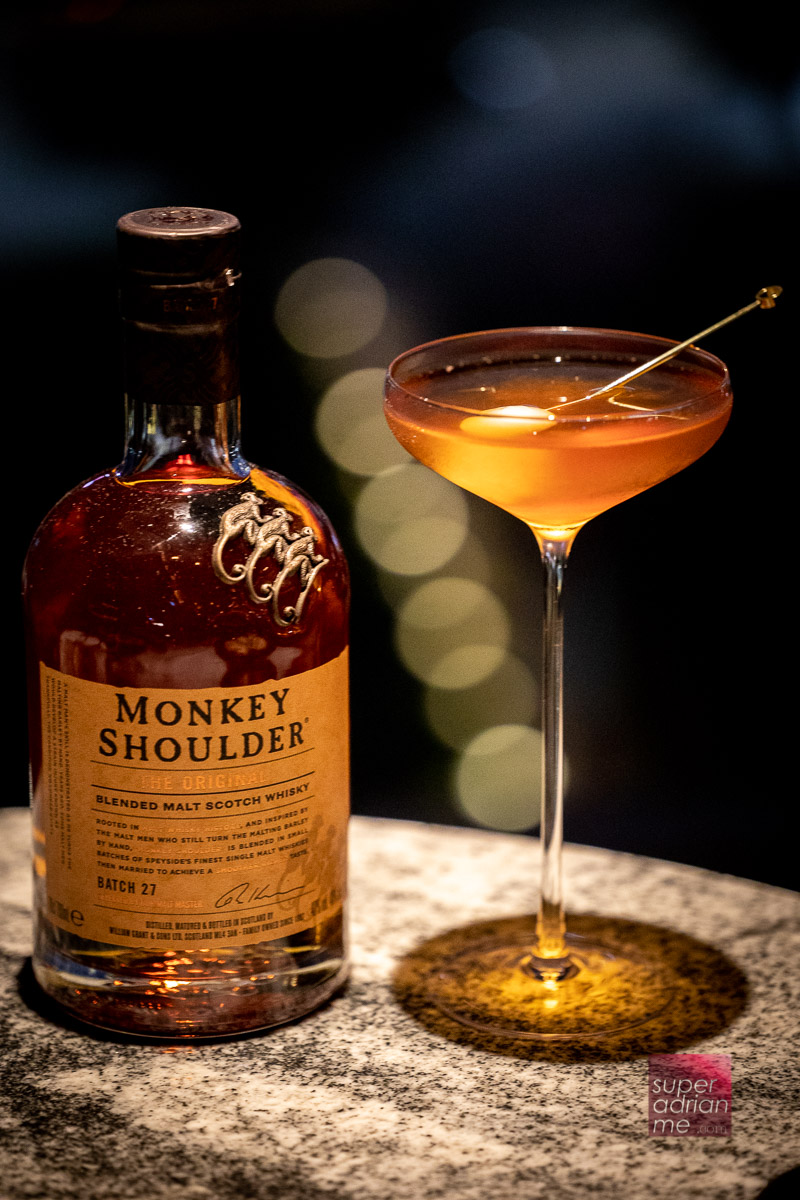 "We are extremely honoured to be acknowledged as one of Asia's 50 Best Bars for the third consecutive year, and to be awarded the Nikka Highest Climber Award. This marks a huge milestone for all of us as we humbly accept this award in full gratitude towards our community, and we're excited to celebrate this momentous occasion in person with our industry peers."

Adrian Besa, Bar Manager of MO BAR.
Republic Bar – New Entry – No. 12 Asia's 50 Best Bars 2022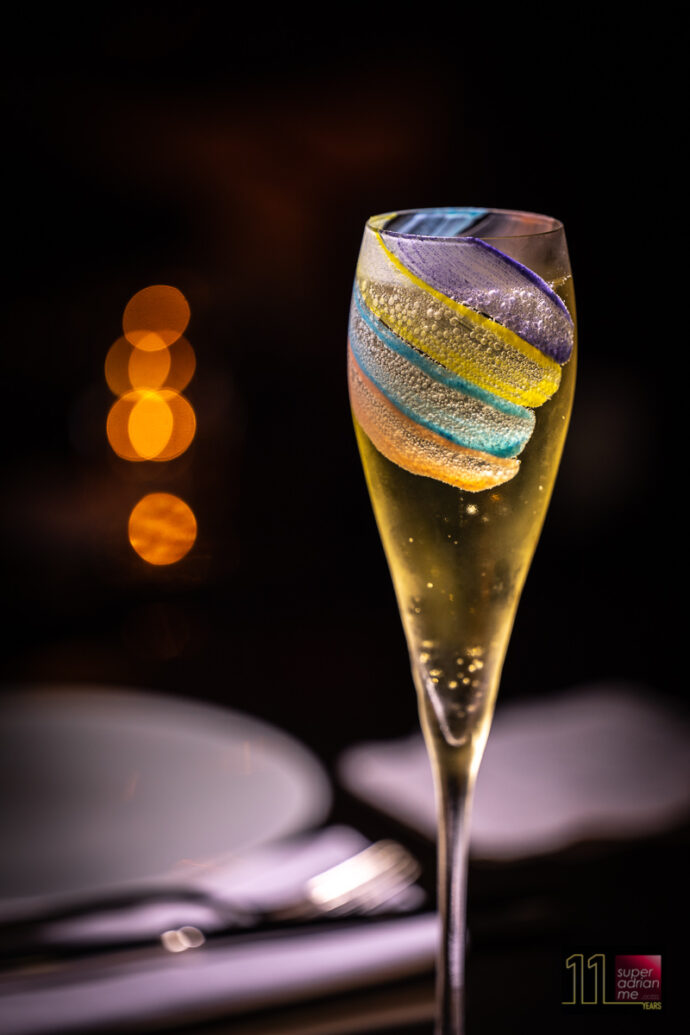 Republic Bar at The Ritz-Carlton Millenia Singapore catapulted itself into No. 12 in Asia's 50 Best Bars 2022 just a year after opening. Head Bartender Martin Villareal has been with the hotel since 2011. He played an imperative role in working with Proof & Company to create Republic's 1960s inspired cocktail menu which is devoted to a narrative of historical anecdotes originating from Singapore, the United Kingdom and the United States of America and Italy.
Characterised by red Venetian glass and rich, dark-toned, natural wood, Republic was designed by Mr. Tony Chi, founder of renowned New York-based tonychi studio. Imbibe on liquid history and allow our bartenders to share stories about a "Mythical Beast" that was once spotted on our tiny island, the British designer behind the "Mini Skirt", the Space Race that inspired "Stardust" and how Ferruccio Lamborghini went from making tractors to "Miura" – his first supercar.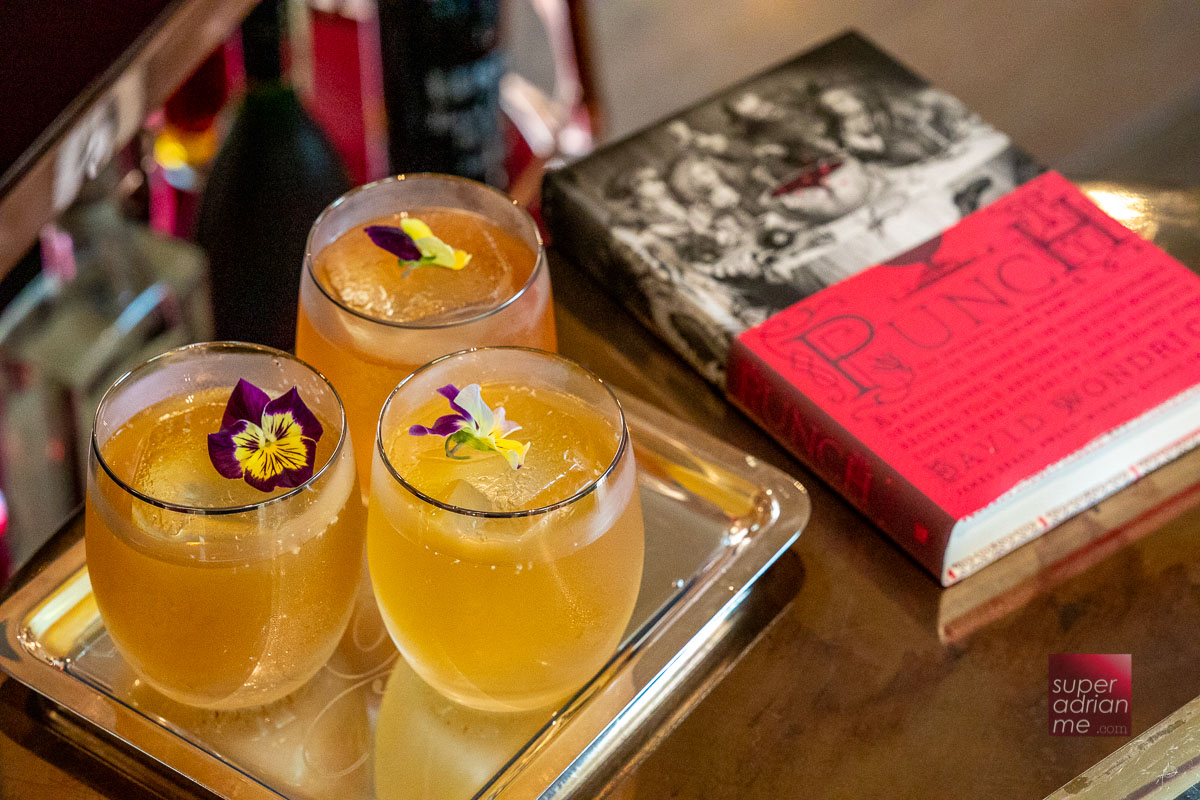 "We are ecstatic that Republic has received such recognition from the bar industry within this short amount of time. Opening and operating a new bar in the midst of a global pandemic was not without its challenges. With international borders reopening, the Ladies and Gentlemen of Republic cannot wait to welcome and showcase their world class hospitality to an international clientele."

Mr. Lewis Quinn, Executive Assistant Manager of Food & Beverage at The Ritz-Carlton, Millenia Singapore
The Asia's 50 Best Bars 2022 Top 50 List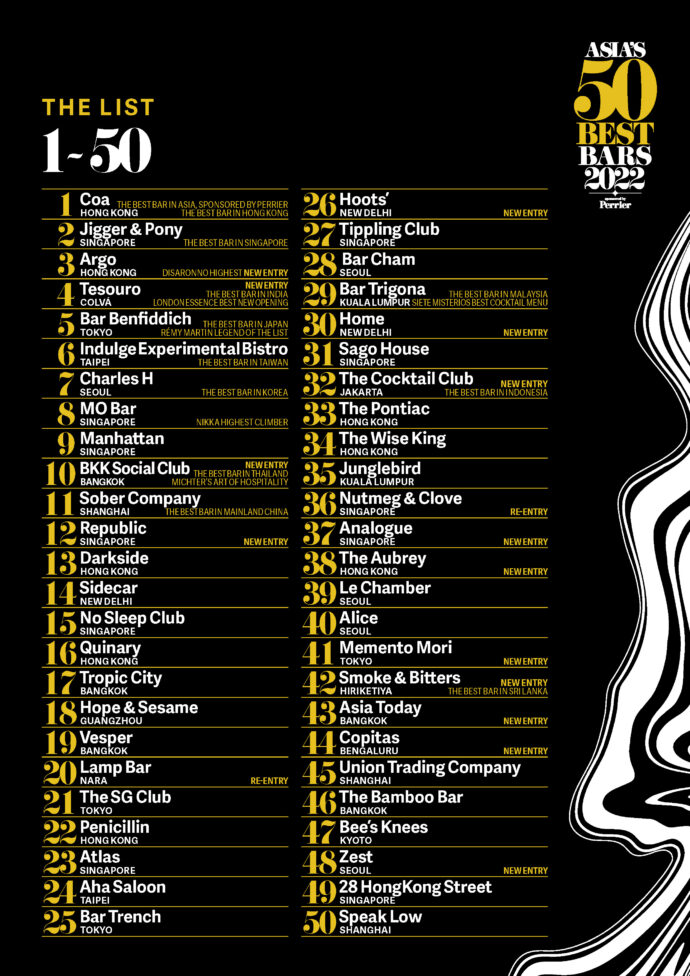 Also check out the Singapore bars that made it to the 51 to 100 list this year.
Last year, 12 bars from Singapore made the top 50 list including Jigger & Pony (No 2), Manhattan Bar (No. 6), Atlas Bar (No. 7), No Sleep Club (No. 8), Native (No. 14), 28 Hong Kong Street (No. 21), Barbary Coast (No. 29), Tippling Club (No. 36), D Bespoke (No. 39), The Old Man Singapore (No. 42), MO Bar (No. 45) and Sago House (49).
"We could not be happier that Asia's 50 Best Bars returns to a live event format this year and that the community can experience much-needed connection and conviviality once again. Asia's bars have shown remarkable resilience and growth in spite of the challenges of the past two years, and we continue to be proud to celebrate the talent and creativity on display in bars all across Asia. Congratulations to Jay Khan and the team at Coa for holding onto their top position after another tumultuous year for Hong Kong. Coa's winning cocktail of an Agave-spirits-forward menu, expertly-crafted menu and a complete understanding of the guest experience has again proven to strike a winning chord with our voting Academy."
Mark Sansom, Content Director for Asia's 50 Best Bars