Republic Bar at The Ritz-Carlton Millenia Singapore is the newest bar and talk-of-the-town to open in Singapore. The space that used to house Chihuly Lounge and the check-in area has been refurbished giving the 25 year-old hotel space a refreshing change that is split into areas like a home. The space that has been conceptualised by tonychi studio gives locals reason to come back and visit The Ritz-Carlton Millenia Singapore.
Three sections has been separated in the different areas to give the impression of a home. The check-in area has been transformed into the Library. The Lounge is like a Living Room. It is sandwich between the Library and the Bar. Floor-to-ceiling sliding doors separate the three sections and can be opened to make space for more.
The Library Reception allows guests to check-in amidst an area inspired by a grand residential library. Natural oak wood floors and ceiling, and stocked with books on diverse subjects to encourage guests to enjoy and appreciate the space for as long as they like. Seating areas are provided should guests wish to take a phone call or have a discussion while enjoying food or cocktails from the bar.
The lounge features three grand chandeliers and expansive walls adorned in blue herringbone fabric. Enjoy light bites from the four vitrines throughout the day, à la carte dining options or a five-tier afternoon tea experience.
Republic is a multi-dimensional concept which transforms throughout the day. When the sun sets, the bar reminds me of other bars I have visited. The Charles H at Four Seasons Seoul is ranked 29 on the Asia's 50 Best Bars 2020 or The Loft at Waldorf Astoria Bangkok. Another bar a bit further away is Bar TwentySeven in Amsterdam. So what do all these bars have in common. They are hotel bars that I would make a point to visit if I were staying there, even if I were alone.
The Cocktail Programme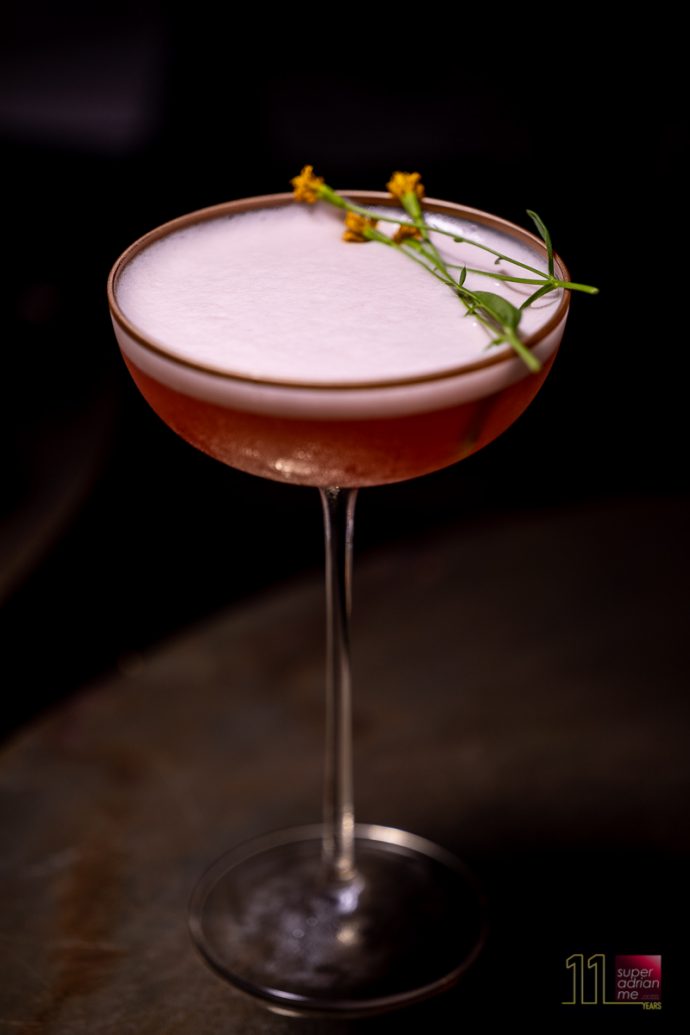 Republic Bar's Cocktail menu has been developed based on the narrative of historical anecdotes originating from Singapore, United Kingdom, United States and Italy in the 1960s. The decade of the 60s was marked by cultural and social revolution. Style icons and the legends of rock music as well as the international jet set.
The bar's collaboration with Proof & Company pays homage to this era where freedom, expression and individuality were celebrated. The menu showcases flavours, ingredients and sensations inspired by the influential hallmarks of the 1960s and around four cultural epicentres of importance and meaningful change.
The rich, dark toned, natural wood bar allows bartenders to share stories. Watch them hone their craft of cocktail mixing. There are also six unique Home Bars. You can spot them in their handcrafted red Venetian glass as they give you the feel of residential-style home parties in the 60s. I definitely need one of these at home.
Singapore is the first country featured in the menu. The bar is after all situated in the republic. And Singapore's independence on 9 August 1965 is significant. Cocktails are created to represent the Merlion (Mythical Beast – a twist on the sherry Martini) and pay tribute to the Singapore Airlines Pierre Balmain Sarong Kebaya that was first worn in the air in 1968 (Timeless Beauty). Shanty is based on the popular song that played as the soundtrack to tropical Singapore in 1964. With ingredients such as Flor de Caña 12 Year Rum, pineapple rum, Cointreau, Demerara sugar, tepache and caramelised pear Kombucha and citrus, the Shanty was well-balanced and not as sweet as I had expected it to be. City Circuit is a reminder of the first grand prix race in Singapore in 1961 where a Singaporean came in first.
The United Kingdom menu is inspired by a nation synonymous with the "swinging sixties". England went through a redefining decade that saw the nation blossom. Mr. Pickles is dedicated to the black and white collie dog that found the stolen James Rimet Trophy in March 1966, four months before the 1966 FIFA World Cup was going to happen in England. You Only Live Twice is a stirred not shaken vesper, reminiscent of the 1967 James Bond film with the same name. Mini Skirt was a 1960s fashion statement. Ingredients sound equally sexy with Kin No Bi Kyoto Dry Gin, vodka, dill, lillet blanc and sakura vermouth. I had the Satisfaction of trying the Irish Coffee. The warm cocktail of Jameson Caskmates Stout edition, Irish stout reduction, brewed coffee and cream definitely kept me awake till 4.30am. Mick Jagger loved one of these.
The Mini Skirt is a favourite of our friends at Spirited Singapore because of its perfect balance of flavours. He has also rated Satisfaction as the best Irish Coffee in Town.
1960s was probably the most tumultuous decade in U.S. history. It was defined by the civil rights movement, war and protest, the "Mad Men" era is also known for space travel, the rise of the middle class and "baby boomers". But it was also the period where counterculture, folk music and free love emerged. Stardust celebrates Neil Armstrong landing on the moon. 15 Minutes of Fame is served in a champagne flute with chocolate art brushed on the exterior of the glass. This is reminiscent of Andy Warhol's brushstrokes from his artistic flair. Definitely a very pretty drink. Ford vs Ferrari is inspired by Americans taking on Europeans with Henry Ford and his GT40 in 1966. Summer of Love celebrates a Californian sojourn of peace and love.
Be as loud and celebrated as the Italians. Post-war recovery continued slowly in the 1960s for Italy. The decade gave birth to a seductive and sophisticated movement through cars, fashion, film and more. The Valentino Red screams fashion by the celebrated Valentino Garavani. I had the High Society that celebrates the films of Fellini and La Dolce Vita. The rich negroni is created with Hendricks Gin, umami-rich porcini mushroom, Campari and house-blend red sweet vermouth. One that I enjoyed as a last drink for the road. Miura is inspired by Ferruccio Lamborghini. In 1966 Lamborghini went from making tractors to sports cars. Dawn of a New Era celebrates the XVII Olympiad, the 1960 summer Rome games. I would return to try this cocktail where Grey Goose Vodka, Mr Black Coffee Maro, Mancino Chinatown, juniper and anise syrup is mixed with East Imperial Thai Ginger Ale.
Other spirits are available in the menu including Champagnes by the glass or bottle, wines, beers and also non alcoholic beverages.
0% ABV Cocktails aka Mocktails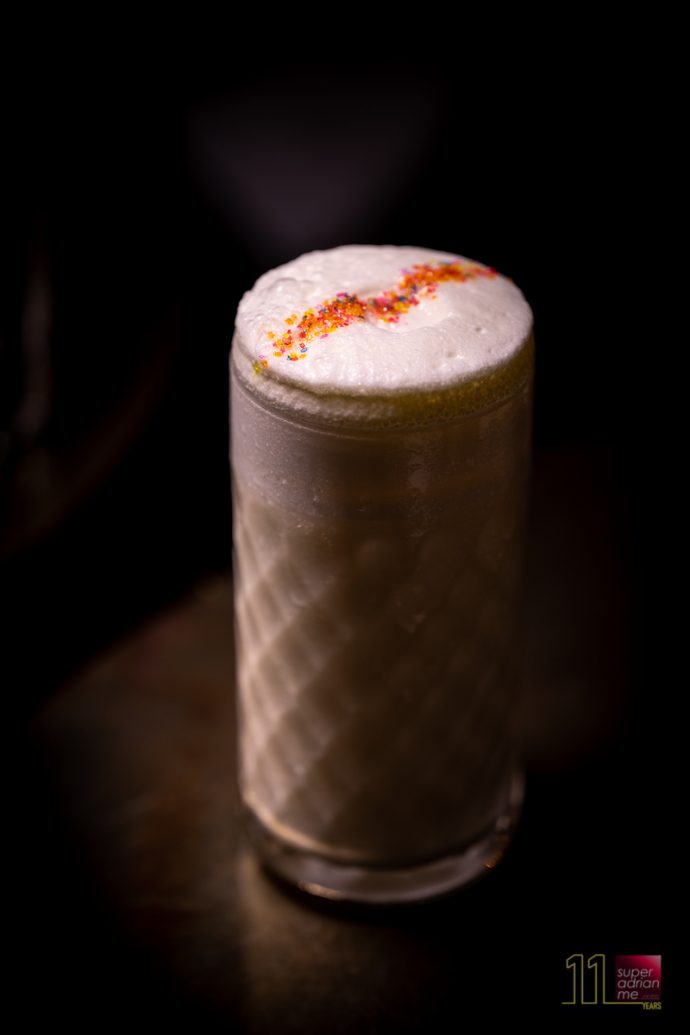 Not everyone drinks alcohol. If you don't, you will not feel left out at Republic Bar. Every section of the menu has one 0% ABV cocktail. Or in plain simple English, that's a mocktail. The cocktails here are created with the same sophistication of the spirited cocktails. Fortunately, my colleague Dennis came along for the tasting. He ordered the mocktails. Otherwise, I would not usually get the opportunity to taste mocktails.
The Milk Bar featured above is a well-balanced sweet and creamy concoction of cream, yakult, simple syrup, egg white and cream soda. The Singapore-inspired mocktail is inspired by the only milk bar in Singapore at Stamford Road known as "Magnolia" milk bar.
From the United Kingdom inspired menu is the Queen's Scones. Queen Elizabeth shared her beloved scone recipe with U.S. President Eisenhower in 1960. This refreshing cocktail is made with Seedlip Garden, strawberry jam, citrus, orgeat and cucumber.
Republic Bar Bites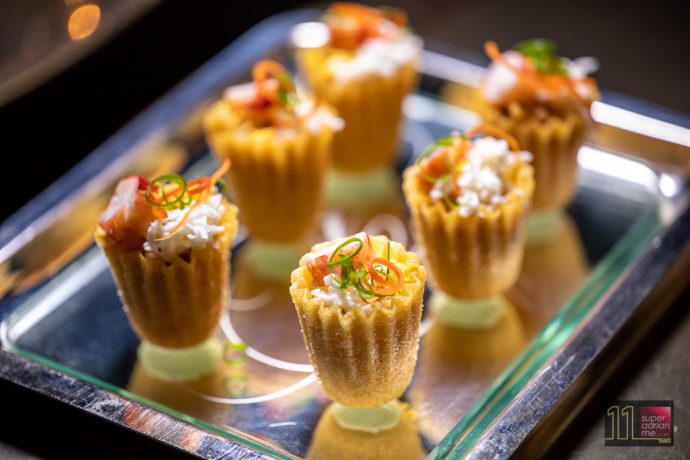 Executive Chef Massimo Pasquarelli's menu at Republic is inspired by the social and cultural trends of the 1960s. Mass immigration and the rise of the international jet set facilitated the permeation of cross-cultural influences in local cuisines, and adapted to new palates. In Singapore the streets were filled with aromas of local spices as pushcart owners on the streets sold home-cooked dishes.
The dinner menu is available from 5.30 pm to 10.30 pm. A selection of artisanal chocolates, handcrafted pastries, antipasti, caviar and cheeses are available for sharing. Seafood, meats and vegetable dishes are perfect for sharing and pairing with drinks.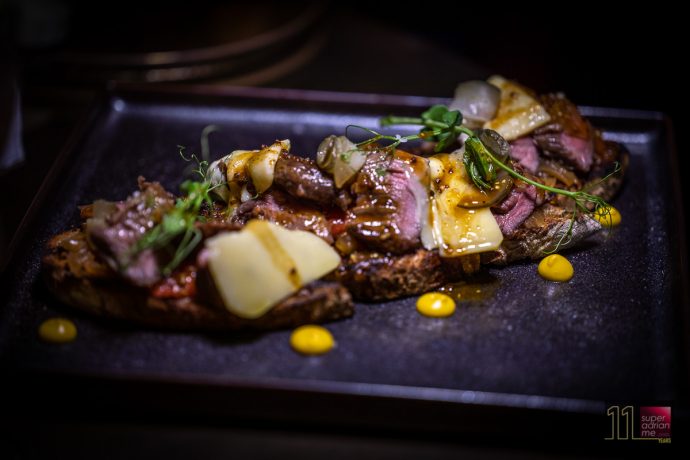 Enjoy hearty dishes such as the Open Face New York Steak Sandwich, Braised Beef Short Ribs, Mini Chicken Corn Dog, Fish and Chips or the Creamy Chicken Arancini. Menu prices start form S$12 for the Eggplant Caviar Dip.
There is no reason to head on elsewhere for dinner when you can enjoy drinks and food all in one venue. Especially in times when alcohol can only be served till 10.30pm here in Singapore.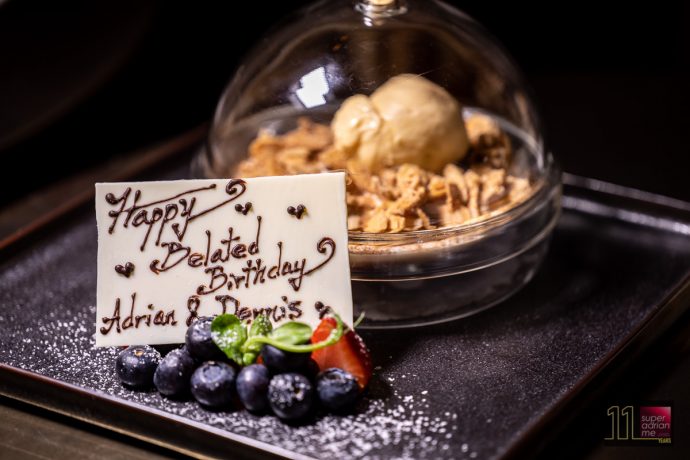 Having desserts and drinks to end the night could be another reason to visit Republic after dinner. Five desserts are available at S$16 each. We had the Ice Cream Sandwich Brioche with peanut nougat and Sweet "Fries" with raspberry ketchup and vanilla mayonnaise.
Republic Bar operates from 12 pm to 11 pm daily. Lunch is available from 12 pm to 3 pm, afternoon tea from 12 pm to 5 pm and dinner from 5.30 pm to 10.30 pm.