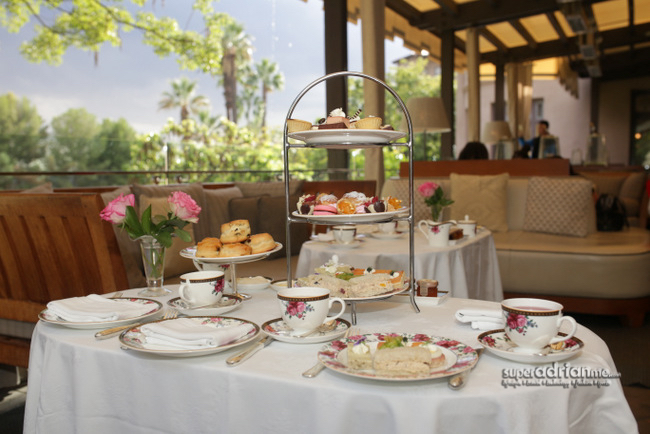 The Langham Hotels and Resorts have collaborated with Wedgwood to serve in exclusively designed 'Langham Rose' teaware just for the afternoon tea at its hotels worldwide. This daily afternoon tea is a signature of the Langham brand worldwide which started from The Langham London.
The English Afternoon tea was believed to be enjoyed by Anna Maria, the seventh Duchess of Bedford who was also the lady-in waiting to Queen Victoria. She invited friends to her private room to join her for afternoon tea and also brought her own kettle and tea making items with her when she stayed with her aristocratic friends so she could enjoy her afternoon parties when away from home.
Afternoon teas then were much simpler with only plates of bread and butter. Today, afternoon teas have become much more elaborate and appetising while being extremely Instagram-worthy.
Just last week, I got to try the Afternoon Tea at The Langham Huntington Resort and Spa as well as at The Langham, Hong Kong. Wish I had a bigger appetite then.
The Langham Huntington Resort & Spa, Pasadena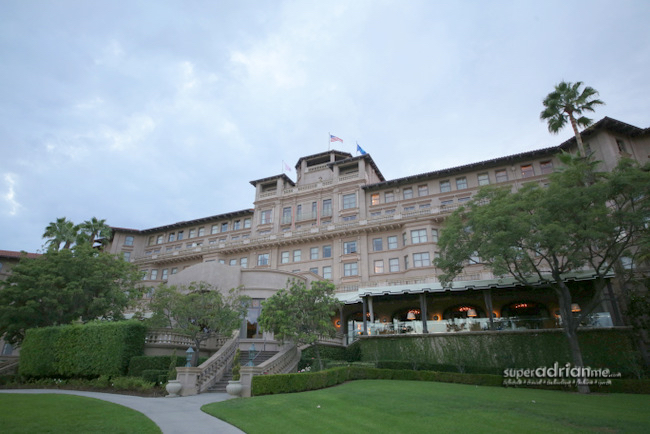 I spent four days in the majestic Langham Huntington Resort and Spa, Pasadena and was treated to afternoon tea. The ambience and surroundings set the mood for a relaxing afternoon tea session.
The Langham Afternoon Tea with Wedgwood is served from 12pm to 4pm on Mondays to Fridays, and starts one hour earlier on Saturday. It is priced at US$46 per adult. Add US$10 if you would like an additional glass of Graham Beck Brut Rose.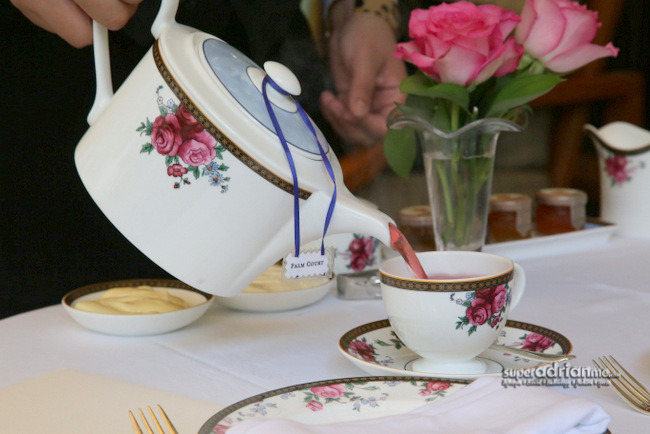 Besides the extensive tea selection, there are four notable exclusive Langham blends of tea. The Langham Blend is a blend of second flush Indian Assam, first flush Indian Darjeeling and Uva season high grown Sri Lankan. Palm Court is a light and zesty blend of Chinese white tea, Hibiscus flowers, Rosehip and pink Rose Petals. The herbal and floral English Flower Blend brings out the English countryside with a blend of chamomile, rose petals, elderflowers, heather flowers, lavender and cornflowers. The aromatic Silk Road Blend offers the finest Chinese Silver Needle white teas and jasmine and Iranian rosebuds.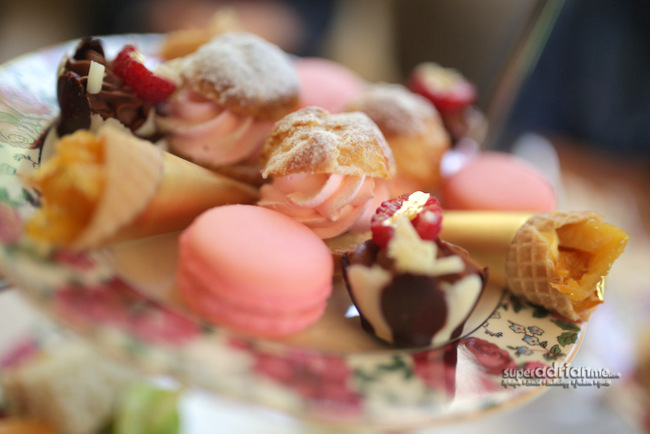 The three tier afternoon tea set features a selection of sweets including the Earl Grey Tiramisu Gateau, Passion Apricot Cone, Crème Brûlée Tart, French Macarons, Chocolate Praline Mousse Cup, Guava Creme Cheese Gateau, Coffee tart with Candied Nuts and Cream Puff.
I enjoyed the Passion Apricot Cone, French Macarons and the Cream Puff.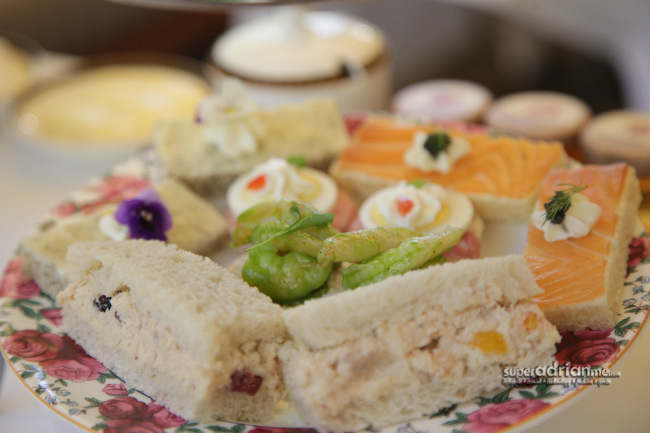 A selection of five sandwiches is also part of the set. Enjoy a chicken salad with orange and cranberry on white bread; watercress pesto marinated Caribbean shrimp on herb garlic bread with cilantro and lemon zest; smoked salmon on sourdough with caramelised shallot caper cream, dill spring & caviar; ham & egg, prosciutto di parma, green onion, red pepper on potato peppercorn bread; or the pickled saffron radish, watercress and dill cream on white bread.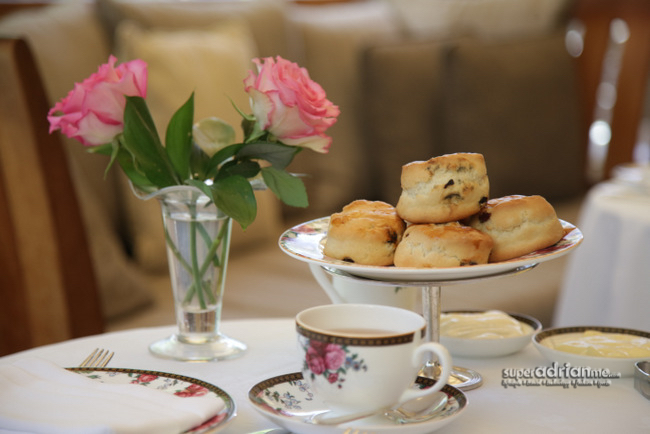 Complete the whole experience with warm scones. Spread some clotted cream and lemon curd and enjoy these with your hot tea.
The Langham Hong Kong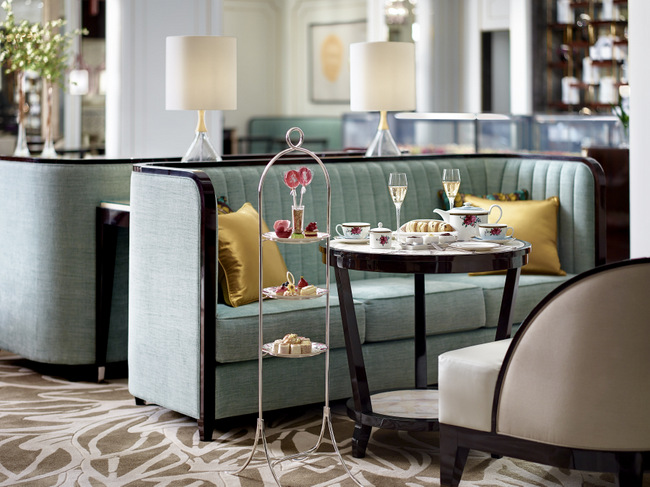 If you are in Hong Kong, then you have to visit Palm Court at The Langham, Hong Kong. The selection for Afternoon tea with Wedgwood here is different from The Langham Huntington Resort & Spa, Pasadena. Afternoon tea here is priced at HK$298 for one and S$538 for two.
If you are dining alone, you have a choice of four sweet specialities from a selection of nine items.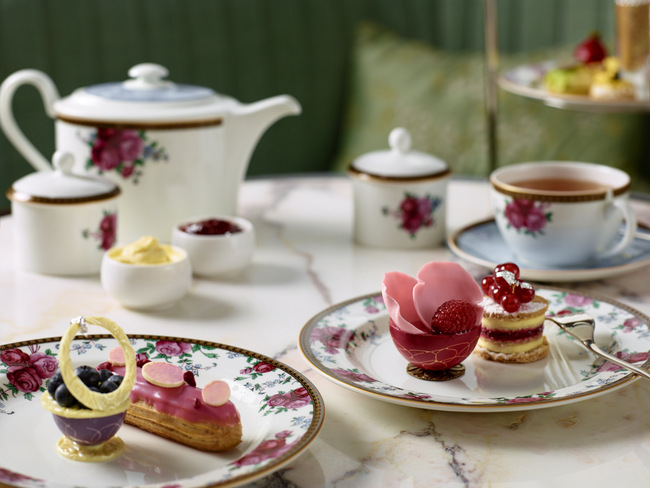 There're the pink chocolate lollipops, French canele william pear and brandy, crispy raspberry éclair, mango short cake, gianduja chocolate parfait, almond strawberry tartlet, rose scented lychee mousse, red fruit mile-feuille and pistachio & apricot biscuit.
Savouries include smoked duck breast with mango chill jam, roulade of parma ham & tuna fillet with basil pineapple salsa, balik salmon & horseradish on pistachio bread, manchego cheese and Iberico quiche, tomato & black olives pocket and free range chicken and liver pate with fig compote.
The warm plain and golden raisin scones are served with Devonshire clotted cream, strawberry jam and rose preserve. The Langham Blend Tea selection is also available here.
And if you have a larger appetite, you may want to go for the Wedgwood Deluxe Afternoon Tea which comes with additional fresh strawberry soup with seasonal fruits skewer and a glass of Perrier-Joust, NV, Brut Champagne. There is also a Laurie Afternoon Tea which features other sweets including Langham Ginger Signature and Marie-Antoinette Ladurée Macaron.
Besides afternoon tea, you can also order cocktails from the bar at Artesian which is located just next to Palm Court on the lobby level.