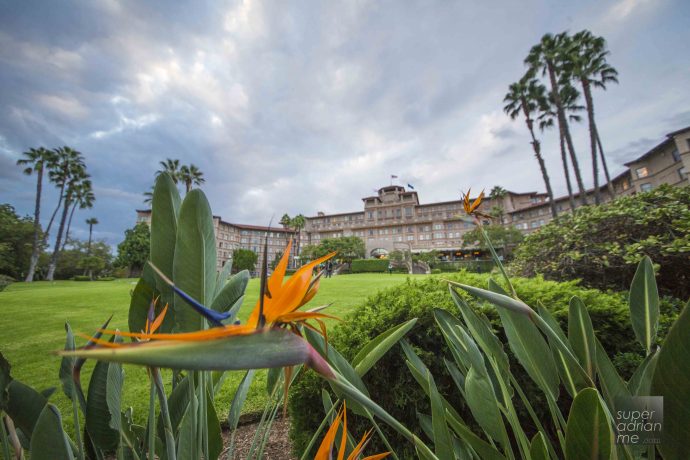 Do something luxurious for your next vacation. Go further. Pamper yourself. Enjoy the finer things in life and take a flight to Los Angeles onboard Cathay Pacific Airways' business class where you will be pampered thoroughly by the attentive cabin crew. Cathay Pacific operates up to 20 flights from Hong Kong to Los Angeles weekly. The flight from Singapore to Los Angeles via Hong Kong on Cathay Pacific takes around 18 hours 10 minutes.
Destination Pasadena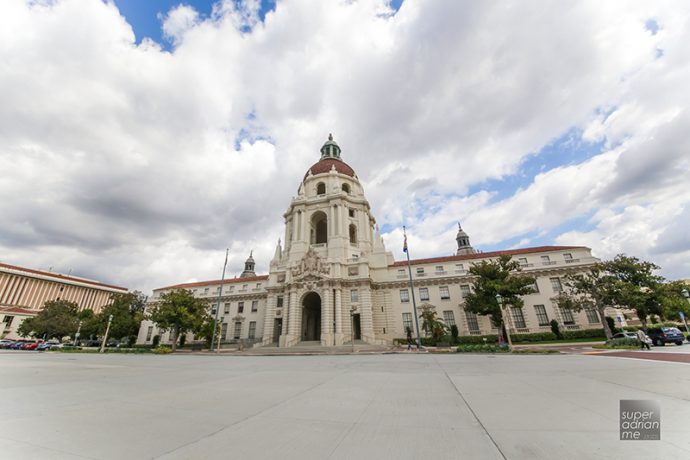 Visit Pasadena in Los Angeles and go back in history and stay at the iconic landmark Langham Huntington Pasadena, a calming oasis. That's exactly what I did almost a year ago and thought to myself why did I not visit Pasadena earlier when I went to school in Oregon over a decade ago.
Do yourself a favour. Download the GoPasadena smartphone app. This app provides you with information about museums, shopping, restaurants, performing arts, gardens, movies, architectural tours, sports, popular filming locations, events, and more.
Pasadena has quite a bit to offer. You should visit Old Pasadena where there are over 100 restaurants. There are more than 200 one-of-a-kind specialty boutiques and exclusive national retailers within walking distance.  The quaint alleyways, rustic brick facades and historic architectural accents make Old Pasadena a vibrant destination. Every Sunday from 9am to 2pm, there's the Old Pasadena Farmers Market on Holly Street at Fair Oaks Avenue where you can get locally grown produce and organics, fresh baked goods, artisanal jams, gourmet products and freshly prepared barbecue, tamales and more.
Set aside half a day or more at The Huntington Library, an independent research library concentrated in the fields of British and American history, literature, art and the history of science stretching from the 11th century till today. Check out the permanent displays of library materials at the Main Exhibition Hall and Dibner Hall of the History of Science. 14th to 20th century European art and American art from the late 17th to mid 20th century are also on display. The Gutenberg Bible and Chaucer's Canterbury Tales are amongst the Library exhibits.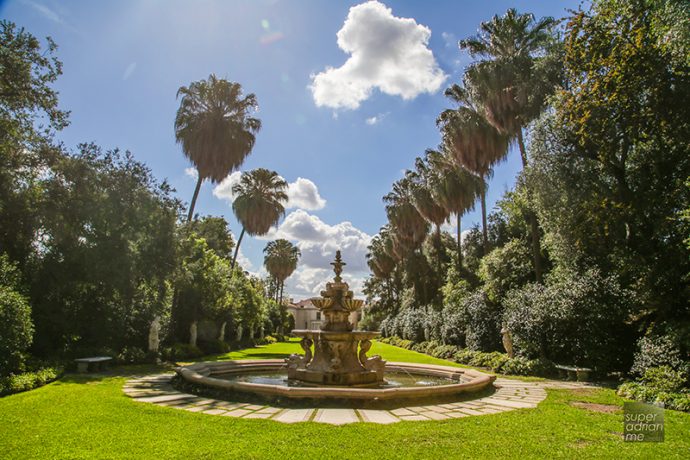 The Botanical Gardens at The Huntington Library is home to more than a dozen principal gardens taking up 120 acres of the 207-acre grounds. Adults have an admission fee of US$23 for weekdays and US$25 for weekends. Seniors above 65 and students pay only US$19 for weekdays and US$21 for weekends. Youth aged 4 to 11 pay US$10 for any day. Children under 4 get in for free.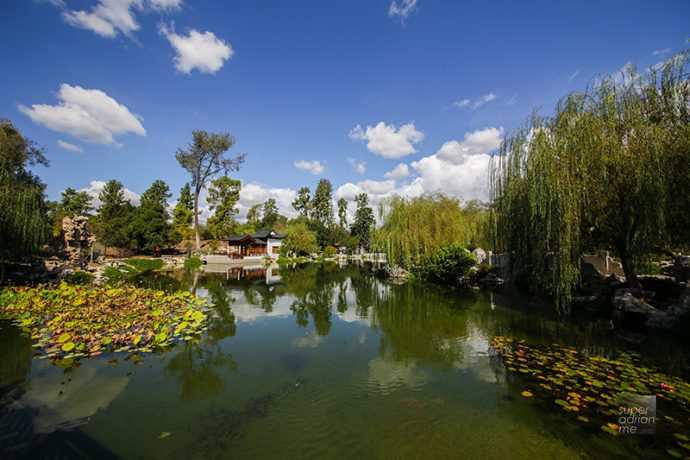 I felt right at home at the Chinese Garden. Other gardens here include the Garden of Flowering Fragrance, the Desert Garden, the Japanese Garden, the Australian Garden, the Subtropical Garden, the Jungle Garden, the Palm Garden and the Rose Garden.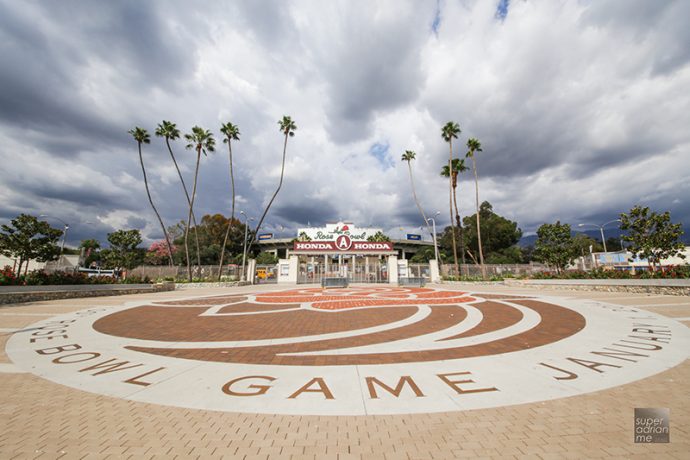 Or go catch a game at the Rose Bowl Stadium.
The Langham Huntington Pasadena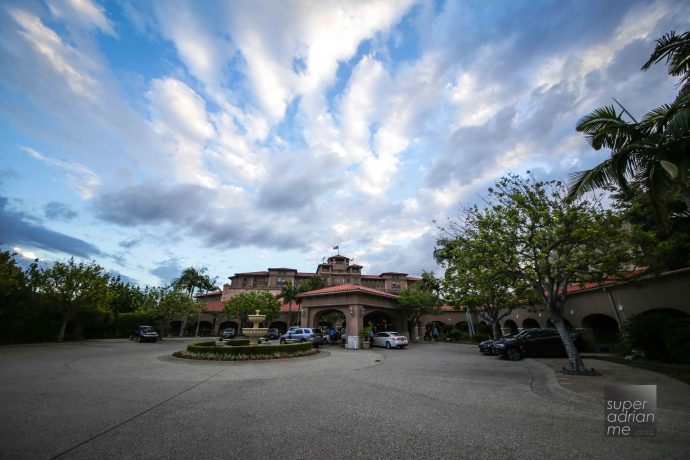 The Langham Huntington Pasadena offers a grand yet old-world charm and is located in an upscale neighbourhood close to dining, shopping (and also TARGET, which is just minutes away by car) and cultural landmarks.  There are 380 rooms, 38 classic suites, eight private cottages and one two-bedroom, two-storey penthouse suite with views of the surrounding landscape and mountains. The peaceful environment here is great if you want to get away from the busy city life. Here is where you can just sit back and enjoy some me-time alone or with that special someone. You don't need to get out because you can get almost everything at the hotel.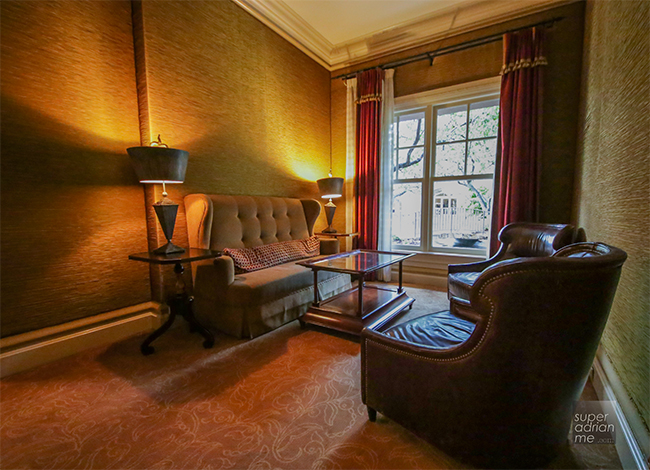 There is a lot of history behind this hotel. What started out as Hotel Wentworth, was later named the Huntington Hotel in 1914. In 1918, The California Hotel Company purchased the Huntington Hotel and built 27 cottages surrounding the hotel to accommodate long-term guests. In 1926, the hotel opened California's first Olympic-sized swimming pool. From 1942 to 1945, when the US was mobilised for World War II, the hotel remained open for civilian and military use. The Army's 35th Division used a portion of the hotel for its regional headquarters. In 1954, Sheraton Corporation bought the hotel and renamed it the Huntington Sheraton Hotel. In 1980, the hotel underwent a multimillion-dollar restoration to return the hotel to its original elegance. In 1991, the hotel reopened as The Ritz-Carlton Huntington Hotel.
In 2008, Langham Hospitality Group purchased the hotel and re-flagged it The Langham Huntington, Pasadena. Two years later Langham invested millions into updating the spa, The Royce Wood-Fired Steakhouse, The Tap Room and five of the hotel's eight cottages. In 2014, The Langham Huntington Pasadena commemorated 100 years of enchanting hospitality.
Lush Gardens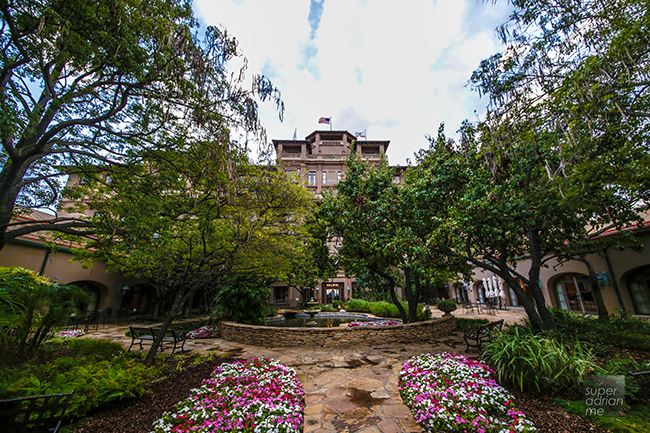 What I find charming about the hotel is its lush gardens and landscaping. You get spectacular views throughout your stay, though I would avoid noon. It is postcard perfect offering stunning photos of memories from your stay. It was definitely a difficult choice deciding which photos to include in this article and I have probably ended up overloading too many photos.
Even the central courtyard, which connects all parts of the main hotel building, is rich in fauna and flora.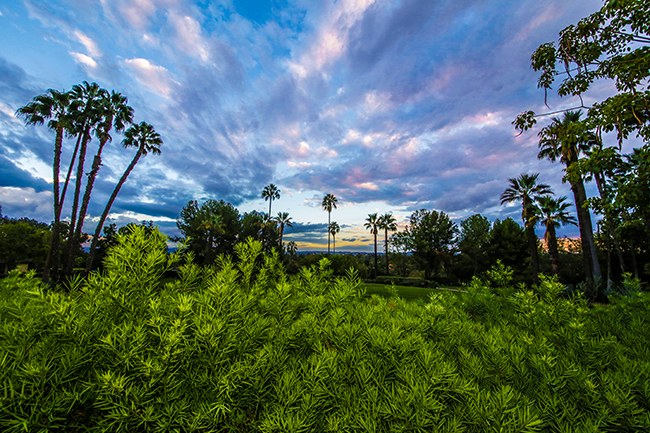 Now if only I had more time to just sit back and soak in the nature at this hotel. It is perfect here to take short walks and take in the fresh air. It is so peaceful here, it makes the perfect location to relax and reflect or just spend me time you have been missing out all this while. Seek solace and find inner piece as you take a stroll within the hotel compound.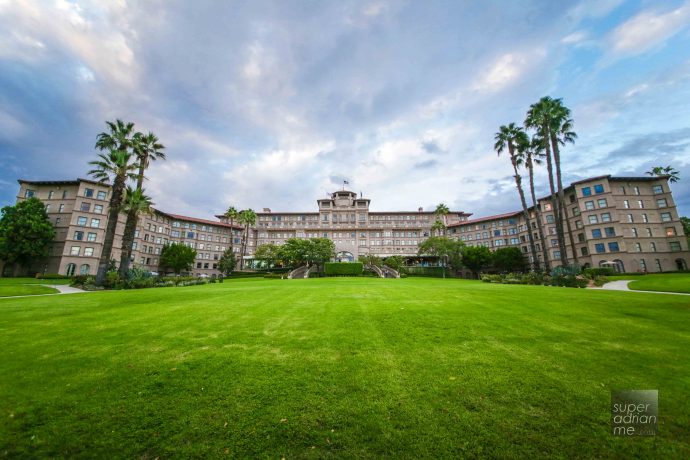 The Horseshoe Garden gives you an amazing shot of the iconic structure that houses The Royce, Lobby Lounge and The Tap Room in the middle with guestrooms at both ends. The Horseshoe Garden was constructed between 1911 and 1914  by Landscape Architect William Hertrich. William also designed the gardens at the nearby Huntington Library.
The Horseshoe Garden used to be a miniature golf course and has been the venue for parties, weddings and galas for a century. Seabiscuit was filmed here and so was ABC's The Bachelorette.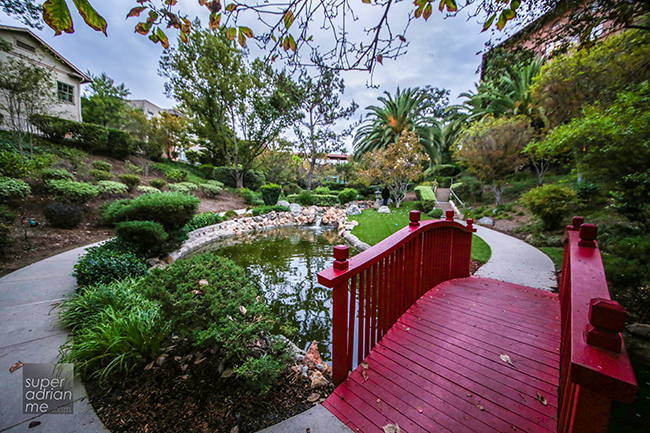 A small Japanese garden also features a wooden red bridge and pond near the cottages. This is located on the opposite end of the pool which a Picture Bridge separates. The Wisteria Cottage, Highland Cottage, Garden View Cottage, Oak Crest Cottage, and guest rooms surround the Japanese Garden.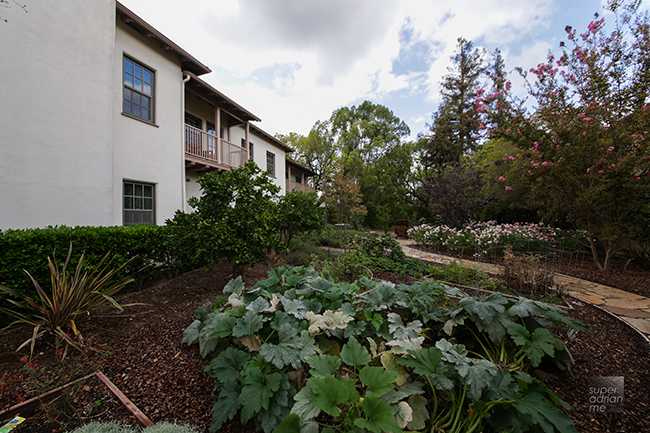 There is also a small section of herbs and vegetables, which the hotel uses at some of its F&B outlets. The Herb Garden is located between the Lanai Building and the Royce Manor Cottage, close to the Tennis Courts. There are three tennis courts here.
The Suite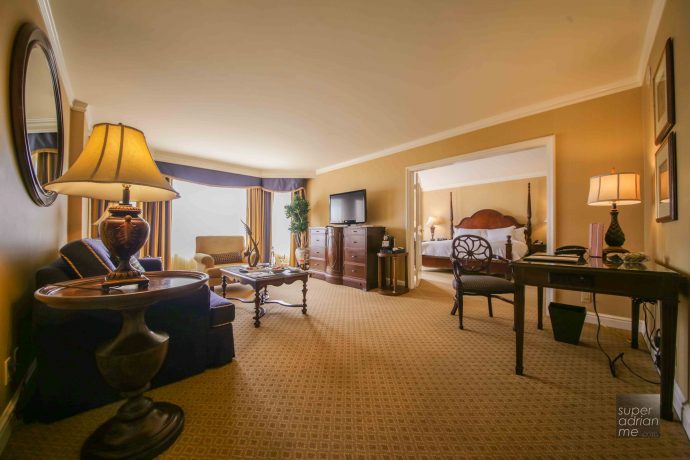 The Huntington Suite is simply amazing. I stayed in one at room 528. The suite was spacious and befitting of a century-old hotel. You can expect all the necessary comforts and amenities. With a spacious living about the same size as the bedroom separated by a large door, I had a good night's rest.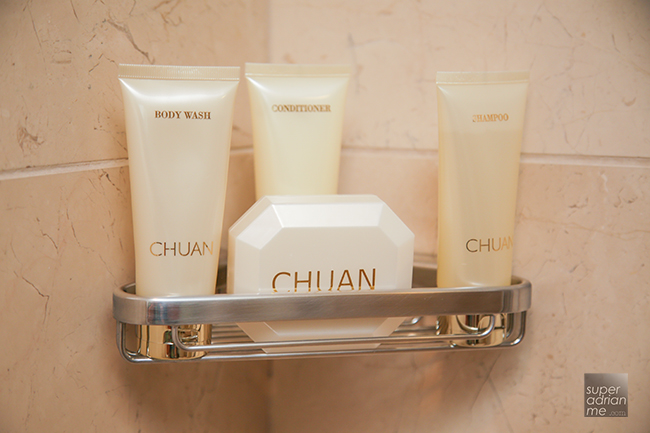 Because it was almost a drought summer last year, I didn't get to use the bathtub. The separate shower room sufficed. The length of the bathroom spanned the length of the living room and bed room combined. It houses the walk-in wardrobe, a separate WC, shower room, bathtub and wash basin.
Chuan Spa amenities, the house brand of The Langham group of hotels, are provided. The Jasmine fragrance has been created by Italian perfumer Laura Tonatto for Chuan Spa. A pure vegetable bath bar soap comes encased in a soap box so you can bring it along with you on your journey after you check out. There are also generous 70ml (instead of 35ml) tubes of Body Wash, Body Scrub, Shampoo, Conditioner and Body Milk.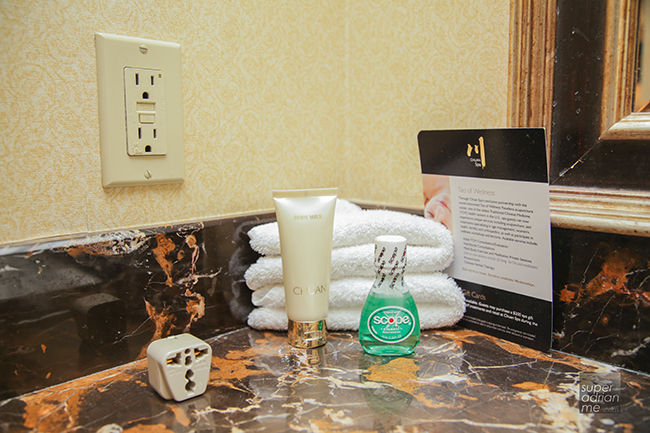 Small little bottles of body powder and mouth wash, toothbrush and combs are also provided as an added convenience to suite guests here. The hotel has thoughtfully placed an international power socket adapter even without you having to request for one.
The Langham Club Lounge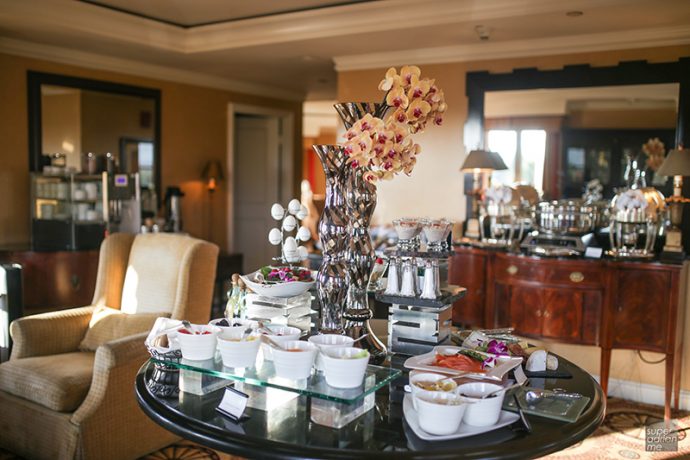 The Langham Club Lounge on level eight welcomes guests staying on The Langham Club Levels. Guests can enjoy concierge services, or work on the computer with premium internet access. Catch up on the latest news with a selection of newspapers and magazines. Enjoy the mountain view on a clear sunny day.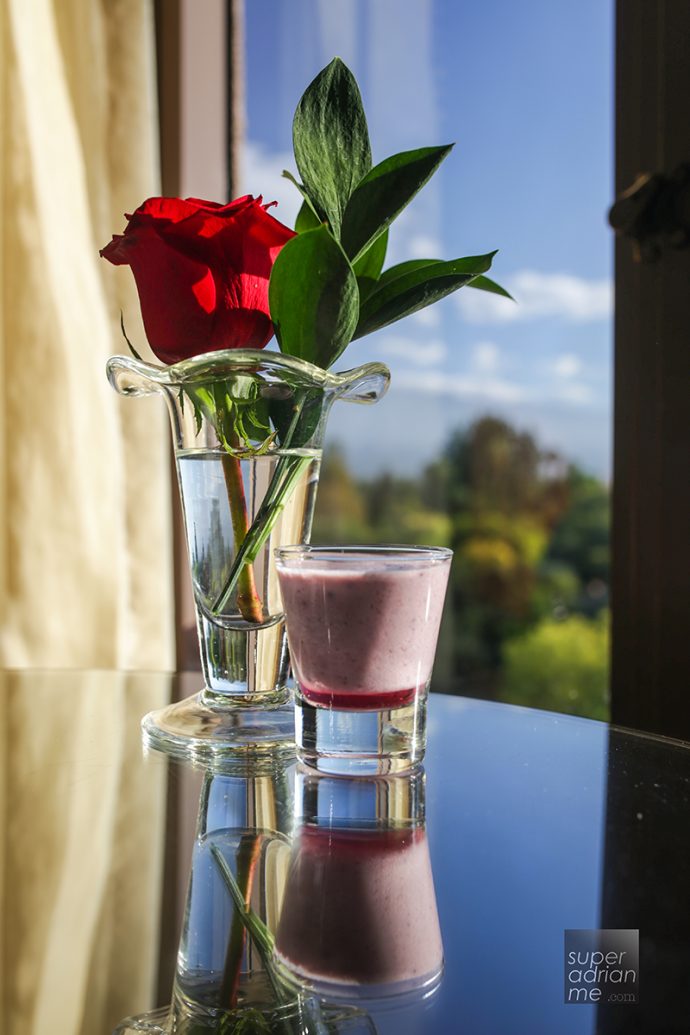 Have your breakfast here anytime from 6.30am till 11am and enjoy the morning view. Light snacks (12pm to 2.30pm), afternoon tea (3pm to 5pm), hors d'oeuvres and cocktails (5.30pm to 8pm) as well as cordials and after-dinner sweets (8pm till close) are available at various times of the day.
Chuan Spa & Salon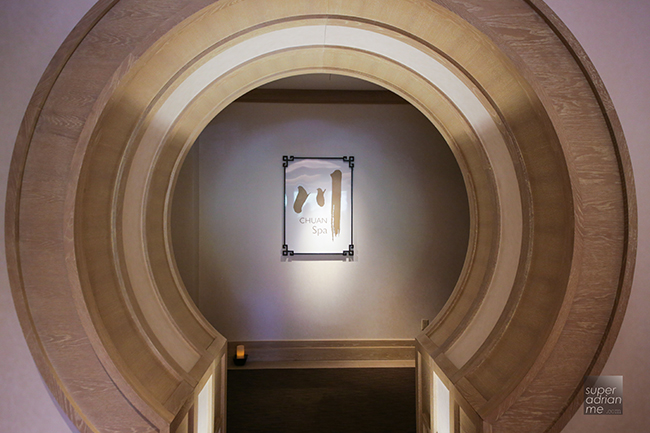 If you are flying all the way to Los Angeles from home, then a spa treatment at Chuan Spa is a must. Chuan Spa is a brand of the Langham Hospitality Group. Enjoy traditional Chinese Medicine inspired treatments such as massages, facials and body treatments. Located just across from the main lobby in a separate building, Chuan Spa & Salon has 12 treatment rooms, including two couple suites. Connected to the Spa is a yoga and pilates studio and a fitness centre.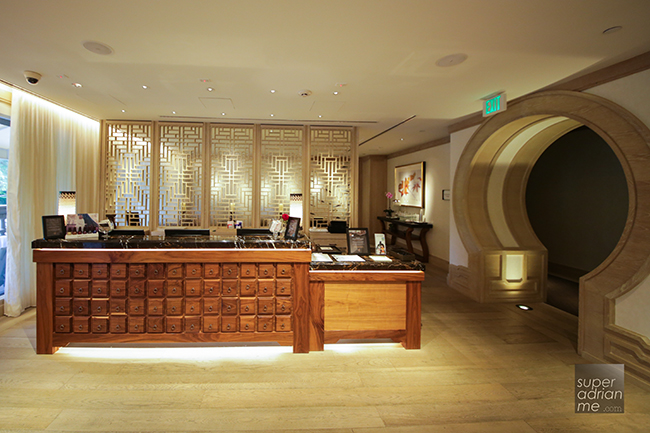 You also have an option for manicure and pedicure services at the salon. The little retail corner within Chuan Spa is where you can pick up some skincare products, apparels, and quite a selection of nail polish.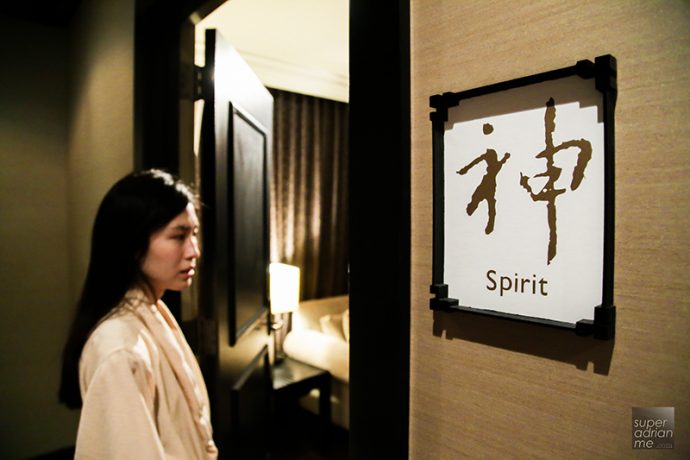 I had a 90 minute Chuan Stone Therapy Massage. It was so good because after that I could feel my that my shoulders were less tensed and that night I slept very well.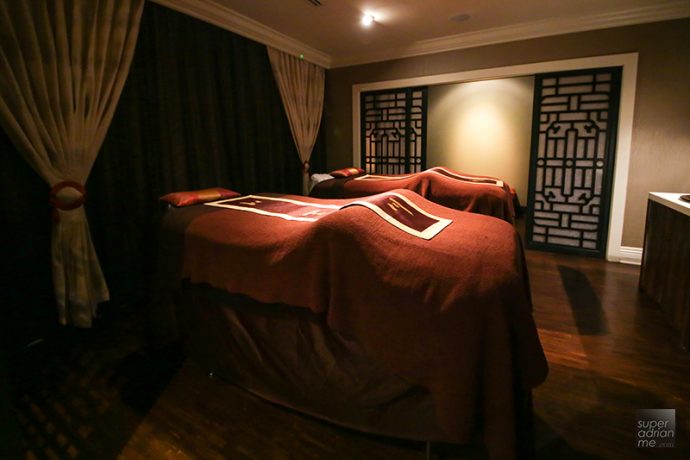 The bathrooms in Chuan Spa also feature a jacuzzi, steam room and sauna.
The Pool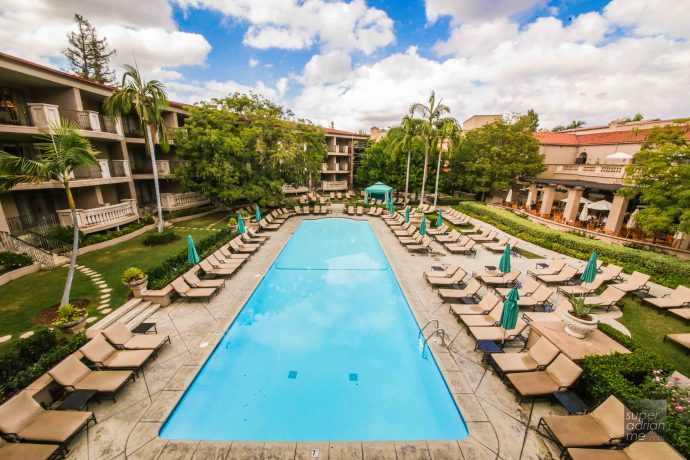 The pool is between the Lanai Building which houses rooms 1102 to 1325 and the Terrace Restaurant. So if you are looking for a room that is closest to the pool then you have to pick one of these rooms in the Lanai Building. Deck chairs surround the pool so you can busk under the sun to work that perfect tan. The pool is open from 6am to 10pm daily.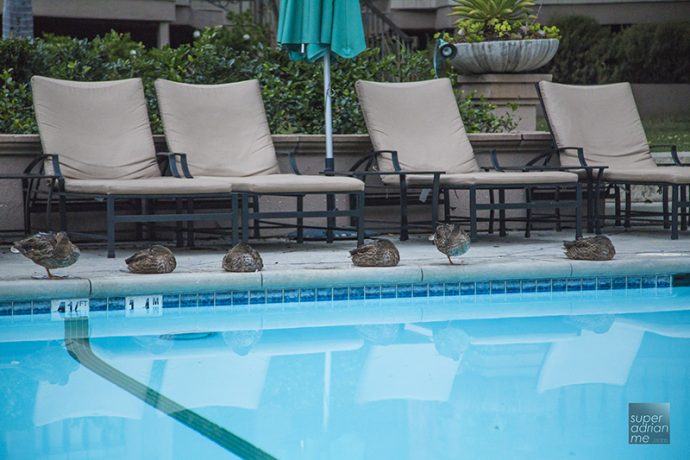 And if you are lucky, you may see wild ducks busking by the pool.
Dining at The Langham Huntington Pasadena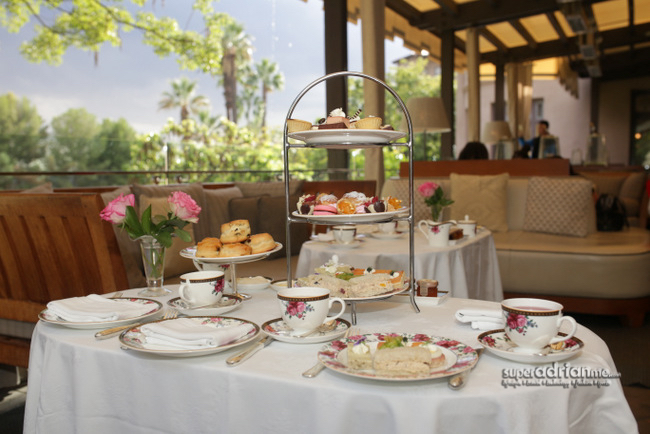 Enjoy Wedgewood Afternoon Tea at the Lobby Lounge any day of the week. The Langham Afternoon Tea with Wedgwood is served from 12pm to 4pm on Mondays to Fridays, and starts one hour earlier on Saturday. It is priced at US$46 per adult. Add US$10 if you would like an additional glass of Graham Beck Brut Rose.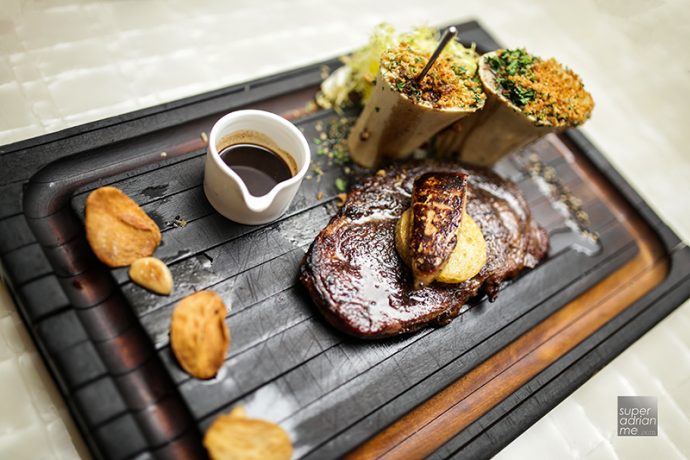 The Royce Wood-Fired Steakhouse is the place for mouthwatering steaks and great wines. Enjoy a selection of USDA Prime Cuts, Australian Wagyu and Kobe-style Japanese Beef prepared over a wood-fired grill with White Oak and seasonal wood to sear the maximum flavour and juiciness of each cut.