Si Chuan Dou Hua has launched an innovative packaging for its takeaways and delivery. The group's three restaurants have been using this innovative sealed packaging since last September. Prior to using this packaging, the group has been exploring new and more effective packaging options. Greener bamboo made packaging was one of the options.
Using the traditional plastic ones meant that an additional layer of cling wrap over the lid was necessary to prevent spillage of hot gravy or soup. And Si Chuan Dou Hua stopped using plastic containers for around two years.
I saw this packaging at Chuan by Nutmeg recently when I was trying out the new cocktails. Had to take away some of the leftover food because there was too much. And I thought the packaging was eye catching and rather interesting.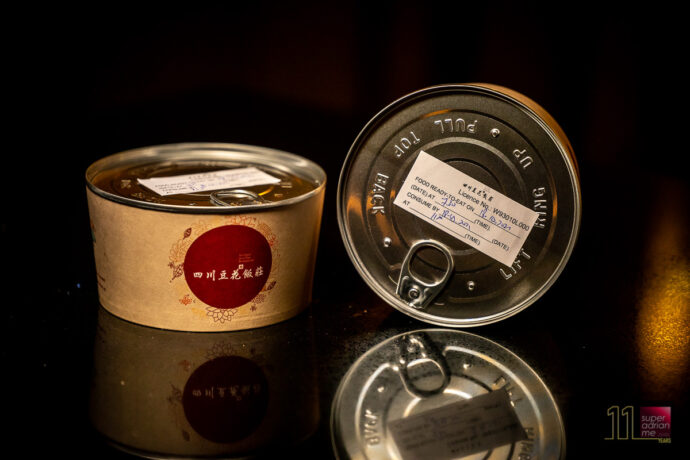 The 700 ml and 1000ml aluminium containers are sealed using a machine with a can lid that is easily opened with a pull ring. Just like how you would pull open the lift of canned food. This packaging keeps the food warm and prevents spillage. This also assures the diner that the food is not tampered and kept warm.
Although slightly more costly than the plastic containers commonly used, these can lid containers ensures food safety and offers a never before dining innovative experience for our diners. Diners can conveniently pull open their food at their convenience and not have to deal with any possibility of food standards compromised due to spillage during deliveries or takeaways.

Miss Linda Loke, Director of Restaurants, Bar and Events, Si Chuan Dou Hua