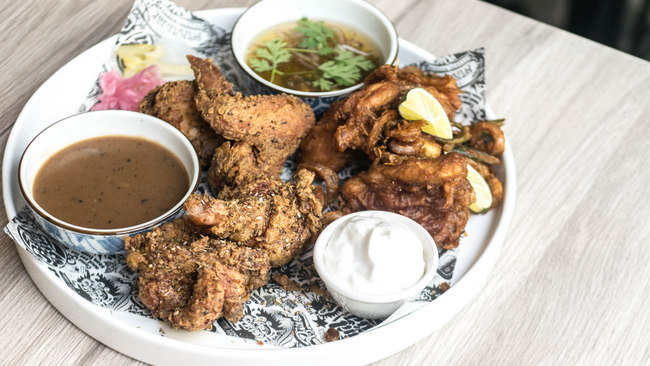 "If I could, I'd marry you" I said, to the platter of fried chicken that laid before me. Bjorn Shen can do no wrong when it comes to comfort food. Along with Head Chef Anthony Yeoh (formerly of Cocotte), they have created a no regret, artery clogging bevvy of fried chicken, donuts and a seemingly endless bowl of curly fries. The cherry on top is the crazy desserts we remember Pastry Chef Fiona Ting, of Savour fame, for. Durian puddings, rhubarb soft serves and fried noodle bits all come out to play, in a majestic softie pie (a.k.a. a crazy AF sundae).
Start Big Or Go Home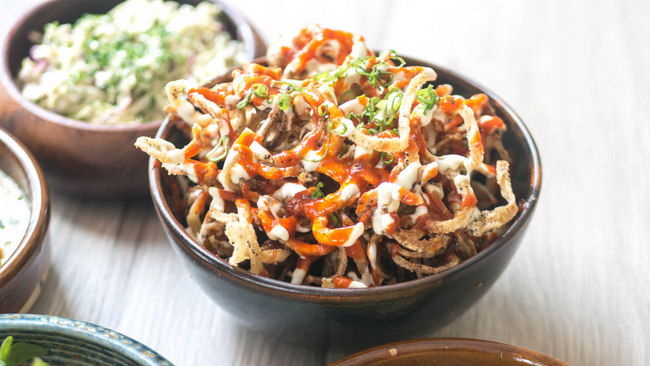 First order of business, attack the curly fries. As the chicken fries up, there's nothing more satiating than this mess of fried potato and sriracha. The tangy spice of the sriracha and the notable umami of kewpie mayo is just perfect together. There is an underlying maple soy flavour as well. It is a whole lot of fun in one bowl, and we are only talking about the fries.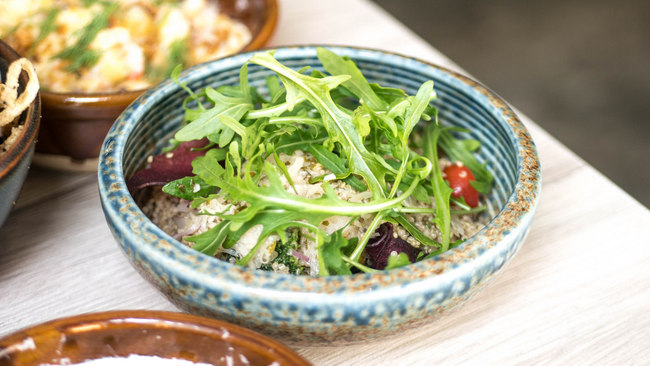 There is also a salad bar, which menu changes every day. While you can order the Quinoa Salad (S$6/plate) to start, the Fennel and Cabbage Slaw (S$6/plate) is great with the chicken as well. There are a lot of good flavours going on in the slaw, easily the most underrated "salad". Bastardised by KFC. This, however, was a joyful combination of herbs (in the green goddess dressing) and the unique light, bright taste of the fennel. Even my companion who usually turns her nose up at the bulbous vegetable enjoyed it thoroughly.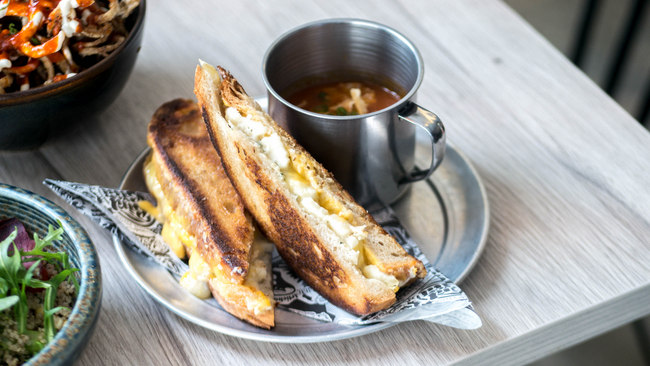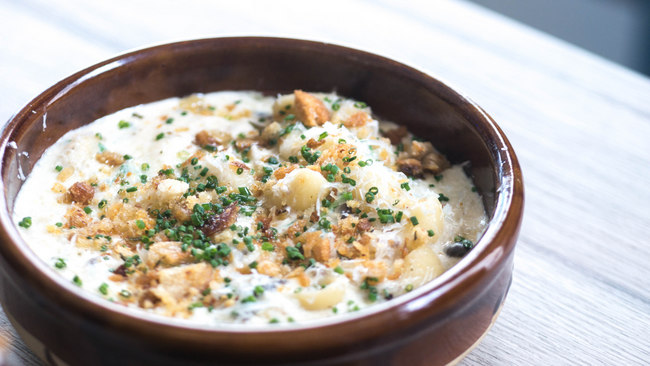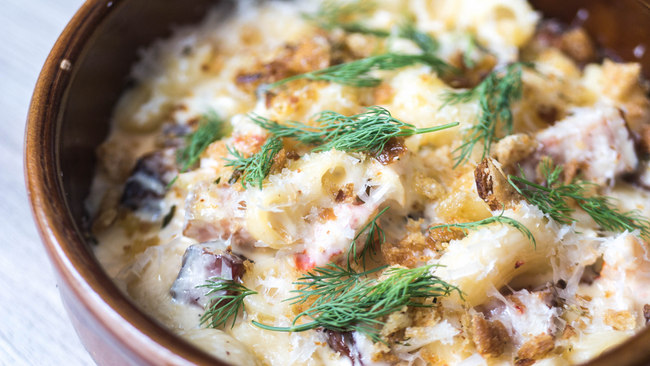 And, if you're a cheese fiend and still waiting on the glorious chicken, you're in for a treat. The Black Truffle Mac & Cheese (S$12) and Crayfish Mac & Cheese (S$12) are both fantastic, with the latter being my absolute favourite. I thought it was too much, but the sweet crayfish meat offsets the heaviness of the smoked bacon, and I went back in for another bite.
They, however, have to bow down to the 5 Cheese Grilled Cheese Sandwich with a cup of Kimchi soup (S$19.90, with a side). A-ma-zing. The switched out the traditional combination of Campbell tomato soup for a zingy kimchi soup (not spicy, don't worry), letting you enjoy all the melted mess of cheese over and over again. Yum.
And here comes the big boys.
The Big Bird Arrives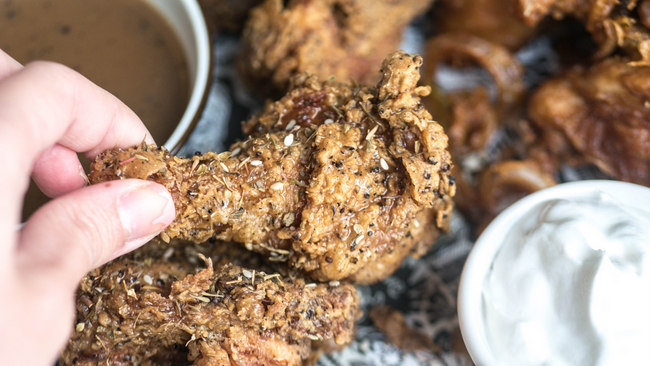 We got a special platter, featuring the only three flavours on the menu; Thai, Lebanese and Southern Fried. The usually go for half a bird or the whole deal (S$25/half, S$49/whole, additional S$3 for cornbread waffles).
Ask me to choose a favourite and I'd be dead stuck.
The Thai (originally known as Gai Tod) is the stuff of wonder. The firm yet tender Sakura chicken flesh only reveals itself after a resounding crunch of that crispy, vodka-based batter. It comes with little bits of fried garlic, shallots and chili from the same batter. Cinemas need to up their snack game with some of this action. I'd go for those bits of fried garlic any day.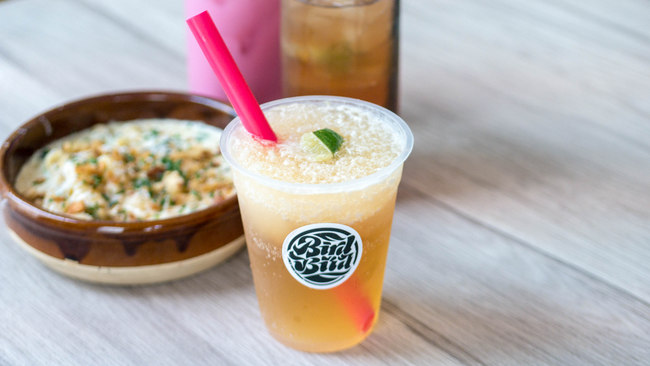 The Southern Fried is everything you want it to be. Juicy, and marinated to an optimum. It is fantastic on its own, but I couldn't say no to that luscious gravy. If you're a traditionalist, this is, without a doubt, the ultimate fried chicken. There's something wonderful about the marriage of these flavours with the cornbread waffles. Maple syrup or good ol' gravy, satisfaction awaits.
Last but not least, the Lebanese. It gets its name from the lovely blend of Middle Eastern herbs coating the succulent chicken. There's oregano, basil, thyme and so on, giving it a faint nuttiness that goes hand in hand with the honey lemon coating. Don't forget about the toum garlic whip either. This meringue of a garlic sauce also hails from the middle east, and is usually used for anything from bread to a shawarma. Without question, great with the Lebanese fried chicken.
There is also a nondescript shelve full of hot sauces on the side. I missed it on my first trip there. I loved my spice so I went straight for the top, and spiciest level. The Dia De Los Muertos Hot Sauce is a fantastic sauce to go with the Thai or the Southern, but it works best when added (in little amounts) to your Mac & Cheeses.
Meat, Meat And More Meat Because Why Not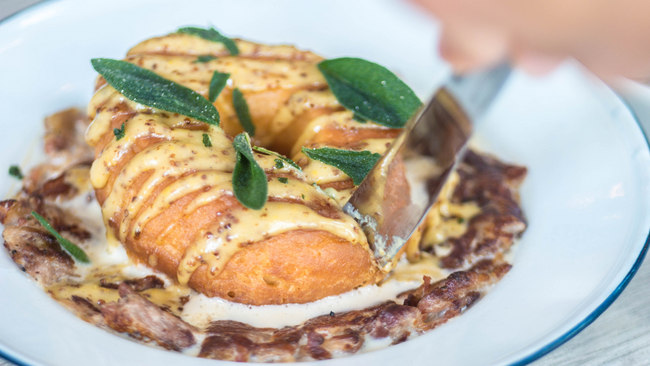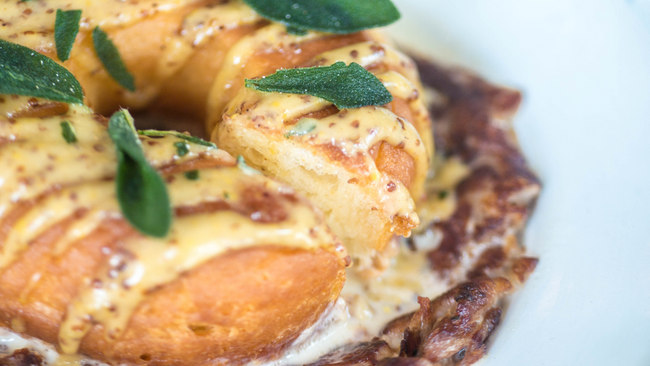 Before we move on to desserts, we need a little buffer. A prelude to his mad collection of donuts, is the Milk Braised Pork (S$16). A pillow-y soft donut has been left to soak up the indulgent "broth" of milk, lard and bacon. When I made a second trip down, two of my companions swore undying love to it. Or, you can skip the donut and just go straight for a dreamy slice of their Brown Sugar Bacon Chop (S$10). Ah, I have shivers just thinking about them. The best kinds, of course.
There's Always Space For Desserts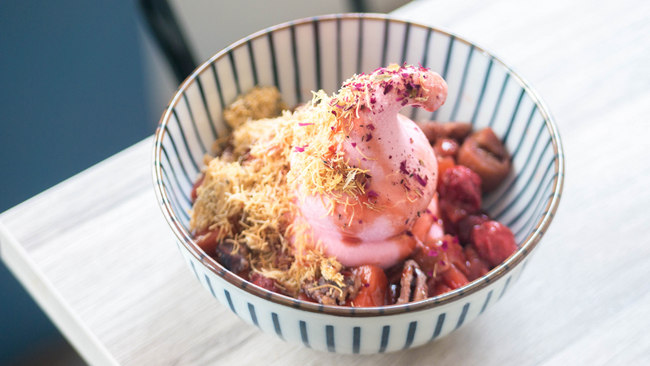 Always. There will always be space for desserts. Even if you don't, you'd have to make room for the Rhuppleberry Softie Pie (S$14). Made popular when Pastry Chef Fiona Ting presented this dish for Savour. There is so much to love about this, I don't even know where to begin. The addictive flavour of strawberry and beetroot, the candied pecans, strawberries and, of course, the added crisp from the noodle bits. It was as if I was a kid and let loose in a candy store, and allowed to do whatever I wanted.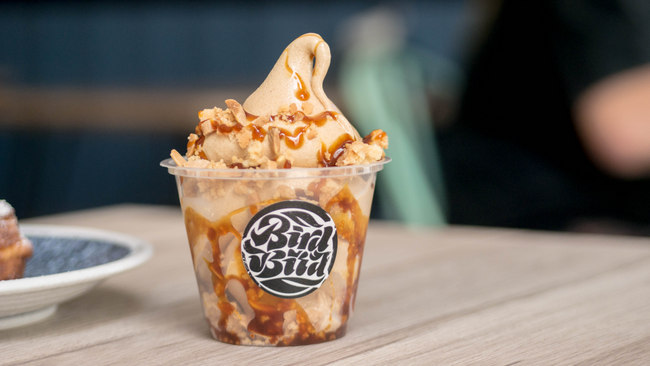 There is also the Toasted Milk Softie for caramel lovers. The roasted milk flavour reminds me of an intense bubble tea. Surprisingly, he combines this flavour with a durian pudding in the Durian Softie Pie (S$16). I like it on its own, with its cookie crumbles and caramel drizzle. Perfect on a sunny afternoon.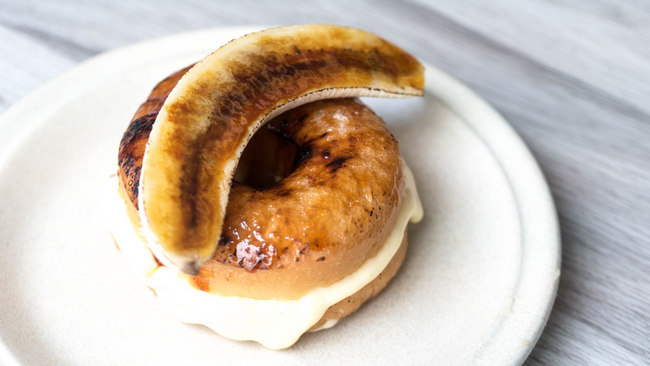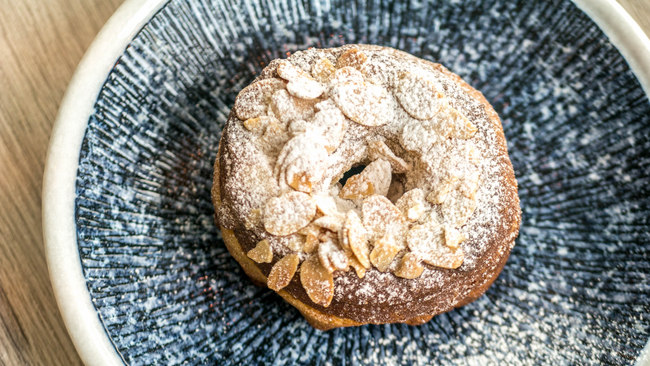 And, if you still can't tell, I love the donuts. Those soft pillows of pure bliss. Pastry chef Fiona dresses them up in absolute decadence, such as the Banelmel Brulee (S$5.50) and 'Almond Croissant' (S$5.50). Both were worth throwing the diet out the window, but the latter was the true winner. The aromatic frangipane (fancy word for almond cream) is a rich and velvety, yet light enough for me to continue stuffing my face with it (after all the chicken and cheese). They are giving the actual almond croissants from down the street a run for their money.
After this lengthy (fan-girl-like) report, its obvious. Bird Bird gets a a full 10 marks. You'd be damned to give this place a miss because its just a "fried chicken place". The food is great all no matter what we ordered. The staff, professional and patient, considering eight of my friends turned up an hour before closing, unannounced, on a busy night. I mean, come on. Old school comfort food on steroids, with pints of Urquell Pilsner on tap. How can anyone say no to that?
Bird Bird is located at 97 Frankel Avenue, Singapore 458222.
Tel: +65 6694 8270 Reservations:
chope.co
, 
quandoo.sg