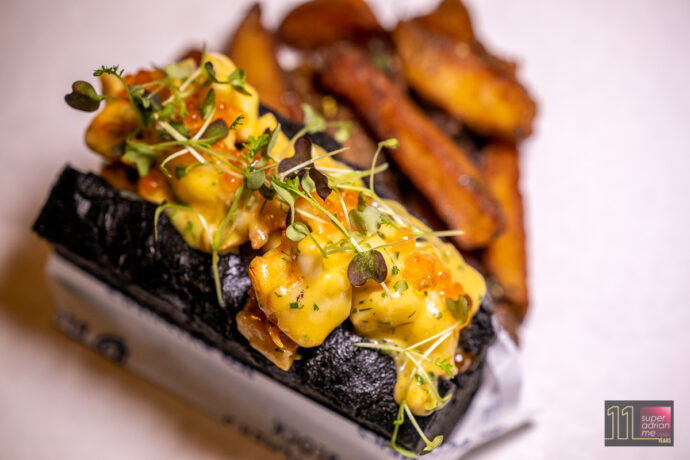 Chef de Cuisine, Jordan Keao joined Butcher's Block just this year. This year's heightened alert closures have made it challenging for the Chef to showcase his masterpieces at this avant-garde wood-fire dining restaurant. Chef's Hawaiian heritage is featured in the new à la carte Dinner. a signature Tour de Force experience and Weekend Brunch.
The last time we dined at Butcher's Block was in October last year.
Butcher's Block Weekend Brunch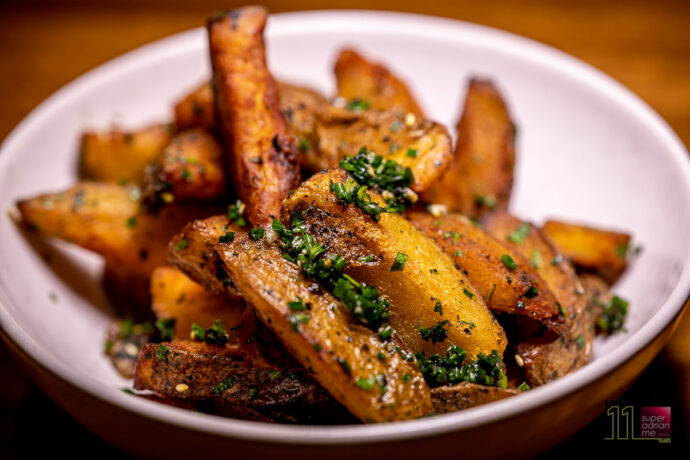 Weekends are when you can dine from 11.30 am to 2.30 pm because Butcher's Block doesn't serve lunch on any day. The menu is made up of some dishes available exclusively at brunch as well as dishes also available from the dinner menu.
Freshly shucked Irish Oysters pair well with some bubbles. The Wagyu tartare with Caviar and beef tendon chicharrón is also a must have. By the way, the sourdough, seeded sourdough and Miso baguette are highly addictive with the Shio kombu whipped butter. They should bottle the butter for sale. Butcher's Block gets the sourhdough bread from Starter Lab bakery in Tiong Bahru.
Brunch mains include French Toast with Salted Caramel, Croque Madame with 18-month Joselito Iberico and WA Marron Lobster with Burnt Béarnaise.
The Sommelier's Selection at Brunch
The Sommelier's Selection offers 90 minutes free flow of specially handpicked wines to go with your brunch. There will be a bubbly, white, and red wine. During the media tasting last month, we kicked off brunch with some Crément de Bourgogne Blanc de Blanc sparkling wine from the house of Pierre Marie Chermette. It was fresh, lively with intense floral and fruit aromas and flavours. The white wine was a 2018 Poggio Argentato from Fattoria Le-Pupille in the IGT Toscana Bianco appelation and is made with 60% Sauvignon Blanc, 15% Traminer, 15% Petit Manseng, 10% Semillon. My favourite was the Chateau Martet Réserve de Famille 2017 Merlot. The selection of wines is not fixed.
Where is Butcher's Block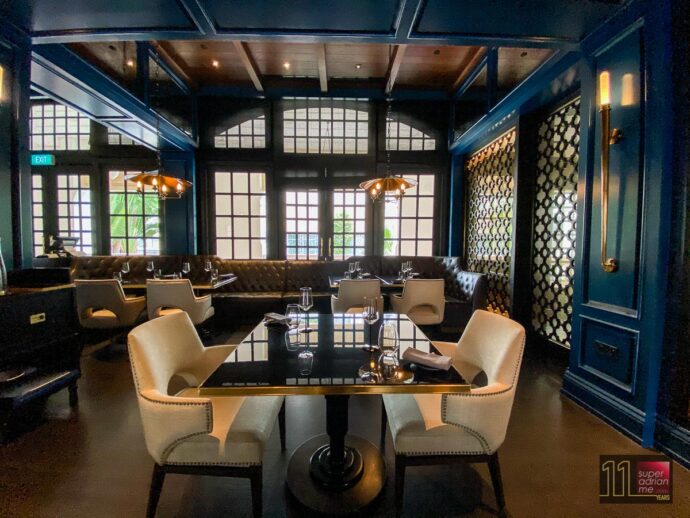 Butcher's Block is located at #02-02 to #02-07 Raffles Arcade, 328 North Bridge Road, Singapore 188719. Brunch is available on Saturday and Sunday from 11.30 am to 2.30 pm. Dinner is available from Wednesday to Sunday from 6 pm to 10 pm. It is closed on Mondays and Tuesdays.