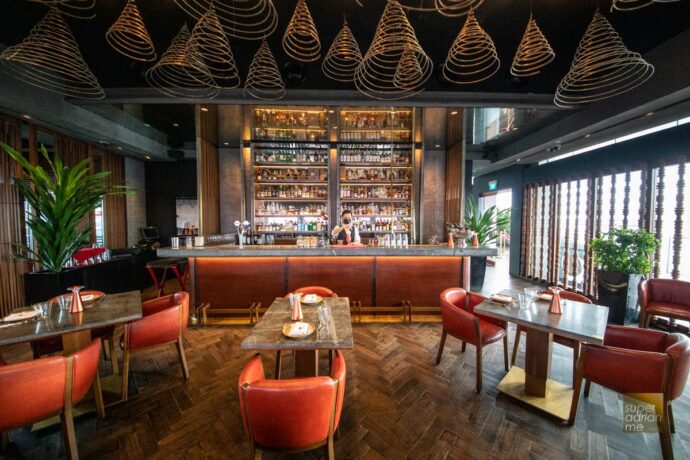 CÉ LA VI has a new executive chef on board. Previously from Chef-Owner Andrew Walsh's Cure Singapore, Chef Maksym Chukanov has been tasked to revamp the culinary menu at this destination dining venue.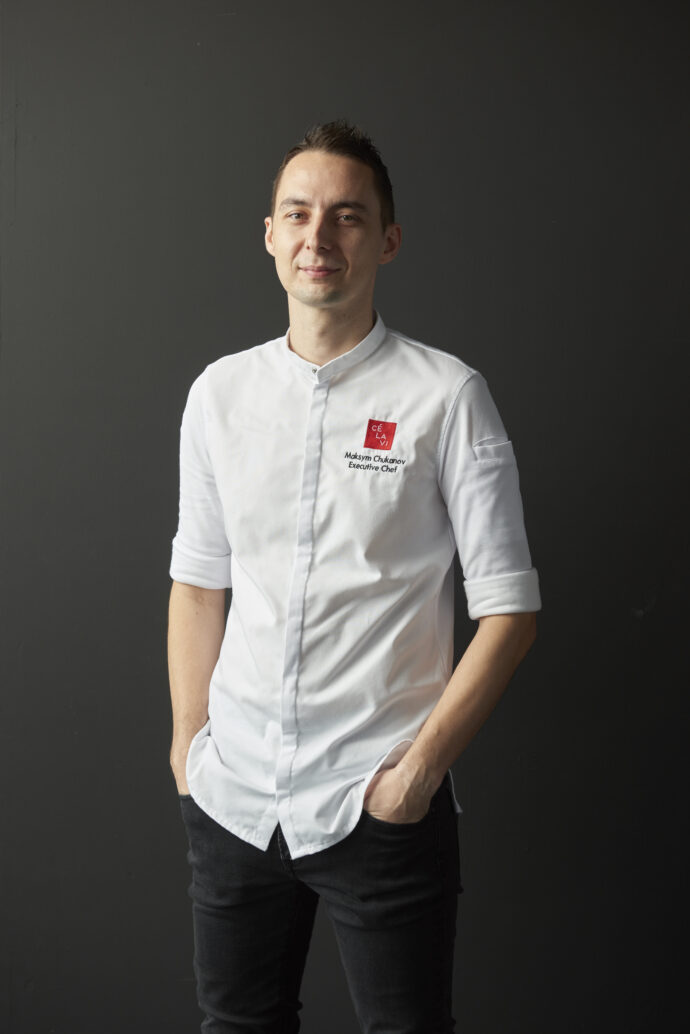 Chef Maksym has 16 years of culinary experience in Michelin restaurants worldwide including the two-star Ikarus Hanga-7 in Austria & Noma 2.0 in Denmark. Chef Maksym was born in Belarus but moved to Austria. His parents worked in the F&B sector exposing him to the culinary world at a very young age. He also attained his diploma from the School of Hospitality and Tourism in Linz.
"It's a great opportunity to be a part of a wonderful team. At the heart of CÉ LA VI, we let the ingredients take centre stage, and we want our guests to experience contemporary Asian gastronomy throughout the venues. Whether you are having snacks and cocktails at the Skybar while watching the sunset, having dinner with your family at your birthday party in the restaurant, or enjoying sharing plates with your friends at the Sky Lounge, our dishes are sure to excite your palates and senses. We all have been working very hard and I am very excited for more that is to come in the near future for CÉ LA VI"

Chef Maksym Chukanov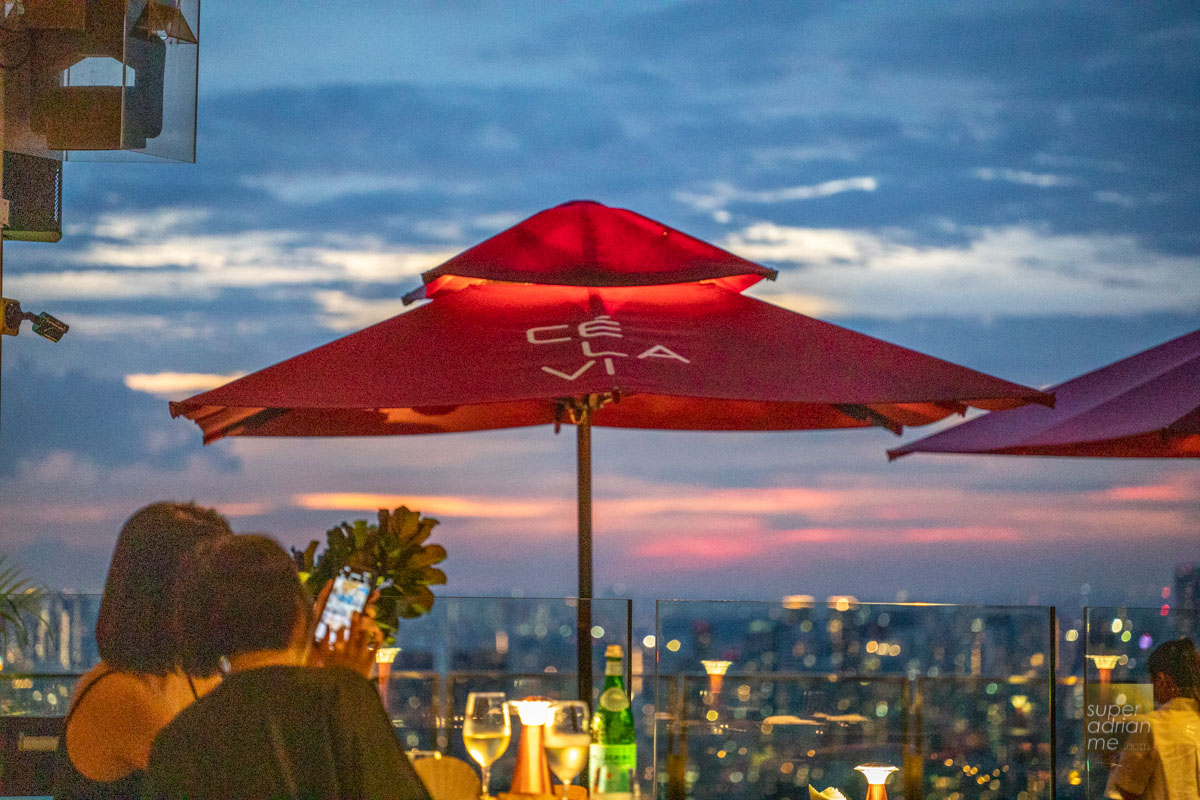 The menu at CÉ LA VI will continue to feature contemporary Asian interpretations of traditional Asian flavours and fresh produce that are presented artistically minimal.
We were at the restaurant earlier this month to try out some of the new dishes and cocktails from the Sky Lounge with views of the bustling SkyBar and the beautiful sunset. What a refreshing change to have a DJ spinning live music at what has become an unfamiliar DJ console after a two-year hiatus because of the Covid-19 pandemic.
Cocktails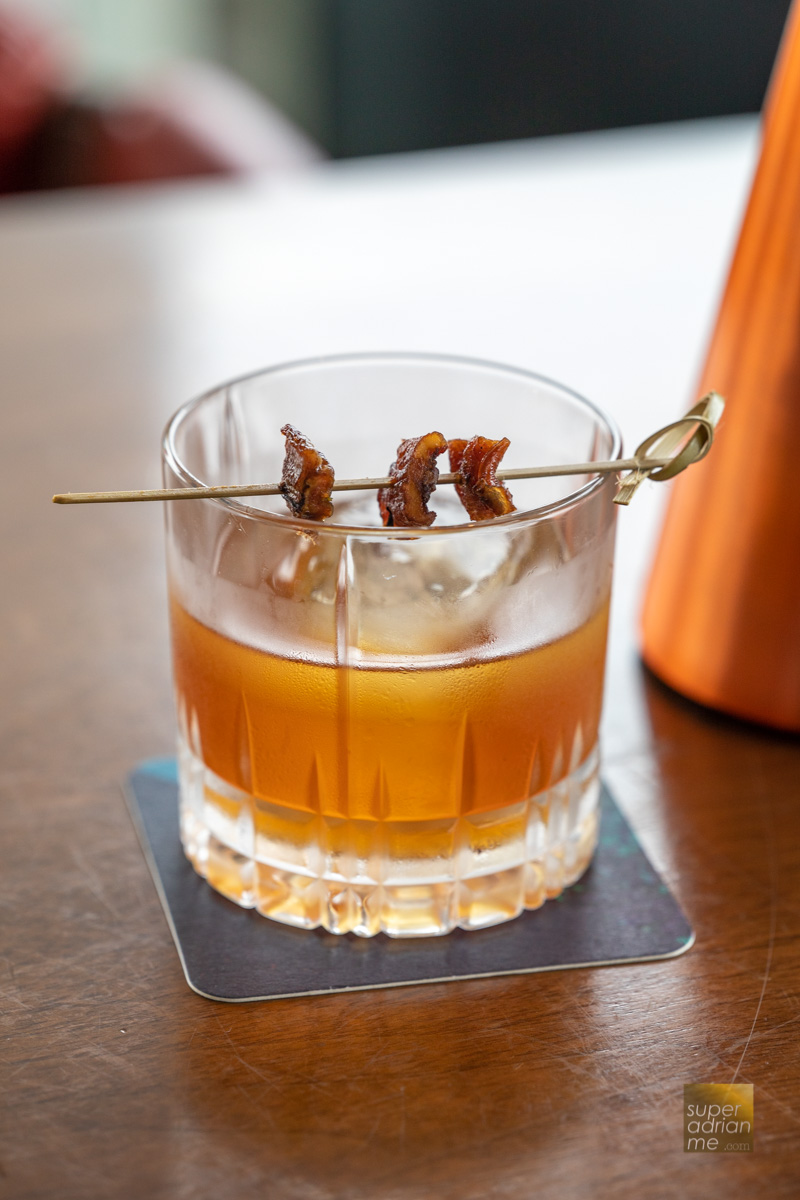 The evening started with some cocktails from the SkyLounge. I started with a spirit-forward one. The Rum-A-Laka is inspired by the Rum Old Fashioned. Salted caramel with toasted banana peels with a hint of gula melaka from the traditional dessert Pisang Salai gives an added touch to this concoction of rum, whiskey, banana and palm sugar. It gives a punch so be warned.
For something less strong yet refreshing, go for the Guavarita or Summer Love. Enjoy nostalgic flavours of Jambu Asam in the slightly spicy Guavarita which is created with Agave, plum, guava and honey. Summer Love is a combination of thyme-infused gin, Peruvian pisco, peach and prosecco.
High "T" is a twist on the classic whisky sour. Home-made spiced honey tinctured is paired with a blend of Asian herbs.
Cocktails are priced at S$25 and mocktails from S$15. Beers, sparkling, wine and other spirits are also available.
To Start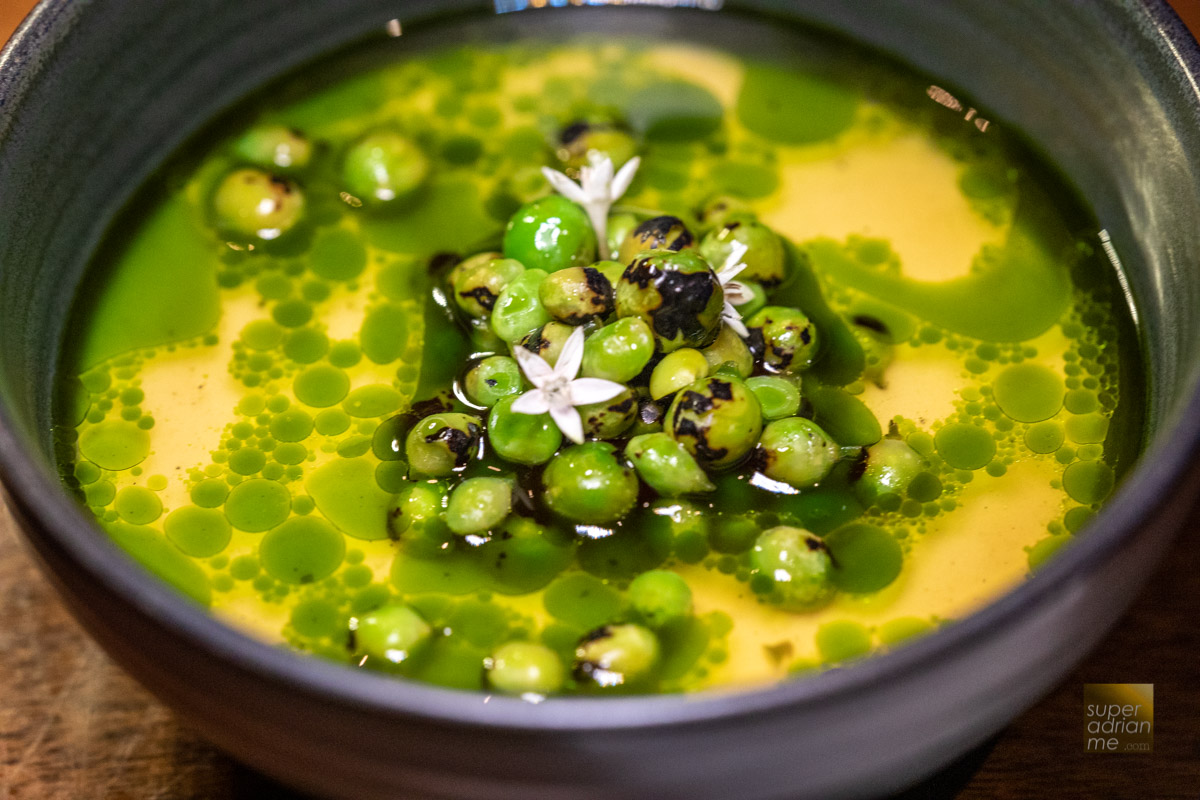 Meat-free options for sharing are plenty at CÉ LA VI. The Thai Baby Corn with Chipotle adobo and puffed quinoa was one of my favourites here. Crunchy yet full of flavours. The Tempura Zucchini Flower is not stuffed with cheese and served with furikake and pickled wasabi.
Other vegan options include the Spring Peas Chawanmushi. Steamed egg is served with mint, garden flowers and tomato water. Nothing like your traditional Chawanmushi. The very refreshing Genting Highlands Cherry Tomato is served with whipped burrata and wakame oil. Goes well with some of the cocktails. The Avocado & Gem Lettuce Salad is both vegan and gluten-free, featuring Okinawan spinach and pumpkin seed oil.
The Miso Mashed Potato with scallion oil and crispy garlic is addictive.
Meats for Mains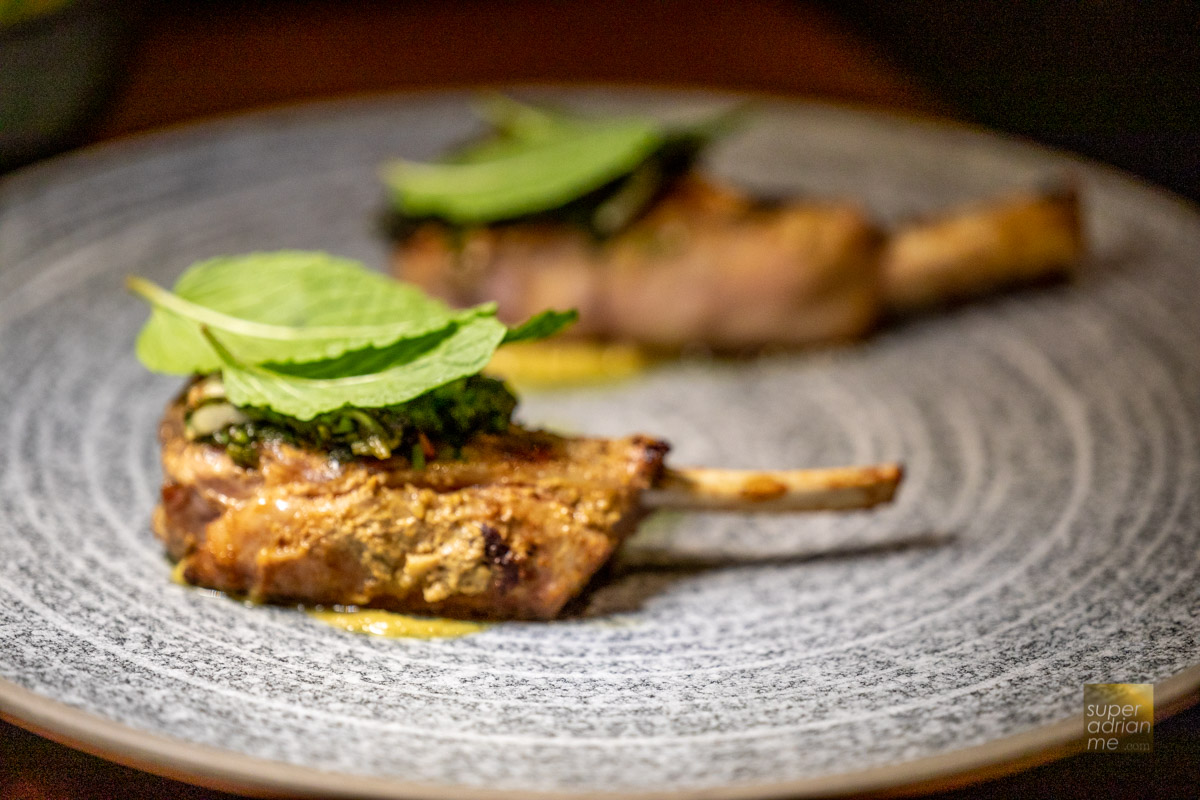 The Iberico Pork Schnitzel features a well-marbled Spanish pork that is thinly sliced and crisped to perfection. That's why this dish is so special. It is unlike the thicker cuts of Schnitzels that we are used to in Europe. Fresh watercress and pomelo on the side help cut through the oil.
The A4 Miyazaki Striploin with watercress and sanbaizu, a seasoning of vinegar, soy sauce, and sweet cooking rice wine and New Zealand Maimoa Young Lamb Chop with mint and green curry puree were cooked to prefection. Medium rare and not gamey respectively.
If you are not allergic to seafood, check out the new seafood dishes such as the Patagonia Argentinian Red Prawn fried crisp heads with spicy and tangy Tom Yum Sauce, fresh Hokkaido Scallop served with green apple, dressed with yuzu kosho, the Japanese King Crab Leg doused with smoked butter, jalapeno and coriander, or the Scottish Razor Clams coated with housemade XO Sauce and garnished with spring onion & chives.
Sweet Ending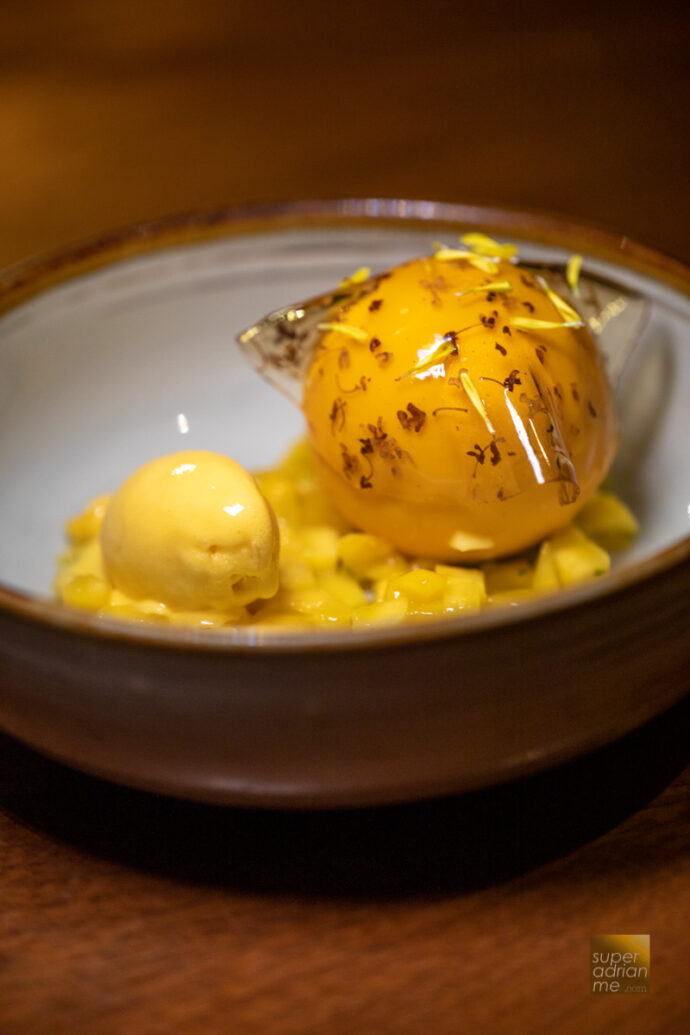 And as if we didn't already have enough to eat, we moved on to the Passion Fruit and Mango Lassi for dessert. But it was all worth it. So much happening in every mouthful. Mango mousse, mango & passion fruit compote, osmanthus veil and alphonso mango lassi gelato.
CÉ LA VI is located at level 57, Marina Bay Sands, 1 Bayfront Avenue, Singapore 018971. Book a table here. Dinner is available from 5.30 pm to 11 pm. Last order at 9.30 pm.