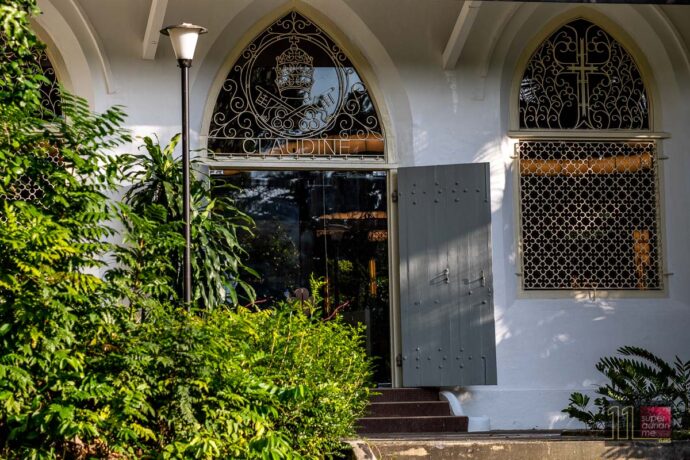 Claudine by award-winning Chef Julien Royer of 3 Michelin Star Odette and The Lo & Behold Group opened its doors on 16 November 2021 to a full house.
Two years in the making, this neighbourhood French restaurant is housed in what used to be White Rabbit which was also under the Lo & Behold Group. The 1930s colonial chapel on Dempsey Hill has been given a new coat of paint inside with panels of foliage gathered from around Singapore surrounding the space. Following the success of Odette, Royer has collaborated again with Sacha Leong and Simone McEwan from design studio Nice Projects to transform the space into a warm and inviting restaurant for all occasions. They have retained the heritage timber structure, preserve the original mosaic floor and refurbished the grille work.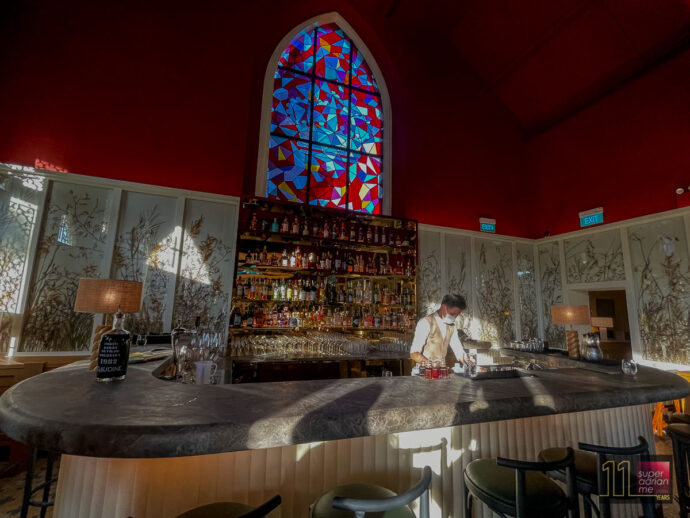 The bar & lounge can seat up to 20 people while the dining room seats 72. A private dining room can accommodate up to 10 without Covid-19 restrictions. The folks at Claudine will spoil you just like family members.
Bar & Lounge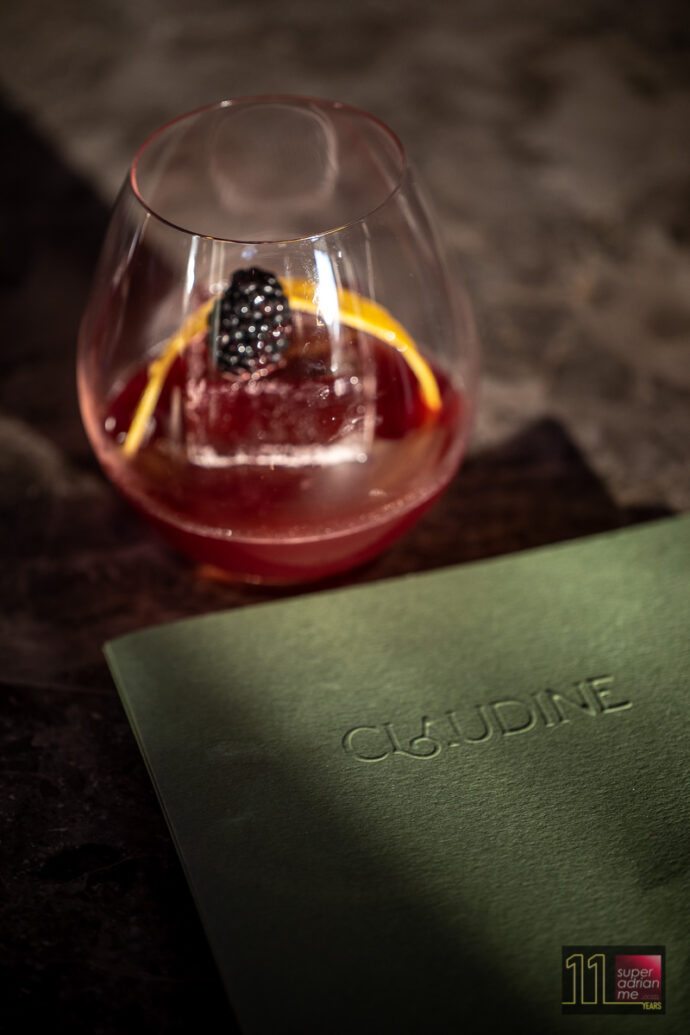 Come have a drink and enjoy some bar snacks in the early evening. Coming early has its advantages. Catch the beautiful rays of light emanating from the sunset into the restaurant and bar. The mood is both romantic and befitting of the architecture and decor.
French-inspired meets a local palate with a concise list of cocktails.
I had the C Squared – a spirit-forward sour created with Martell VSOP, Chartreuse Verte & Lemon while Dennis had the Makes You Wonder. Monkey 47 Sloe Gin is stirred with spiced rum and topped with a fresh blackberry and served with a perfectly cut ice block.
We finished up the three light snacks that were presented to us. Should have known better to save more space for the dinner that ensued.
The Crispy Pork Trotter Croustillant with ravigote sauce was textural and moreish with mayo to balance the acidity. The Sardines on Toast were amazing! The cured sardine has briny, pickled and prominent smokey flavours, all within a bite. The L'Oreiller (Pillow in French) is a traditional way of making pate en croute. Pork, duck, foie gras and chicken are encased in pastry and finished with port wine gelatin.
Head down to the bar for a tipple and some snacks even if you can't get a table at Claudine for dinner. Soak up the atmosphere and piped music. So good to have music back in bars and restaurants.
To Start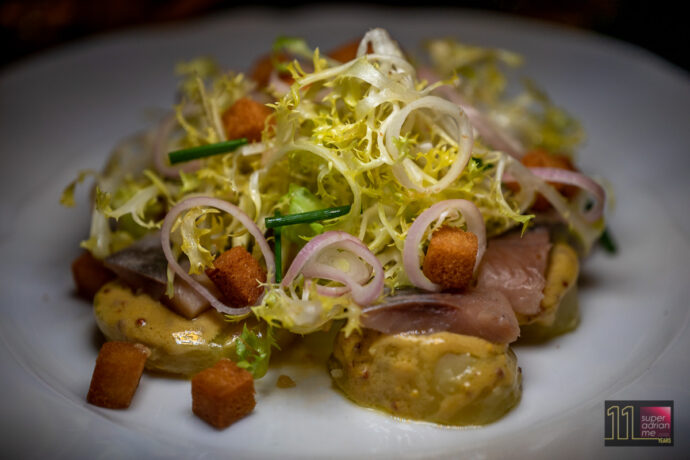 The menu at Claudine strikes a balance between quintessential French classics and personal recipes from Royer as well as the rest of the culinary team. Executive Chef Julien Mercier and Chef de Cuisine Loïc Portlier work in tandem with the front of house team.
The Charred Leeks with 'gribiche' dressing were quite a treat. Chef sous vides the leek until tender and almost melting. The oil-based Ravigote sauce which is lightly acidic with herbs is based upon a vegetable or meat broth or a velouté with herbs. The Herring & Potato Salad features a slow-smoked herring from Brittany with warm steamed Charlotte potatoes, dijon and ancient mustards, chives and frisée. The acidity in the dressing balances the fattiness of the herring.
Chef sneaked in a surprise dish for starters. And we were glad he did. The Mozambique Langoustine seafood bisque was my memorable dish. I am definitely biased. I always like a good seafood bisque. The butter pan-roasted langoustine was so sweet and fresh. Accompanying it is a dumpling that is filled with crustacean. Kombu puree enriches the rich umami seafood bisque.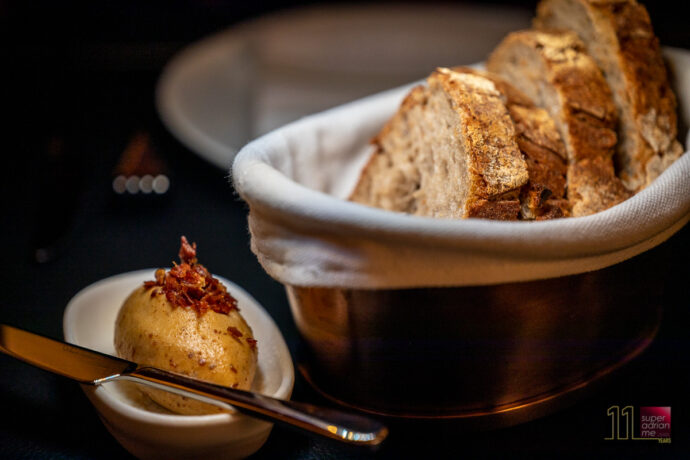 I almost forgot to mention the bread and ham butter will spoil your appetite because it is so good. Better observe restraint and save some space for the other dishes.
Mains and Sharing Plates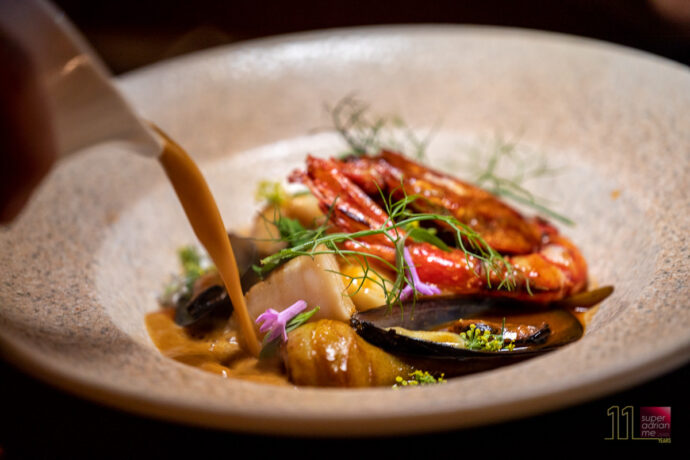 Guests dining here can expect to spend an average of S$120 per head excluding beverages and taxes. We got to try two mains.
The Claudine 'Bouillabaisse' is a take on the hearty classic Provençal fish stew. Share this dish with up to 3 or 4 people. Bite into John Dory, razor clams, mussels, scallops, carabinero with their juicy heads still in tact, fennel and potatoes. Spread rouille on the sliced garlic-rubbed baguette and dip into the bouillabaisse. I know I couldn't stop spreading more rouille on the baguette.
We were told the Vol-au-Vent is a recipe that Chef Julien Royer enjoys on his day off or to cook for friends at home. Chef fills the hollow puff pastry with veal sweetbreads, morel, chicken mouse quenelle, mushroom, cockscomb and pearl onion, then covers this in rich cream sauce of mushroom jus, reduced with cream and cognac. First time chewing on the cockscomb cartilage. I never knew that was edible.
Wines to Pair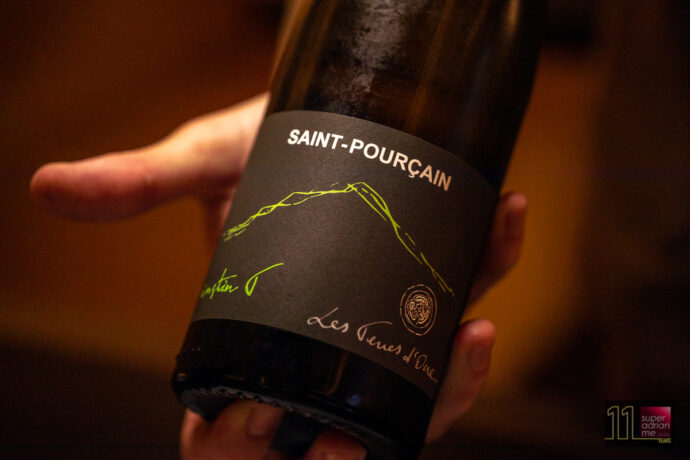 Sommelier Geoffrey Leotot has curated a fine selection of over 300 labels across the world. The selection is driven by his close contacts and relationships with winemakers. The list also includes a natural wine selection to cater to this growing trend. Many wines are direct imports. Some are exclusive to Claudine.
Geoffrey was previously from Odette. He grew up in the Loire Valley, Bourgogne surrounded by vineyards and around winemakers.
If you bring your own bottle, there is a corkage fee of S$100 per bottle.
Desserts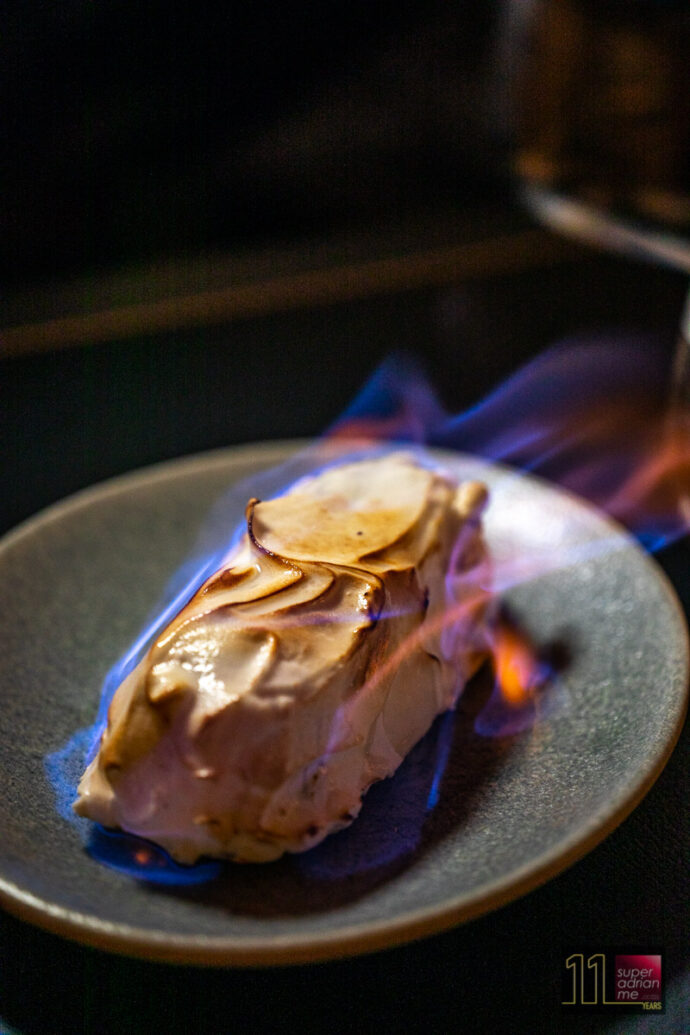 And if you have any space left, the cheese spread is beautiful. Try a bit of every thing, perhaps?
Singaporean Pastry Chef Jeanette Ow recreates French classics. We share a Baked Alaska and the île Flottante. Expect a very dramatic Baked Alaska flambeed at your table with Poire- Williams. A visual, nasal and palate treat. Delicate meringue encases layers of chestnut ice cream, ginger-pear sorbet and hazelnut dacquoise. Layers of water-thin dark chocolate run through the length of the dessert.
After having so much to digest, the île Flottante is a much lighter dessert. The poached meringue encases a vanilla custard flavoured with orange blossom. That is not all. It is served with crisp, pink praliné.
Check out Our Instagram Reels of our Experience
Claudine Restaurant Operating Hours
Claudine Restaurant is open for lunch from Tuesdays to Sundays between 11.45 am and 3 pm. The last seating is at 2 pm. The bar and dinner is open Tuesdays to Sundays from 6 pm to 10.30 pm with the last seating at 9.30 pm. It is located at 39C Harding Road, Singapore 249541.