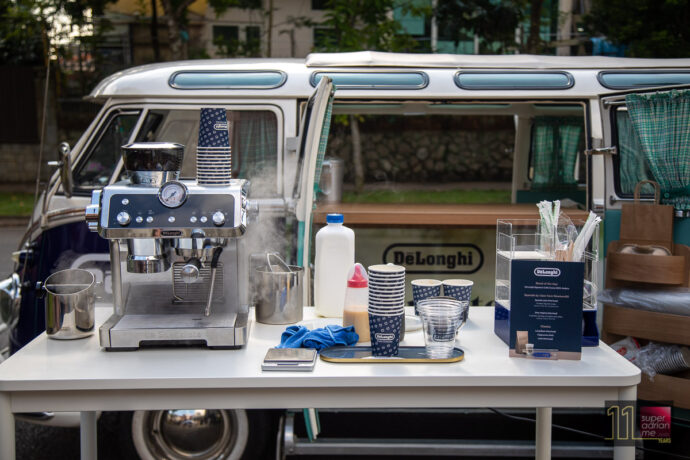 De'Longhi has launched its latest premium pump espresso coffee machine, the La Specialista Prestigio. You can now be a home barista with this luxury, craft machine with new and enhanced features. It's a machine that has everything in one at a recommended retail price of S$1,599.
As part of the launch, De'Longhi has enlisted award-winning actor Brad Pit for 'Perfetto', its latest advertising campaign.
The La Specialista Prestigio is 380mm x 370mm x 445 mm and weighs 13.5kg. The sensor grinding technology calibrates your coffee beans with engineered precision. Level 1 provides the finest grind setting and level 8, the coarsest. This allows you to choose different settings for different coffee beans.
The smart tamping station delivers the optimal pressure without hassle or mess. It has an innovative tamping lever that lets you achieve consistent tamping pressure and avoid the mess of coffee grounds on the kitchen bench. Activate the lever to tamp the dose with the right pressure inside the machine. With the machine's active temperature control, there are three infusion temperature settings between 90 and 96 degrees Celsius.
The pump pressure is 19 bar. Dynamic Pre-Infusion improves coffee extraction by adapting the pre-infusion length to the density of the coffee dose. This process ensures an evenly distributed cover of water across the surface area of the coffee grounds.
La Specialista Prestigio has a steam wand that lets you create silky-smooth textured microfoam. It has a dedicated heating system for milk preparation. It also comes with three automatic one-touch recipes.
To showcase the new coffee machine, De'Longhi sent over a barista from nineteen95 and a VW Bus to make a cuppa coffee with the new machine yesterday. Check out our TikTok video below.