If you are celebrating the year of the Ox with your reunion or celebratory meals at home during the 15 days of the Chinese New Year celebrations, we take a look at some of the takeaway or delivery options available.
Here's also a Public Service Announcement reminding you to wash your hands often. According to a survey on 1498 people conducted by Walch, 9 in 10 respondents said they wash their hands more often than they use to pre-COVID. 7 in 10 said they wash their hands fewer than 10 times in 24 hours. 7 in 10 also said they wash their hands after receiving a delivered package.
Wash your hands for at least 20 seconds to effectively clean them. Walch's CNY campaign "Gift Health. Gift Wealth." encourages Singaporeans to boost hyggiene practices and bring Walch Speed Foaming Automatic Hand Wash into the homes of Singaporeans celebrating Chinese New Year.
Personal Hot Pots from 7-Eleven
7-Eleven has launched new Mala Chicken, Tomato Seafood and Herbal Chicken personal hot pots. These hot pot for one options are packed with ingredients that are convenient. Just heat them up in the microwave in-store or at home for less than 3 minutes.
Available at a promotional price of S$4.80 each till 16 February 2021.
The Mala Chicken Hot Pot is perfect those who love their spices. The unique blend of nine different spices in the soup also contains pieces of spicy chicken, luncheon meat, corn on the cob, spinach, black fungus, lotus root, soft tofu, long cabbage and vermicelli.
If you like tomato soup based hot pots, then the Tomato Seafood Hot Pot is the perfect choice. You get a mix of succulent prawn, crab stick, clams, lotus root, enoki mushrooms, fresh tomato segments and vermicelli.
And for something more herbal, the Herbal Chicken Hot Pot contains chicken thigh meat, spinach, black fungus, carrots, long cabbage, soft tofu, wolfberries and vermicelli in a double-boiled chicken soup base infused with a blend of seven Chicken herbs and gently simmered for hours.
EX12 Abalone
Celebrate Chinese New Year with abalones that are tender and full of flavours of the sea with the newly launched EX12 abalones. Slice them and add to your yu sheng for more texture and flavours as you up the premium level for a more prosperous year.
EX12 canned abalones are Australian Blacklip breed. The wild-caught ones from the Southern ocean of Australia come in many drained weight sizes from 105g to 210g priced from S$35.80 to S$78.80. The flesh is pearl white with a sweet subtle flavour. Each gold label can contains one abalone.
The red label can contains cultivated abalones that are farmed . Each can contains 8 pieces with a drained weight of 140g and priced at S$35.80.
Crystal Jade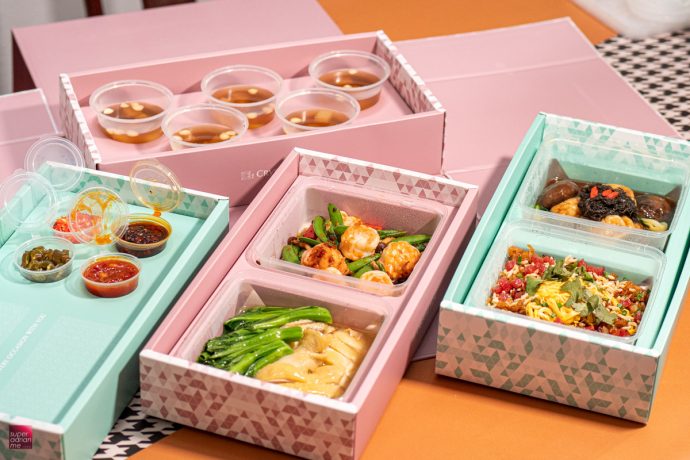 Crystal Jade offers options for takeaway so you can enjoy a reunion dinner at home. And the dishes are packed in an elegant gift box. It is the prettiest food packaging for Chinese New Year that I have come across this year.
The new Season of Wealth Golden Scallop Yusheng is priced at S$168 for large and S$108 for small portions. Group Executive Chef Martin Foo brings back the wholesome and healthful yusheng from last year.
The CNY Special Take-Home Set Menu is available for 5 people at S$268. The six-dish menu features a Reunion Yusheng with Abalone, Sauteed tiger prawn with shimeiji mushroom in superior chilli sauce, Braised fish tofu with shitake mushroom and black moss in oyster sauce and Fried glutinous rice and crispy rice with Chinese sausage amongst others.
Order from Crystal Jade's e-store or at Crystal Jade Hong Kong Kitchen, Crystal Jade La Mian Xiao Long Bao and Crystal Jade Jiang Nan outlets.
There is also an Auspicious Reunion Feast Festive Takeaway Bundle priced at S$428 for 5 people. This bundle comes with the Bountiful abalone treasure pot (S), Reunion Yusheng with Abalone (S), fried conpoy and taro glutinous rice wrapped in lotus leaf, Whole Salt-baked herbal chicken and Prosperity Carrot Cake.
Order from the e-store and get a free bottle of "Famille Perrin Veroux Rouge" worth S$68.
Other items on the takeaway menu include Roast Duck, Soya Sauce Chicken, Fried Conpoy Crispy Chicken, Salt-baked Herbal Chicken, Suckling Pig, Crystal Jade Signature Pork Belly and Taro Glutinous Rice wrapped in Lotus Leaf amongst others.
Chinese New Year dining at Crystal Jade restaurants have commenced from 25 Jan 2021 (select outlets will be closed on 12 Feb 2021 – CNY Day 1) and set menus for up to eight persons are available. Reservations can be made online via https://inline.app/booking/cj from 1 Dec 2020.
Deliveroo Yu Sheng
Deliveroo has partnered with Soup Restaurant to offer a limited-edition year of the ox yusheng platter. The unique Ox-shaped Yusheng carrier features colourful horns with Lunar New Year motifs and fun Deliveroo graphics.
Available for both pick-up and delivery on Deliveroo from 12 to 14 February 2021 exclusively at Soup Restaurant's Paragon, Suntec City, Holland Village and NEX outlets for S$51.25 while stocks last. Four lucky winners will also be gifted with S$50 worth of Deliveroo credits.
This yusheng comes with salmon and baby abalone on a base of carrots, a homemade citrus sauce. Complimentary Handmade Lotus Fortune Buns worth S$6.96 are also provided for free.
Deliveroo Singapore has also launched a post-order tipping function so that you can recognise riders for their great service. From 1 to 14 February 2021, Deliveroo will match customers tips up to S$3 max per tip up to S$10,000.
Furama Singapore
This Chinese New Year, if you are looking for value-for-money dining at home, the 'Fortune' Reunion Set from Tiffany Café & Restaurant at Furama Singapore for four is priced at S$98.
This #FestiveFurama Fortune Reunion set for 4 at S$98 comes with –
Crispy Fried Chicken (Boneless) with Plum Sauce
Crystal Prawns with Sugar Peas in X.O. Sauce
Steamed Dragon Garoupa Fillet in Superior Sauce
Braised Chinese Mushrooms with Broccoli
Braised Ee-Fu Noodles with Mushrooms and Chives
Pomegranate Jelly with Red Dates and Wolfberries
Complimentary Soft Drink
The generous portions for each dish can feed up to 5 or 6 people in our opinion.
The fresh fruits Yu Sheng with Chia Seeds and Pineapple Sauce is a refreshing salad to toss at S$60. Does not come with any fish so you can always get that on your own or some slices of abalone to add if you like.
The Wang Lai Whole Pineapple Tart (S$28) is a lovely dessert with dried pineapple on the top in a pastry filled with pineapple jam almost like an apple crumble. Be warned! Strong wind may blow away to dried pineapple top!
Quote ADRIANCNY10 to enjoy 10% discount when you order from any of the #FestiveFurama CNY collection items in the e-store till 22 February 2021.
Stamford Catering
Stamford Catering's 2021 Chinese New Year menu is now available online. New on the menu this year is the Abundant Smoked Salmon Yu Sheng platter for S$42.80+ for 10 and the fragrant Abalone & Seafood Claypot Rice priced at S$68.80+ for 10. The claypot rice is delivered with a claypot worth S$20 that you can reuse.
The Truffle Emperor Chicken with Wild Mushrooms priced at S$32,80+ for 1.7kg . Enjoy the Fruity Peking Duck Wraps with Crepe at S$36.80+ for 10.
The Chilled Ginseng "Tong Sui" with Peach Gum comes with a generous serving of ingredients, priced at S$15+ for 10.
Three bundle deals priced at S$168+. S$238+ and S$308+ are available for home dining for 8 to 10 people. Bento sets are also available with a minimum order of 10 sets.
Summer Palace
Summer Palace at The Regent Singapore has introduced three new five-course sets from S$618 for five people packed in an elegant tiffin carrier that can be unstacked to serve directly at your dining table.
You can enjoy dishes from the comfort of home including smoked chicken with Jasmine Tea leaves, stir-fried glutinous rice with dried shrimp meat and steamed cod fish with fungus and red dates.
These sets are available for takeaway until 11 February 2021.