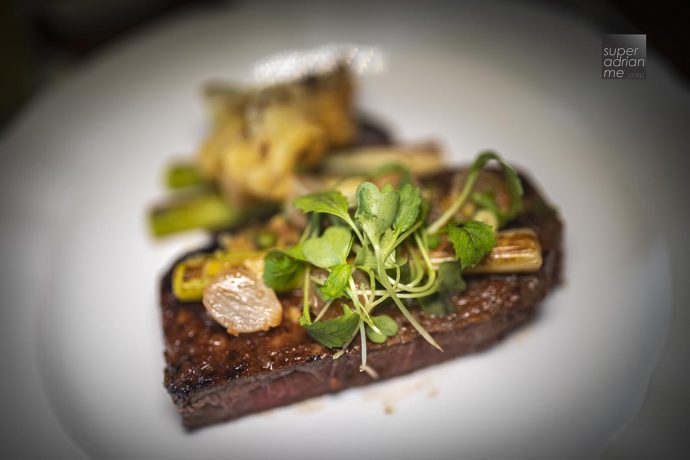 Westholme presents 'A Taste of Westholme' for three months from 1 August to 31 October 2019. Prime cuts including the Striploin, Tenderloin and Cube Roll (Ribeye) make the spotlight at [email protected], Culina at COMO Dempsey, Restaurant JAG, Salt Grill & Sky Bar and The White Rabbit.
Westholme, a two-time gold winner from the Australian Wagyu Association's branded beef competition; two-time Gold winner and one-time Silver winner at World Steak Challenge 2019, is produced by the Australian Agricultural Company and its recipe development helmed by Executive Chef Freddy Money. The meats are distributed in Singapore exclusively by Culina since late 2016.
The cows are fed with native Australian grass such as Mitchell, Buffel, Flinders, Fescues, Para, Lucerne, Ryegrass finished on a proprietary grain blend including wheat, sorghum and oats, sweetened with molasses for trace minerals. The grains are freshly milled every morning to provide the best nutrition.
At The White Rabbit, the Grilled Westholme Wagyu Striploin MBS 6-7 with miso ginger glaze, pickled silver onions, ceps purée is priced at S$88++ on the à la carte menu.
Heirloom Sourdough (S$6)

Salad Printemps '18 (S$18++)

Salt-Baked Beetroot Medley (S$23++)
Other dishes that can be added on include the Salt-Baked Beetroot Medley with Stracciatella, wild leatherwood honey and tomatoes on the vine at S$23++. Or enjoy a Salad Printemps '18 with the season's best and lime vinaigrette for S$18++.
Baked Alaska '18 (S$18++)

Warm Chocolate Tarte (S$18++)
Enjoy desserts such as Baked Alaska '18 for S$18++ and a Warm Chocolate Tarte with single-origin 72% dark chocolate from Davao served with almond yoghurt ice cream and almond candy for S$18++.
Westholme Menu highlights at the other participating restaurants include
[email protected]: Filleto Di Manzo – Westholme Wagyu Tenderloin MBS 6-7, Pink Garlic Purée, Salt-baked Shallot, Wild Mushroom, Garden Sprout. Part of a 5-Course Set Menu priced at $138++ per person.
Culina at COMO Dempsey: Westholme Tenderloin Rossini MBS 6-7, with Castaing Foie Gras, Manjimup Black Truffle, Plantin Truffle Madeira Sauce. Priced at $92++ on the à la carte menu.
Restaurant JAG: Angelique, Morel, Shallot, Westholme A5 Wagyu Striploin MBS 6-7. Priced at $92++ on the à la carte menu.
Salt grill & Sky bar: Meat to Share – Westholme Wagyu Ribeye, Manjimup Truffle, Hand-cut Chips and Herb Salt, Slow-roasted Balsamic Tomato, Baby Romaine, Buttermilk Cured Yolk, Chimichurri and Madeira Jus. Priced at $228 ++ on the à la carte menu.