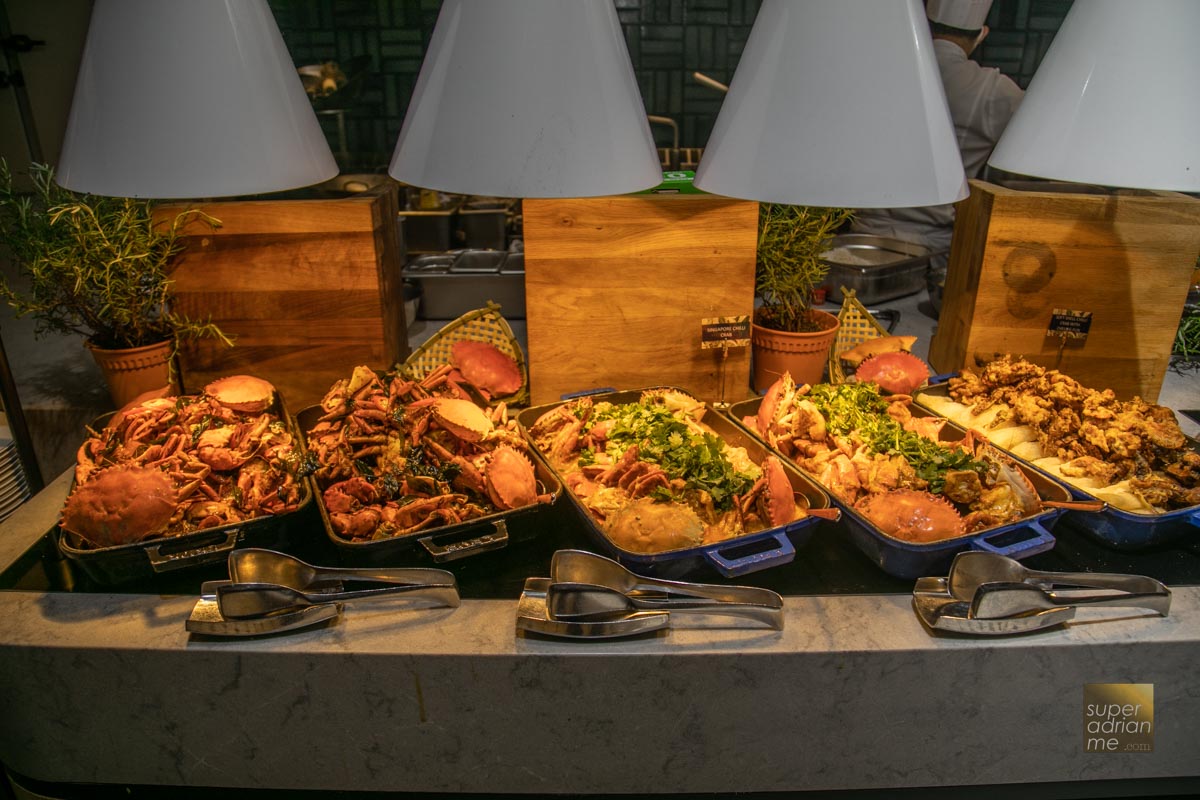 All-you-can eat lobsters, crabs and seafood for dinner at Estate in Hilton Singapore Orchard is only available until 28 August 2022 from 6.30 pm to 10 pm daily. The buffet spread will lighten your pocket by S$158++ per adult or S$79++ per child. Add another S$30++ for alcoholic beverages. But you'll walk away after dinner a few kilograms heavier to compensate your wallet.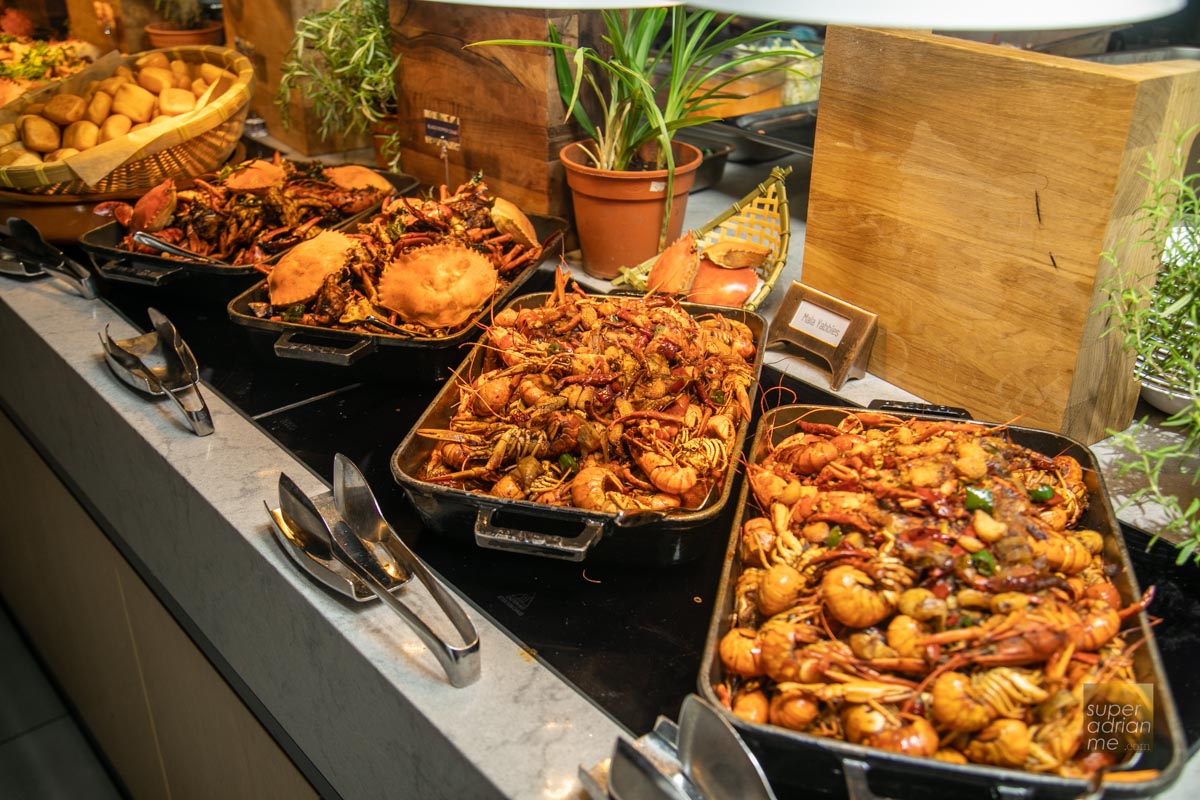 Fresh live crabs are served in familiar flavours including the Singapore Chilli Crab, Black Pepper Crab, Kam Heong-style Crab. Be prepared to get your hands dirty. Finger bowls are provided and frequently change as you enjoyed these shellfish. The Mala Xiao Long Xia (Yabbies) were not too spicy nor numbing. A perfect balance for me. The Crispy Cheung Fan with soft-shell chilli crab is a unique take on the dim sum cheung fan dish. Absolutely delightful.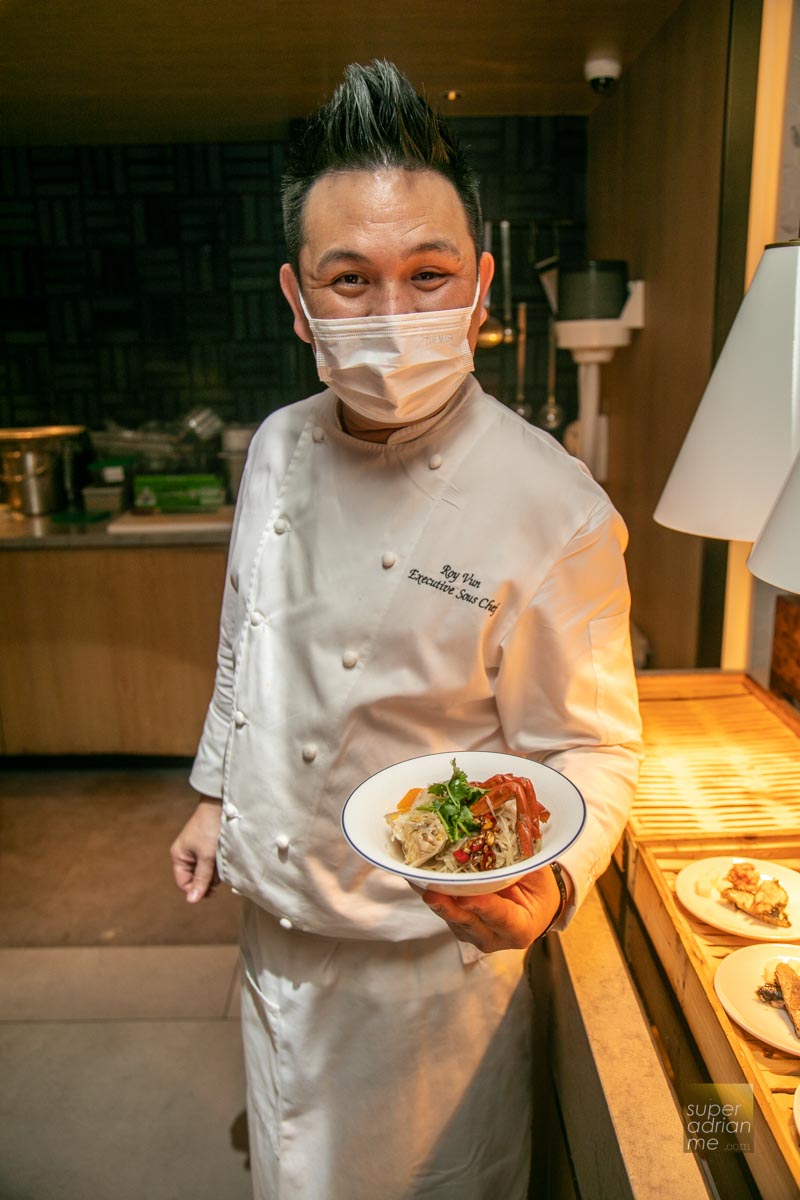 Made ala minute at the noodle stations, you can enjoy Executive Sous Chef's Crab White Bee Hoon with Chinese wine or the Steamed Flower Crab Noodles with fresh herbs and aged wine. Both cannot be missed. So much flavour and live fresh crabs steamed or cooked to perfection. There is also a Baby Lobster Tagliatelle. Guten-free squid ink Tagliatelle pasta is cooked al dente with cherry tomatoes, chilli and basil.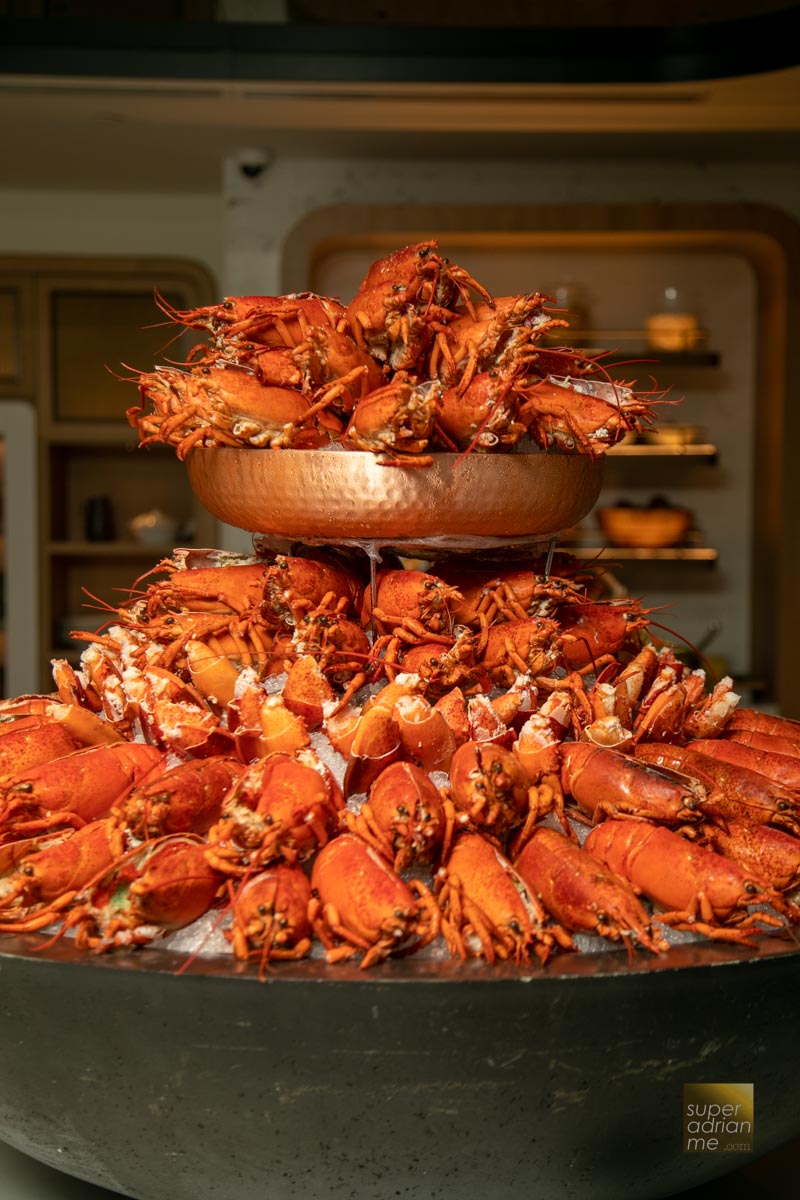 And at the Seafood on Ice section, enjoy Maine Lobsters on ice. Go for the claws if you enjoy softer and juicer lobster meat. That's my go-to for lobsters.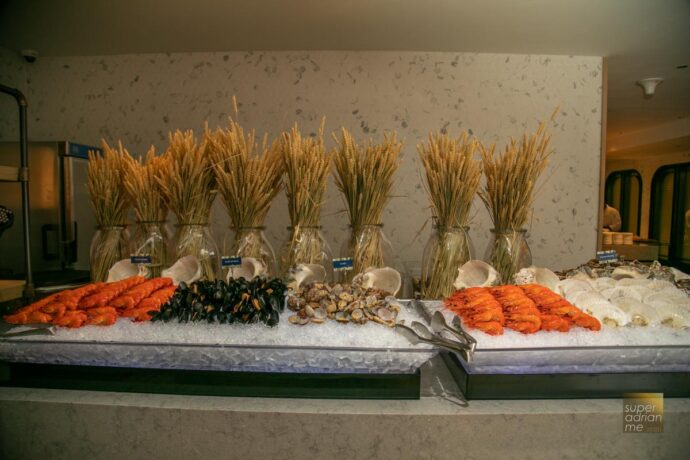 There are also Snow Crab legs, yabbies, tiger prawns, black mussels, clams and scallops in shell and freshly shucked seasonal oysters served with assorted condiments. Other usual seafood served at Estate includes a selection of sashimi, nigiri sushi, mak rolls as well as smoked and cured fishes.
Check out the video of our experience on 5 August.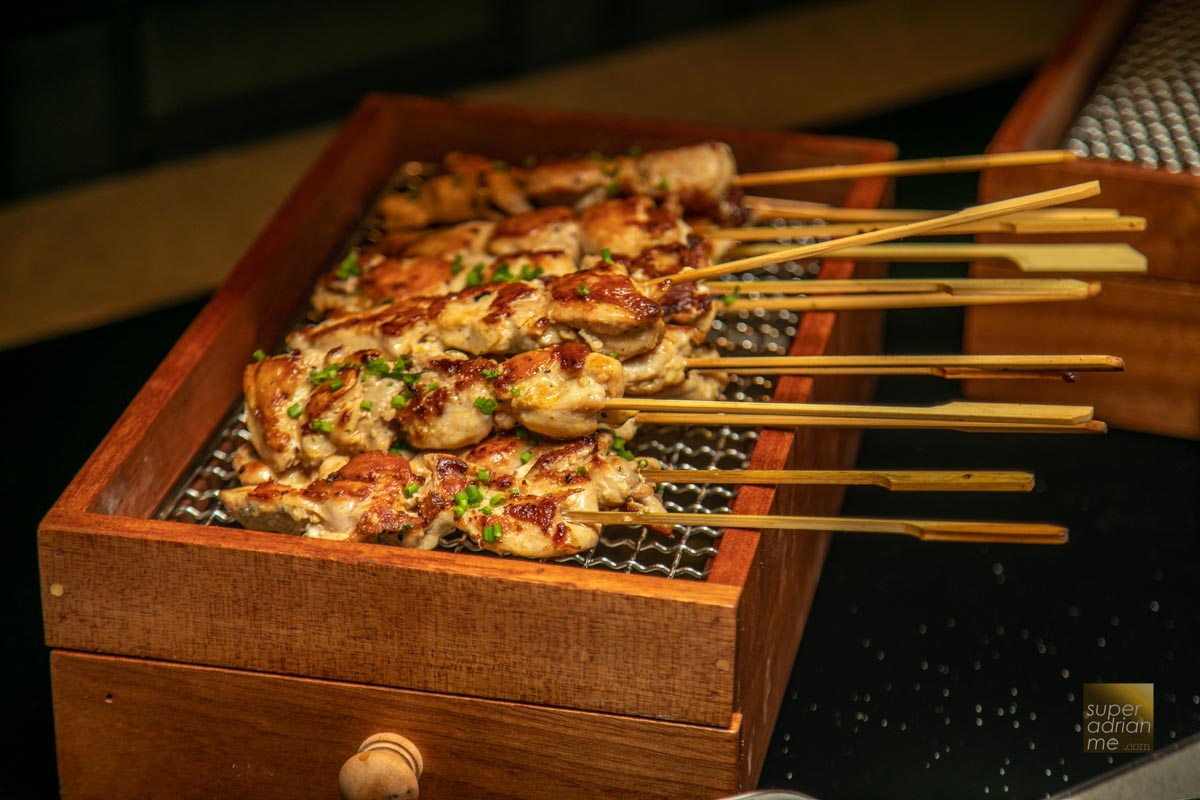 By the way, our favourite section is the grill kitchen. The skewers are amazing. Meats are always so tender. The variety includes a chicken with black miso skewer, wagyu beef kofta skewers, grilled Thai style beef skirt skewers and also Kurobuta pork teriyaki with spring onion served with assorted condiments. We always end up having one too many servings of this.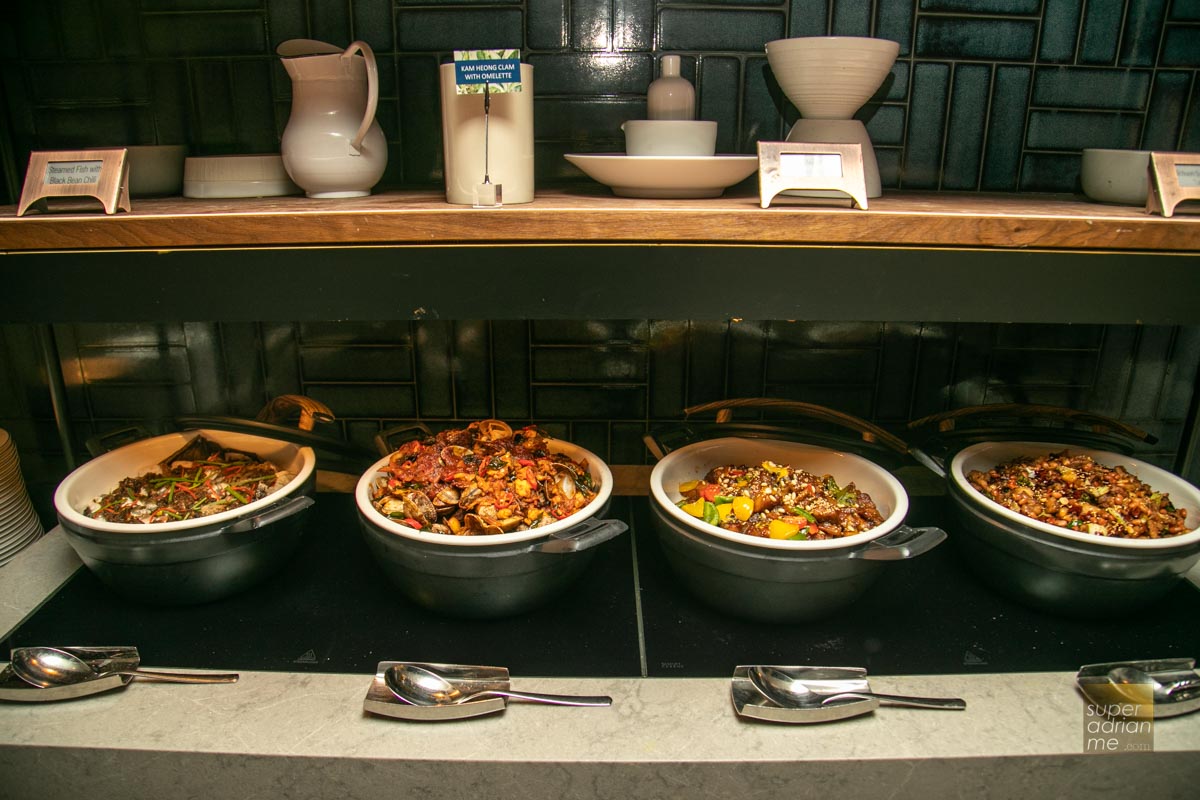 The Asian-Inspired Dish station features dishes such as the Sichuan-style spicy chicken "La Zi Ji", Passionfruit sweet and sour pork, steamed fish with black been green chilli sauce, the signature homemade black bean tofu, wok-fried Hong Kong-style green vegetable, braised mix mushroom with fish maw, nasi goreng kampung with silver fish, Singapore XO Hokkien Mee, carrot cake with Chinese sausage, and steamed sticky glutinous rice with Chinese sausage. The braised white turnip with baby shrimp was a nice way to clean the palate after all that seafood. You must try the Signature Black Truffle Roasted Duck.
There usual selection of dim sum, Executive Pastry Chef Cindy Khoo's dessert section, as well as fruits, are still available. We enjoyed the Rose Velvet Cake and the Double Fermented Chocolate Cake. The Mixed Berries Cake is pretty but is a challenge slicing it. I also enjoyed the Banana Panna Cotta.