If you are craving for crabs or seafood, check out some of these restaurants over the past few months. This article was supposed to be for dine-in until the recent heightened alert pausing dining-out until 13 June 2021. So we had to tweak this piece a little so that you can still order these to dine at home. Have them all to yourself or share them with loved ones. Anything to stay happy and safe in these anxious times.
8 Crabs
Skip the queues and enjoy a seafood and crab feast in the comfort of home. 8 Crabs prides itself as the only crab delivery service that uses grade AAA premium Sri Lankan species wild caught crabs. It started out as a premium seafood importer specializing in wild catch crabs, sea cucumber, prawns, grouper and tilapia from Sri Lanka.
This zi char offers meal bundles from S$48. Just like many other good zi char stores, 8 Crabs offers a variety of preparation methods for its crabs including the Chilli, Black Pepper, Salted Egg, Steamed or Mala.
Their crabs are categorized by weight.
| | |
| --- | --- |
| Medium Sized | 350 g |
| Regular | 500 g |
| Large | 700 g |
| Extra Large | 900 g to 1 kg |
| Double Extra Large | 1.4kg |
| Jumbo King | 2kg |
You got to check out their value set meals which are quite value-for-money. Pick from sets for 2 to 3 people up to 4 to 10 people. Or pick ala carte seafood, meat & poultry and others. We were sent the popular NDP Chilli Crab Feast for 4 to 5 people priced at S$129. The bundle came with a large Chilli Crab with nine fried mantou , and small portions of Prawn Paste Chicken, Signature Prawn Roll, Hot Plate Tofu, Sambal Kang Kong, Pork Ribs King (Pai Gu Wang) and a medium Yang Zhou Fried Rice. I like it that you have the flexibility to choose from a menu of options for each category for this set. It was quite a feast and my family of five with not very big appetites couldn't finish everything in one sitting. The crab was extremely fresh and tender.
And if you are throwing a gathering soon, the Signature All Day Value Feast starts from S$149 for 4 to 5 people up to S$349 for the Extra Large Set Meal that feeds 8 to 10 people.
Visit 8 Crabs to order.
HACK-IT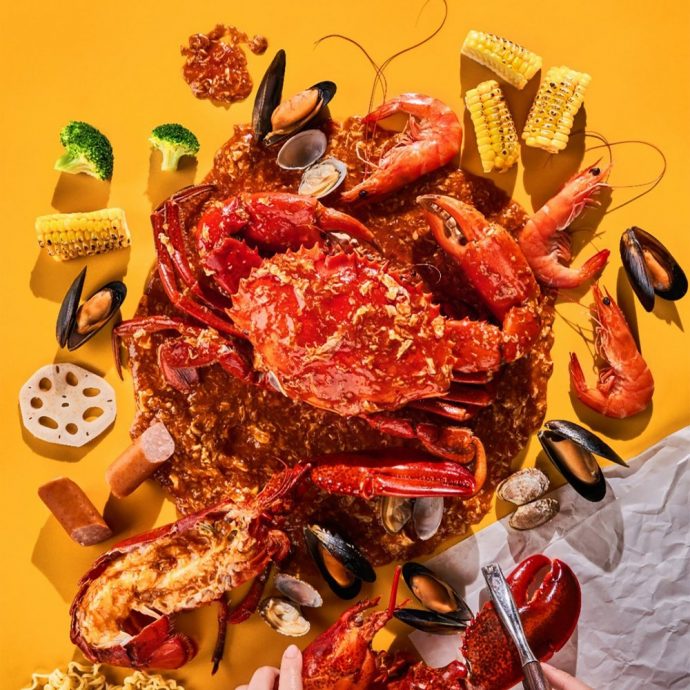 Enjoy Hack It seafood packs or bundle sets from the comfort of home. Any Signature Bundle Set ordered until 13 June 2021 will enjoy free delivery. There are two signature bundle sets to choose from. Each bundled set feeds up to 4 people. A great way to share the seafood craving with your family without have to worry about food preparation and cooking.
Signature Bundle Set
Seafood Pack
Sides
Price
Bundle Set A
Triple Treasures Seafood Pack
(Mud Crab (600g), Boston Lobster (500g), 'Xiao Long Xia' (500g), Prawns (200g), Clams (100g), Mussels (100g), Pearl Corns, Assorted Mushrooms, Broccoli, Cheese Sausages and Penne Pasta.
• HACK IT Mid Wings
• Yuan Yang Fries with Chilli Crab Sauce
• HACK IT's Signature Salad
• Seafood Baked Rice with Chilli Crab Sauce
S$188
Bundle Set B
Deluxe Seafood Pack
(Mud Crab (600g), Boston Lobster (500g), Prawns (200g), Clams (100g), Mussels (100g), Pearl Corns, Assorted Mushrooms, Broccoli and Instant Noodles.
• Sotong Dough Fritters
• Nonya Prawn Fritters
• Garlic Fried Rice
S$138
If you don't have so many people at home then you could go for the Hack It Seafood Packs that feed 2 to 3 people. The Xiao Long Xia in a Pack is priced at S$42, while the Crab in a Pack or Lobster in a Pack are priced at S$66. A more premium Deluxe Seafood Pack is priced at S$108 and comes with live mud crab, live Boston lobster and other seafood.
UOB Cardholders enjoy free delivery with a minimum spend of S$80, worth up to S$8 depending on delivery distance.
HolyCrab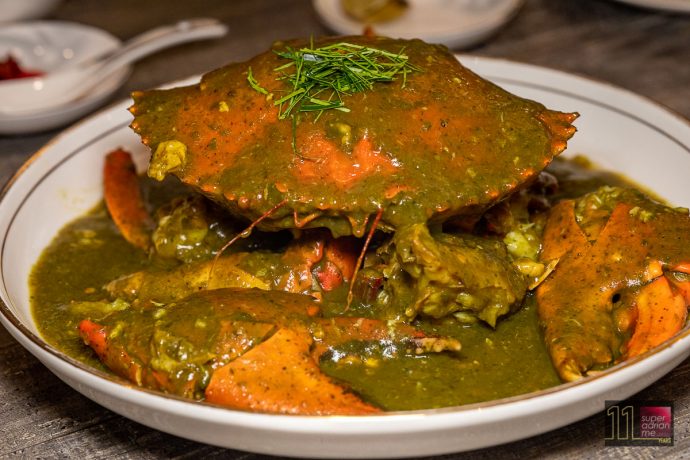 HolyCrab! What used to be Charlem Thai at Capitol Piazza is now this new tenant. HolyCrab was formerly at Tan Quee Lan Street since 2017. But earlier this year, it moulted from its former shell and found a new home at the Arcade @ The Capitol Kempinski. Chef Owner Elton Seah and partner Joy have brightened up the two-level outlet with brightly coloured staff uniforms, bright orange accents and cheery wall papers.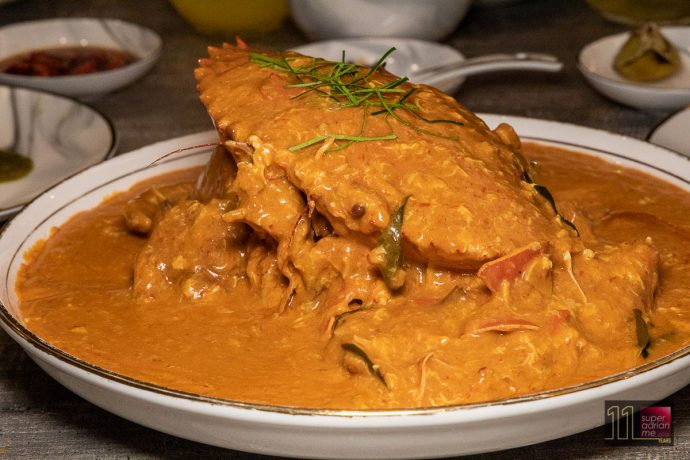 Savour the Thai Curry inspired oOoOtak Crab (S$90/kg) that is made with kaffir lime leaves, homemade sambal, coconut milk and eggs. My favourite dishes are those with the homemade tamarind green chilli sauce. The Green Assam Fish (S$88) and Green Mumba crab (S$90/kg). The Green Mumba crab is HolyCrab's answer to the Singapore Red Chilli Crab. 12 different types of ingredients such as green chilli padi as well as green chilli, coriander and mint leaves are added to give this dish a herbaceous fragrance.
And if you are craving a carb-loaded seafood dish, the Signature HolyCrab Fried Rice (S$16) is perfect.
Call HolyCrab at +65 8444 2722 to order.
Jumbo Seafood
JUMBO Rewards Members enjoy 20% off Takeaway Food Bill until 13 June 2021. Non members enjoy 15% off Takeaway Food Bill. This is valid for self-collection orders made via phone call or walk in at East Coast Seafood Centre, Dempsey Hill, The Riverwalk and ION Orchard. Set Menus are also available till 13 June 2021 via https://order.jumboseafood.com.sg/en_SG/. Available at East Coast Seafood Centre, Dempsey Hill, The Riverwalk and ION Orchard outlet only.
No Signboard Seafood
No Signboard Seafood celebrates 40 years of heritage with two outlets today at No Signboard Seafood at Esplanade Mall and VivoCity. In 1981, Madam Ong Kim Hoi operated out of a small store at Mattar Road Hawker Centre without a name. To celebrate this, you can enjoy 40% off all crabs for takeaway until 13 June 2021. Limited to two crabs per order while stocks last.
Madam Ong's iconic White Pepper Sri Lankan Crab is a true blue Singaporean creation. The White Pepper Crab is milder in nature with a perfect balance of peppery heat with the natural sweetness of the crab's flesh. The Chilli Sri Lankan Crab features a thick and sweet-spicy gravy made with chilli paste handmade from scratch. Herbs and spices such as lemongrass, dried chilli, chilli padi, onions, garlic and dried prawn paste are also used. Crabs are priced at S$100 per kg (Sri Lankan Crab Medium), S$120 per kg (Sri Lankan Crab Large), S$128/crab (Dungeness), S$230 per kg (Snow Crab) or S$230/kg (Alaska Crab).
Treat yourself to other seafood dishes such as the Deep-fried Butter Prawns (S$6 per live prawn with minimum 6 pieces or S$15 per King Prawn with minimum of 4 pieces). Or the Seasonal Fish in Claypot (Seasonal Price) and the Local Style Mee Goreng (S$18 for small, S$28 for medium and S$38 for large).
Call 6376 9959 (Vivo City), 6336 9959 (Esplanade Mall) for takeaway.
Seafood Paradise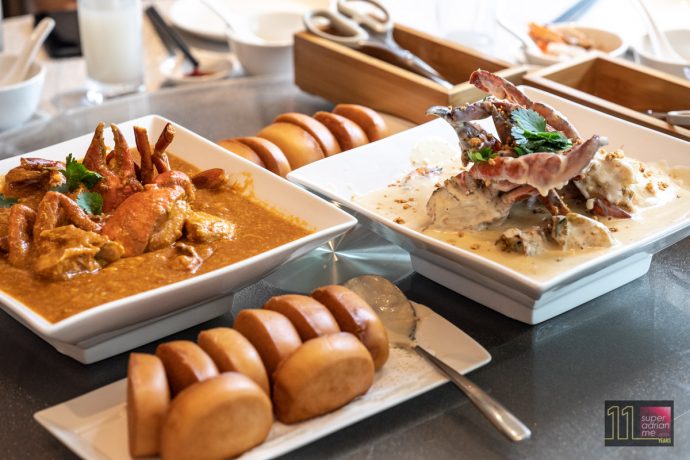 Seafood Paradise by Paradise Group has reopened earlier this year at Vivocity. Its humble beginnings as a small hawker stall at Defu Lane was the very first restaurant opened by Paradise Group. Today Seafood Paradise showcases seafood and Chinese cuisine with a strong Singaporean Identity with a touch of innovation. Home dining is available via Oddle.
You are able to order live Sri Lankan Crabs cooked in 7 different styles priced at S$92.70/kg. Crabs are available in Signature Creamy Butter topped with Coconut Crumbs, Popular Singapore Chilli Style, Baked with Salted Egg Yolk, Black Pepper, White Pepper, Steamed in Chinese Wine or Steamed with Supreme Soya Sauce.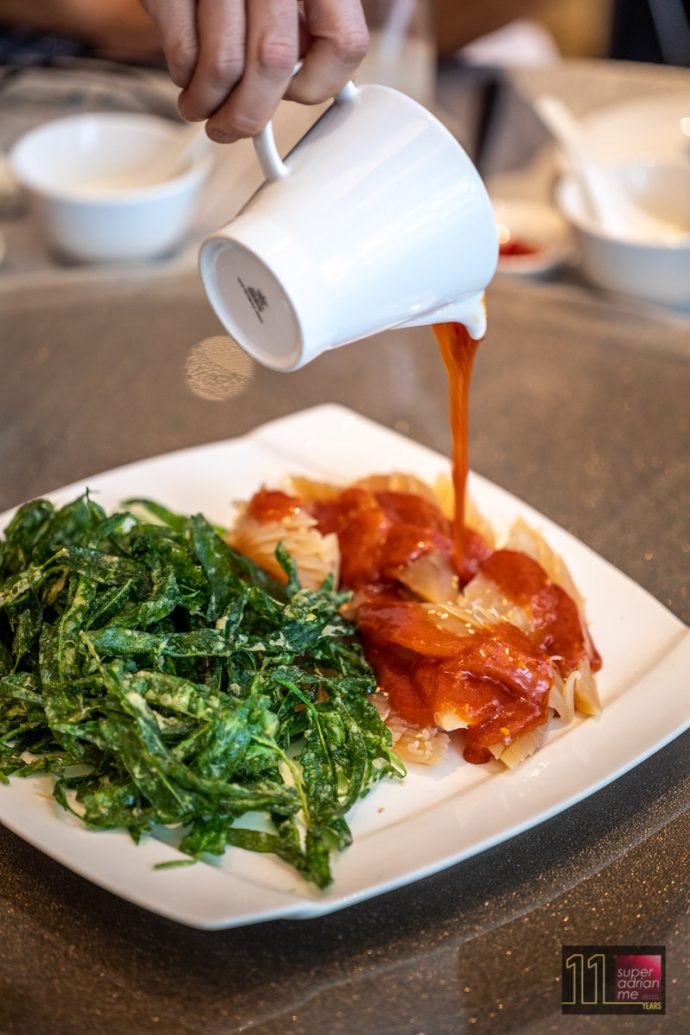 The Crispy-fried Baby Squid is available at S$16.27. Order the Dragon Tiger Grouper at S$92.70/kg. The fish is cooked in different styles. It can be steamed with supreme soya sauce, pan-fried and braised, steamed with preserved turnip, deep-fried in sweet and sour sauce or deep-fried with supreme soya sauce. The Poached Rice with Seafood in Superior Lobster Broth (from S$29.66) or Braised Hor Fun with Prawn in Lobster Broth (from S$30.69) make a good comforting dish for the cool rainy weather.
Paradise Group is offering 25% off food bill and a complimentary item for walk in and takeaway as well as free delivery with minimum spend of S$120 for online orders. Otherwise islandwide delivery is charged at S$8 with minimum spend of S$70. You can also order from Foodpanda, Deliveroo & GrabFood where you enjoy 20% off the food bill.
Click here to order.
White Rose Cafe – Crab-tivating Delights!
White Rose Cafe at York Hotel Singapore is launching 'Crab-tivating Delights' from 1 June to 31 July 2021. Choose from 8 different styles of crab dishes. This limited-time menu at S$65 nett per order of 2 crabs that are at least 500g per crab is available for takeaway at White Rose Cafe or delivery via Oddle.
New on the menu is the Thai Curry Crab while highly recommended are the White Pepper Crab and Stir-fried Salted Egg Crab. Other methods of preparation include the Baked Cheese with Garlic Butter Crab, Chilli Crab, Stir-fried Masala Crab, Stir-fried Ginger and Spring Onion Crab and the Steamed Crab with Egg White.
Enjoy 25% off Asian Favourites menu when you order the 'Crab-tivating Delights' Set. For deliveries, click here to order at least one day in advance. For takeaways, please click here.