15 July 2011, Singapore – Originating from Kobe and Yokohama, Fisherman's Market has finally opened its first restaurant in Singapore at #01-15 & #02-17 The Central at 6 Eu Tong Sen Street. Buffet lovers will be delighted with this new "all-you-can-eat" premium Japanese-Western seafood buffet restaurant. With over 90 food dishes across a total floor space of 10,000 sq ft, patrons can enjoy cocktails over an a la carte lunch or dinner over the Singapore River on the first floor while the second floor seats 300 buffet patrons. You can also get yourself a lovely view overlooking the Singapore River and colourful structures of Clark Quay on the other side of the river. Fisherman's Market also serves an extensive range of Red and White wines, Beer, Cocktails and spirits, which is charged separately from the buffet.
At the buffet spread, expect fresh sashimi, chilled prawns and mussels, freshly shucked oysters that are big and juicy (my favourite), local delights such as chilli crab, pepper crab and a lot more. The seafood is imported from South Asia, Australia and North America. Besides seafood, other selections include Ratatouille, Pescatore Pasta, Pizzas, Teppanyaki Pork and Beef, and Sukiyaki. The dessert station includes sumptuous cakes such as the creme brulee, tiramisu and macedonia and even a chocolate fondue. In fact, my appetite was intimidated by the buffet spread when I first stepped into Fisherman's Market yesterday.
More food photos on our Facebook Fan Page. Click here to view them.
All You Need To Know About the Fisherman's Market
Operating Hours
Lunch: 11.00am to 11.o0pm (1st floor)
Dinner: 5.00pm to 11.00pm (2nd floor)
Buffet Dinner Pricing
Mondays to Thursdays: Adults: S$39.90 ++, Children below 12 years old: S$22.90++
Fridays to Sundays: Adults: S$49.90++, Children below 12 years old: S$27.90++
Opening Celebration Special
Till 31 July 2011, get 10% off total bill.
Daily: 11am–11pm (1st Floor, Ala–carte)
Daily: 6pm–11pm (2nd Floor, Buffet)
Tel: +65 6221 3177
Fisherman's Market in Singapore is managed by Create Restaurants Co. Ltd, a Japanese company with a portfolio of over 110 food concepts including Japanese, Western, Chinese and Asian food.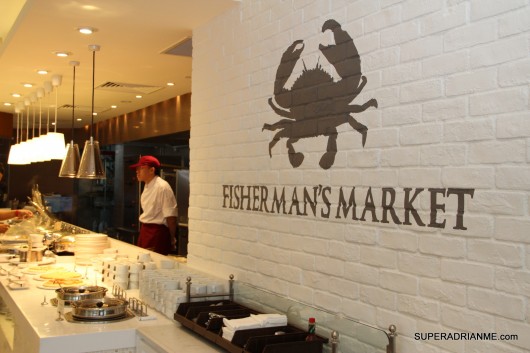 Related articles