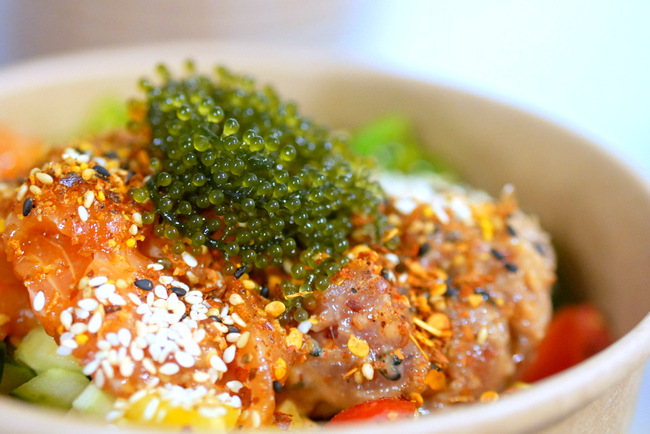 Move aside chia seeds, there's a new superfood in town. Known as "Green Caviar" or simply sea grapes in Okinawa, Japan, these low calorie additions to your everyday meals are just a click away on www.mealbelly.com. They are usually served in restaurants, but, the lady behind the brand, Ms. Dirisa Tan, wants to bring Japan's "longevity seaweed" to the masses all in a mission to make healthy eating easy as pie.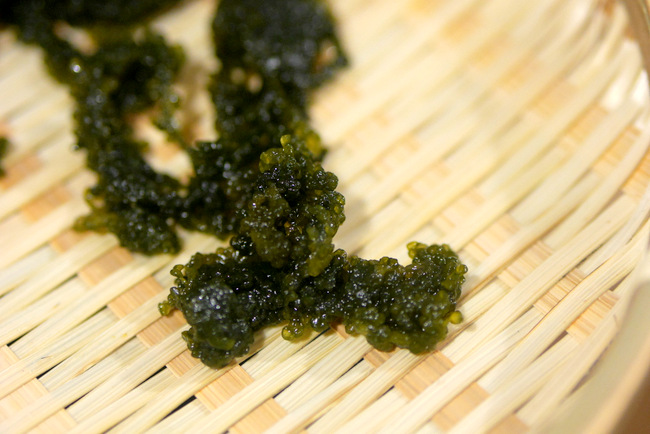 Looking like clustered bubbles, it gives the appearance of a grape on a vine. They are found naturally in the warm waters of South Kagoshima, with spring and autumn being the ideal season to savour them. Dirisa has managed to replicate those exact conditions in the quiet waters of South Vietnam, watching over every element to grow and supply us with this superfood all year round. She assures us, that the only difference, is just where they are grown. The taste and its benefits are the same.
Benefits Of Green Caviar
An abundance of vitamin A, vitamin B2, sodium, calcium, magnesium, and iron which has great skin-beautifying effect.
Helps with maintaining silky hair.
A good source of dietary fibre for colon health (prevents constipation).
Believed to strengthen bones, joints, eyesight and heart.
Can prevent obesity as it is low calorie.
Can help with hypertension and diabetes.
Contains fucoidan, a natural food compound shown to have potential effects against cancer and disease-causing cells.
That said, how do these green caviar taste like? Despite its name, it carries a mild flavour of brine. The Japanese call it "puchi-puchi". Similar to the burst of umami when biting into tobiko (flying fish roe). The light snack has been a traditional accompaniment to beer (most likely, Okinawa's Orion beer), especially on a hot summer day. It has been seen on everything from sashimi dishes, salads, rice bowls with sea urchins and, even, as ice cream.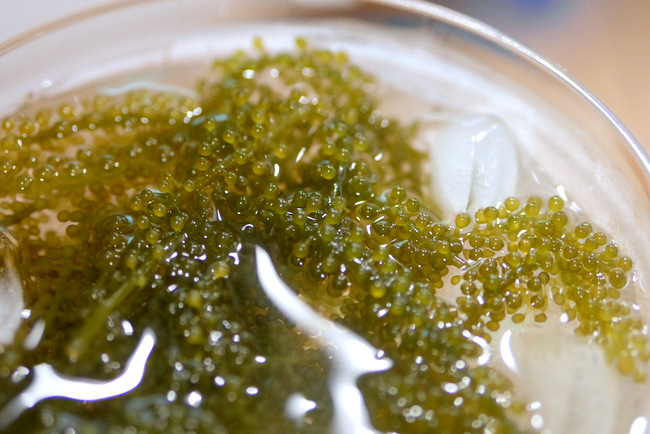 While having it as a creamy dessert doesn't sound like the diet plan we have in mind (as much I want to), it is a joyful addition to an otherwise simple meal. And, all you have to do to here is just to rinse, soak and enjoy.
MealBelly.com is selling them at S$12 for 100g, which equates to about 5 servings. I have had them on a filling poke bowl, but the options are limitless. Even if you're not into preparing a whole extravaganza that evening (after a tiring day at work), it can be easy enjoyed on its own, simply dipped in soy sauce. The website, or even just a simple search will lead you to a whole bunch of ideas and recipes to play with. The simplest? Just open a pack, and mix it into your usual salads for an exciting pop!