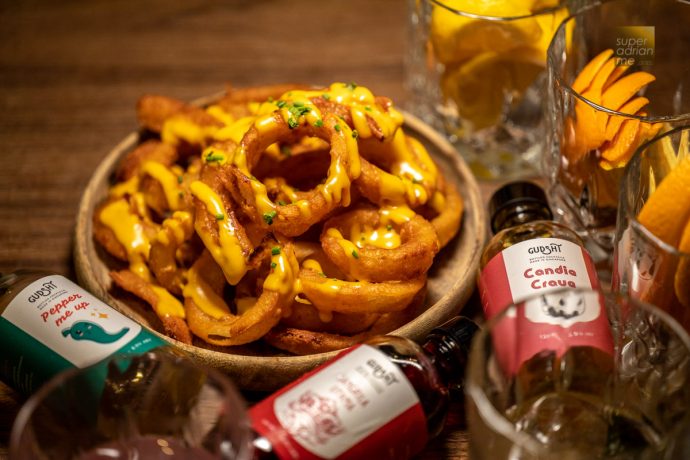 GudSht, the bottled cocktail label that was born out of the Covid-19 pandemic, has opened its first physical bar GudSht @ King George. The shared space with The Refinery that seats 40 indoors and 36 patrons outside features a Casual dining restaurant, mixology bar and bottle store.
Two new dangerously "low" ABV (6.9%) cocktails have been created exclusively for the venue. Candie Crave and Pepper Me Up are priced at S$16 per glass. Candie Crave is inspired by candy floss and lollies. Bottled with a concoction of Sweet Dreams Tea, rose syrup, lime juice, peach bitters and premium Japanese Haku Vodka and Rooibos, it is best served on ice in a chilled rock glass.
Pepper Me Up is GudSht's first soju-based cocktail with ingredients such as Tōgarashi, Roasted Seaweed, Oi Ocha Koi-Cha Tea, Honey, and Soju infused with torched Shishito peppers. Sounds spicy, but it isn't as spicy as you imagine. The well-balanced briny and honeyed notes of the cocktail and a hint of spice at the end pairs is best served chilled in a coupette glass.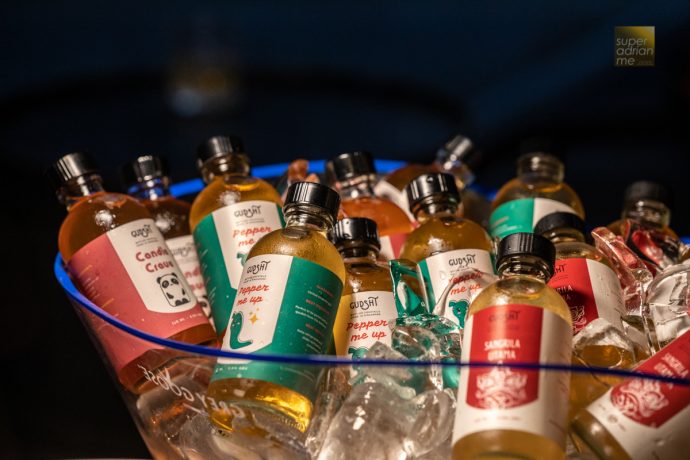 Gudsht's core range of cocktails are also available here in 120 ml serving size. Bottled cocktails from the bottle store can be purchased and enjoyed on the spot, taken away or delivered.
GudSht has embarked on collaborations with restaurants or made GudSht's cocktails available to the public at Food Folks @ Lau Pa Sat previously.
Enter the Promo Code GUDSHTXREFINERY to enjoy 10% off on full priced items for online and delivery orders on both gudsht.org and therefinery.sg. This promo code is valid till 8 April 2021.
GudSht @ King George is open from 11 am to 10.30 pm from Tuesday to Saturday and food is available from 11 am to 3 pm and 5 pm to 9 pm from Tuesday to Saturday. On Sundays, drinks are available from 11 am to 5 pm and food from 11 am to 3 pm.