If you are looking for a cosy spot to have a modern European meal, a drink or just for afternoon tea in the Mohamed Sultan area, think of House of MU. And if you are on the lookout for teak furniture, think of House of MU too.
Chef Tyrell Joon helms the kitchen here, having worked at Michelin-starred restaurants Les Amis, Au Jardin and Iggy's. Step into House of MU and breathe in the indisputable sylvan scent of Burmese teak furniture that can be purchased.
One of the three partners at House of MU is David Yong. David's maternal grandparents owned a logging company in Indonesia while his father founded Evergreen Teak Trading with factories in Myanmar. Today David runs his father's timber business and also founded Burma Teak Asia, the company's furniture arm that produces designer furniture using Burmese teak products. By venturing into House of MU, he is able to showcase his furniture in a restaurant setting.
David's other two business partners at House of Mu include Joel Low and Suzanna Ho. Joel was previously a sommelier at Les Amis Group, a consultant building up his portfolio of buying restaurants, reinventing them and then selling them for profit and also an investor funding start-ups and the F&B industry. Joel also started Agrivo International to provide funding for agricultural companies.
Suzanna was born in the UK and worked in Hong Kong as an investment banker for many years before making Singapore her home. After leaving her banking career, Suzanna started an empire of restaurants in the UK. She pursued her love of wine and spirits and has been a student of the Master of Wine Institute since 2015. She has completed the Wine and Spirit Education Trust Level 4 and is an avid wine collector.
The Appetisers
For starters, you can have mixed olives, bruschetta in three different ways and fried calamari. And there is grilled asparagus with parma ham, pan-seared French scallops with cauliflower puree and fresh apple. For two to three people, get the MU Antipasti. Starters are priced from S$5 to S$35.
The pan seared scallops with cauliflower puree and fresh apple is an excellent choice. The scallops are sous-vide so that they remain juicy.
Check with the servers the soup of the day. Priced at S$9, we had the signature cream of mushroom. Button mushrooms were slowly simmered for hours before cream, butter and milk were added to achieve a refined light texture.
The Mains
Meat lovers will have to order the signature MUnster Platter. The S$138 platter features prime cuts of black Angus beef steak, roasted chicken, US pork tenderloin, smoked cheese sausage, roasted vegetables and baby potatoes, served with black pepper sauce on the side. Share this with three other friends.
A selection of mains is available with a choice of Josper Grill or Pan Sear. Other items in the Mains include Roasted Breast Chicken, Herbed Sausage with Mash, Pork Tenderloin, Challan Duck Breast, New Zealand Lamb Rack or the US Black Angus Ribeye. Prices range from S$22 to S$32. And if don't eat any of these meats, you can order the pan-seared catch of the day served with garden greens.
The is a special introductory offer for a 1.2kg bone-in ribeye with a bottle of house wine for up to four people at S$128++. Check with the server if this is available.
I appreciate you can customise the ingredients and sauces for the Risotto or Pasta here. Choose between Risotto, linguine or spaghetti which is served with garden greens. This is priced at S$14.
Then you have four types of base sauces you can add. Tomato and Aglio Olio are complimentary. Pay additional S$6 for Black Ink or the Chef's Recommended Truffle Cream.
You can also add in other ingredients such as more vegetables, chicken breast or vongole at S$5 each choice, or crayfish and bacon at S$6 per choice. Premium ingredients such as duck breast, scallops and uni are available from S$8 to S$12 per choice.
Sweeten Your Day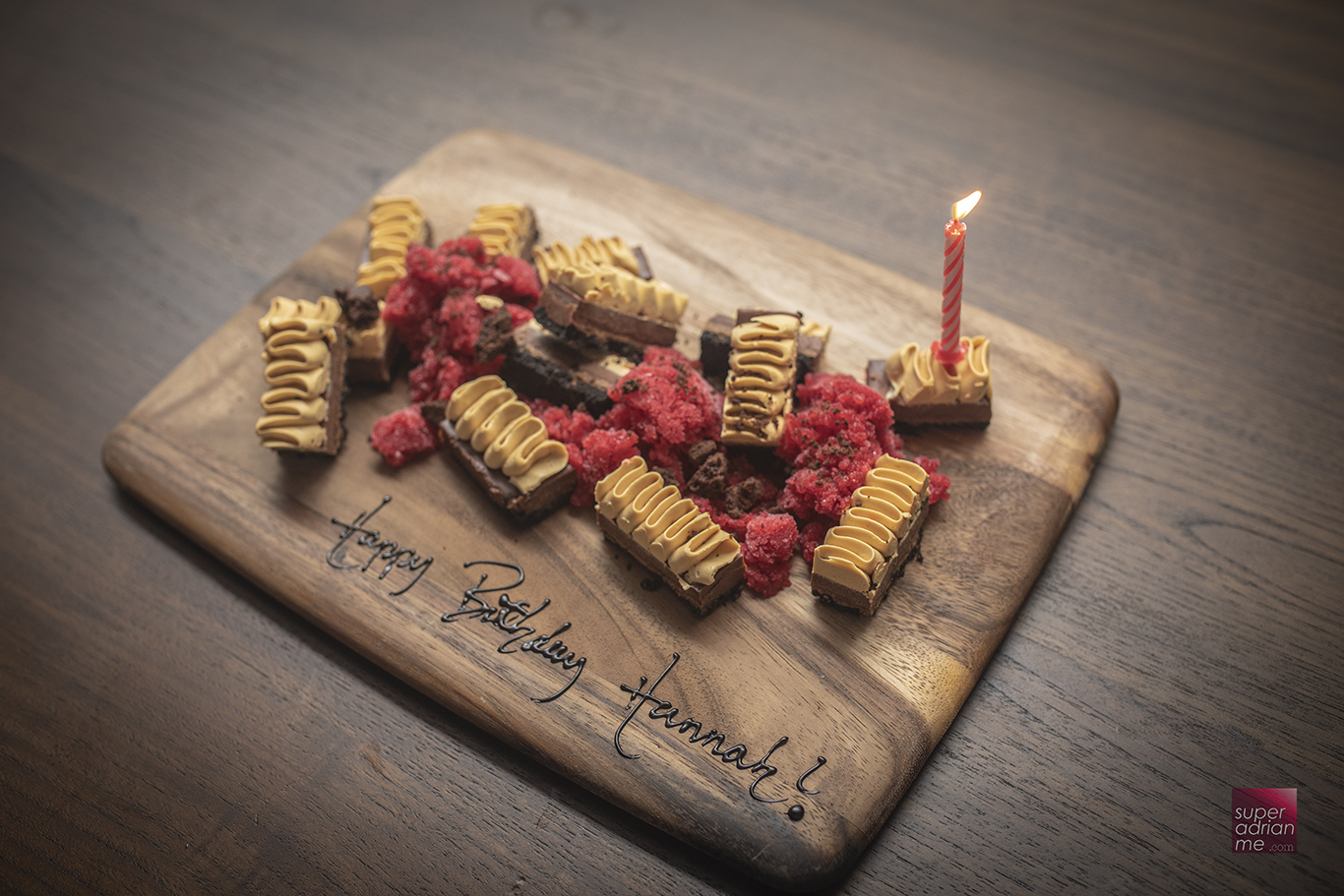 In the dessert menu, you can have a vanilla pannacotta with summer berries, apple pie with almond cream, lemon meringue tart or New York Cheesecake which are priced from S$7. Or get to share the Signature Dessert Platter priced at S$26 features fresh raspberry granita, chocolate and banana mud pie, peanut butter popsicle and caramelised bananas. Another Oreo cake with raspberry granita has to be ordered at least three days in advance and is priced at S$7 per person.
We had a preview of a new dessert which should be launching soon.  And the lychee granita, mango foam, passionfruit jelly and lychee fruit bits is absolutely refreshing after a meal or on a very hot day. It is priced at S$8.
Quench your Thirst
Enjoy tea from The 1872 Clipper Tea Co. or machine brewed coffee any time of the day at this all day dining restaurant.
The bartender at House of Mu was formerly from Joel Robuchon and a finalist in many leading cocktail competitions. Wines such as Chevalier de Lascombes are served here. You can also enjoy other cocktails and a wide selection of Gins by the bottle or as cocktails.
The award-winning English Bathtub Gin by Ableforth's is available at House of MU. The copper pot-distilled gin is made with juniper, coriander and other fragrant botanicals. After which, they are infused with a further six botanicals. This captures the vibrant flavours of orange peel, cassia, juniper, coriander, cardamom and clove. There is a good selection of gins here.  Enjoy Gunroom Gin from Sweden, Drumshanbo Irish Gunpowder Gin or Sacred Gin that is used in the World's Best Martini that won double gold.
Happy hour happens every day except Mondays before 7 pm. Enjoy two bottles of Asahi at S$11, house wine by the glass at S$9 or by the bottle at S$45.
If you haven't already figured it out, MU comes from the Chinese character 木, which means wood. House of MU operates every day except on Mondays. House of MU opens at 12 pm daily. It closes at 10.30 pm on Tuesday to Thursday and Sunday and 12 am on Friday and Saturday. What's more, you can enjoy free Wi-Fi while dining here. A children's menu is also available.