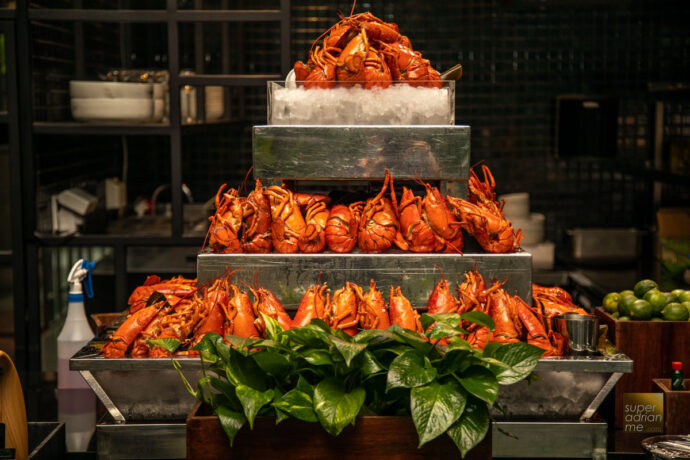 The annual Lobsterfest at Lime Restaurant returns after a hiatus for the past two years. The limited time all-you-can-eat lobster buffet is available from 15 July to 31 August 2022. A variety of lobsters including the Boston Lobster will delight guests.
The buffet dinner features favoruites such as the Chilli Crab Lobster, Black Pepper Lobster and Steamed Lobster with Golden Garlic Paste and Wine. The Lobster Laksa is a must have. Cooked à la minute, enjoy this dish in the rich laksa broth. Savour the sweet flavours of the Lobster on Ice.
Ralf Dohmeier is the newly appointed Director of Food & Beverage and Culinary. He joined PARKROYAL COLLECTION Pickering, Singapore in May this year. Before coming to Singapore, Ralf was the Director of Food & Beverage at the American Club in Taipei, Executive Chef at Four Seasons Hotel in Seoul, Executive Chef at Grand Hyatt Guangzhou and Grand Hyatt Taipei.
Entertainment and Alfresco Grill
Last night, the friendly Ralf personally grilled lobsters for guests while enjoying the upbeat tunes from the DJ in the outdoor area. Enjoy chargrilled lobsters topped with a selection of sauces including the Hollandaise, BBQ Smoked HIckory and Spicy Avocado. Other roving entertainment such as the festival mime and jugglers will entertain guests from Mondays to Wednesdays.

LobsterFest Pass-Around Dishes
Service ambassadors will make their rounds as you dine serving up pass-around dishes such as the Spicy Lobster Mango Skewers, Vietnamese Spring Rolls with Lobster, Lobster Cocktail with mango, or Lobster Roll. These are served on rotation and you can always ask for seconds or more. The Lobster Cocktail is refreshingly excellent. We had seconds.
Other Spread in the Buffet
Do savour the other dishes in the buffet spread including a salad and cold cuts section, hot food section, and dessert station. There's also more seafood at the Seafood on Ice station. Enjoy clams, lobster claw, prawns, whelk, sushi, maki and sashimi.
LobsterFest Price
Buffet Dinner is available from Monday to Sunday from 6.30 pm to 10 pm at S$138++. Enjoy unlimited Peroni beer, chilled juices, soft drinks, specialty coffee and tea. You also get a fresh coconut as a welcome drink. There is also Buffet Brunch on Saturday and Sunday from 12.30 pm to 3.30 pm at S$88++ where you can enjoy selected lobster dishes. From Monday to Friday at 12 pm to 1.30 pm, enjoy a Three-course Set Lunch at S$38++. Highlights include the Lobster Cauliflower Bisque, California Lobster Roll and Homemade Lobster Tortellini and a choice of dessert, beer or cocktail.
Call +65 3138 2251 or email dining.prsps@parkroyalcollection.com for dining reservations and enquiries.