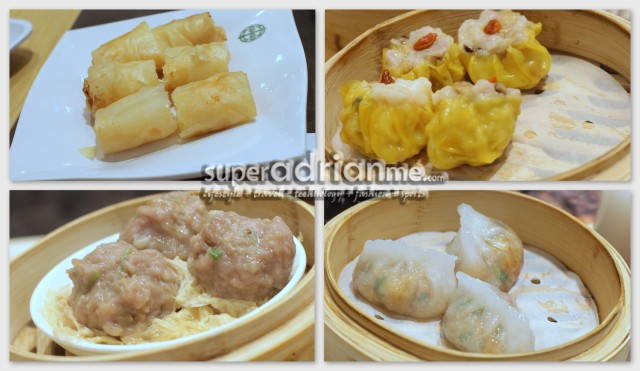 Michelin-Star Hong Kong-style dim sum restaurant Tim Ho Wan opens its first outlet to the public in Singapore at Plaza Singapura on 10 April 2013.  Serving dishes tasting close to what is originally served in Hong Kong, Tim Ho Wan offers value for money and delicious dim sums enough to fill you up.  The price starts at S$3.80 for the Steamed Egg Cake while the Steamed rice with beef and fried egg costs S$6.
Tim Ho Wan serves close to 30 different items which includes three dessert items to complete your meal.  If you require something more filling, you can order from the Rice and Congee dishes.
With a capacity for 100 patrons, seating will be on a first-come-first-served basis and Tim Ho Wan will not be taking any reservations.  The restaurant will implement a queue system that allows you to come and get a queue number and go shopping instead of having to wait in line if the waiting time is too long.  Once your table is ready, an SMS notification will be sent to you.
The Big 4 Heavenly Kings
These four dishes are Tim Ho Wan's must try signature dishes.
Steamed Egg Cake (S$3.80 for 1 piece) is a soft, fluffly and moist sponge cake that gives a nice caramelised taste.
The vermicelli roll with pig's liver (S$5.50 a plate)  (Chee Cheong Fun) offers an unconventional alternative to this dish.  You can expect a velvety texture and gamey flavour from the liver.
The Baked Bun with BBQ Pork (S$4.50 for 3 pieces) is a must try.  It gives you a buttery & crispy crust on the outside while the hot steamy sweet pork meat on the inside will make you order more.
The Pan Fried Carrot Cake (S$4.50 for 3 pieces) is slightly charred and you can still enjoy small radish bits as you bite into it.
Takeaway is also available from the Takeaway Counter which also has a take-a-number queue system just next to the restaurant.
About Tim Ho Wan
Helmed by Chef Mak Kwai Pui, Tim Ho Wan has four outlets in Hong Kong (North Point, IFC Mall, Sham Hui Po and Olympian City) where patrons queue for up to three hours just to enjoy the dim sum.  Each outlet in Hong Kong sells close to 2,000 bamboo baskets of dim sum daily and the reasons for the long queues:  Cheap and freshly prepared dim sum that is not reheated or pre-steamed.  Chef Mak Kwai Pui received 1 Star Michelin Guide award in 2009 for Tim Ho Wan Hong Kong.
The venture in Singapore is backed by Hersing Corporation which is a brand manager and service provider in real estate (ERA, RIA and Coldwell Banker), financial services (Western Union Money Transfer and Hersing Credit) and lifestyle, furniture and furnishings (HC Design and Cassa Kiddi).   Tim Ho Wan is Hersing Corporation's first foray into the food industry and there are already plans to open a second outlet in Toa Payoh with up to six outlets within the year.
We thought we can tempt you with the menu
Steamed Items
Steamed Prawn Dumpling
Steamed Pork Dumpling with Shrimp
Glutinous Rice Dumpling
Steamed Chicken Feet and Black Bean Sauce
Steamed Beancurd Skin Roll with Pork and Shrimp
Steamed Dumpling Teochew Style
Steamed Pork Rib with Black Bean Sauce
Steamed Beef Ball with Beancurd Skin
Steamed Dumpling with Mushroom and Spinach
Deep/Pan Fried Items
Dumpling with Beef and Seaweed
Deep Fried Bean Curd Skin Roll with Shrimp
Deep Fried Spring Roll with Crab Meat
Rice
Steamed rice with Chicken Feet and Pork Rib
Steamed rice with Beef and Fried Egg
Steamed rice with Chicken, Sausage and Mushroom
Poached fresh seasonal vegetable
Congee
Congee with Lean Pork, Century Egg and Salted Egg
Plain Congee
Vermicelli Roll
Vermicelli Roll with BBQ Pork
Vermicelli Roll with Shrimp
Vermicelli Roll with Beef
Black Pepper Vermicelli Roll
Tim Ho Wan Singapore is located at #01-29A Plaza Singapura, 68 Orchard Road nearer to Starbucks, ORIS or Kiehls store side of Plaza Singapura and opens from 10am to 10pm daily.
Related articles