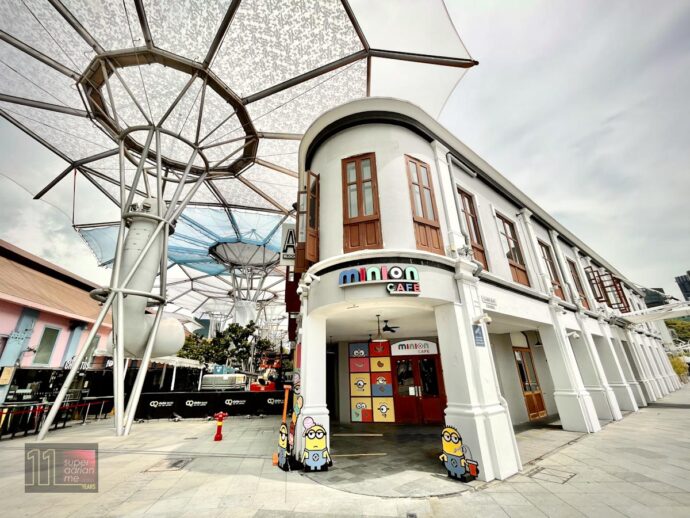 Singapore gets a new Minion Café pop-up based on the iconic "Minion Summer Cafe" operated by PARCO Japan in PARCO Ikebukuro, PARCO Nagoya, and PARCO Shinsaibashi. It will open in Clarke Quay from 28 October 2021 till 2 January 2022. It is located at #01-01C to 01D at Block A Clarke Quay and will operate from 11 am to 10 pm daily. This space used to be McGettigan's Irish Pub.
There is also a store where you can get adorable Minion merchandise including some that are limited editions available only in Japan and Singapore.
The themed pop-up cafe is a partnership between Universal Brand Development, PARCO, the licensee of Minion Cafe and 1-Group. 1-Group is the F&B, lifestyle, and hospitality group behind concepts including The Garage, The Summerhouse, The Alkaff Mansion, Mini, Fire, Flnt, and Monti amongst others. 1-Group's Head Restaurant Chef Tom Kung and his team curated a menu that is not only cute to look at but also tastes good.
Minion Café – The Space
The walls in the cafe are painted with minions all around. Brightly coloured and a very happy space you can spot the photo booths, life-size figurines and posters to help you get that perfect shot. Even the placemats are adorable. The cafe can accommodate 130 guests with the current safe distancing measures.
The Food & Drinks Served at Minion Café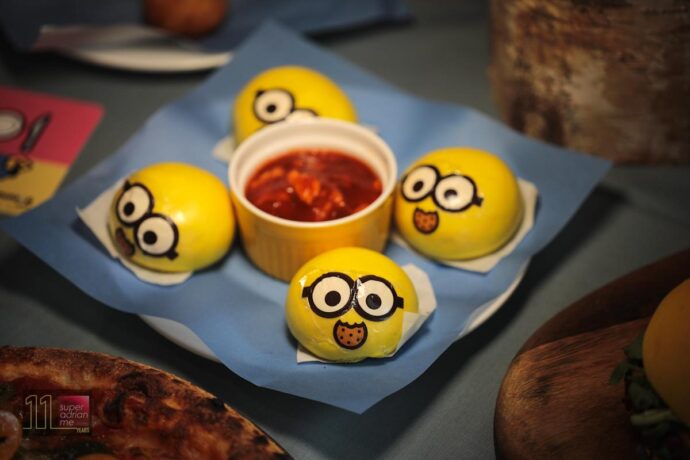 Dishes from PARCO Japan's menu as well specially created Singaporean inspired dishes are available here. Singapore dishes include the MINION Singapore Prawn Noodle (S$22), the MINION Pumpkin Mantou with Chilli Crab Meat Dip (four pieces for S$14) and the MINION Keema Chicken Curry (S$25).
Pork and lard are not used in any of the dishes. But Minion Café is not Halal certified.
We got to try the Keema Chicken Curry and it was one of the dishes I enjoyed. The minion figurine comes in the form of Turmeric Rice. Mince chicken curry is served with mushroom, lotus root and a crunchy banana that adds sweetness and bite to this dish.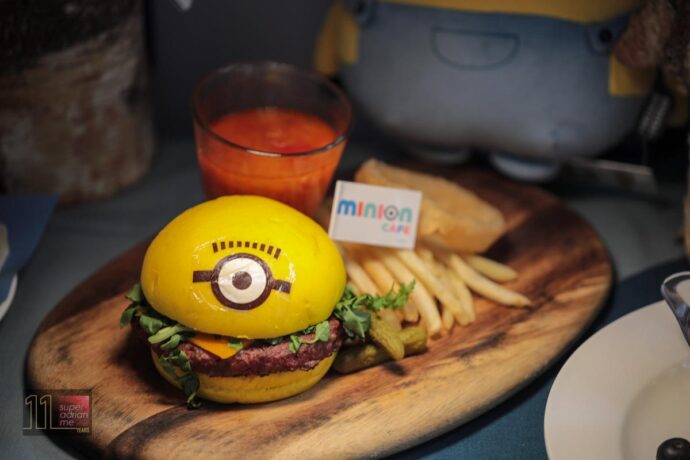 The most expensive dishes on the menu are the Minion Wagyu Cheese Burger and the Minion Kelong Prawn and Scallop Pizza. Each is priced at S$32. The Wagyu Cheese Burger comes with an MS8 Wagyu patty, cheddar, watercress, onion rings, cornichon pickles, French fries and minestrone soup. The pizza features Tiger prawns, scallops, Cameron Highlands cherry tomatoes, mozzarella cheese, mascarpone and pesto. Sounds good already.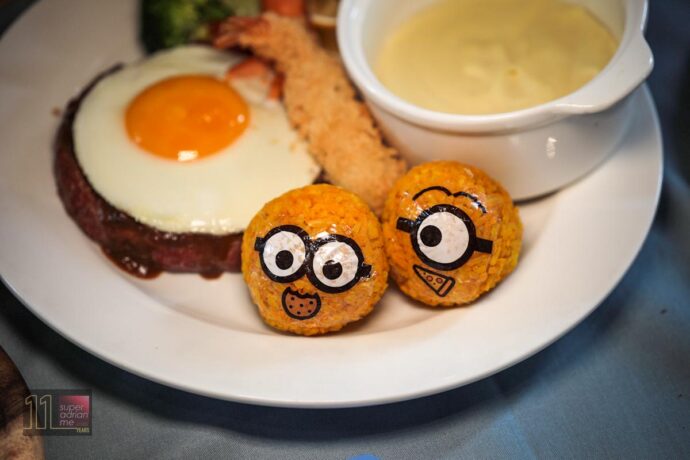 We also tried the Minion Wagyu Lunch Plate (S$28). Minion Rice Balls are served with Wagyu Burger Patty MS8, fried prawn, sunny side up, broccoli, cherry tomatoes, mini chicken sausage and creamy potato puree and bananas. There is a vegetarian version of the Wagyu Lunch Plate that is also priced at S$28. Beyond Patty is used in place of Wagyu.
Desserts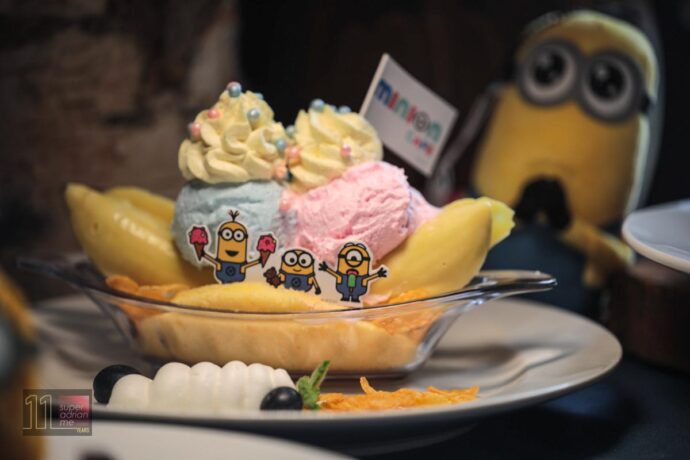 Minion Café also offers four different desserts priced at S$18 each. We had the Minion Banana Boat. A delightful one with sponge cake, mango whipped cream, mint, cornflake, strawberry ice cream and cotton candy ice cream, whipped cream and blueberry. The banana is coated in white chocolate.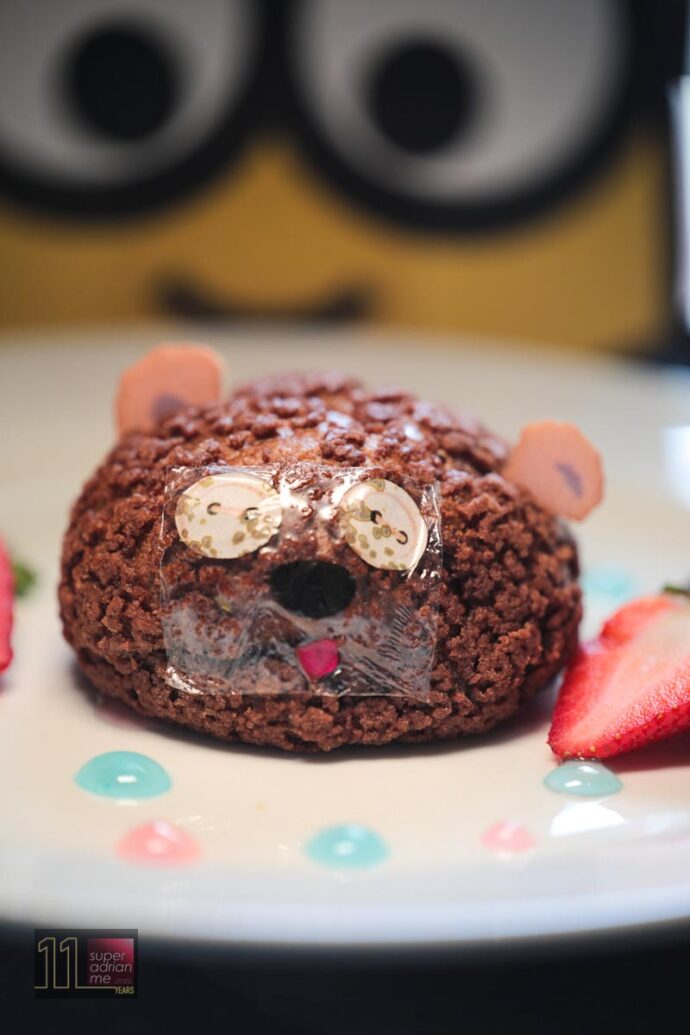 Other desserts on the menu include a Minion Castella Cake (S$16), Minion Tropical Fruit Sundae (S$15) and the Bob and Tim Ice Cream Cake Plate (S$18).
Beverages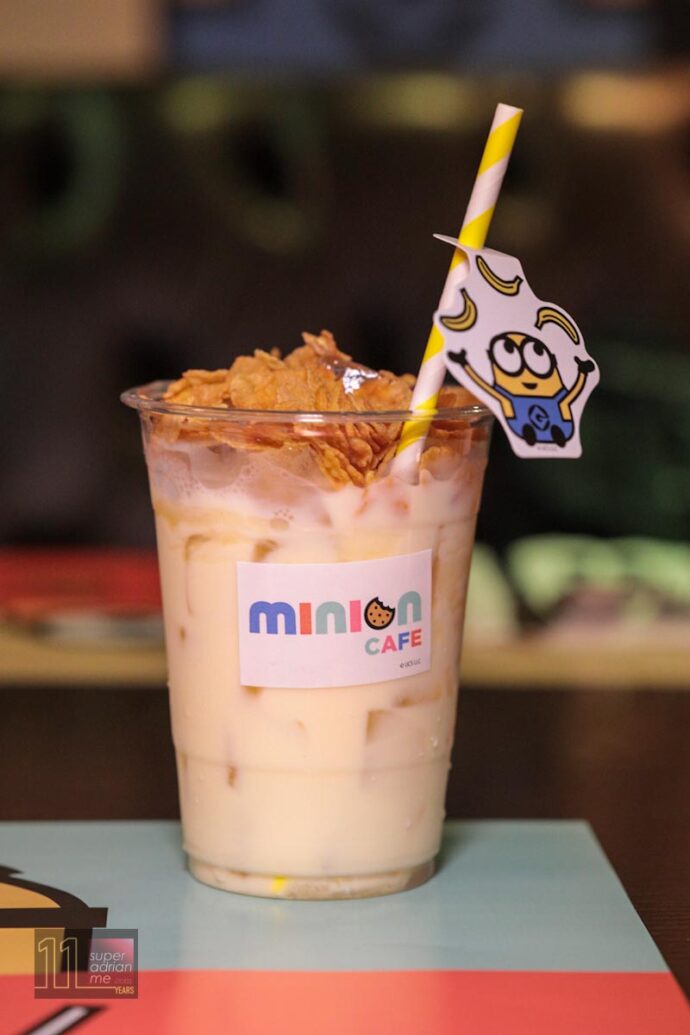 A variety of cold and hot beverages are available here. We had the Minion Banana (S$9). Banana Milk, Banana and cornflakes are used to make this drink. There is also a Yellow Bello Pineapple (S$9) that contains pineapple juice, lemon juice, vanilla, passionfruit, pineapple compote. It is topped with whipped cream and digestive biscuits.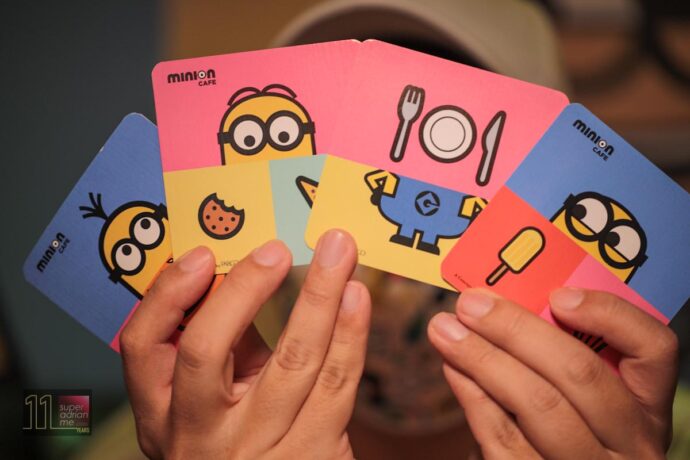 Look out for the coasters that come with your cold drink. There are four different designs and are randomly given out. And if you order the Minion Latte (S$6.50), there are five different Minion designs on top of the lattes.
Minion Merchandise
Minion fans will be delighted to check out the merchandise from Japan as well as Minion merchandise from across South East Asia region. You can get collectibles and memorabilia that are not available anywhere else in the world. Look out for the gacha key chain, 'Bob' mascot key chain, Minion rolled sticky memo, Minion round container and at totally Minion-rific clear file.
Get the Fitbit Ace 3 activity tracker for kids 6 and above. Comes in Minion yellow and a motivating Minions Clock face. Kids can join parents to monitor their walks together. The Fitbit Ace 3 has a battery life of up to 8 days. Kids can see their stats, badges and clockfaces in a protected kid view on the Fitbit mobile app. Kids who own a smartphone will also get notifications on their wrists. Kids can swim up to 50m with the Ace 3.