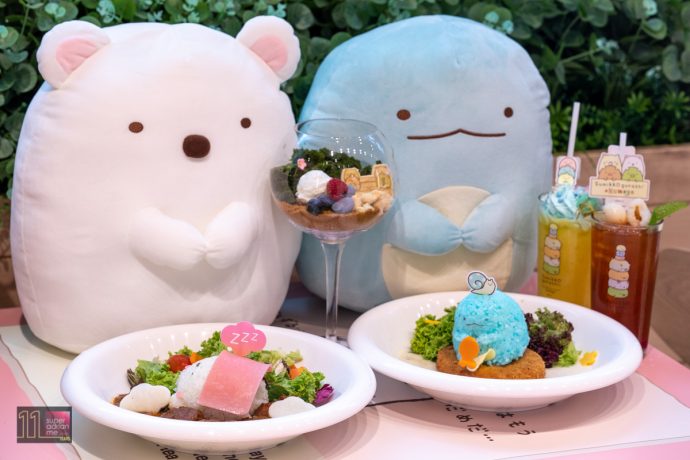 Kumoya Pop Up Cafe at Orchard Central has been transformed into a land of Sumikkogurashi since 12 March 2021. Bento & food artist and blogger Shirley Wong whose moniker is @LittleMissBento has designed special dishes for fans of this merry gang. At Kumoya it is always for the gram.
Get acquainted with Shirokuma the shy bear who migrated south to avoid the cold, Penguin who lacks confidence, Tonkatsu who is left behind for being too oily, the shy and timid Neko who hides in the corner and Tokage, the last of the dinosaurs. Tapioca are the leftovers in the cup.
Snacks & Mains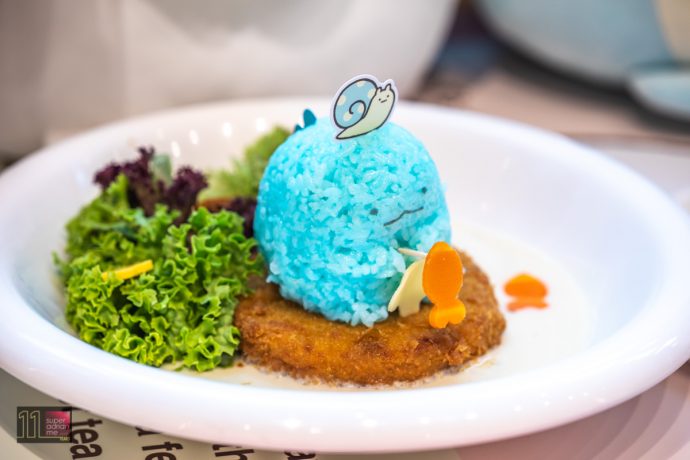 Six snacks, six mains, three desserts and 13 drinks have been created for this pop up. While the food here is not Halal certified, they are Muslim friendly as no pork, lard or alcohol is used. Prices range from S$11.90 to S$26.90. The Mains start from S$23.90. Check out the menu.
Sumikkogurashi fans will be enamoured of the cuteness overload. Expect to take lots of photos while dining here.
Desserts and Drinks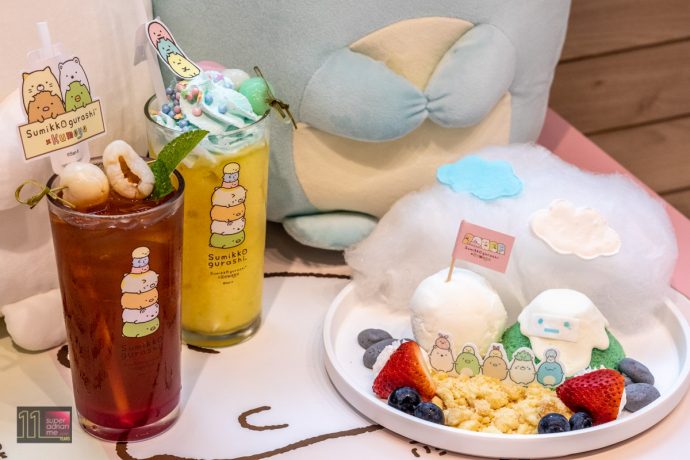 The prettiest of the three desserts is the Magical Matcha Terrarium Garden (S$24.90). This is a large stem glass of Matcha sponge cake, vanilla ice cream, vanilla and speculoos crumbles, white chocolate rice puffs, meringue pebbles, fresh fruits, kuromitsu syrup and Sumikkogurashi cookie.
I had the Yamma and friends Blueberry chiffon cake (S$22.90). A plateful of Yamma blueberry chiffon cake with vanilla ice cream, vanilla crumbles, meringue clouds, fresh strawberries and fluffy cotton candy. Hence, you can expect this to be high on the aesthetics as well as sugar level.
Quench your thirst with a selection of Iced Teas, Frappes, Iced and Hot Lattes as well as Iced and Hot Chocolate. You can bring home a limited-edition Sumikkogurashi Cafe Hot & Cold glass at S$14.90 each.
Interiors
Kumoya is open every day from 11 am to 9.30 pm. Each person needs to order at least one food or drink item and you can dine for up to 90 minutes.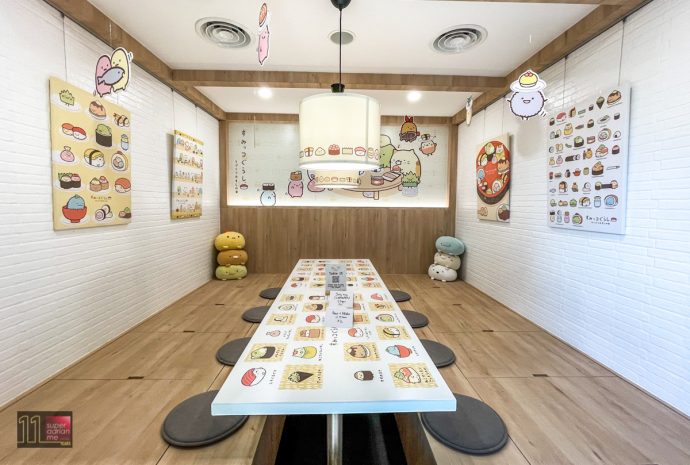 A private room is available with a minimum spending of S$300 on food and drinks. Up to 8 guests inclusive of infants and children are allowed.