The fifth edition of Negroni Week 2019 in Singapore returns from 24 to 29 June 2019. And bars around Singapore are celebrating the 100th anniversary of the Negroni by offering Negroni specials. This week-long worldwide celebration is organised jointly by Imbibe Magazine and Campari. We have picked some of the bars you can visit during this special week to taste some of the Negronis and do your part in doing good too.
Official Negroni Week Fundraising Party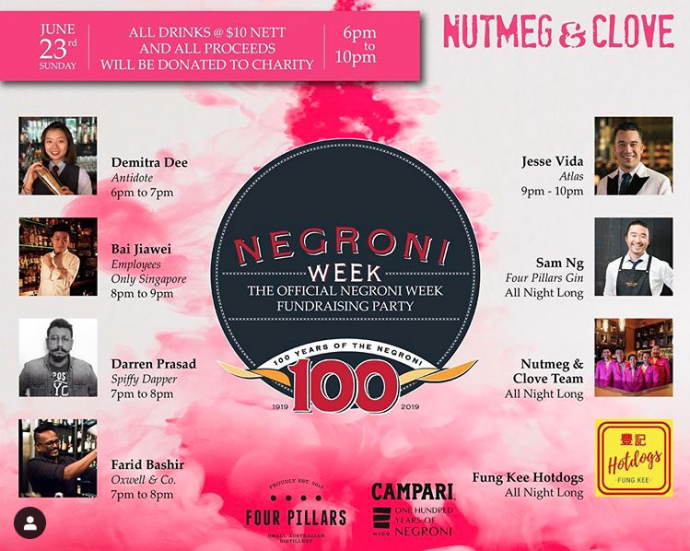 Head over to Nutmeg & Clove at 10 Ann Siang Hill on Sunday 23 June 2019 from 6pm to 10pm to kick start Negroni Week and ease into the week ahead. Nutmeg & Clove has invited their friends for the Official Fundraising Party to serve up their Negronis for this good cause! All drinks at S$10nett. 100% of proceeds will be donated to Beyond Social Services, which helps underprivileged children and youths break free from poverty.
On top of that, with every Fung Kee Hotdogs purchased at S$8, S$1 will be donated!
Tippling Club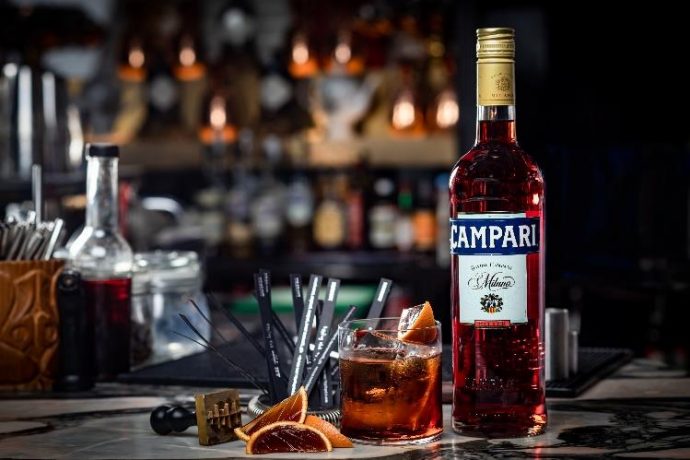 Andrew Loudon, head bartender at Tippling Club channels the bar's signature science-led approach to cocktails in his SONIC NEGRONI (S$24++). This version of the classic cocktail blends Campari and sweet vermouth with the addition of Gin sound waves for a unique tipple. For every cocktail sold, S$2 will be donated to Singapore Cancer Society which funds research into the possible cures for the disease while spreading awareness.
The Other Room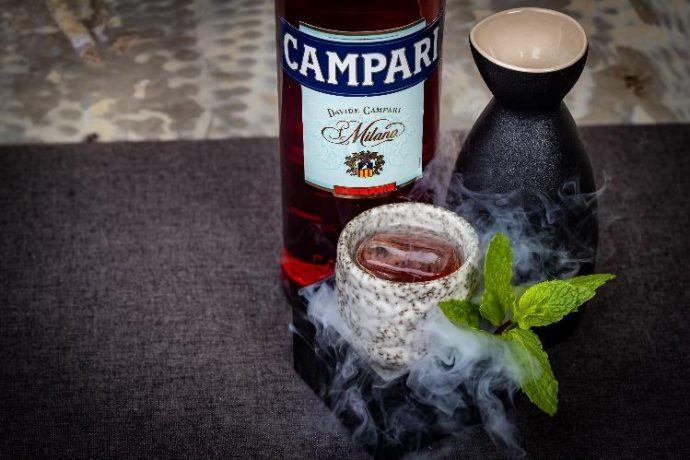 Joel Poon from The Other Room has created SHOKUZEN NEGRONI (S$23++) to replicate a sense of calmness and artisanship in Japanese culture through a glass. Simplicity at its best while the hard work and love is done behind the scenes. The cocktail is created with sake, Campari, Amaro, Vermouth Blend, Black Walnut bitters and Cardamom bitters. S$5 will be donated to Causes for Animals.
The Old Man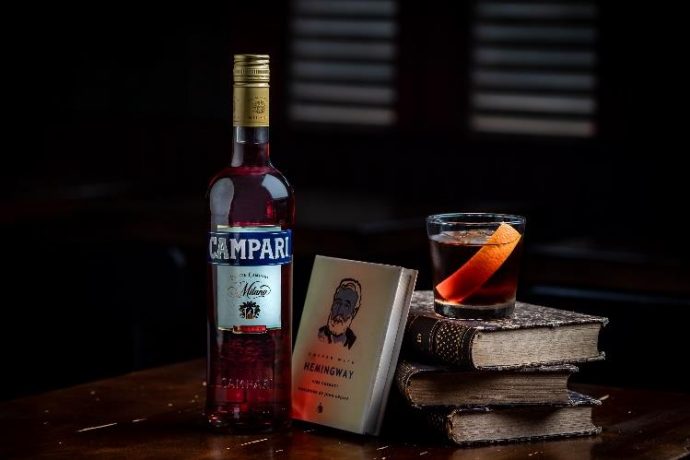 Louis Tan Chuan Meng of The Old Man, Singapore presents THE FINAL STRAW (S$22++) – a blend of Campari, sweet vermouth and strawberry redistilled gin. S$1 will be donated to Plastic Oceans International whose vision to minimise the impact of plastic pollution aligns with the Old Man's efforts to eradicate the use of straws and coasters in their establishments.
TESS Bar & Kitchen
YAI CHAAN is the name and cocktail inspiration from Tess Bar' & Kitchen's Kanatip Kantiwong's grandmother's love for all kinds of fruits in general. The cocktail pays homage to her and its bittersweet flavour is accompanied by the fruitiness of the homemade fruit vermouth. Each glass, priced at S$18++) is prepared with 30ml Rémy Martin VSOP, 30ml Campari and 30ml homemade fruit vermouth. S$3 will be donated to TOUCH Community Service for each glass sold.
SKAI Bar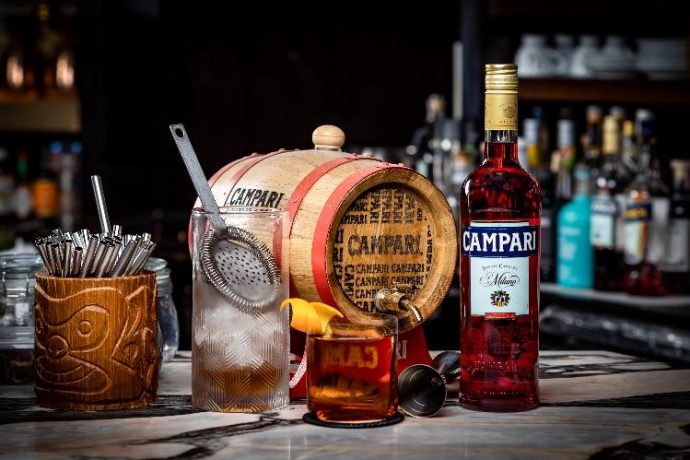 The EASTERN FORAGER (S$25++) by Rusty Cerven of SKAI Bar is a twist on the Negroni using locally sourced ingredients and flavours. Rusty uses The Botanist Gin infused with Chrysanthemum, campari and Vermouth infused with Shiso for this Negroni. S$2 will be donated to Slow Food International for every cocktail sold. This organisation aims to prevent the disappearance of local food cultures and traditions through education projects and seminars.
Smoke & Mirrors
Two special serves will be available at Smoke & Mirrors during Negroni Week at S$20++. The CLASSIC NEGRONI is served with pitted olives, macerated in orange peel while the LA FUMATA BIANCA is a bitter cocktail with Raicilla, Gentian, Bianchissimo, Grapefruit Aroma and Tartufo Bianco. Head over and support the new Head Bartender Jorge Conde.
Origin Bar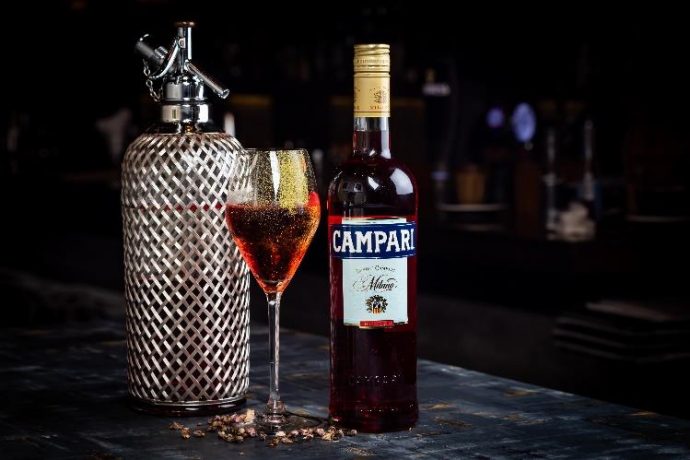 Adonis Endozo Reyes from ORIGN BAR at Shangri-la Hotel Singapore has created SIGNORINA (S$23++), a cocktail that is inspired by a Campari classic Sbagliato. Sbagliato is made with Campari, sweet vermouth and prosecco. Instead of using bubbles, he used a syphon to add on a nice fizz with the addition of the bar's own peach blossom distillate and a touch of kaffir to represent the "Origin" flavour. S$2 will be donated to REACH Community Services Society.
Nutmeg & Clove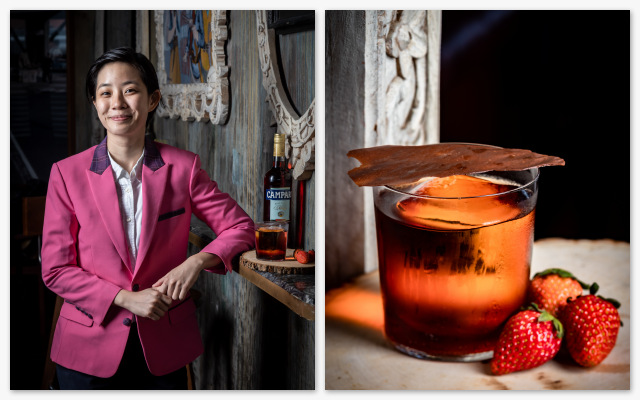 Nutmeg & Clove's ROCKSTAR BREAKFAST NEGRONI (S$20++) by Jayden Ong will be served from 24 to 30 June. You can have a spirit-forward classic for breakfast which comprises the usual suspect at breakfast and a traditional Singaporean twist. It is made with strawberry sous-vide Four Pillars Rare Dry Gin, coffee-infused vermouth, and Campari garnished with dehydrated Milo yoghurt.
For every cocktail sold, Nutmeg & Clove will be donating S$5 to Beyond Social Services.
MO BAR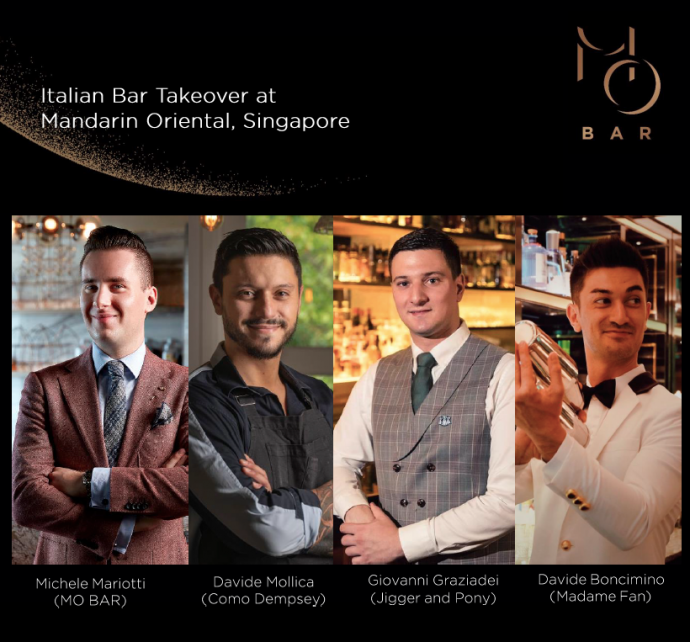 MO Bar at Mandarin Oriental Hotel Singapore will be rolling out five variations on the Negroni Cocktail to end off Negroni Week on 30 June 2019. The Negroni Week Italian Takeover will feature four guest bartenders – Davide Mollica (Bar Manager) from Como Dempsey, Davide Boncimino (Head Bartender) from Madame Fan and Giovanni Grazidaei (Bartender) from Jigger & Pony. Each of the cocktails will be priced at S$24++.
| | | |
| --- | --- | --- |
| David Mollica | Como Dempsey | SUMMER NEGRONI with Coconut Sabatini, Cocchi Rosso and Campari |
| Davide Boncimino | Madame Fan | SMOKED TEA NEGRONI |
| Giovanni Graziadei | Jigger & Pony | WIBBLE with Sloe Gin, Campari, grapefruit and lemon |
LAVO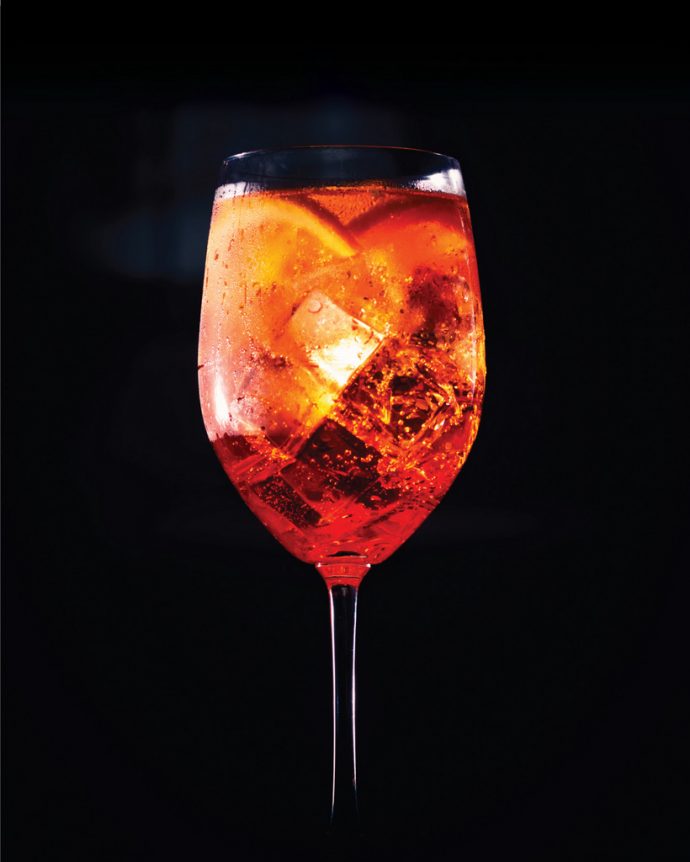 LAVO at Marina Bay Sands will be serving up the NEGRONI SPRITZER at S$25++. It is a refreshing rendition of the spirit-forward cocktail that will be available exclusively during Negroni Week. S$1 from every Negroni cocktail sold is going towards Marina Bay Sands' designated charity, Association for Persons with Special Needs (APSN).
On its menu since 10 June is NEGRONI YOUR WAY (S$25++), a cocktail that allows guests to create their own bespoke version of the classic cocktail. Instead of the usual mix of gin, Campari and vermouth, guests can mix and match from a range of base spirits, aperitifs and liqueurs to concoct a mix suited to their liking.
KOMYUNITI at YOTEL Singapore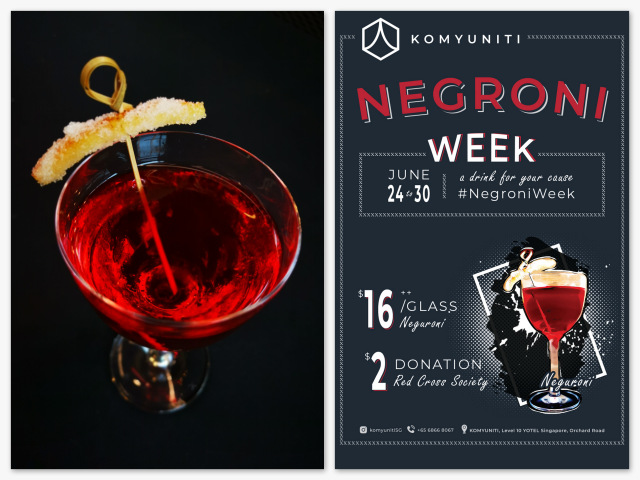 KOMYUNITI is participating in the 5th Annual Negroni Week with its own cocktail at S$16++ a glass. S$2 will be donated to the Singapore Red Cross for each glass sold. KOMYUNITI is located at level 10 of YOTEL Singapore at 366 Orchard Road.
Chihuly Lounge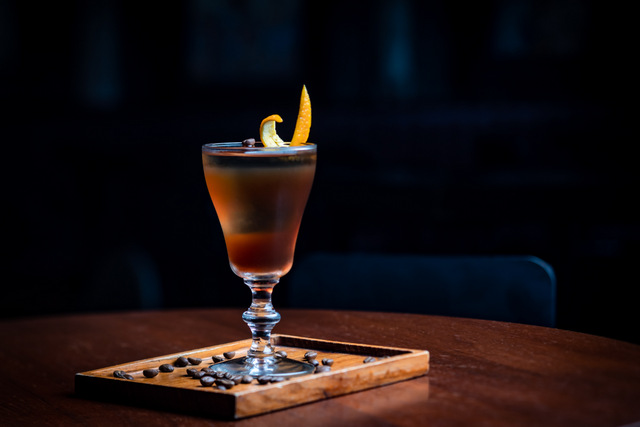 Head over to Chihuly Lounge a The Ritz-Carlton, Millenia Singapore for Martin Villareal's COFFEE NEGRONI (S$22++). Chihuly Lounge has worked with a local roaster to design and produce unique coffee beans which are meant to complement the taste profile of the classic Negroni cocktail. The cocktail is created with Campari, Rosso Vermouth, gin, bitters and the special blend of coffee beans which is sous vided with Citadelle gin for 30 minutes at 60°C.
S$2 will be donated for every Coffee Negroni sold to Willing Hearts which operates a soup kitchen that prepares, cooks and distributes about 5,000 daily meals to over 40 locations islandwide, 365 days a year.
Cé La Vi
Francis Gerard, the senior lead mixologist at Cé La Vi will be serving his version of the classic Italian cocktail with a twist by adding coffee flavour. The Caffe Negroni is made with Tanqueray 10, Cinzano Vermouth, Campari infused coffee with cold brew method, and dashes of Bellambre Bitter-Amer Bigallet.