Raffles Hotel Singapore celebrates Old Fashioned Week from 1 to 14 November 2021. Bar hop across the four bars here and receive a stamp on a special Old Fashioned Week card when you order a cocktail from the Old Fashioned Week menu. Complete the card with four stamps and receive a complimentary cocktail for your next visit. The complimentary cocktail can be redeemed at any of the four participating bars by submitting the fully stamped card. Redemption is valid until 30 November 2021 and while stocks last.
Different menus are offered at Long Bar, Osteria BBR by Alain Ducasse, Raffles Courtyard and Writers Bar. It is going to be a treat for fans of Old Fashioned cocktails. Clasic Old Fashioned or inspired reiterations are presented at these four bars, but for a very limited time.
Writers Bar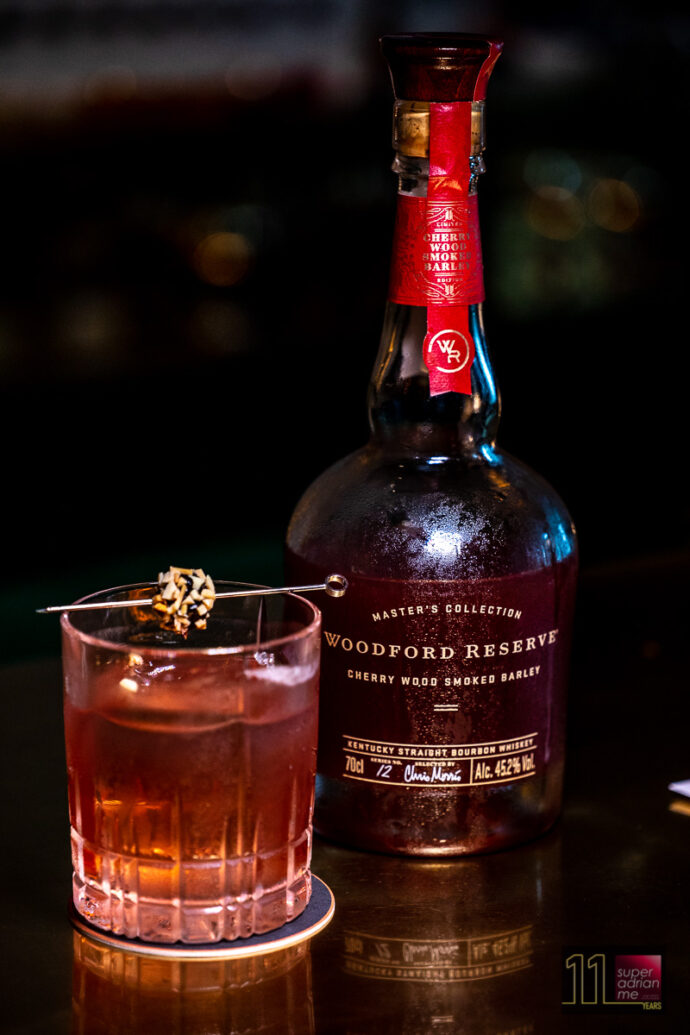 Nine punchy cocktails by Head Bartender Nicholas Alexande are available on the Old Fashioned Week menu at Writers Bar. Straits Up and Pit & Stem come under the ATAS Originals section. Straits Up (S$40) is a tantilising concoction of Michter's 10 Year Bourbon, banana, tonka, jackfruit and maple. Pit & Stem (S$38) is a blend of Woodford Reserve Master Collection Cherry Wood Smoked Barley, cherry grenadine and bitter almond.
Ban Zu and Five O'One are under the Originals section. Ban Zu (S$35) combines Rebel Yell Small Batch Reserve Bourbon with lemongrass, longan and gula melaka. Five O' One (S$32) is made with Jefferson's Reserve Very Old Small Batch Bourbon, Peach and Coffee.
If you are a purist, then have the traditional classic Old Fashion at S$28 per cocktail. You can choose from the Michter's American Whiskey, Buffalo Trace Bourbon, Woodford Reserve Wheat, Michter's Sour Mash or Sazerac Rye.
Osteria BBR by Alain Ducasse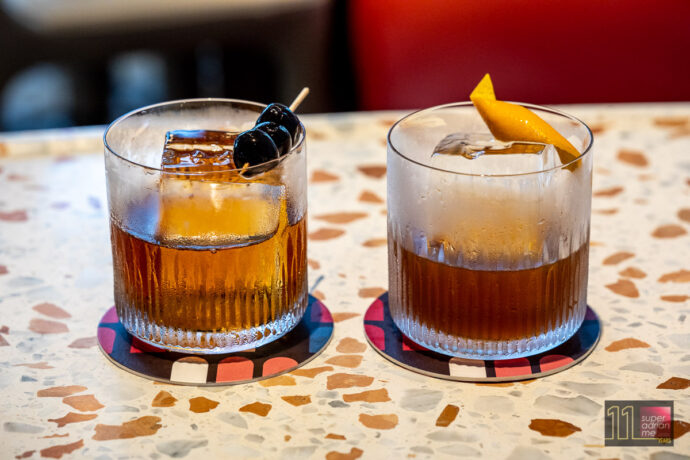 Two Old Fashioned variants with an Italian twist through the use of amaro, Italian herbal liqueurs are offered here. The Latte Fashioned features Osteria spirit blend that has been fat washed with milk, Ramazotti Amaro and chocolate bitters. It is inspired by classic Italian spirits and makes you think of having a tiramisu. The Billiard Fashioned is named in honour of the Bar & Billiard Room's heritage. It is a mix of Tagliatella Nardini and Zacapa 23 rum accented with Angostura bitters.
Raffles Courtyard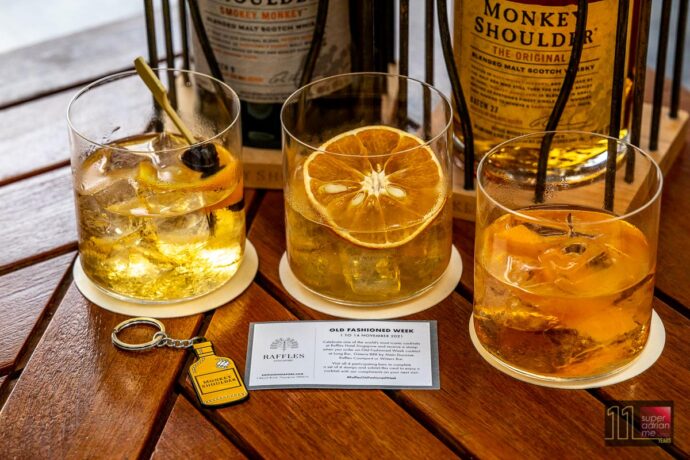 Raffles Courtyard offers a classic and two free style Old Fashioned cocktails with Monkey Shoulder as the base. The Amara Old Fashioned features Monkey Shoulder whisky, Bruto Americano apperitivo and orange bitters. The Oaxaca Verde is made with Smoky Monkey whisky, Vida mezcal, honey apple syrup, orange bitters, and Ancho Reyes Verde that lends a pineapple note and a hint of charred poblano chilli.
While you are at Raffles Courtyard, indulge in the Raffles Courtyard x Pun Im Pop Up which ends 21 November 2021. Chef Vincent Pang's Tom Yum Crab Cakes, Royal Thai Crispy Rice Crakcers with Pork and Peanut Sauce, Miang Kham, Red Curry Duck Confit and Black Sitcky Rice 2 Ways are available on the menu. Enjoy all of Chef Vincent's signature dishes together with The Pun Im Bundle at S$80++ for two. Or order them a la carte.
Long Bar
At the venerable Long Bar, select from Old Fashioned options including the Classic Old Fashioned, and Mr. Danker, a delicious blend of Monkey Shoulder whisky, coffee tarik, chocolate bitters, and kaya foam in tribute to Leslie Danker, the hotel's Resident Historian, and his love for coffee. For an unforgettable sip, opt for the Smoked Old Fashioned, crafted with Monkey Shoulder whisky, ginger liqueur, jaggery syrup and two dashes of orange bitters.