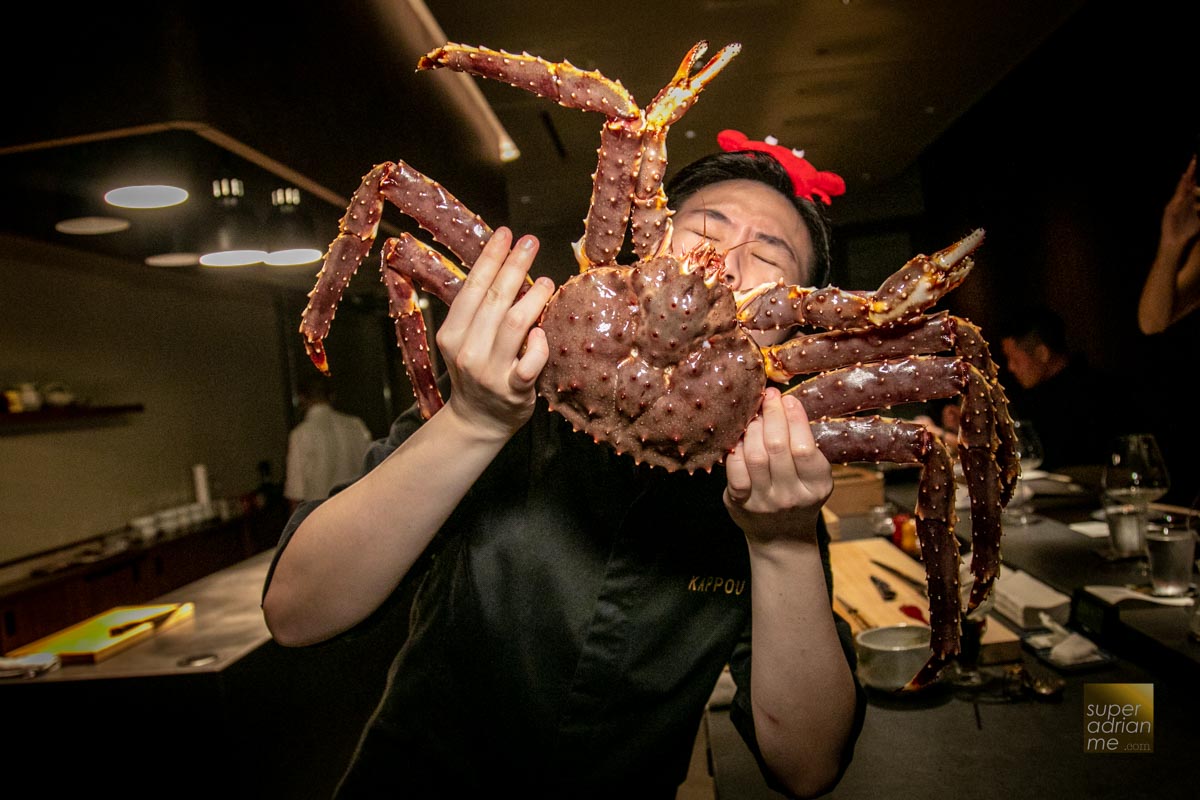 Meet Aeron Choo, Chef owner at Kappou. The under-30 female chef gives Japanese omakase a breath of fresh air. One that is not stuffy. Her bubbly yet affectionate interaction with her guests is what I enjoy most about dining at Kappou.
She dares to venture out into what used to be a male-dominated food and beverage industry, what more one with a traditional culture of not allowing women to be sushi chefs.
"I am a Chef from my heart, I have always been."

Chef Aeron
Previously located at Fortune Centre as a 12-seater Japanese sushi tapas bar concept that served affordable Omakase sets from S$68 onwards, Kappou Japanese Sushi Tapas Bar moved to #03-01, 18 Robinson Road offering an elevated Omakase experience earlier this year.
Kappou offers counter-style seating and takes reservations for dinner omakase. There are three different experiences available. Eight courses at S$298++ per person, 14 courses at S$388++ per person or S$500 per person with chef's choice of premium seasonal ingredients.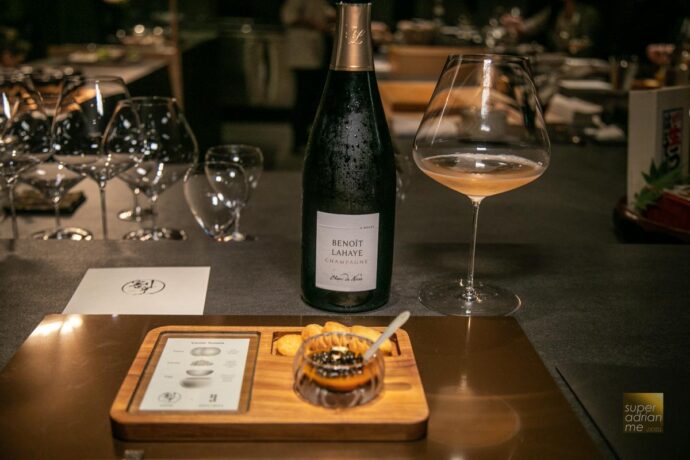 Yet she meticulously showcases seasonal ingredients with traditional Japanese techniques and pairs them with beverages that reflect the environment they have been made, choosing from grower's Champagne and small-batch wines to craft Sake and spirits.
As I sat down, she poured me Champagne Benoît Lahaye's organic cuvée exclusively elaborated from Pinot Noir into a Zalto Brug glassware. The champagne is raised in casks for 10 months and is dosed with 4g/l only offering a rich buttery expression of Blanc de Noirs and an almost rose colour. A great aperitif to pair with the Signature Caviar Toast which features 8 Gems Caviar. A creamy egg base is infused with rosemary, thyme and carrot and eaten with cultured butter toast
Chef Choo has also created the Kappou Shoyu and Kappou Umeshu exclusively for Eight Gems Gastronomy which you can purchase at https://8gems.com.sg/restaurants/chef/kappou/.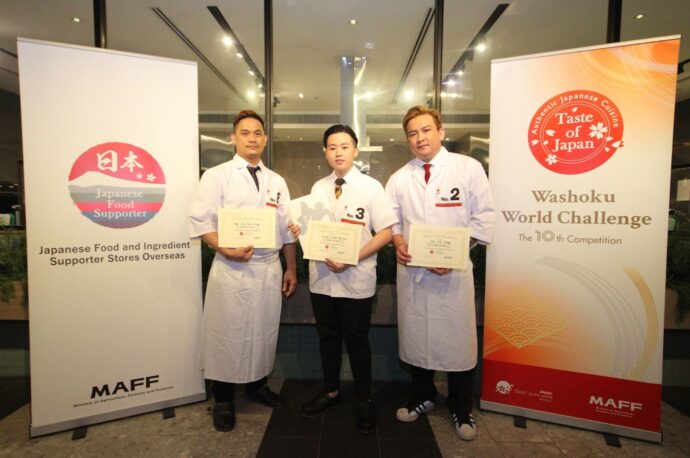 Chef Choo recently participated in the Asian Regional Qualifying Tournament in Cooking Technique Test (Best Knife Skills) coming in first ahead of 7 other chefs from Fat Cow, Yamagawa Japanese Restaurant, Tajimaya Yakiniku in Singapore and Mizu Izakaya in India. The theme for this year's competition went back to the basics of Dashi, the Japanese soup stock forming the cornerstone of many Japanese dishes. Each contestant prepared a dish using sea break and a choice of three ingredients that include turnip, Japanese red kintoki carrot, satoimo (Japanese taro) pumpkin and yellow yuzu.
The prestigious 10th Washoku World Challenge was held in Singapore on 21 November 2022 at Commune Kitchen with Mr. Matsuo Hideaki, Japanese Cuisine Goodwill Ambassador and Owner & Chef of Japanese Cuisine Kashiwaya in Osaka and Mr Maetomo Akihiro, Japanese Cuisine Goodwill Ambassador and Owner & Chef of MAETOMO Japanese Cuisine judging the competition. Chef Choo will represent Singapore at the Final Tournament in Tokyo in late February 2023.
Choo is also qualified as an International Kikisake-shi (Certified Sake Sommelier), WSET 2 (Wine), Kazari Sushi Art, JSIA, and Diploma TSA.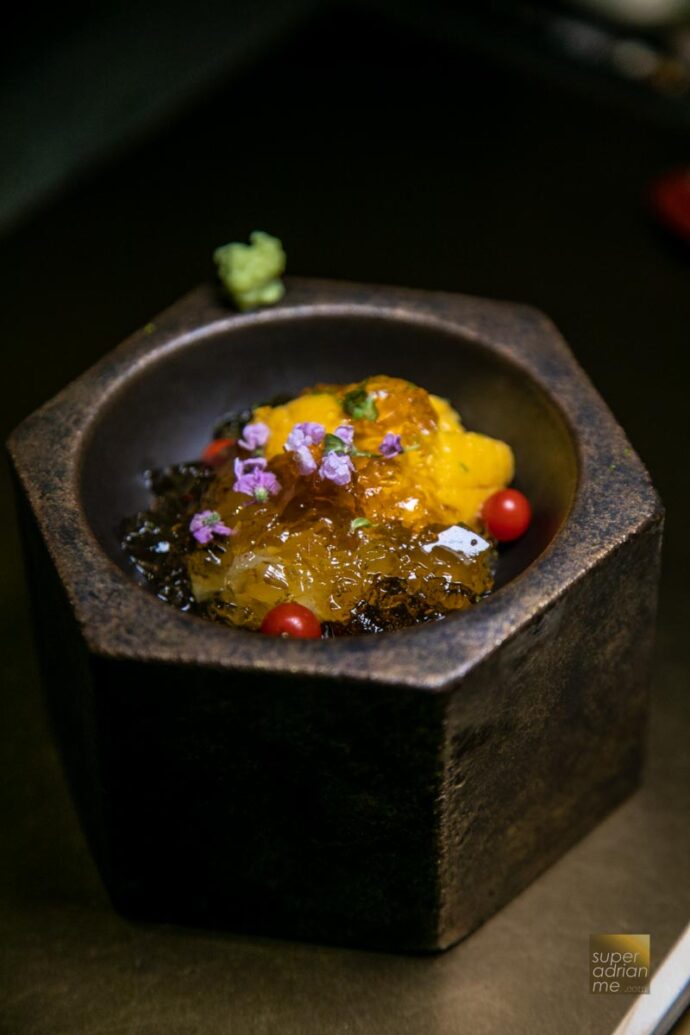 We were invited to meet with Chef Choo as she and her team presented a private event menu priced at S$388++ per person.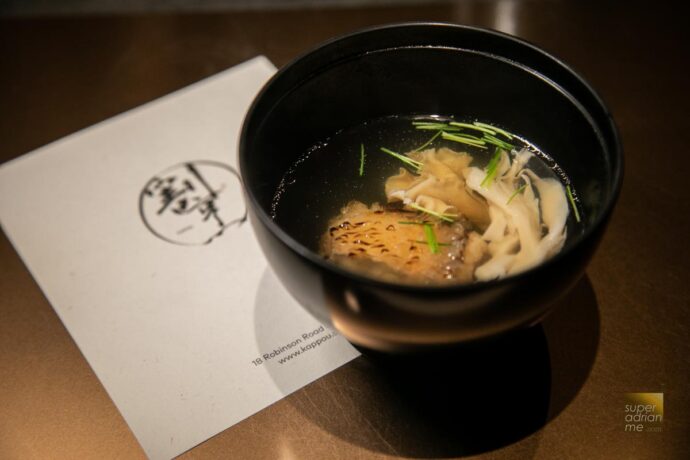 13 courses were dished out and we also had two sakes and a glass of champagne. The seasonal sashimi course had four other dishes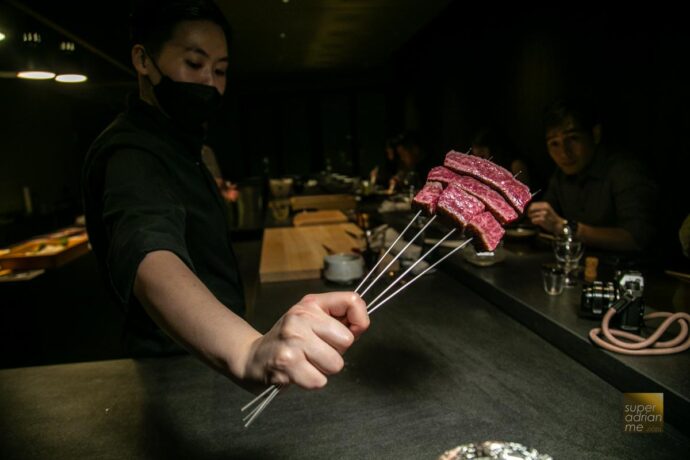 "Tochigi Wagyu" has made the cut here. Only 3,500 out of 30,000 Wagyu receive this certification each year. This Japanese black breed from Tochigi prefecture is bred in a stress-free environment with rice straw feed that contributes to the meat's unique flavour and aroma. It is enhanced through a long fattening period of around 30 months. We had the Tochigi Wagyu Steak with miso sauce.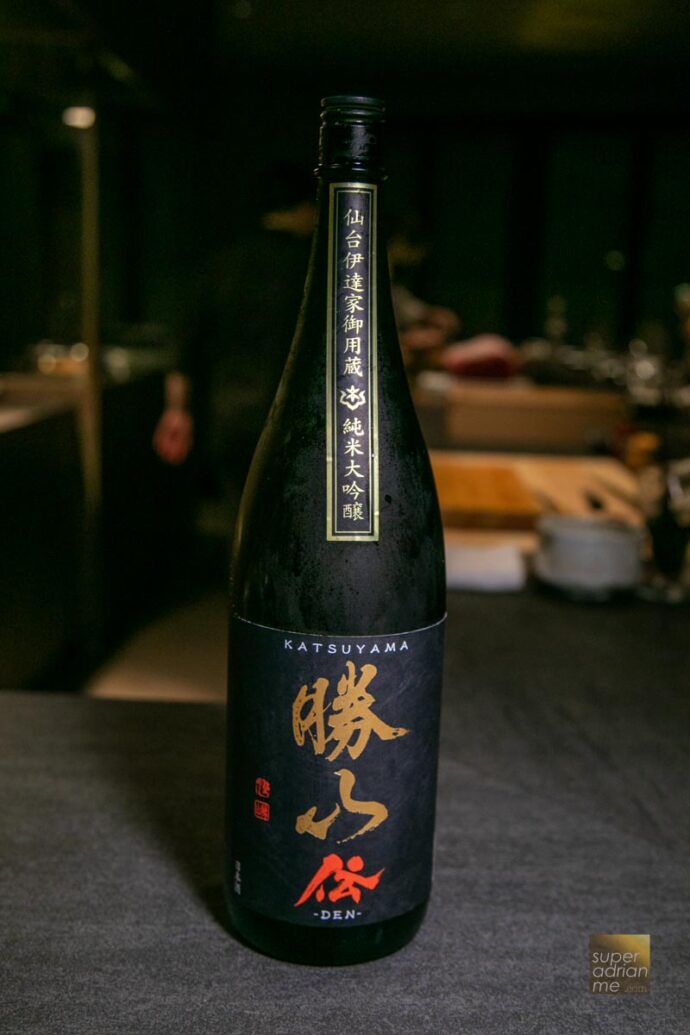 From champagne, we moved on to two other sakes as we progressed. A Katsuyama Junmai Daiginjo Den was brought out for us to savour. Den is the flagship Junmai Dainjo of Katsuyama brewery, with one of the more balanced, textbook-style Junmai Daiginjo with bouquets of melon, pear, banana & apple. It is clean, and soft with a bit of weight on the palate, elegant and crisp on the finish. Chef Choo served this in a Kimura brug 12oz and Grassi brug.
The Umenoyado Un series flagship Jumai Daiginjo is well-balanced with a refreshing scent and a light sweetness. Delicate and gentle taste blends with the dishes served. We were served this in Kimura Bambi 8oz and Kimura Bello S just to taste the different profiles as the sake opens up in the glass.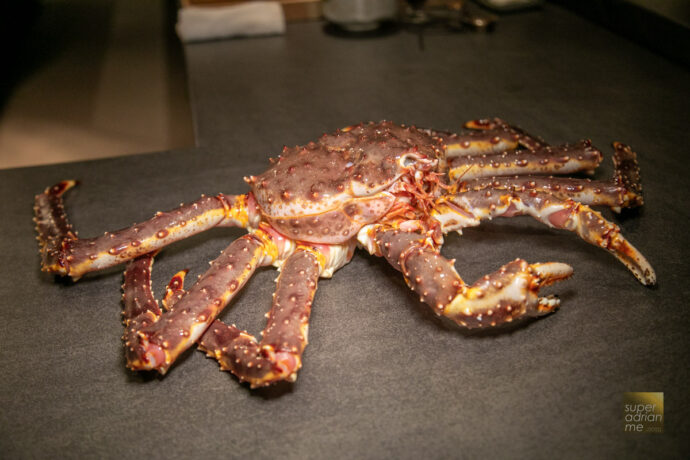 We had the Grilled Taraba King Crab with Amera Fruit Tomato and Tosa Vinegar Jelly. Quite a colossal effort during the preparation which made the crab so much sweeter.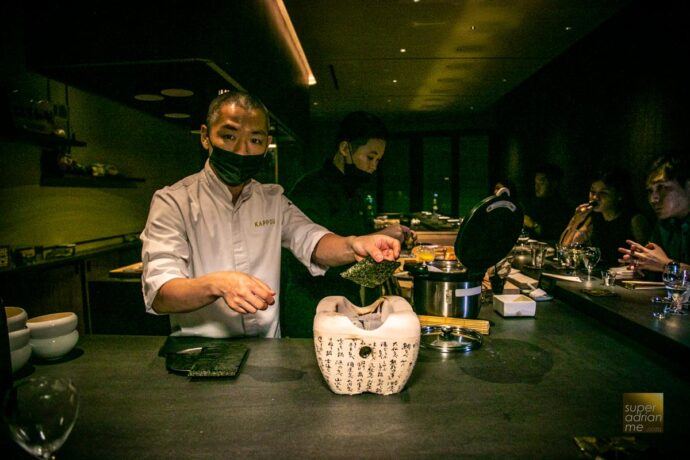 And we also had a Rosy Sea Perch Tsukudani Seaweed Handroll, the only handroll we had. The seaweed was heated up to ensure it was warm and crisp.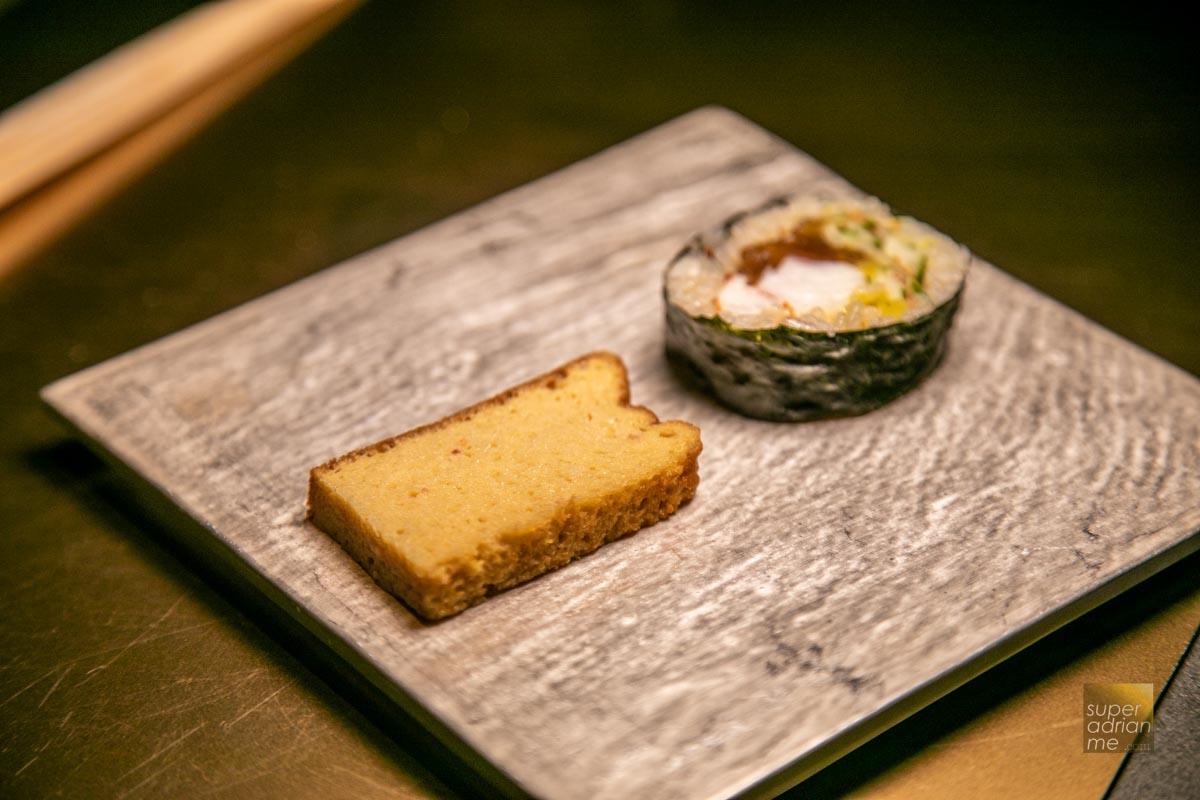 Thought the Futomaki and Castella Egg was a rather unusual yet surprisingly comforting combination.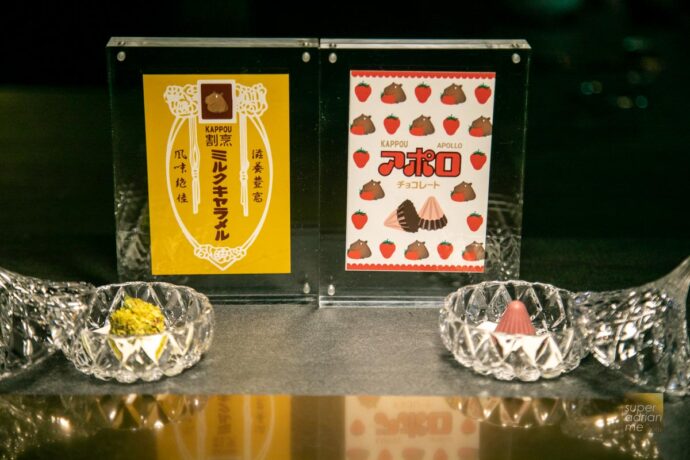 Desserts were also prepared to perfection. We had a total of four as if we were not already full enough. To end off the whole experience, Japanese childhood snacks of Apollo and Pistachio caramel were offered.
Kappou operates on Tuesdays to Saturdays from 7 pm to 10.30 pm. WhatsApp or Call +65 6854 6456 or click here for reservations. 18 Robinson Road offers an automated parking system which means it may take a while for you to retrieve your vehicle after dinner. It is probably easier to just park at CapitaGreen at 138 Market Street.
Follow Kappou on Facebook for updates.