The Dictador x Richard Orlinski 5 Decades made its Asian debut last month in Singapore at 67 Pall Mall. This collaboration with one of the best-selling French contemporary artists is the first time a rum spirit has been wholly encased within an artwork.
There are five different colourways with only 100 bottles in 700 ml format and 25 hand painted bottles. The Dictador 5 Decades uses rum from finely aged 1966, 1976, 1986, 1996 and 2006 casks, representing five decades of Richard Orlinski life and work.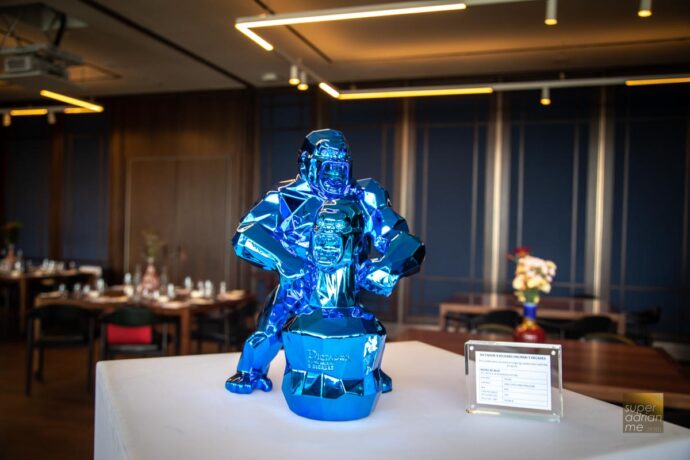 Dictador Distillery Master Hernan Parra has personally selected the best barrels stock in Colombia to create the exceptional liquid, truly art in itself, with 525 bottles available worldwide. The value of the luxury rum collection is in the value of the 30 barrels used to prepare each colourway set of bottles. The liquid will not be used in future Dictador products. The Platinum, Gold, Red, Blue and Black art pieces retail at 40 000 €.
Richard Orlinski was born in 1966. He uses industrial materials such as resin and aluminium to craft highly pigmented and polished renderings of wildlife and cultural icons. He is recognised as one of the best-selling French contemporary artists, with his work exhibited at galleries and shows all across the world.
"I am very happy to bring my creative vision to this collaboration. It is, for me, the fusion between two universes and cultures as different, as complementary. I wanted to bring a creative notion to dress this collection of spirits so that it is unique. It's a way of taking up a challenge; to bring art where we don't expect it."
Richard Orlinski
There are only 25 of the Hand Painted art piece. It stores a rum with aromas of burnt caramel in the initial top note with a suggestion of treacle. Middle notes are suggestive of both curry powder and espresso coffee. On the palate, it has a smooth texture and a mildly sweet taste, with suggestions of hard toffee in mid-palate and a mouth-cooling finish and aftertaste. Retails at 100 000 €.
If you are interested in purchasing the Dictador x Richard Orlinski 5 Decades, contact Michelle Lu from Malt & Wine Asia at [email protected] or +65 9430 1589.
"This groundbreaking collaboration with one of the world's most exciting and renowned contemporary artists is another big step for Dictador. The brand is the definitive investment-grade rum and is certainly one of the world's most dynamic and admired fine and rare spirits due to its outstanding record on innovation, superb quality, authentic stories and stunning aesthetic. This latest collaboration sees us operating at the pinnacle of the most desired, collectable and coolest spirits in the world with the launch of this beautifully crafted art piece."
Ken Grier, Dictador's Creative Director