Bacha Coffee
Bacha Coffee was established in 1910 in Marrakech. Bacha Coffee celebrates its 110th anniversary this year. With over 200 pure Arabica coffees from over 30 countries, you can enjoy single origin, blended, flavoured and decaf coffee.
Coffees can be enjoyed at the Bacha Coffee coffee bar and boutique concept at B1 Takashimaya Department Store in Ngee Ann City and at Ion Orchard. You can also purchase Bacha loose coffee beans, flavoured coffees, single-serve coffee bags and coffee accessories at the coffee retail counter at Ngee Ann City or at the coffee boutique at Changi Airport Terminal 1 Transit area.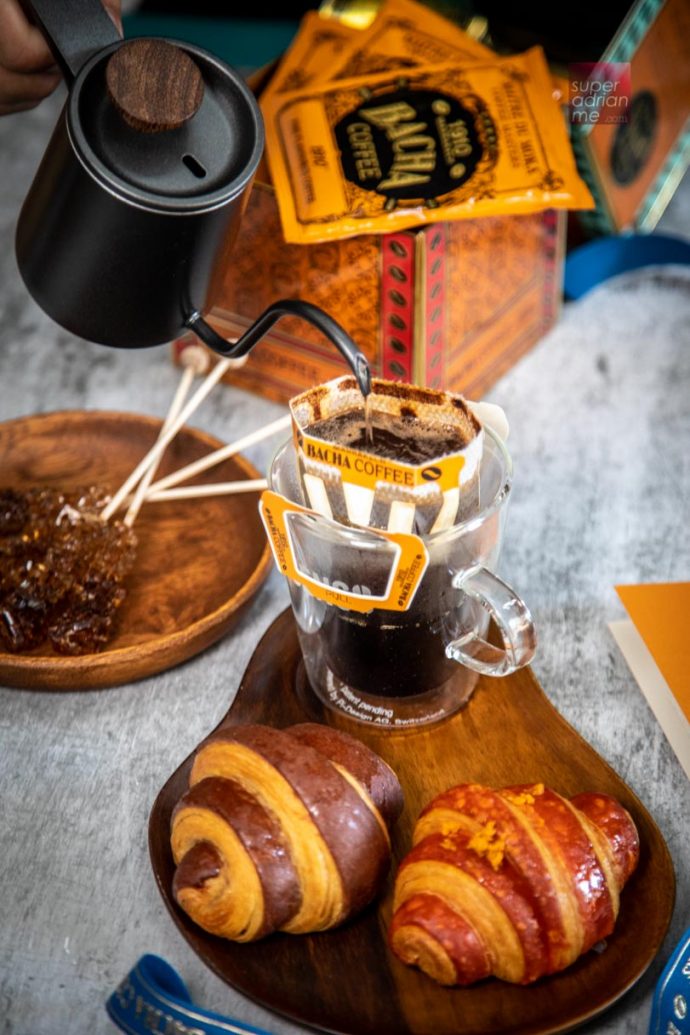 To celebrate its 110th anniversary, Bacha Coffee launched a commemorative book in French and English, titled Marvellous Moroccan Moka priced at S$35. Coffee enthusiasts and connoisseurs would enjoy the glimpse into the world of coffee in this 125-page book that is filled with intricate illustrations, historical photographs and maps of coffee regions.
BachaCoffee.com was also launched housing over 200 varieties of Bacha loose coffee beans and beautiful packaged coffees. Loose coffee beans can be purchased by weight and ground to the specifications of each customer. Option to select packaging is also available. Bacha Coffee delivers to over 60 locations worldwide.
Bottled Cold Brews from Berthold Delikatessen
In September this year, Berthold Delikatessen in the Arcade at The Capitol Kempinski launched four signature slow cold brew coffees. Each variant is slow-brewed for no less than 18 hours and made using the finest Costa Rica Candelilla Estate Honey Single Origin coffee known for its strong flavours with very little acidity.
| | | |
| --- | --- | --- |
| Shot in the Dark | S$7 | Classic black coffee steep, perfect for appreciation of the bean and brew in its most original form |
| Black & White | S$7 | Takes the simple latte to new steeps with milk and simple syrup |
| Ready to Matcha | S$7.50 | Dresses things up further with a dash of Japanese matcha green tea |
| Veni Vidi Vici | S$7 | An indulgent fix with black coffee, milk and luscious toffee cream, perfect for those needing extra caffeine and an energy boost to take on a big day |
Coffee@Works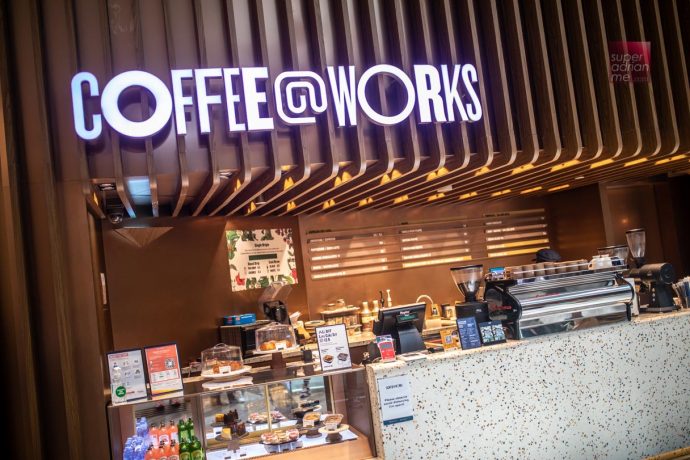 Enjoy a fresh cup of speciality coffee at Coffee@Works. Brought to you by the same folks behind Paris Baguette and Maison de PB, Coffee@Works uses only coffee beans of the highest quality – top seven percent in the world. You can enjoy coffee here prepared different ways from cold drip to espresso-based drinks.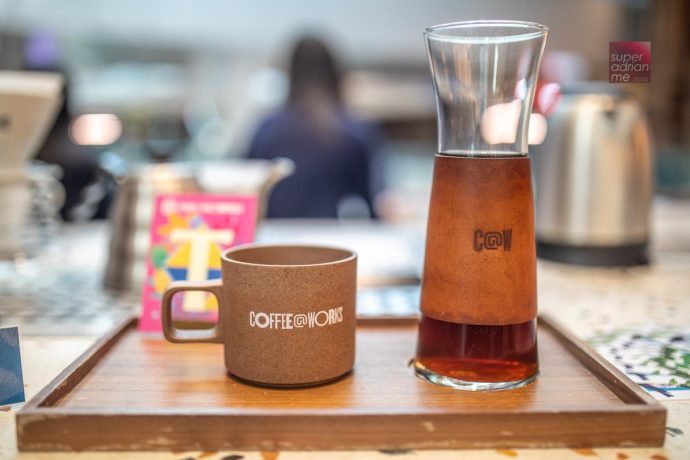 Coffee@Works is located at Jewel Changi Airport. So the next time you're in the area do check them out.
Starbucks At Home Festive Range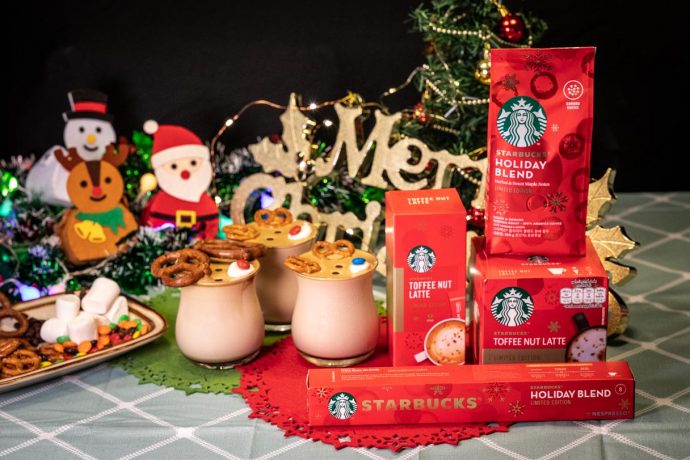 Starbucks Coffees can be enjoyed in the comfort of home. Just in time for the festive Christmas season, there are four Starbucks At Home Festive Coffee options from capsules to sachets and coffee grounds. All available from supermarkets including Cold Storage, FairPrice and Market Place as well as online at Lazada, Prime Now, RedMart and Shopee. These are NOT sold at Starbucks outlets.
The Starbucks Toffee Nut Latte has a rich and buttery flavour profile and is available in Dolce Gusto capsules for S$8.90 for six servings and at S$5.45 for a box of four sachets.
The Starbucks Holiday Blend offers a balanced and sweet coffee with herbal and maple notes and are available as Nespresso capsules at S$7.65 for 10 capsules or Roast and Ground Coffee at S$11.95 for 190 grames.
TAC Coffee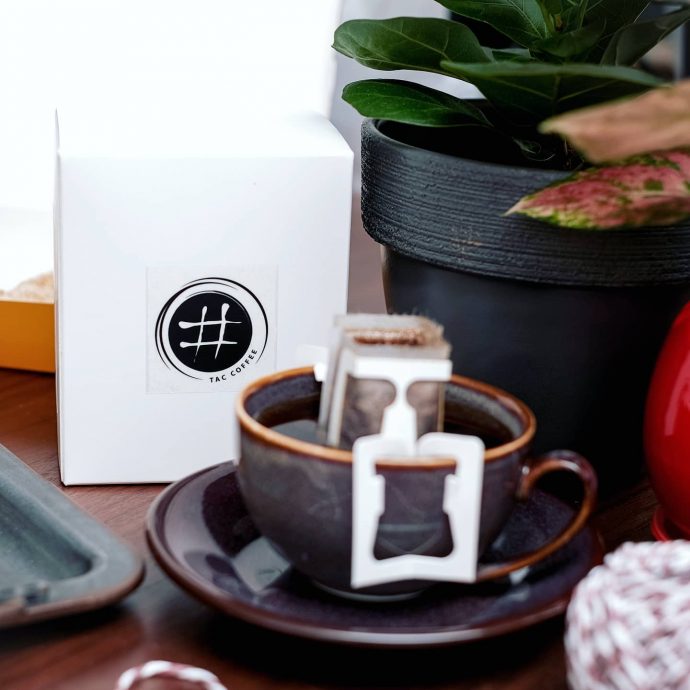 TAC Coffee makes a comeback from since it first started in 2014 with a 2-year stint of guest baristaring every Sunday at Tiong Hoe Specialty Coffee. After which they served coffee at ad-hoc events including weddings and pop-ups. Coffee brewing was brought "in-house" to the office of Prelude Corporate Services Pte Ltd, where coffee was served to staff and clients.
During circuit breaker this year, the folks at TAC Coffee started to pack drip bags and cold brew bags with locally roasted coffee beans, so that friends and customers who missed TAC's coffees could enjoy them in the comfort of home. After going through several rounds of R&D to find the most ideal blends, TAC now offers two blends .
TAC#1 is a blend of Ethiopia Sidamo and El Salvador beans. The medium bodied blend features notes of wine acidity, floral honey sweetness with notes of raisins when served black. Adding milk gives it sweet caramel notes with bold nutty lingering finish.
TAC#2 is a blend of Columbia, Sumatra Mandheling and Indian Monsoon Malabar beans. This blend has a heavier body than TAC#1 for those who prefer a morning coffee that offers an instant perk me up. This heavy bodied blend offers bold rustic earthy undertones with medium acidity and notes of dark cocoa when served black. Enjoy notes of almond and dark cocoa with hints of smoky aftertaste when you add milk.
If you enjoy cold brew coffees, then Yuan Yang Cold Brew bags are for you. TAC's version of Yuan Yang is predominantly coffee with hints of tea aftertaste. Specialty grade Arabica coffee is used in place of the commonly used Robusta coffee beans. Steep the brew bag in fresh milk for 12 to 15 hours in the refrigerator and enjoy the cold brew after.