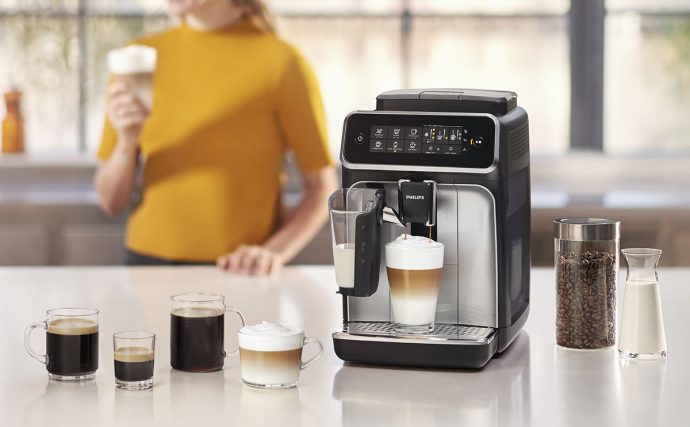 With a touch of a button, the Philips 3200 Series LatteGo will freshly ground the coffee beans and brew up a high-quality cup of coffee in minutes. Unlike conventional home coffee machines, the LatteGo is fuss-free when it comes to maintenance and its built-in water filter system will remove unwanted minerals to brew you a more delicious cup of coffee. It's a bean-to-cup experience every time you use the LatteGo.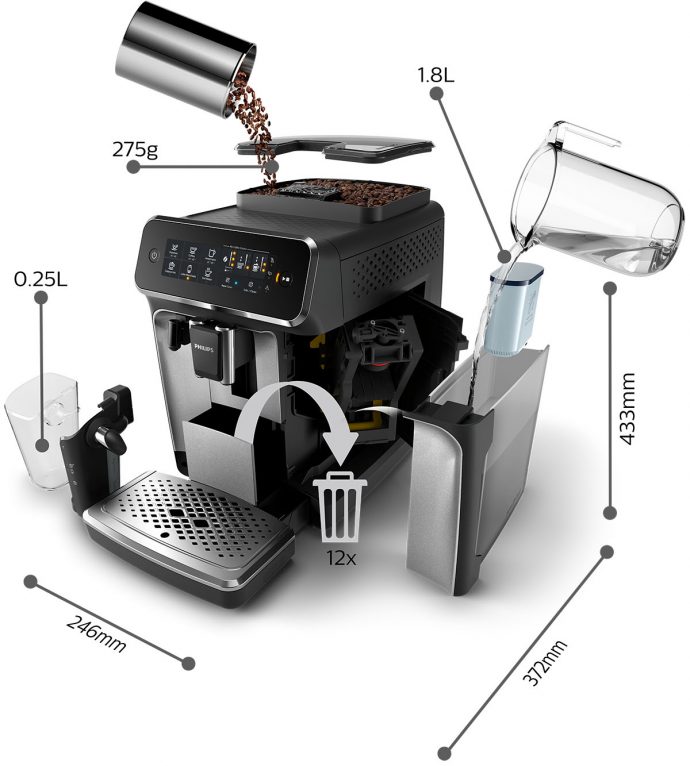 Why Freshly Grind Beans?
Designed to be a professional-grade coffee machine for homes, Philips have made brewing with fresh beans so much easier for everyone. Unlike capsule coffee, using freshly grind beans will maximum flavour as the oil are not exposed to air. The longer the oil is being exposed to air, oxidation will make the oil lose moisture and aroma, result in a less flavourful brew. To further maintain the freshness of the beans, the bean container in LatteGo comes with aroma seal which maintain the bean's original state over time. But you can only leave the beans in the container as recommended on the packaging of the coffee beans you use. Nothing last forever.
With 12 grinder settings, you can choose to have your coffee bean to be grind from ultra fine to coarse for your liking. If you have some pre-ground coffee at home, the 3200 Series LatteGo will also be able to use those coffee powder to brew your coffee too.

Everyone's Unique Cup Of Coffee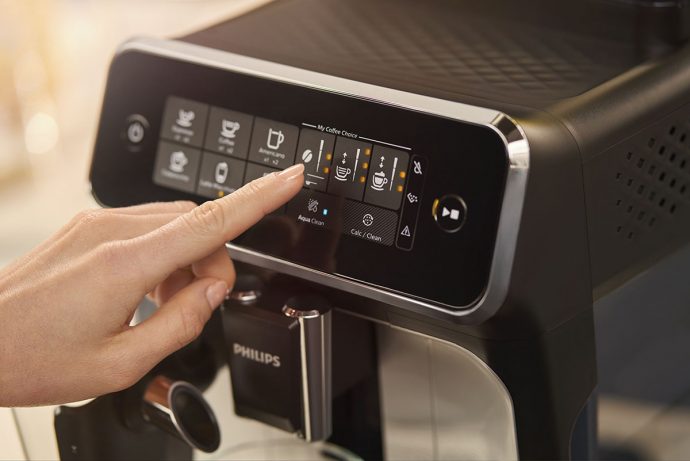 Fully automated, you can make up to five variants of coffee with just one machine – brewed coffee, latte macchiato, cappuccino, espresso, and americano. And knowing that everyone's taste is unique, you can set the aroma strength and quantity of the beverage with just a few clicks on the touch display. You can also set the foam milk ratio to your liking. One less human error for your morning fix.
To ensure silky-smooth froth for your latte, macchiato and cappucino, the LatteGo milk system is calibrated with optimum temperature for steam to heat and foam milk for perfect results every time. The external two part tubeless milk system can be easily clean with a rinse under the tap. It is also dishwasher safe.

Fuss-free Maintenance
For easy maintenance in the long run, it is patented low maintenance AquaClean water filter system that ensures no descaling for 5,000 cups, and provides better taste in a cup, with filtered water. For thorough cleaning, the internal brew group and water tank are removable and you can clean them by rinsing under the tap. It's so easy.

The range of Phiip's fully automated espresso machines are now available at leading electronics stores, major department stores and selected authorized dealers. The RRPs are Philips 2200 Series (S$999), Philips 3100 Series (S$1,099), Philips 3200 Series (S$1,399), Philips 5000 Series (S$1,599) and the PicoBaristo (S$2,099). For more information, please visit the Philips website here.

Try It At Chye Seng Huat Hardware
For the month of October 2019, you can head down to Chye Seng Huat Hardware (CSHH) at 150 Tyrwhitt Road to get the Philips 3200 LatteGo a try. By ordering a main at CSHH, you can add S$4 to get a cup of coffee. Dedicated coffee specialists will be on-site to provide advice on brew ratios and practices, grind size, beans and state-of-the-art equipment to suit every connoisseur's coffee needs.