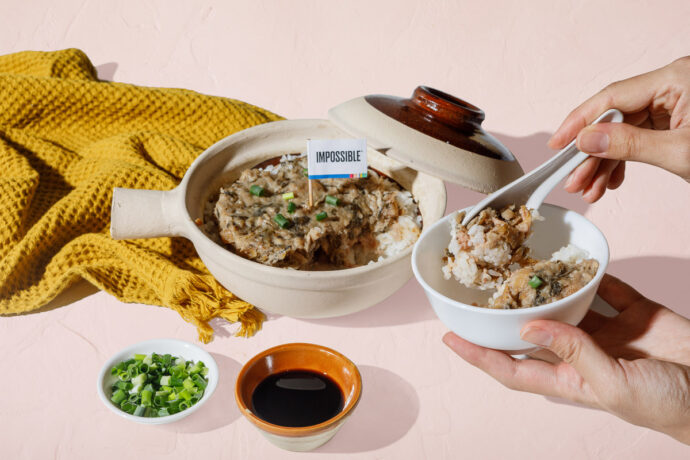 Plant based Impossible Pork has made its debut at Chef David Chang's Momofuku Ssäm Bar in Manhattan on 23 September. In Asia, it became available in over 100 Hong Kong restaurants from 4 October 2021 and will be available in Singapore later this year.
Did you know that pork from pigs is one of the most consumer proteins in the world? Impossible Pork is designed to be more delicious and far more sustainable while satisfying every culture and cuisine. Impossible Foods conducted a blind taste test with over 200 consumers in Hong Kong. Impossible Pork was preferred 54% to 46% over ground pork from pigs. It also scored higher for overall, appearance, flavour, texture liking and purchase intent.
Impossible Pork has a mild savoury flavour, balanced umami richness without being gamey or overpowering. It can be served in any ground meat dishes such as spring rolls, meatballs, dumplings, xiao long bao, siew mai, or tacos. They can be cooked in a steamer, oven, charbroiler, flat-top grill or sauté pan.
Impossible Pork is certified gluten-free and contains no nitrates. Compared to a 4-ounce (113-gram) serving of 70/30 U.S. Department of Agriculture ground pork, it contains 37% fewer calories (220 vs. 350 calories), 59% less total fat (13 grams vs. 32 grams), 36% less saturated fat (7 grams vs. 11 grams) and 2.7 milligrams compared to 1 milligram iron per serving for pork from pigs. Impossible Pork contains 0 milligrams of cholesterol (7 grams saturated fat and 0 grams trans fat) per 4-ounce serving (113 grams).
Impossible Pork is also more sustainable than ground pork from pigs. It uses 81 – 85% less water and 66 – 82% less land. Furthermore, it generates 73-77% less greenhouse gas emissions based on an ISO Conforming Life Cycle Assessment.
Impossible Pork in Hong Kong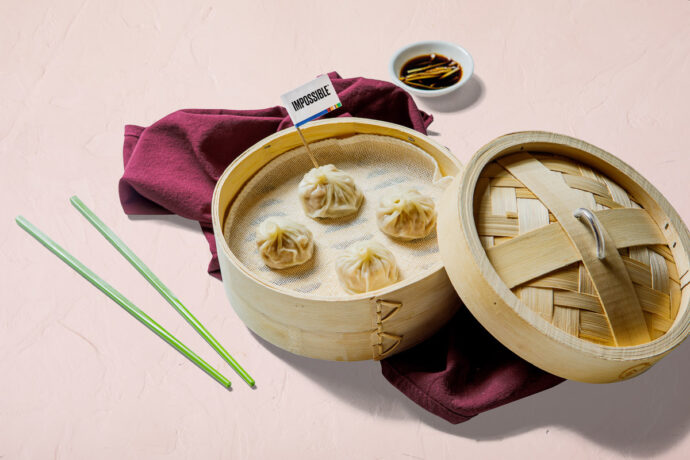 On Oct. 4, Chef May Chow will debut Impossible Pork dishes at Little Bao, which will serve a Taiwanese "LuRou" Scotch Egg, and Happy Paradise, which will serve Impossible Dan Dan Noodles.
Tim Ho Wan will be offering four new signature dim sum and rice dishes at all of its Hong Kong restaurants. Other local favourites to debut Impossible Pork in Hong Kong including Dumpling Yuan, known for its authentic Northern Chinese style dumplings; Bloom by Wong Jia Sha, a modern Shanghainese restaurant; and Kyoto Katsugyu, a Japanese katsu favorite.
Chinese fast-food chain MX of Maxim's Group in Hong Kong will launch its Eggplant & Impossible Pork Casserole dish at 45 locations across the city, becoming the first quick-service restaurant in Hong Kong to serve an Impossible product.
The Tong Chong Street Market in Taikoo Place will feature numerous Impossible Pork dishes throughout October, with 15 participating restaurants giving away Impossible Pork Bento Boxes to celebrate the launch.
Plant Based Impossible Pork In Singapore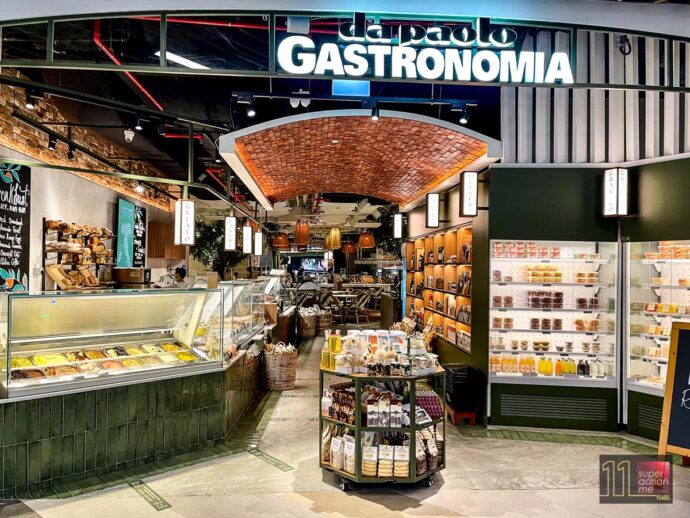 In Singapore, plant-based Impossible Pork will be available in November at Privé, PS. Cafe, Da Paolo and Moonbow Dempsey. Ironman Chef Heman will serve a Crispy Cheesy Impossible Pork Ball at fusion restaurant Moonbow Dempsey.