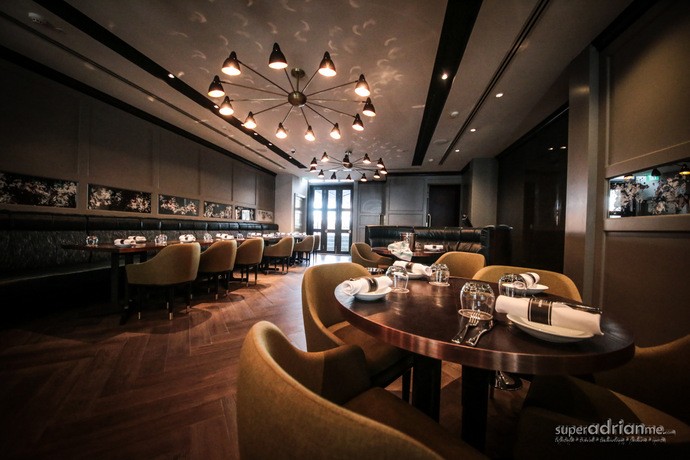 The second branch of the The Disgruntled Chef opens at The Club on 28 Ann Siang Road. Check out our article about the interior and The Disgruntled Chef at Ann Siang Road here. With the success of their first restaurant in Dempsey, The Disgruntled Chef is definitely heating up the competition in the heart of this enclave of popular and chic eateries. 
The modern European fine dining menu includes a good range of drinks, small plates, big plates (mains) and desserts. 
I do not consume alcohol much. I was pleased to find a selection of Mocktails priced from S$12. Better yet, they offered to concoct one with a blueberry base and citrus ingredients that was not in the menu. A refreshing splash of flavours to prepare my palate for a sumptuous meal.
If you are winding down for the day, intrigue yourself with the Bee's Knees Cocktail (S$20). This cocktail is served in a teapot and teacup which masks the alcoholic in you. The concoction is a mix of chamomile infused gin, grand mariner, lemon, orange and honey. There is a choice of gin used in this concoction and they are priced differently.
The Truffle Brioche (S$12) and Burnt Onion Charcoal Bread (S$12) starters came after the drinks. Both were so good I would imagine coming back with my friends for drinks and just stuffing ourselves with these. It was one of those inexplicably unforgettable moments.
The Truffle Brioche is served with a unique Nori seaweed butter, and its truffle taste is not overpowering. The blacken toasted Charcoal Bread comes with a dollop of cream cheese sprinkled with fish floss. It tastes good even on its own but may not go well if you wear dentures.
For beetroot lovers, you have to try the Beetroot and Walnut Salad (S$9) but keep it away from your white clothing. Bite-size beetroots are seasoned with mustard and red wine vinaigrette, and accompanied by candied walnuts. 
Next came the small plates. The light and fresh Tomato and Watermelon Tartare (S$21) with homemade togarashi, yuzu mayonnaise and kombu, is highly addictive. Healthy too. The flavours compliment each other yet somewhat confuses your palate with sweet and slightly sour after tastes. The small bits of red pepper crackers gives this dish a bit of crunch.
The Wagyu Beef Carpaccio (S$26) comes with cep puree, an egg yolk confit and crispy shallots. Make sure you have all these tiny toppings in each mouthful.
And most notably the Burnt Leeks (S$21). The inside of the leek is removed, mixed with bone marrow, brioche croutons and sauce gribiche; stuffed back into the leek's skin and baked. The outcome is amazing.
When did you last have a craving for suckling pig but could not consume the whole pig or just did not order it in advance? Well, wait no longer, the restaurant's Crackling Suckling Pig (S$68) will appease.
I recommend sharing so that you can try one of Chef Daniel's signature dishes – the Crispy Beef Short Ribs (S$38). Another one of my personal favourites. So tender. So crispy. So juicy. So want some more please.
The short ribs are served with white kimchi and honey soy glazed potatoes to greater excite your taste buds.
If you are in a surf and turf mood, try the Maine Lobster and Chicken Pot Roast (S$56). My Editor Adrian thinks the eggs in this dish resemble the flowing clocks in Salvadore Dali's Persistence of Memory.
Other mains include Roasted Miso Cod (S$38), Cannon of Welsh Lamb (S$42), Twice Cooked Kurobuta Pork with Black Truffle Risotto (S$38) and Chargrilled Smoked Ribeye (S$68).
My happy ending was the Roquefort Ice Cream (S$14), two mini "magnums" with a punch. Again I recommend sharing so you can indulge in another dessert like the Strawberries & Mascarpone (S$16) featuring pistachio sponge, burnt marshmallow and lime meringue.
The Disgruntled Chef at The Club is located at 28 Ann Siang Road, Singapore 069708.
About the Writer
Kevin Khoo is a self-professed foodie who loves his bak chor mee as much as an authentic al dente aglio olio; and savoury as much as sweets. 

He also works in F&B so he literally eats and breathes food. He struggles to stay in shape.