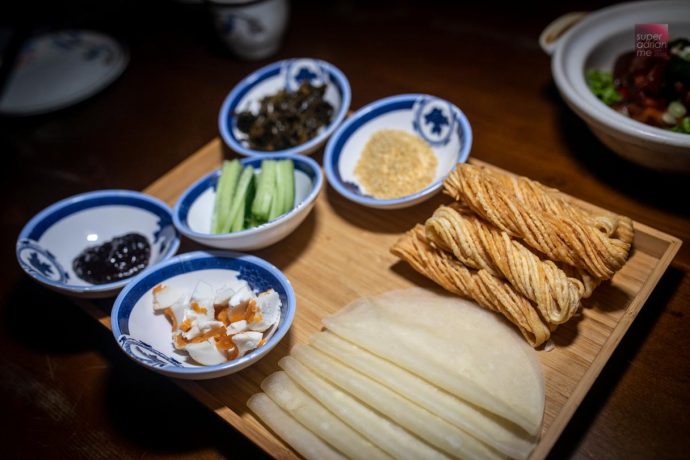 A visit to Peng Cheng Xiao Chu 彭城小厨 at 45 Temple Street will open your eyes and palate to a classic range of authentic Northern Jiangsu cuisine where you get to enjoy a blend of the flavours of northern and southern China. Peng Cheng is known today as Xuzhou. While Xuzhou's cuisine is originally high in fat and salt, the chef here is mindful of the Singaporean palate.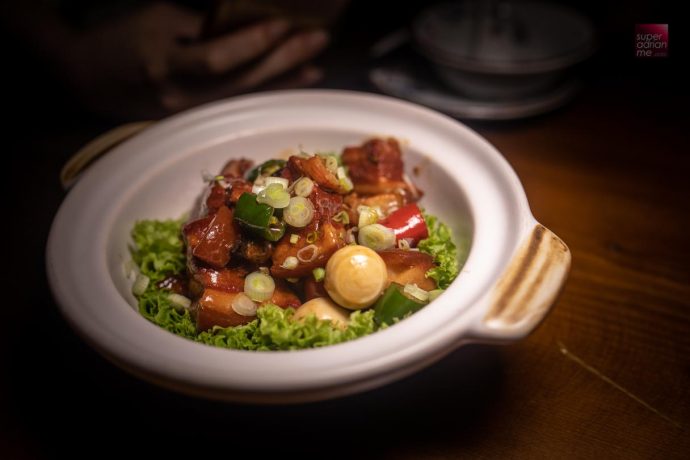 At a tasting, we were served the Deep Fried Dough Twist and Popiah 彭城一绝. A twisted deep fried dough resembles the sugared braided ribbon twist snack. This is eaten the same way as how you would a Popiah. Just add ingredients such as salted egg, cucumber and sauce amongst others onto a popiah skin.
And the Ground Pot Chicken 地锅鸡 was full of flavour from the fresh garlic, ginger, spring onion, chilli and coriander. The Ground Pots are available with different ingredients such as the Su Sam Sun (Eggplant, potato and green pepper), Chinese Cabbage and Tofu, Large Intestine and Tofu, Beef with Dried Beancurd, Mutton RIbs and Tofu, Chicken, Braised Pork & Beef Shank, Cat Fish or Black Fish. Available in small or large portions.
Other dishes we tried included the Claypot Braised Pork in Brown Sauce 砂锅红烧肉 and Seabass in Signature Garlic Sauce 蒜爆鱼. We definitely have to return to try the other dishes on the menu.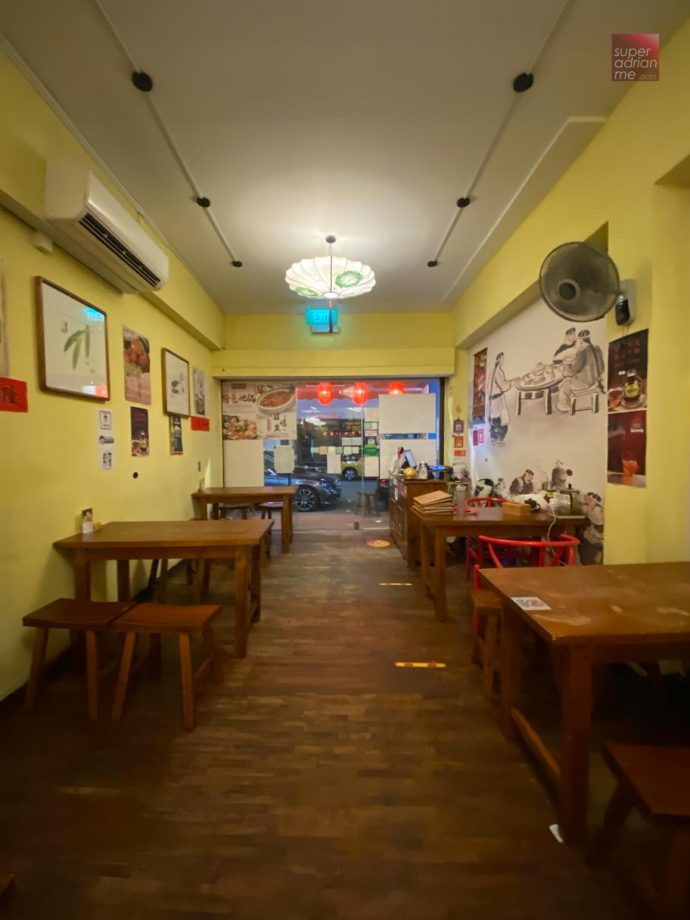 Peng Cheng Xiao Chu is a participating merchant of HI5SG, a coalition of Singapore F&B establishments coming together as one voice and supporting participating Singapore-based restaurants during the current Covid-19 pandemic.
For S$55++ you can enjoy a set menu of five courses for two. Enjoy dishes such as Ground Pot Chicken, Claypot Braised Pork in Brown Sauce, Stir-Fried Baby Pea Sprout and Fried Rice. There is also a S$55 takeaway & delivery set menu for two.